Can Trishul-wielding Mayawati Challenge Hindutva?
Mayawati may hope to pierce Brahmanical Hindutva by appropriating the Trishul, but it could give the BJP a chance to channel aggression against Muslims, Left-democrats and others.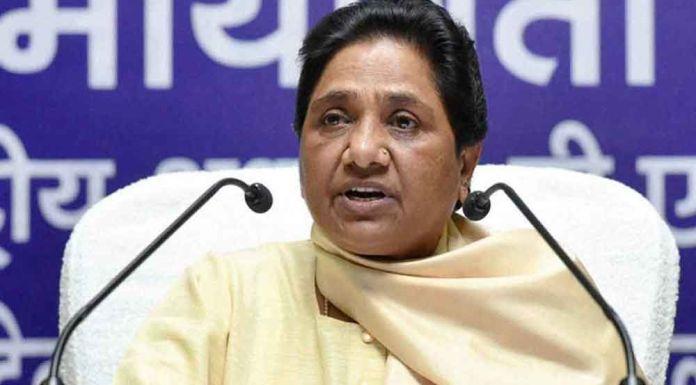 The rightward shift in Dalit politics, noted by this author in 2014, has only intensified in the intervening years. More Dalit political figures proactively claim the Hindu identity today. The recent public appearance of Bahujan Samaj Party (BSP) supremo Mayawati holding a Trishul and wooing Brahmins fits this changing context. Recently, Delhi Chief Minister Arvind Kejriwal announced an official function on Ganesh Chaturthi, while Congress youth leaders collected funds for the Ram Mandir earlier this year. The Dalit acceptance of Hindu symbols and identity is part of a phenomenon we recognise as "competitive Hindutva."
The founding social philosophy of Bahujanism opposed the fundamental postulates of Hinduism—BR Ambedkar opposed Hinduism, not just Hindutva. The Congress party initially sought to represent a brand of secularism that believed in separating religion and politics. But all this has changed in the current milieu. Today, political parties are finding ways to lay claim to the Hindu identity. They are attempting to distinguish Hindutva from Hinduism but are reluctant to oppose or separate politics from Hindu identity altogether.
The economic reform programme the Congress party launched in the nineties has made it difficult to distinguish one political party from the other. "Reform" has become the common agenda of all parties, and "development" is the common language they use to describe and push neoliberalism. Political outfits are different only with respect to who is doing neoliberalism "better"—with less corruption and more speed. In practice, all parties combine development with welfare. The shrinking of difference between the economic programs of political parties has helped engineer the rise of the Bharatiya Janata Party (BJP), for it offers a distinct cultural agenda of development combined with Hindu supremacy. The Hindu identity offers social inclusion and economic mobility for the majority and, by default, excludes the minorities. It is as much about inclusion as the exclusion of the "other".
The BJP pitched for a common Hindu identity to create an imagination beyond particularistic social identities and thereby sparked hope that hierarchies and exclusions that come with them would also disappear. A common Hindu identity and universal development made sense to most people, especially the most marginalised castes. However, commonality and universality are a cloak for the RSS and the BJP, under which they seek to allow differences between castes to persist, even deepen. Their brand of politics makes each caste group feel individually venerable and empowered as a Hindu. Such conflicts existed earlier, but the BJP actively mobilised select social groups to offer them representation and mobility. The result is that particularistic and concrete differences between castes, classes, regions, and nationalities grew, while abstract unity based on religion and nation became the common—or only—reference point.
So, anybody opposed to development gets labelled as regressive, backwards-looking and impractical. All those who do not speak the language of Hindu identity get designated as anti-nationals and face the collective wrath of consolidated Hindus. In these circumstances, by default, any party that mobilises a particular region, religion or caste, potentially helps the BJP. To approach one or few castes allows all others to electorally unify "as Hindus" and rally behind the BJP. Even if the BJP appeases select castes, it deploys the language of religion, not caste. However, if a non-BJP outfit mobilises or appeals to a particular caste, it gets projected as casteism and anti-Hindu. When the BJP formulates a reservation policy for Economically Weaker Sections, it is done for a subset of the Hindus and does not enrage others. However, if the Congress party appeals to Brahmin voters, it gets projected as anti-Dalit. Similarly, if the BSP appeals to Dalit-Bahujans for votes, it becomes anti-Hindu as well as casteist.
Today, even the old political game of centrism and accommodation that the Congress pursued can be played only within the confines of Hindu identity. If the Congress or Left wish to represent Dalits or backward classes, it appears to reek of patronage and appropriation. Meanwhile, the BJP, applying the same strategy, passes it off as accommodation and mobility. Further, if the BJP targets caste groups, it claims to strengthen Hindu identity against "narrow" particularism.
All of this means Mayawati and the BSP have no choice but to appeal, first, to "sarvajan" and now, more explicitly, to Hindu symbolism. Indeed, Mayawati, in her Trishul-carrying avatar, could subvert the BJP's strategy. If the BSP discourse does not explicitly antagonise Hindu identity, the Dalit-Bahujan groups could as well get drawn to her party. In other words, the BJP will no longer be the sole custodian of Hindu identity.
Old-style Bahujanism that sought to explain "why I am not a Hindu" has given way to "how I am a Hindu-Dalit" today. The old binary between Brahmin/non-Brahmin or Brahminism versus Bahujanism is unviable in this changed scenario. Of course, the religious symbols of Ganesha and the Trishul are Hindu and Brahmanical. But in today's context, the use of Hindu symbols gets couched in the context of Hindu-Muslim polarisation. That is why we often hear the argument that if the Muslims can demand a political leadership under Asaduddin Owaisi or raise slogans such as "Allah-hu-Akbar", Hindus, too, cannot be labelled communal or Brahmanical if they use religious symbols. It is a different matter that most Hindu religious symbols carry caste connotations. Still, those connotations can be ignored at worst or, at best, resignified—one can always deny caste while practising caste.
Since symbols are post-material, to deny their Brahmanical connotations is in itself a victory for Dalit-Bahujans. Until we frame the issue "ideologically", it will be difficult to prove whether this will perpetuate old prejudices against them within the Hindu order or empower them symbolically and materially. This is because every mode or instance of domination and violence, the Hathras incident for example, can be framed as an aberration rather than the norm. It can create a situation where disempowerment and dependence on aggressive claims to Hindu identity grow. In both situations, the RSS will gain opportunities to channel aggression against the Muslims, Left-democrats or other castes.
Now consider how Lok Janshakti Party (LJP) leader Chirag Paswan was "used and disposed of". Even here, Dalit-Bahujan groups can justify the blatant "use" of Dalit icons by majoritarian Hindu identity as something all secular-progressive parties and organisations have done with them, not just the BJP/RSS. It should alert us once again to the fact that exclusion and humiliation are not new experiences for the deprived social groups. One cannot easily expect Dalit-Bahujans to respond with an "ideological" framing against Hindutva. It will make little sense to them. In most contexts, the RSS is only consolidating and building its networks through uncivil practices that have existed for long and which "progressive parties" did pretty much little to control.
It is a hyperbolic gesture, but Mayawati brandishing a Trishul could become a clever appropriation of a Hindu symbol. It is the sort of move that can eventually pierce the fortress of Brahmin invulnerability. The very fact of Brahmins considering support for the BSP can be seen as their dependence on it. Why should this not be empowering for non-Brahmins, including Dalits? The future of alternative strategies depends on how we respond to such legitimate confusions.
The writer is Associate Professor at the Centre for Political Studies in Jawaharlal Nehru University, Delhi. The views are personal.
Get the latest reports & analysis with people's perspective on Protests, movements & deep analytical videos, discussions of the current affairs in your Telegram app. Subscribe to NewsClick's Telegram channel & get Real-Time updates on stories, as they get published on our website.
Subscribe Newsclick On Telegram