Farmers Take to Streets Against Controversial Farm Bills
Protests held in at least 5,000 sites across the country; Road, rail blockades in Punjab , Haryana; Delhi Gherao being planned later this month.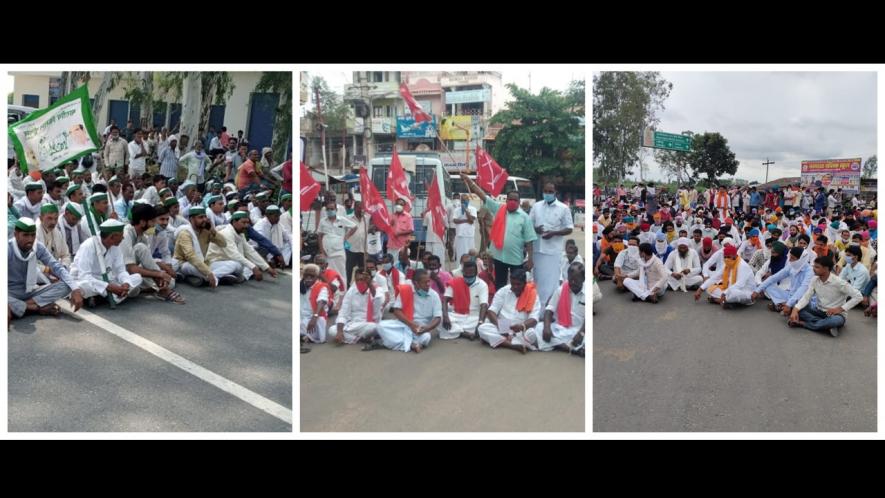 New Delhi: Farmers across the country took to the streets on Friday farmers against the controversial farm Bills passed by voice vote in Rajya Sabha, protesting against policies that seek to serve corporate interests. The protests brought economic activities to a standstill in in at least two state -- Punjab and Haryana – while protests were also held in other states such as Uttar Pradesh, Maharashtra, Bihar, Andhra Pradesh among others.
At the call of the All Indian Kisan Sangharsh Coordination Committee (AIKSCC), an umbrella of over 250 farmer organisations and several other farm bodies, labour organisations and federations, demonstrations and road blockades were reported where in the  farmers demanded that the three farm Bills – which they fear would usher in corporatisation of agriculture – be scrapped or that a separate legislation to make Minimum Support Price (MSP)  a legal right be  enacted by the Centre.
Earlier this week, a much-resisted voice vote amid an uproar in the upper house of Parliament ensured the passage of the two contentious Bills. The third one was passed two days later with the Opposition leaders staging a walkout, describing the Bills as a "death warrant" on farmers.
On Friday, roads including the National Highways were blocked with tractor rallies across the districts in Punjab and Haryana – the richest agriculture states which are the forefront of the farmers' stir.
"What Parliament can do, streets can undo," was the slogan that resounded, shared by many on social media throughout the day.
Almost all shops remained shuttered down in both the states. Farmers led by their respective outfits stay put on rail tracks near multiple spots including in Punjab's Devidaspur village in Amritsar, Ferozpur; and, in Haryana's Sudhail village in Yamuna nagar district.
This is vill Jalmana #Assandh, this is #BharatBand against #AntiFarmerBills, #farmers will not back off, unless & until, Center brings a law guaranteeing MSP (inside & outside mandis); in the event of Pvt players not buying produce above MSP, ensuring procurement of crops at MSP. pic.twitter.com/4GyqOJlmok

— Ramandeep Singh Mann (@ramanmann1974) September 25, 2020
News agency PTI reported railway authorities informing suspension of 14 pairs of special trains in Punjab from September 24 to 26. Bus services also remained shut on Friday in both the states.
Farmers came out in protest in at least 5,000 sites across the country, Ashutosh, media head, AIKSCC, informed Newsclick.
Media reports in the morning suggested farmers taking to streets in large numbers in other states as well including Uttar Pradesh, Rajasthan, Bihar Karnataka, Tamil Nadu, Tripura and West Bengal among others.
Protests against Anti-Farmer Bills in Tripura#NoToFarmBills. #CorporateBhagaoKisanBachao #AntiFarmerBills pic.twitter.com/MlCwb29zkd

— AIKS (@KisanSabha) September 25, 2020
Demonstrations were witnessed in UP's Barabanki village, while Karnataka-Tamil Nadu highways were reportedly blocked. A group of farmers blocked the Tumakuru road near Yeswanthpur, a sub-locality in Bengalauru, where agitations were mainly led by All India Kisan Sabha (AIKS).
Farmers all over India erupts against the Anti farmer legislation of this Govt.#AIKSCC#AntiFarmerBills pic.twitter.com/5hgMBPW75P

— Avik Saha (@aviksahaindia) September 25, 2020
Police actions against the protestors, including arrests were reported in Uttar Pradesh and Tamil Nadu.
In the national capital, a demonstration was organised at the Jantar Mantar by the leaders of central trade unions who pitched for workers and farmers to join hands against the policies of the Centre.
At the border points, Delhi Police reportedly maintained vigil to prevent entry of farmers' rallies in the city. Delhi-Noida expressway and Delhi-Meerut highway at Ghaziabad, however, remained blocked by the farmers, mainly led by Bharatiya Kisan Union (BKU).
The outcry against the farm reforms also breathed new life into the opposition parties' campaign in states such as Bihar, where assembly elections are due in the coming months. Leaders of CPI, CPI-M and CPI-ML along with INC and RJD, partaking in farmers' protests, were seen as building a fight against Chief Minister Nitish Kumar who has extended his support to the farm bills.
तय करो कि किस ओर हो तुम

किसानों के साथ या बेईमानों के साथ#IStandWithIndianFarmers

— Kanhaiya Kumar (@kanhaiyakumar) September 24, 2020
Among the changes, effected by the contentious farm bills, included dismantling the 'monopoly' of Agricultural Produce Market Committee (APMC) mandis, deregulating the food grain stocks that could be maintained by private traders and introducing framework for contract farming.
Satnam Singh Pannu, president, Kisan Sangharsh Committee explained that together this will eventually lead to farmers being thrown entirely at the mercy of private traders and companies for purchase of their produce – a direct result of incentivising agriculture marketing outside existing mandis.
Taxes, including a rural development cess and market fee is levied on trade taking place within the APMC-regulated mandis. The Centre, while allowing private traders to bypass the current mechanism, hasn't proposed any such tax rate.
"We need an assurance in writing from the government that the prices that a farmer makes his produce won't take a hit due to this development," Pannu told Newsclick over phone from Ferozpur in Punjab, where his outfit is leading a three-day rail blockade. "We demand that MSP (Minimum Support Price) be included as a mandatory provision in the farm bills."
The MSP is the rate at which government purchases crops from the farmers. Though mandatory for public procurement, it is not part of any law currently, nor does it find any mention in the recent farm bills.
The demonstrations in Punjab and Haryana also saw participation by arhtiyas (agent commissions), who carried their demand of ensuring a level-playing field against big private traders and agriculture companies, in the backdrop of the later now being envisaged as playing a more direct role in agriculture marketing.
Ravinder Singh Cheema, state president, Punjab Arhtiya Association, said that any leader who supports the farm bills will be "socially boycotted." In the wake of it, "lists" are ostensibly being circulated where MPs, MLAs, belonging to BJP are finding mentioning.
Yudhvir Singh, national secretory, Bharatiya Kisan Union (BKU) told Newsclick that this is no more a fight of Punjab and Haryana, but a one that spreads across the nation. "The BJP is trying to cool it down with various tactics and media management – however, they will only fail against the intensifying protests," he said, who is also the national convenor of Indian Coordination Committee of Farmers Movement.
The local leaders of BJP have been directed by the Prime Minister to up the campaign on explaining the salient feature of the Bills to the farmers, Indian Express had reported. This was followed by  Union Agriculture Minister Narendra Singh Tomar in an early announcement unveiled MSP hikes – lowest in recent years – for six rabi crops.
Tapan Sen, general secretary, Centre for Indian Trade Union (CITU), alleged that the Centre is not only withdrawing from its role of ensuring remunerative prices to farmers, but also jeopardising the food security of the nation, by bringing amendments to the essential commodities act.
"The Bills are aimed at completely restructuring the management of the agricultural economy to tilt in favour of big landlord-corporate nexus and multinational trading companies," he said, adding, "this is at the cost of small and marginal farmers along with the workers."
A meeting has been scheduled on September 27 which is expected to witness participation of string of farmers' organisations spreading across states. A Delhi Gherao is among the ideas that will be tabled as part of future course of action, sources told Newsclick.
Meanwhile, memorandums continue to flood Presidents' office who is being urged not to give assent to farm legislations. Earlier, leaders of as many as 18 parties had made a similar appeal
Get the latest reports & analysis with people's perspective on Protests, movements & deep analytical videos, discussions of the current affairs in your Telegram app. Subscribe to NewsClick's Telegram channel & get Real-Time updates on stories, as they get published on our website.
Subscribe Newsclick On Telegram