FIFA World Cup: Croatia Too Good for England, Wily France Outfox Belgium
Belgium were no match for Didier Deschamps' evolved and flexible France, while the hugely creative midfield of Croatia exposed the one-dimensional England in the FIFA World Cup semi-finals.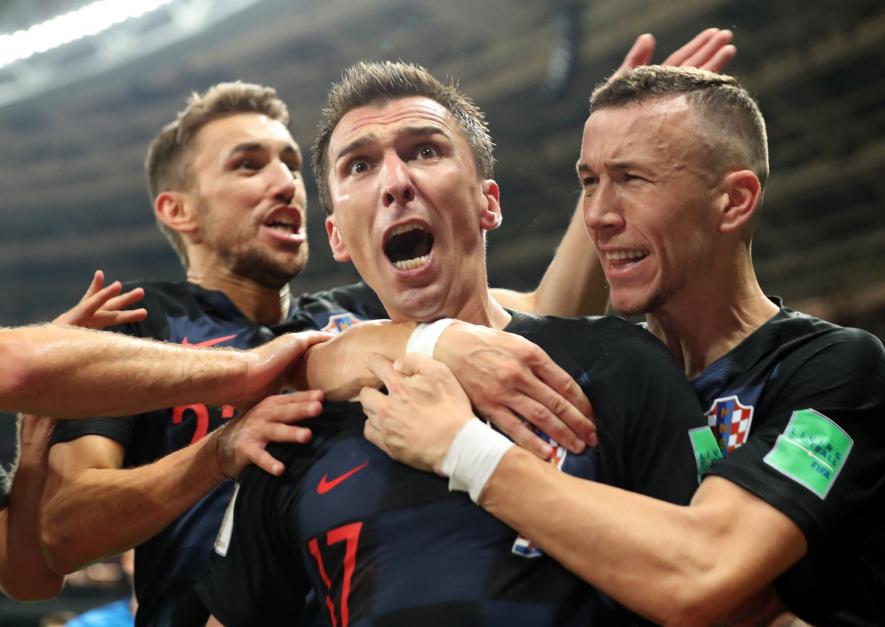 Mario Mandzukic (C) of Croatia football team celebrates with teammates after scoring against England in the FIFA World Cup semi-final in Moscow on July 11 (Pic: IANS).
When an irresistible force meets an immovable object in nature, they are likely to cancel each other out, postulates physics. However, on the football pitch something did break. Belgium's flamboyant attacking side was was nullified by France, who were pragmatic, smart and played through an iron defence to get through to the FIFA World Cup final against Croatia.
This was always going to be a match that France would win. Belgium had played some exciting games in the lead up to the semi-final, and had been very good against Brazil. But the French have got the job done without exerting themselves in futile pursuits, and it showed again. They have gotten the best out of every player, and even gotten the best out of players in roles that they were not accustomed to.
Case in point: Paul Pogba. The obvious heartbeat of this France team has been N'Golo Kante, and his workrate has defined how this team will play without the ball. Blaise Matuidi's contribution cannot be missed either. Playing on the left, his job has been to give balance to a side by not just winning and earning back possession, but also responsibly launch initiatives.
Also Read | Will France Play for Legacy or the Cup in the Final vs Croatia?
To this, Pogba's evolution into a true box-to-box midfielder cannot be missed. He has always been known for his flamboyance and his skill and finesse. But at the FIFA World Cup, he has added a steely desire to his game that will only elevate his stature to higher levels. Through the semi-final he shadowed Eden Hazard and made the Belgium captain's forays difficult. Where earlier he would play as a Number 10, here he has embraced the role of an all-round playmaker.
Credit for this must go to Didier Deschamps, who has done where other managers have failed. At Manchester United, Jose Mourinho's tough love technique to get Pogba to work harder have only isolated the playmaker. Deschamps has obviously used some other method to convince the man that he needs to expand his skill and impact.
A coach's role cannot be understated when it comes to the national team. Besides being tactically astute, their responsibility also lies in player management. If the players trust you, then your methods will succeed. If they don't, then your methods will never be applied on the field let alone translated to success. Jorge Sampaoli is the prime example here.
Next for France is the biggest game of this golden generation's career -- a World Cup final against Croatia, a team that has refused to lose, and has come back from every setback to get there. It is a delight to see such a small country, a nation of barely 4 million, make it to the biggest stage of all, that too after beating some traditional power houses to get there.
Also Read | FIFA World Cup: N'Golo Kante and the Art of Functional Football
In my opinion, despite being underrated, England, by the end were hyped up to a bigger stature than they actually were. The English media, the pundits, even casual viewers, got carried away in their love for the Premier League and forgot that the players who took the field genuinely lacked the experience to get this far. The news cycle was dominated by how Croatia would be tired (they weren't), England would be fast (they weren't) and this would be a battle of midfield supremacy (it wasn't; battles are two-sided).
When their opponents have clicked into gear, England have looked clueless. They played beyond themselves to get to the semi-finals, but this is a one-dimensional team, which succeeded by playing a way that has been heavily criticised by the press in the past -- winning games through set-piece conversions.
Even in the semis, this was evident in the way that they looked their most dangerous when Kieran Trippier was on the ball from a set-piece. It isn't too different from the good old days when David Beckham lined up one to send into the box. Trippier, a self confessed Beckham fan, would've made the big man proud. His strike for the first goal was world class, perfectly weighted, and placed into the corner. For the next 20 minutes, England looked like the more likely winners, eagerly winning the ball and taking on the Croatian defence.
After that though it was a Luka Modric and Ivan Rakitic show. The duo controlled the middle of the park from the second half till the end of extra-time,never giving England a sniff at anything. Croatia may have scored late in the game, but the goal was always coming. And the two scorers, because of their lack of screen time on English dominated television, may have surprised many, but would have just did what was expected of them by the rest of the world.
Also Read | Oscar Tabarez: A School Teacher's Revolution Which Changed Uruguayan Football
Ivan Perisic and Mario Mandzukic are men for the big occasion. Perisic put in the kind of performance in the semis, that would have, on any other day, made him a superstar. His speed, vision and work-rate made life hell for England's right side. And what to say about Mandzukic, a man who looks like he is drifting in games, but then strikes the blow when it is really needed. He has scored goals on big occasions too many times to be considered a passenger.
I feel for England and their fans. They are a proud nation with a great footballing history. This young team, needs more experience, more finesse and some more facets to their game to get to the top. In a few years, given the right kind of push they will be challenging for titles. For now, Croatia and France will battle for one.
[The author represented India through 1998-2011. He is an AFC A-licensed coach and heads the Football Players' Association of India]
Get the latest reports & analysis with people's perspective on Protests, movements & deep analytical videos, discussions of the current affairs in your Telegram app. Subscribe to NewsClick's Telegram channel & get Real-Time updates on stories, as they get published on our website.
Subscribe Newsclick On Telegram