Roy Krishna Scores as ATK Mohun Bagan Beat Kerala Blasters in ISL Opener, Haitian Football President Yves Jean-Bart Banned For Life By FIFA and More (Football Round-up)
Short Passes (Football News Round-up): Fijian striker Roy Krishna struck in the 67th minute to help ATK Mohun Bagan to a 1-0 victory over Kerala Blasters in Goa | FIFA bans Haitian soccer president Yves Jean-Bart for life for sexual abuse | Jose Mourinho and Pep Guardiola renew rivalry after half a decade break | Leaked training incident angers Arsenal manager Mikel Arteta | Manchester United hit by cyber attack but say fan data is safe.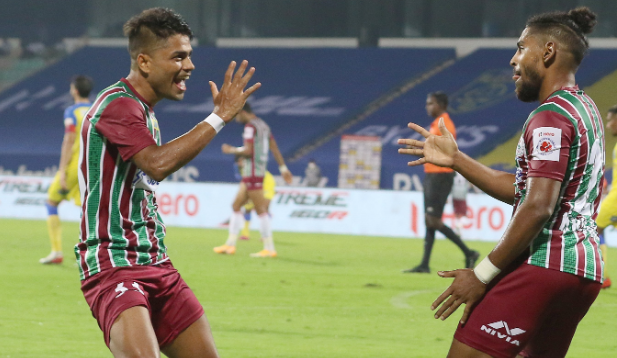 ​Roy Krishna (right) celebrates after scoring against Kerala Blasters in the Indian Super League (ISL) on Friday, November 20 (Pic: ISL, Twitter).​
​It is always good to see an Indian score in the Indian Super League (ISL). But that isn't what you always get to see. The opening match of the 2020-21 ISL season symbolised what the top division of Indian football stands for on paper, and what it actually is on the playing field -- a stage to elevate Indians for PR spins, but a roost ruled by foreigners in reality.
The opening fixture of the biosecured ISL saw ATK Mohun Bagan, the new club in the mix, beat Kerala Blasters 1-0 thanks to the strike by Roy Krishna, who was one of the main reasons why ATK won the title last season, the Haitian scored 15 goals in the previous edition. He has hit this season running. 
Except, Krishna (and a majority of players from both teams) seemed winded for most of the game. His goal came off a mistake from the Blasters' central defenders, whose coordination, touch, and even reading off the game was a tad slower than what Kibu Vicuna would expect of them.
Blame it on the Covid-19 blues. The rust was evident in both the sets of players. Kerala held more possession, and rotated the ball neatly too, only to give it away within five passes and as soon as they approached ATK Mohun Bagan's final third. The annoying and telling pattern that repeated itself throughout the game. ATKMB were not too far behind either. Just that the Kolkata outfit looked more livelier in front of the opposition goal. They looked more likely to score, thanks largely to the rather jittery Blasters central defense comprising Bakary Kone and Costa Nhamoinesu. 
Also Read | Indian Football Paradoxes Converge in a Goan Bubble
If there was a bright note to take for Indian fans, it was Sahal Abdul Samad — the most liveliest player when moving forward in the game. Sahal was involved in almost every half or quarter chance Blasters had in the game, on the rare occasions when the number of touches in a pass sequence went beyond five. 
It was a sluggish game, a gruelling bout, with two teams who will undoubtedly play better over the course of the season. Both sets of coaches have a lot to think about. Vicuna will take heart from his side's ability to pass and control the game. And be concerned at how jittery that defense looks. Antonio Lopez Habas? Well maybe this is the way a Habas side will play. Without style, or any need for control, but with the three points in the bag. It is important to ask, if that's enough to placate the fans of this merged institution. ATKMB may have won, but on this display they aren't worth the airwaves given to them. 
Haitian Football President Gets Life Ban
FIFA banned Haitian football federation president Yves Jean-Bart from the sport for life after its ethics committee found Jean-Bart guilty of sexually harassing and abusing many female players, including minors. The official was also fined 1 million Swiss francs ($1.1 million). Three other federation officials -- technical director Wilner Etienne, national center girls' supervisor Nela Joseph, and assistant coach Yvette Flix -- were also suspended while FIFA has begun gathering evidence.
Jean-Bart, however, has denied the allegations of abuse, which was reported to  have happened at the national training center at Croix-des-Bouquets. 
The training facility, which was funded by FIFA, is known as The Ranch. Jean-Bart, who was head of the federation since 2000, obviously wielded tremendous clout in the country's sports and political establishment, according to Human Rights Watch. 
This is not a case of one bad apple," Human Rights Watch global initiatives director Minky Worden said ahead of the FIFA verdict.
"Athletes have testified that many other officials in the Haitian Football Federation officials responsible for their safety either participated in sexual abuse or knew and turned a blind eye."
Mourinho, Guardiola Renew Rivalry of Words
It has been many years since we have seen this. Lots of hair has been lost, much more has greyed. This may no longer be the clash of cultures that rose out of the Clasico wars, but Guardiola vs Mourinho is back! Dim the lights, warm some popcorn and prepare for this weekend.
And this time it has erupted over Raheem Sterling's involvement with the England team. The Manchester City forward returned to training with the club on Friday after being sent home from the national team because of a calf injury on Monday. He missed England's game against Belgium and Iceland, but is in contention to start when City visit Tottenham Hotspur later today.
Also Read | 22-Team Saudi Women's Football League Begins, India Still Far Behind
Cue Jose, who immediately used it to draw a contrast with Eric Dier who injured himself while on international duty and was out for two weeks after. Rather than question his own medical staff — or indeed the diagnosis, the specificity of the injury, the recovery time needed for each — Mourinho went for the jugular, questioning Gareth Southgate's comments about a 'power game' being played between the England team and various clubs. "I would like him to say who. I would like him to say which are the coaches who put pressure on the players not to go, and I would like him to say which are the coaches he calls and speaks on the phone with," Mourinho said, insinuating in not many words that City's oil may be influencing the English team. 
Guardiola's defence was impeccable. "Mourinho has to speak to the doctor for the national team of England and the doctor for Manchester City," he said when it was pointed to him that it is strange that his player has recovered quicker than one from Spurs. "Except maybe Mourinho is a doctor, I don't know".
Leaked Training Conflict Angers Arteta
Arsenal boss Mikel Arteta said that there will be "consequences" for the source who leaked a story about an incident between Dani Ceballos and David Luiz in training.
According to reports the two clashed after a rough challenge by Ceballos during a practice match and that Luiz had drawn blood from his teammate, hitting him on the nose.
Arteta described the incident as "nothing" and was more concerned about it becoming public knowledge. He said: "I don't like the fact that that incident comes out at all.
Also Read | Former Player Slams 'Irresponsible' Mohamed Salah and 'Cowards' in Egyptian National Team
"I will find out where it is coming from and if that is the case, that goes completely against what I expect from each other, the privacy and the confidentiality that we need, and there will be consequences."
Asked to explain his version, Arteta said: "Training is very competitive and issues happen a lot of times. Those things get resolved immediately within the team and there is not much to say.
Ceballos had taken to social media to deny the reports, right after the story broke — retweeting the article below the word: "FAKE." It is not the first time the 24-year-old has been in a disagreement with a Gunners teammate that has gone public.
On September 12, he was caught on camera in a dispute with fellow substitute Eddie Nketiah as they warmed up before Arsenal's 3-0 Premier League win at Fulham.
Manchester United Hit by Cyber Attack
Manchester United were hit by a cyber attack on their systems on Friday but say they are not "currently aware of any breach of personal data associated with our fans and customers".
The club, who host West Bromwich Albion at Old Trafford on Saturday, confirmed the hacking last evening and said all systems needed for the game remained secure. In a statement, the club said that it had "experienced a cyber attack on our systems. The club has taken swift action to contain the attack and is currently working with expert advisers to investigate the incident and minimise the ongoing IT disruption."
"Although this is a sophisticated operation by organised cyber criminals, the club has extensive protocols and procedures in place for such an event and had rehearsed for this eventuality. Our cyber defences identified the attack and shut down affected systems to contain the damage and protect data".
In what is perhaps more pressing — at least from the perspective of Ole Gunnar Solskjaer — fresh reports have suggested that Paul Pogba, unhappy with his playing time at the club may leave as a free agent soon. According to a report by The Athletic, the French midfielder is reluctant to renew his contract with the Red Devils, which keeps him at Old Trafford until 2022.
The report follows comments by Didier Deschamps who told the French media that Pogba "needed the right platform" to thrive, hinting that the 27-year-old is not being provided with such a springboard at his club, who have used him off the bench more often this season. 
The prospect of Pogba being relegated to the bench again, after an international break where he starred for France, surprised Deschamps who said Pogba "cannot be happy with his playing time and positioning" at Old Trafford. 
It is unclear if the cyber attack and the Deschamps attack are linked to each other in ways beyond this story.
Get the latest reports & analysis with people's perspective on Protests, movements & deep analytical videos, discussions of the current affairs in your Telegram app. Subscribe to NewsClick's Telegram channel & get Real-Time updates on stories, as they get published on our website.
Subscribe Newsclick On Telegram