FIRs Detail Charges of Groping, Demanding Sexual Favours, Stalking by WFI Chief Brij Bhushan
The BJP leader and WFI chief has denied allegations even as wrestlers detail years of harassment; alleged involvement of WFI secretary also exposed.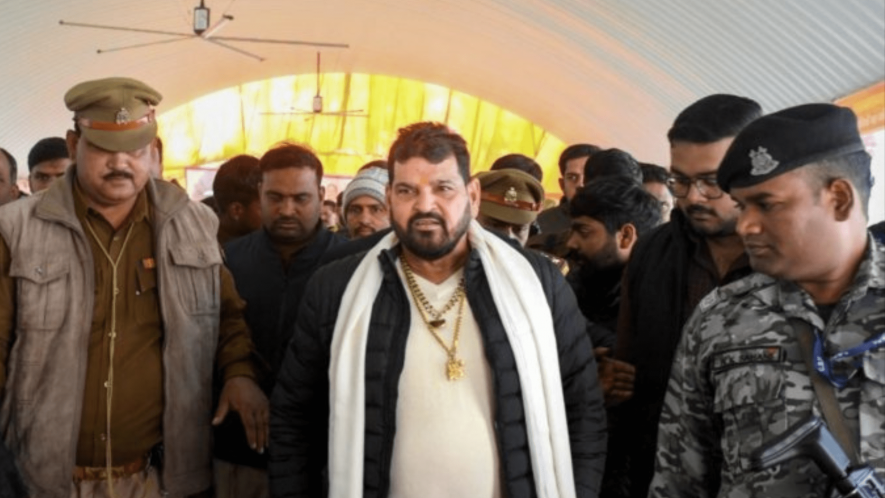 Wrestling Federation of India (WFI) President Brij Bhushan Sharan Singh. Image Courtesy: PTI
New Delhi: Brij Bhushan Sharan Singh, a Bharatiya Janata Party (BJP) MP and the chief of the Wrestling Federation of India (WFI) finds himself embroiled in a deeper scandal as serious allegations of sexual misconduct have been levelled against him by women athletes. While he remains defiant, the wrestlers in the First Information Reports (FIR) filed with the Delhi Police have shared their ordeal of years of sexual harassment and how some were treated indifferently "for not supporting him".
Two FIRs have been filed against Singh, accusing him of groping, asking inappropriate personal questions, demanding sexual favours to support athletes' careers, and stalking a minor, the details of which have been revealed in the Indian Express.
The complaints were submitted by seven women wrestlers at Delhi's Connaught Place police station last month. The FIRs were filed on April 28, following the intervention of the Supreme Court, which highlighted the seriousness of the matter.
Singh has been booked under Indian Penal Code (IPC) sections 354 (assault or criminal force to woman with intent to outrage her modesty), 354A (sexual harassment), 354D (stalking) and 34 (common intention). He has also been booked under the Protection Of Children from Sexual Offences (POCSO) Act.
The details of the FIR are shocking and give insights into the traumatic ordeal for years of the women wrestlers, who have bravely come forward to narrate their experiences of sexual harassment and intimidation, with some alleging differential treatment for not supporting Singh.
According to several reports published in the leading dailies like The Hindu, NDTV and The Indian Express, the detailed complaints provide a distressing account of the alleged incidents.
For the minor girl, who has played at various championships and is currently 17 years old, her father filed a police complaint. The girl had been wrestling since 2016.
Her father said when she won a gold medal at a championship in India, the accused, on the pretext of taking a photo, "had forcefully pulled the girl towards him and held her so tightly that she couldn't move or free herself from his grip".
"Mr Singh further deliberately slid his hand down her shoulder and brushed his hand against her breasts," her father said in the FIR.
According to her father, Mr Singh told the victim to stay in touch with him. "If you support me, I will support you. Stay in touch with me," Mr Singh told the victim, to which she responded, "Sir, I've come this far on my own, and I'll work hard to go ahead".
However, Mr Singh then allegedly warned her that Asian Championship trials would take place soon, and since she wasn't cooperating with him, "she'll have to bear the repercussions in the trials".
"My daughter, a young wrestler, is at the beginning of her career. She couldn't muster the courage to face a sexual predator like the accused and, as such, could not make a complaint or raise these issues with the Federation as the Federation is totally under the control of the accused and works as per his dictates," the victim's father said in the FIR.
Another wrestler accused Singh of attempting to bribe her by offering to purchase supplements for her in exchange for sexual favours. She further alleged that he forcefully hugged her without her consent while making her speak to her parents on the phone. "He made me talk to my parents on the phone, since at that time I did not possess a personal mobile phone...the accused (Mr Singh) called me towards his bed where he was sitting, and then all of a sudden, he hugged me forcefully without my permission," she said.
In another complaint, a wrestler shared her experience of Singh's inappropriate behaviour during training. She stated that he had called her separately, touched her belly on the pretext of checking her breath, and made unwanted advances. "When I was training, the accused called me separately, to which I refused since the accused also touched other girls inappropriately. However, he called me again, pulled up my t-shirt and touched my belly on the pretext of checking my breath," the wrestler said. The wrestler also revealed that female athletes always travelled in groups to avoid encountering Singh alone, as he would try to separate them and ask uncomfortable personal questions. "In fact, all female wrestlers always went out together, only to avoid meeting the accused," she said.
"He used to forcefully, and against the wishes of the female athletes, try to separate them from their group and then ask inappropriately personal questions which we were not comfortable answering," she said.
The FIRs also shed light on incidents that occurred while recording the athletes' statements. One wrestler expressed suspicion regarding the video recording process, as the camera was repeatedly switched on and off. She accused the Oversight Committee of justifying Singh's actions and raised concerns about the committee's impartiality, fearing that justice would not be served. "While recording my statement, I noticed that they [Oversight Committee] kept switching the camera on and off at repeated intervals. Also, to my surprise and utter shock, the members of the Committee were trying to justify the accused's actions as if nothing wrong had been done. The Committee appeared to be already sitting with a premeditated mind to favour the accused."
"As I had serious doubts if my statement had been recorded completely or not, I requested the Committee for a copy of the video recording, but the Committee refused to supply me a copy. This further strengthened my doubts regarding the Committee being partial and biased... I fear that despite the Committee having been constituted to look into the allegations against the accused, I would not get justice as the accused is a powerful and connected person, and the Committee appears to be acting as per his instruction," she said.
The wrestler further said when the protest at Jantar Mantar, Delhi, was underway, the accused, with the help of his goons, tried to contact her through her husband, and he was threatened that if she said anything against the accused before the Committee, they would have to face "dire consequences."
Additionally, the complaints extend beyond Singh to Vinod Tomar, the secretary of the WFI. One wrestler accused him of forcefully trying to make physical contact with her in his Delhi office. "On my visit to the federation office... I was called into the room of the accused (Mr Tomar)... my brother, who was accompanying me, was categorically asked to stay back...The accused (Mr Tomar), upon the departure of other persons, closed the door... pulled me towards himself and tried making forceful physical contact with me," the complainant has said.
Meanwhile, Brij Bhushan Sharan Singh has denied all allegations of sexual misconduct. On Wednesday, he issued a defiant statement, once again refuting all charges.
"If a single allegation against me is proven, I will hang myself. If you (wrestlers) have any evidence, present it to the Court, and I am ready to accept any punishment," he said.
Read Also: Ayodhya Seers Back Brij Bhushan, Demand POCSO Act Amendment
Ayodhya Seers Rally in Singh's Support Denied Permission
Meanwhile, PTI reported that the Ayodhya district administration has denied permission to BJP MP Brij Bhushan Sharan Singh to hold a rally here on June 5, an official said on Friday.
Circle Officer (Ayodhya) SP Gautam said in view of other programmes scheduled on the World Environment Day on June 5, the permission sought by BJP councillor Chamela Devi on behalf of Singh has been denied.
Singh, in a Facebook post, said he has postponed the 'Jan Chetna Maharally' at the Ram Katha Park for "a few days" due to the ongoing police probe into the wrestlers' allegation against him.
Singh is the BJP MP from Kaiserganj in Uttar Pradesh.
The seers had even started mobilising support for Singh's Jan Chetna Maha Rally at Ram Katha Park on June 5 and were planning to demand an amendment to the Protection of Children from Sexual Offences (POCSO) Act, 2012. One of the two FIRs lodged against Singh pertains to the alleged sexual harassment of a minor.
Get the latest reports & analysis with people's perspective on Protests, movements & deep analytical videos, discussions of the current affairs in your Telegram app. Subscribe to NewsClick's Telegram channel & get Real-Time updates on stories, as they get published on our website.
Subscribe Newsclick On Telegram