Fly ash Continues to Threaten Jharkhand Villagers as Centre Boosts Coal Usage
CEA report states that 202 thermal power plants generated 232.56 MT of ash in 2020-21.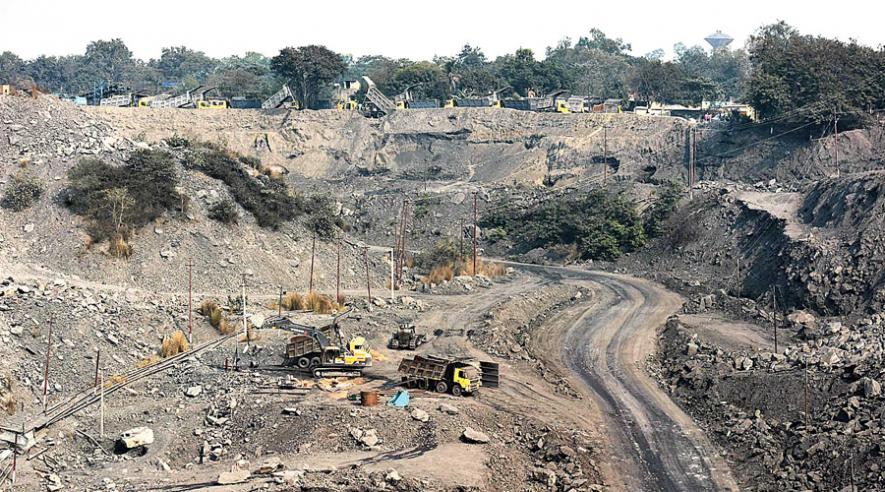 Image Courtesy: Telegraph India
New Delhi: More than a fortnight after a settlement in Jharkhand was flooded with slurry from a fly ash pond, life for nearly 150 people affected by the incident is yet to return to normal. On 7 May, the dyke of an ash pond belonging to Bokaro Power Supply Company Limited had given way resulting in slurry entering numerous dwelling units in Rautdih village, in the Chas subdivision of Bokaro district.
As per reports, barely a few days before the incident, Jharkhand State Pollution Control Board had instituted an enquiry into the alleged illegal dumping of fly ash by the power company. The company, a joint venture between Steel Authority of India Limited and Damodar Valley Corporation, operates a 338 Mega Watt (MW) thermal power plant over roughly 40 acres adjacent to the Bokaro Steel Plant.
"Nearly, 22 families had to live underneath makeshift tents for two days after knee-deep ash slurry entered their households. Three to four community wells and a pond were unusable after getting contaminated. Besides, seasonal vegetables grown by the locals were entirely damaged," Ajay Mahto, a local, told Newsclick.
Following the incident, the Bokaro district administration formed a committee of senior officials to ascertain the cause and determine the extent of the damage.
"From our enquiry it has emerged that land where the affected settlement is located, belongs to Bokaro Steel Plant. Nevertheless, the dyke of the ash pond gave way because of its poor upkeeping and management," a senior administration official told the Newsclick.
As per the enquiry report, a copy of which is with Newsclick, the dyke breach took place due to the accumulation of huge amounts of sludge within a certain section of the pond. Further, channels constructed to drain water from the pond had also been clogged with sludge. Stone blocks used to construct the dyke had not been properly placed resulting in their displacement, which led to overflow and flooding, the report states.
The enquiry committee has also found deficiencies in the structure of the ash pond and noted that timely action could have prevented this disaster.
The locals complained that dust from a huge mound of dry fly ash that has been accumulated by the company also continuously pollutes the air.
A report by independent Madhya Pradesh-based think tank Manthan last year documented, at least, eight major instances of fly ash breaches resulting in loss of lives and property between August 2019 and May 2021. A number of other flooding incidents resulting from the overflow of slurry due to leakages or collapse of dykes of fly ash ponds were also reported during this period. At least, three incidents were reported from the Sasan Ultra Mega Power Project, in Singrauli district of Madhya Pradesh between August 2019 and April 2020. The flooding in Singrauli on April 10, 2020, spread over 200 acres and killed, at least, six people.
The think tank, which researches, analyses and monitors water and energy issues, found a pattern in fly ash pond breach incidents in its study. "The fly ash breaches and illegal dumping documented in this report occurred at different places and times, but they demonstrate the same patterns of violations, negligence, lack of accountability, and unsatisfactory action by keepers of the law," the report stated.
In a new set of rules, issued by the Narendra Modi government at the end of December 2021, thermal power plants are liable to pay penalties for the first time for non-compliance with staggered deadlines for fly ash disposal. Nevertheless, the Union Ministry of Environment, Forests and Climate Change (MoEF&CC), which notified the rules, also extended the deadline to dispose all legacy fly ash by 10 years.
"In case of legacy ash, if the coal or lignite-based thermal power plant (including captive or co-generating stations or both) has not achieved utilisation equivalent to, at least, 20% (for the first year), 35% (for the second year), 50% (for third to tenth year) of ash generated based on installed capacity, an environmental compensation of Rs 1,000 per tonne of unutilised legacy ash during that financial year shall be imposed and if the utilisation of legacy ash is not completed at the end of 10 years, an environmental compensation of Rs 1,000 per tonne shall be imposed on the remaining unutilised quantity which has not been imposed earlier," a gazette notification dated December 31, 2021.
The Congress-led United Progressive Alliance government had issued rules regarding fly ash utilisation by thermal power plants in the country for the first time in November 2009. These rules, issued vide a notification by MoEF&CC, had set a five-year period with staggered deadlines for utilisation of fly ash.
For existing plants, a maximum period of five years was set for 100 per cent utilisation of fly ash from November 2009. For new plants, the ministry has set a deadline of four years for 100 per cent utilisation from the date of commissioning.
The Modi government amended this notification in January 2016 thereby extending the deadline for existing plants till the end of 2017. However, very few plants had met the deadlines by the end of December 2017.
Subsequently, the Centre decided to extend the deadline further by 10 years even though thermal power plants have been struggling to dispose of the ash generated each year over and above their legacy ash.
As per a report by Central Electricity Authority (CEA), thermal power plants were able to utilise only about 92% of fly ash generated in 2020-21. The report states that 202 thermal power plants consumed 686.34 million tonnes of coal in 2020-21 generating 232.56 million tonnes of ash out of which only 214.91 million tonnes were utilised. Consequently, around eight percent of unused fly ash got added to the legacy ash in one financial year alone.
Apart from flooding caused by overflow of fly ash slurry, the toxic waste, which is a by-product of coal combustion process, is also known to cause large-scale air pollution through the discharge of minute particulate matter into the air and toxic oxides of sodium and nitrogen, which are known causes of several health-related problems.
As per experts, generation of fly ash is only expected to increase over the next decade due to the government's thrust on usage of domestic coal (which has around 34% ash content) as compared to imported coal (ash percentage around 2%-15%).
The Centre has undertaken a slew of policy changes over the past couple of years apparently aimed at encouraging the use of domestic coal by power plants. This includes doing away with the need to use coals that have less than 34% ash content and allowing plants to change sources from which they obtain coal without reviewing environmental clearance.
At the same time, the Union government has given the green signal to as many as 28 new thermal power plants since 2015 resulting in capacity addition of more than 40,000 MW. As per a report compiled by Delhi-based environmental firm Legal Initiative for Forests & Environment, the government provided environmental clearance to as many as nine thermal projects in 2017 alone that resulted in a capacity addition of 15,300 MW.
The push for increasing thermal power generating capacity has been undertaken by the Centre simultaneously with the opening up of the coal sector to commercial mining by private players through a process of auction that began in June 2020. It has been claimed that the Central government has earned a whopping Rs 7 lakh crore after auctioning more than 40 coal blocks to private players so far since June 2020.
Incidentally, the recent power crisis was used as a platform by the government to call for greater coal production in the domestic sector in order to increase electricity supply. At the peak of the coal crisis in April-May, the government not only cancelled more than 1,000 passenger trains in order to allow transportation of coal from pitheads to thermal power stations through the railway network, but also deployed more than 85% of its open wagons to ferry coal alone.
Earlier too, the Centre had touted its achievement of having increased production of domestic coal. In March, the coal ministry issued a press release saying: "Reforms have led to an increase in domestic production of coal by 8.68% and consequently, the overall coal production rose at 522.34 MT [million tonnes] up to December 21 as compared to 480.62 MT in the corresponding months of FY 20." The ministry further claimed that with the increase in domestic coal production, India has achieved significant reduction in import despite surge in power demand.
"The overall import of coal has also reduced to 160.84 MT in the period April to December 2021 as compared to 186.65 MT during the corresponding period of FY 20, indicating a decrease of about 13.82% which has resulted in significant savings of forex reserves this year especially when the coal prices are at a high level in the international market," the ministry further stated in the press note.
But why did the central government not use the power crisis as an opportunity to shift its focus upon renewable sources of energy? At present, the total share of renewable energy generated from non-fossil fuel sources, in terms of installed generation capacity, stands at 40.9% in India.
"The government's policies in the power sector are itself not geared in one particular direction. There is a lot of stranded capacity at present in the thermal power sector. A number of power plants are under continuous outage either because of non-availability of coal or for lack of power-purchase agreements," Sunil Dahiya of the Centre for Energy and Clean Air, an independent research organisation, told Newsclick.
"At the same time, only about a handful of coal mines are catering to the entire needs of the country. While this stranded capacity is not being utilised, the government keeps on opening up more coal blocks that has been resulting in displacement and loss of livelihood for local communities. The government has no plan of action to gradually abandon thermal power even as the world has begun moving away from coal," Dahiya added.
Get the latest reports & analysis with people's perspective on Protests, movements & deep analytical videos, discussions of the current affairs in your Telegram app. Subscribe to NewsClick's Telegram channel & get Real-Time updates on stories, as they get published on our website.
Subscribe Newsclick On Telegram