Foodgrain Blues: PDS Allocation Dips, Prices Rise
Meanwhile, output has also dipped due to weather ravages, which hints at tough times in coming months.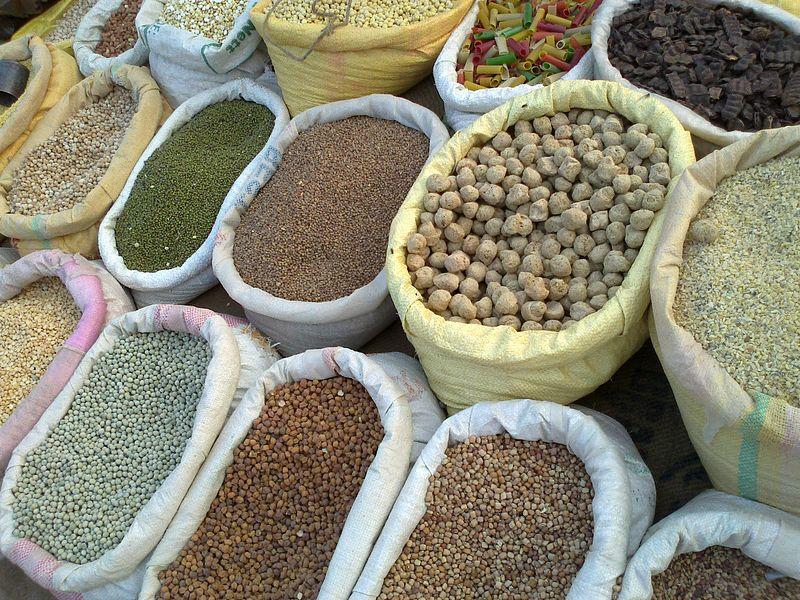 Strange as it may sound but rice and wheat allocation for distribution through various welfare schemes has been steadily dipping in the past several years. It is strange because the population is growing and even the Supreme Court has urged the Central government to revise its population norms for food grain allocation since these are based on 2011 Census data. 
Going by the official population projections for 2021, food grain distribution should cover more than 90 crore people, not the 80 crore population coverage at present.
As the chart below shows, the decline in allocation of food grain has been steadily happening since 2016-17. For 2022-23, the allocation is just 605 lakh tonnes, comprising 401 lakh tonnes of rice and about 204 lakh tonnes of wheat. 
This includes grain allocation for the Targeted Public Distribution System (TPDS); the Integrated Child Development Services (ICDS), which runs Anganwadis for children; the PM-Poshan scheme, which is the new name of the Midday Meal Scheme; and various welfare schemes like hostels for SC/ST students, scheme for adolescent girls, Annapurna scheme, etc. It does not include grains released in the open market for sale from the central pool. Data is derived from the Foodgrain Bulletin for July 2022, released by the department of food and public distribution.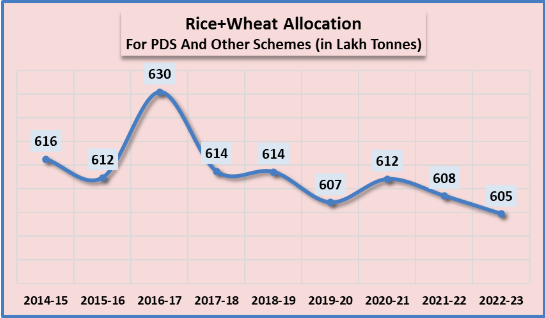 To be fair, the last three years—2020 to 2022—have seen additional food grain allocated to provide relief from the devastation of the pandemic and the lockdowns imposed in the first two years. The chart below shows additional food grain allocations under the PM Garib Kalyan Anna Yojana (PMGKAY), Atmanirbhar Bharat, etc.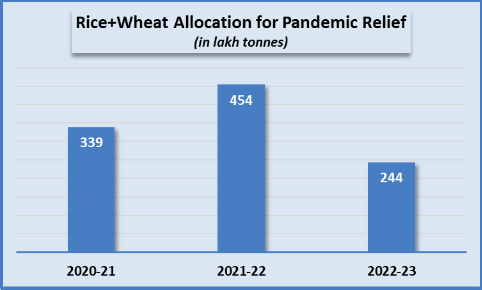 The steep decline this year (2022-23) is because these schemes are finally going to be wound up in September as the Modi government thinks that the support is no longer needed with the pandemic receding. Various trade unions,  farmers organisations and advocacy groups have demanded that the PMGKAY be extended since the economic crisis faced by millions in the country is not yet over.
Once these additional grain allocations are withdrawn, the real picture of distress is likely to emerge, which is exacerbated by this years' weather-related crop damage.
Output Decline
According to the fourth and final Advance Estimates released recently by the agriculture ministry, rice production in 2021-22 would be 130.29 million tonnes (MT), which is an increase of about 5% over the previous year's output of 124.37 MT. Remember, this is for the Kharif season of 2021. Wheat production has, however, declined from 109.59 MT in 2020-21 to an estimated 106.84 MT in 2021-22—a dip of about 2.6%. 
This has been caused by the extreme heat in March and April, which led to widespread damage of the standing wheat crop. It was reported that wheat grains shrivelled up due to the loss of moisture in the untimely heat. However, the losses are less than expected in earlier estimates.
There are ominous signs of rice output losses in the current Kharif season as indicated by the lower or delayed sowing in many areas, primarily caused by delayed onset of monsoon or deficient rains overall. 
According to reports, paddy sowing area is down by 8.25% compared to last year. As of August 21, paddy had been sown in 343.7 lakh hectares compared to 374.63 lakh hectares last year. The decline has been reported from Jharkhand, West Bengal, Bihar, Odisha, Uttar Pradesh, Chhattisgarh, Madhya Pradesh, and Telangana. In some areas, floods triggered by excess rains damaged crops. In sum, it is likely that rice output will be negatively affected this year.
Although the country's robust food grain output has the leeway to handle small ups and downs, why is the current situation a cause for worry? 
Government's Blundering Policies
As reported earlier by Newsclick, wheat procurement fell drastically earlier this year due to the initial encouragement by the government to export it and take advantage of the global wheat shortage, arising from the Ukraine war. As per latest data, only 187.94 lakh tonnes of wheat has been procured compared to 433.43 lakh tonnes last year—that's a whopping fall of nearly 57%.
As a result, wheat stock with the government is currently estimated at 266.45 lakh tonnes compared to 564.80 lakh tonnes last August. Even rice stock is lower at 279.52 lakh tonnes compared to 291.08 lakh tonnes in August 2021. 
These stocks are the source of supply of food grains to the public distribution system and various other welfare schemes. If the paddy output from the current Kharif season dips as well—as seems likely going by the dip in sowing and continued weather uncertainties—the country will face a shortage of food grains by the end of this year.
The government's response to this looming crisis has been typically gung-ho. It has denied the need to import grain, has substituted rice for wheat in many states in the ration quotas, causing much resentment among consumers, and is hell-bent on stopping the additional allocation of 5 kg per person under PMGKAY, started in 2020 to give relief from the pandemic-induced economic distress.
Meanwhile, wheat prices continue to rise in the open market, adding to the woes of the people suffering from back-breaking inflation for several months. According to latest data from the department of consumer affairs, wheat prices have risen by 16% while wheat-flour prices have increased by 18% over the past one year, delivering a body blow to family budgets. 
The impending shortage of wheat is going to exacerbate this inflation in the coming months. How the Modi government deals with this one will have to wait and see, but the options are limited.
Get the latest reports & analysis with people's perspective on Protests, movements & deep analytical videos, discussions of the current affairs in your Telegram app. Subscribe to NewsClick's Telegram channel & get Real-Time updates on stories, as they get published on our website.
Subscribe Newsclick On Telegram