Front-of-pack Labelling Important for Reducing Obesity in India, Say Experts
Twenty-two Indian public health and consumer organisations have come together to oppose the Food Safety and Standards Authority of India's (FSSAI) plan to label ultra-processed foods with 'Health Star Rating'.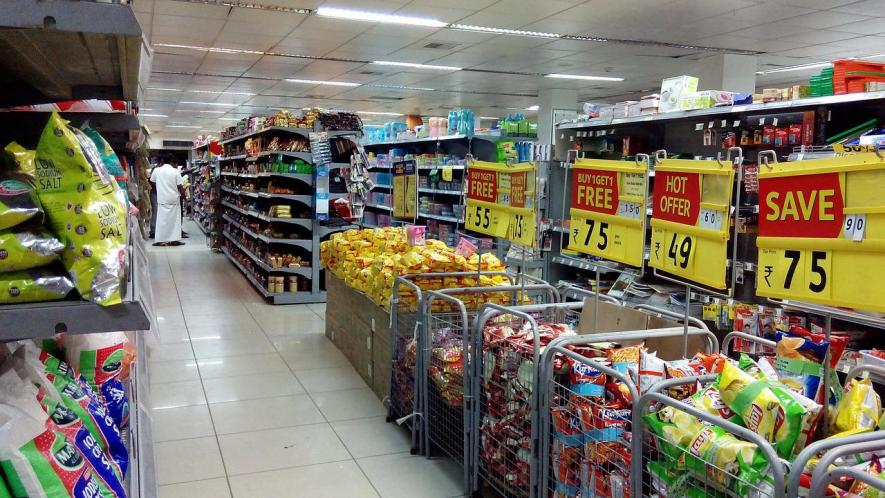 Representational image. | Image Courtesy: Pixabay
India is facing a public health crisis of rising obesity, diabetes, cancers, hypertension, cardiac diseases, renal disease and mental health, the Non-Communicable Diseases (NCDs). It is estimated that nearly 5.8 million people die from NCDs every year out of total deaths of about 9 million, contributing to about 60% of annual deaths. The comprehensive national nutrition survey (CNNS) 2016 showed that more than half of the 5-19-year-olds show biomarkers of NCDs.
According to experts and activists, the government could improve the situation by making front-of-pack labels (FOPL) mandatory for unhealthy food products. Twenty-two Indian public health and consumer organisations, led by Nutritional Advocacy in Public Interest (NAPi), have come together to oppose the Food Safety and Standards Authority of India's (FSSAI) plan to label ultra-processed foods with 'Health Star Rating', which is designed to mislead and confuse consumers, according to them.
In a jointly-endorsed position statement released on Wednesday, May 4, the organisations vehemently called for a mandatory 'warning' label to inform consumers about unhealthy and ultra-processed food products, which are high in salt, sugar or fats and can negatively impact the health of children and adults. The statement presented evidence to show that warning labels have been most effective in discouraging consumption of ultra-processed food products, and Health Star Rating (HSR) has failed to do so in the countries where it is used.
"We at NAPi, believe that FSSAI has gone wrong both in its approach and the decision to include 'Health Star Rating' on unhealthy food and drink products. We are pleased to share that prominent public health, and consumer bodies from across the country have come together against this irresponsible move," said Dr Arun Gupta, convener of NAPi, while presenting the position statement.
The statement highlighted that several countries in South America, such as Chile, Mexico, Uruguay, Brazil, and Peru, have accepted the use of warning labels as FOPL, which has demonstrated a change in consumption and outcomes. The consumption of sugary beverages in Chile decreased by about 24% after introducing this policy package, including marketing restrictions. According to the experts, most studies indicate that warning labels are the preferred mode of FOPL to reduce consumption and impact the immediate problem of increased consumption and weight gain.
"The advantage of warning labels is that, unlike HSR, they serve to identify specific harmful components such as salt, sugar and fat. This factor is the most relevant to reduce consumption of unhealthy foods and thus prevent NCDs," the statement said. It added that a meta-analysis of over 100 research studies, published in 2021, indicated that nutrient warning labels are more effective than other kinds of labelling, like traffic lights and Nutri-Score labels, in discouraging unhealthy product purchases and lowering purchases of calories and saturated fat.
"Packaged food products, which are high in unhealthy fats, salt or sugar, and several of which are ultra-processed, damage health in many ways – from reducing immunity to increasing the risk of heart disease, diabetes, obesity and certain cancers," said Prof. K Srinath Reddy, president of the Public Health Foundation of India (PHFI), who released the statement to media on Wednesday
"Star ratings can be misleading, as they do not clearly inform the consumer whether the rating is for specific constituents, taste or shelf life. The consumer's right to judge the health risks posed by any packaged food product is not served by the star ratings", he added.
"Individual components like fibre, fruit, vegetable or nuts added to a fundamentally unhealthy food product in the name of positive nutrients, may give a false impression of the food being healthy which can lead to overconsumption of such food products", said Dr Vandana Prasad, who is a community paediatrician, and part of Public Health Resource Network and Jan Swasthya Abhiyan, speaking about the misleading nature of HSR.
The statement pointed toward substantial scientific evidence showing that increased consumption of ultra-processed unhealthy food/drink products is associated with high risks of NCDs and all-cause mortality. The statement also called for a timely law for warning labels, adoption of thresholds based on the nutrient profile model of the World Health Organisation developed for the South East Asia Region and immediate termination of marketing of unhealthy foods targeted at children.
Get the latest reports & analysis with people's perspective on Protests, movements & deep analytical videos, discussions of the current affairs in your Telegram app. Subscribe to NewsClick's Telegram channel & get Real-Time updates on stories, as they get published on our website.
Subscribe Newsclick On Telegram