Fuel Drives Wholesale Prices Up, Low Demand Keeps Retail Prices Down
A bizarre divergence between these two types of prices shows the shambolic state of economy – and distress of the people.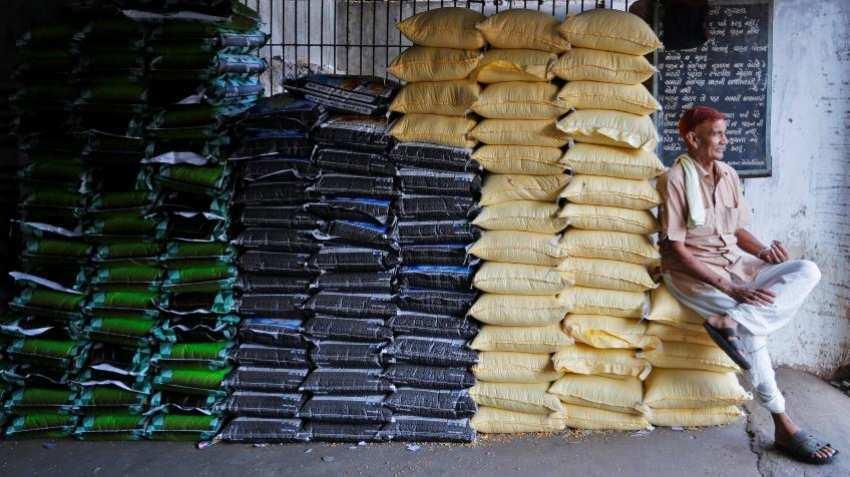 In November, inflation based on wholesale prices touched a record high of 14.2%, according to official data released recently. This increase in November 2021 prices over November 2020 prices is called year-on-year increase. Meanwhile, the government also released inflation data on consumer prices for November. These showed increase of 4.9% year on year. So, wholesale prices have increased much more than consumer prices – a rather bizarre situation that has left economists and common people alike scratching their heads. Price rise (or inflation) is derived from price indices compiled by government agencies.
As the graph below shows, inflation based on wholesale price index (WPI) has generally been less than that derived from consumer price index (CPI), except for brief and small spikes. But since the beginning of 2021, it has shot up, out-stripping the consumer prices-based index decisively. What does this divergence show, and why is this happening?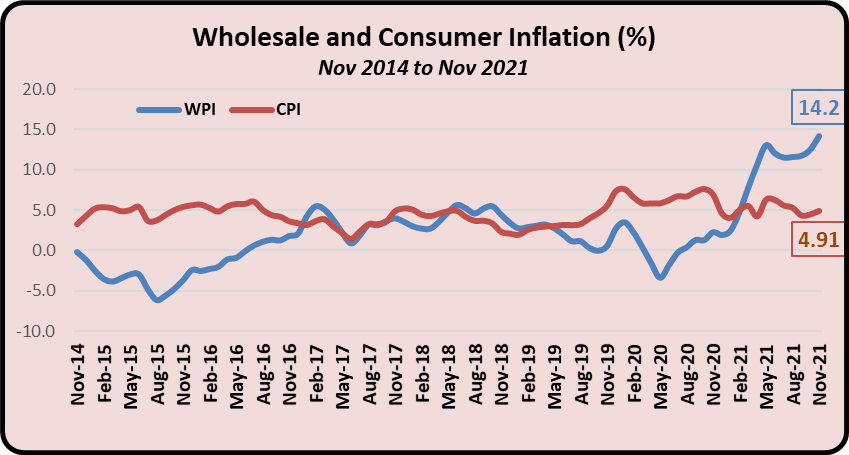 Different Ways of Calculating, but That's not all….
The usual and largely correct explanation is that WPI and CPI are calculated differently. Different weights are given to different commodities in the two indices. For example, food articles are given a weight of 15.3% only while calculating WPI while in CPI they make up a whopping 45.9%. This means that in WPI, price rise of food commodities will be much less reflected than in CPI.
But take the case of fuel and light/power. In CPI, these account for just 6.8% weight while in WPI they weigh in at 13.2%. That's almost twice the weight used in CPI.
What all this means is that if food prices go up, CPI-based inflation will increase much more but if, say, petrol and diesel prices go up, WPI-based inflation will go up more. This is what is causing the WPI- based inflation rates to shoot up.
Similarly, there are other differences in weights, and they have different effects on average inflation rates calculated. In fact, data on prices is itself collected differently for the two measurements. For CPI, data is collected from nearly 2,300 urban and rural markets. But for WPI, data flows in from public and private sector units making different products. CPI includes various service sector costs too, like education, healthcare, etc., but WPI is not concerned with these.
Low Demand Keeps Prices Down
There is another more worrying factor at play in keeping CPI-based inflation low, according to some analysts. It appears that while industry and the higher economy is recovering, it is driving up prices. To take one measure, the Index of Industrial Production (IIP) touched 133.7 in October 2021, just short of the pre-pandemic level in February 2020 (134.2). But the common person's world is still reeling under the pandemic+lockdown burden and hence demand is not rebounding as yet.
For example, consumer expenditure has still not recovered leading to less demand for various commodities, including even food articles. According to government data, private final consumption expenditure was 54.5% of gross domestic product or GDP in the second quarter of 2021-22, compared with 55.1% in the first quarter. This is not a very healthy situation – it denotes widespread distress. Why is this so? Because wages are still low, jobs are still less, and the nature of jobs is still insecure and casual. All this has led to people not spending much. In fact, increased debt is also a sign that people are borrowing in order to somehow survive.
It should be remembered that the high prices reflected in WPI will ultimately get passed on to consumers, leading to a spike in CPI- based inflation too – it is inevitable. For example, high prices of petrol and diesel (despite the cosmetic cut in excise duties) will have a cascading effect on the economy and the transport costs will go up, including for food commodities. This will lead to a magnified increase in CPI-based inflation. The burden, as always, will tend to get shifted to the common people.
Prices on the Street is What Matters
For the common people, all this might be true but it seems a faraway esoteric thing. Does it matter what calisthenics the government and its economists are indulging in? What matters is that prices have been going up and up, relentlessly. [See graph below]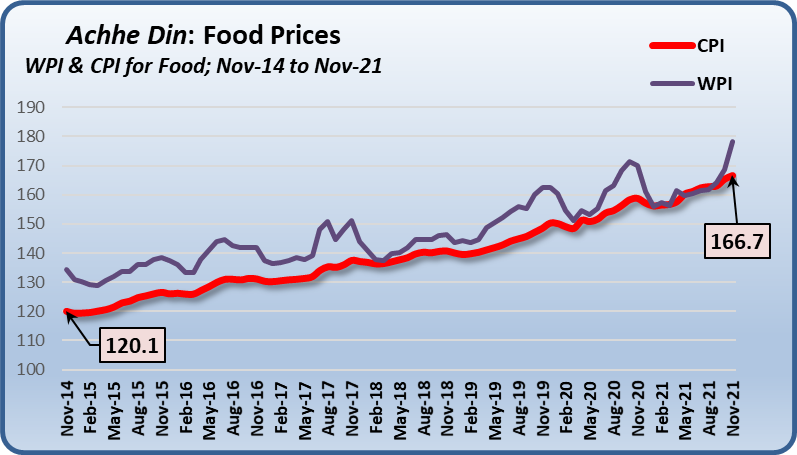 As can be seen, food prices for the consumer (red line) have steadily climbed up in the past seven years, from November 2014 to November 2021. Since these make up nearly half of the common person's family budget, this increase has been devastating. Coupled with low wages and raging unemployment, families have had to cut back on various types of spending, from shifting the kids to a low-cost government school to cutting down on food items that get priced out of their reach, like pulses or milk or specific vegetables. There have been phases when prices of this or that perishable commodity (onion, tomato, mustard oil, to name a few) have suddenly caught fire and gone through the roof. Those are times when families cut down and shift to something else. But what can one shift to from mustard oil?
Because of the Narendra Modi government's insistence on privatising everything, and its refusal to put more government money in such helpful programmes like the 'ration' system, people have become sitting preys to wolves of the market. Otherwise, it would be a simple matter to include mustard and other edible oils in the ration system and sell it to people at controlled prices. But then, the ruling party's interests are vested elsewhere. 
Get the latest reports & analysis with people's perspective on Protests, movements & deep analytical videos, discussions of the current affairs in your Telegram app. Subscribe to NewsClick's Telegram channel & get Real-Time updates on stories, as they get published on our website.
Subscribe Newsclick On Telegram