GDP 'Grows', Jobs and Incomes Fall
Latest data shows increasing joblessness and stagnant farmers' incomes but GDP numbers don't reflect this harsh reality.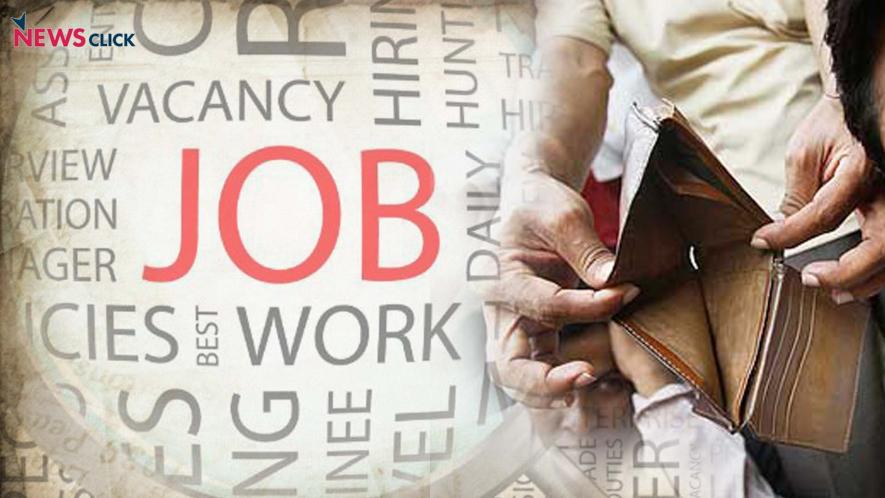 Days after the Modi govt. exultantly put out quarterly GDP numbers showing an 8.2% growth in April-June 2018 the country's capital was rocked by two successive protest marches, one by women and the other by workers and farmers, both demanding better wages, better farm prices and more jobs.
And now, latest CMIE data on employment shows that joblessness has hit a new high of 6.4% in August 2018 while the number of employed persons has shrunk to 400.6 million compared to 405.3 million in August last year. That's a job loss of a staggering 4.7 million (47 lakh) in one year. Remember, this is roughly the same year over which GDP is supposed to have grown so fast.
Just before the disastrous demonetisation of November 2016, the number of employed persons in India was estimated by CMIE at 413.9 million in October 2016. So, over 13 million (1.3 crore) jobs have been lost since those days. In fact, there was some recovery of jobs till November last year when the employed estimate was 409.5 million. But since then it has steadily declined barring June this year. These numbers show the volatility of jobs and also the deep crisis that the economy is buried in. Since there is no govt. source for jobs data at monthly frequency, one has to rely on CMIE which conducts a big sample survey to project the numbers.
The question may be asked as to why is the GDP growth rate not reflecting this dire situation of falling or stagnant employment, farmers' distress and stagnant wages of both industrial and agricultural workers?
Here are some answers, as analysed by CMIE.
The govt.'s data shows that agricultural incomes increased by 6.95% year on year in the first (April-June) quarter of 2018-19. This does not account for inflation. Since rural inflation is pegged at 4.82% in the same period, the actual growth in farm incomes would drastically come down to just over 2% once effect of inflation is subtracted from the nominal income growth rate. Meanwhile, output of the farm sector in the rabi season has shown considerable increase. The fourth advanced estimates by the agriculture ministry puts cereal output growing at 4%, pulses by 17.3% and oilseeds by 5.76%. So, we have increasing output but virtually stagnating incomes. This is the reason why farmers in the country are so angry with Modi. And, this is why GDP is shown as growing – it is calculated using output data – even as incomes are stagnating.
Now have a look at industry which is supposed to have grown by an impressive 10.3% in the first quarter of 2018-19. As pointed out earlier, this is partly the base effect, since in June last year, industry was growing at a mere 0.13%. But there is another reason which brings into question the very credibility of GDP calculations.
GVA calculation for the manufacturing sector are done mainly using data of private sector listed companies, which contribute 75% of the manufacturing GVA. Their wage, profit before tax and depreciation growth rates are used after adjusting for inflation. Profit before tax makes up 55% of the total GVA of these listed companies according to CMIE's database. In fact, only a handful of very large private companies dominate the profits and hence the GVA calculations. Just 25 companies account for about 50% of GVA. This growth in profit before tax figure was 81% in June this year. This is what is driving the figure of 10.3% growth in manufacturing GVA – profits made by a bunch of big listed companies.
Naturally, with this predominance of profits of corporate giants in GDP calculations, the wages and hence the jobs part of the economy is marginalised. So, you have a zooming GDP but no incomes or jobs growth.
The Modi govt. is thus sitting on a volcano, twiddling its thumbs. It seems to have swallowed its own propaganda and its fixed numbers hook, line and sinker. It is blithely going about preparing for elections, celebrating various macro-economic numbers and giving sermons to all and sundry. In short, they are living in cloud-cuckoo land. The reality is harsh and merciless.
Get the latest reports & analysis with people's perspective on Protests, movements & deep analytical videos, discussions of the current affairs in your Telegram app. Subscribe to NewsClick's Telegram channel & get Real-Time updates on stories, as they get published on our website.
Subscribe Newsclick On Telegram