Gig Workers Race Against Time and Uncertainty
The recently launched rat race among online food delivery companies to deliver goods in 10 minutes has opened a new channel of risks.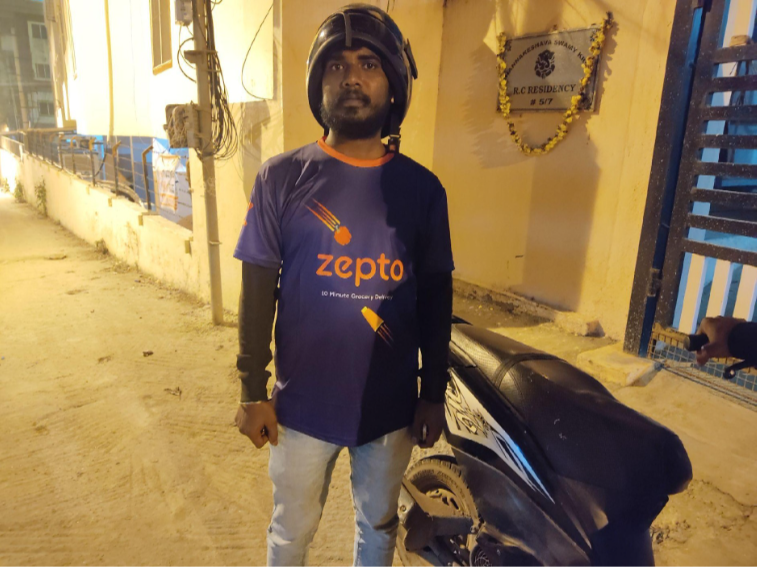 Veereshayan, delivery worker. Image Credit: Saurav Kumar
Veereshayan, a 32-year-old delivery partner, was seen at 11.30 pm on January 26, near a residential complex situated in Bommanahalli region of South Bangalore. He was at the spot to deliver a grocery order to one of the residents.
Wearing a Zepto t-shirt with 10-minute grocery delivery instructions, Veeresh was in a hurry to deliver another set of groceries to a nearby area. His working time is 6 pm to 2 am, which brings apprehensions of challenges in delivering the orders.
Veeresh told NewsClick, "Earlier, I used to work for Zomato, but in 2021, I met with an accident and had to be off work for a month. During this period, Zomato did not pay any sort of compensation or accidental damage, so I decided to quit and chose Zepto delivery services."
In the last week of December 2022, Veeresh lost one of his friends, Sarath, in a road accident near Bellandur while delivering food for an online company. The above two incidents indicate threats looming over thousands of delivery partners.
According to Veeresh, at night, the roads of Bangalore are full of two Ds - dogs and delivery workers. In many instances, workers face the threat of dog attacks and sometimes they are bitten by dogs.
Recently, the dog threat ended up in a fatal fate for 23-year-old Mohammad Rizwan. Rizwan was a Swiggy delivery partner who died in Hyderabad on January 13 after being attacked by a pet dog. On January 12, Rizwan, went to the third floor of Lumbini Rock Castle apartment to deliver an order. When he knocked on the door of the flat, a German Shepherd barked and attacked him. In an attempt to escape, Rizwan jumped off the third floor and sustained grievous injuries.
A day after the incident, he succumbed to the injuries.
Gig work represents a promising avenue for job creation in emerging economies like India and platform-mediated gig work has transformed several domains, from mobility to food delivery and utility services in India.
But the recently launched rat race among online food delivery companies to deliver the ordered goods in 10 minutes opens a new channel of risks.
In this, the companies, namely Zomato, Zepto, Blinkit, Big Basket, and Swiggy Instamart, are now competing against each other to build a brand of time-friendly delivery services. Rajesh, another delivery partner working for Swiggy in Bengaluru's AECS layout, pointed out the imbalance between working hours and wages, but the responsibility to sustain his family leaves him with no other option.
Rajesh's monthly earnings after working for nearly 14-16 hours per day are between Rs 10,000 to 15,000. During peak hours of lunch and dinner, delivery workers end up working more than the minimum shift timings.
It says a lot about an unregulated work system. Inside the phenomenon of online food delivery companies is a shady affair, which was confirmed by a study of Bengaluru's food delivery workers published by the National Law School of India University (NLSIU). The study said, "Workers can log off and go home in theory, 'the target and incentive' model with their many
conditionalities together with steadily deteriorating per-order rates and incentives ensure that workers are bound to a platform and remain logged-in for long hours."
Delivery Partner is the term giant food tech companies use to denote their delivery workforce. The term 'delivery partner' gives a false projection of informal workers being partners of the delivery services and deprives them of the status of being an employee.
Workers of other online platforms like Urban Company have also claimed there is a rampant practice of hire and fire.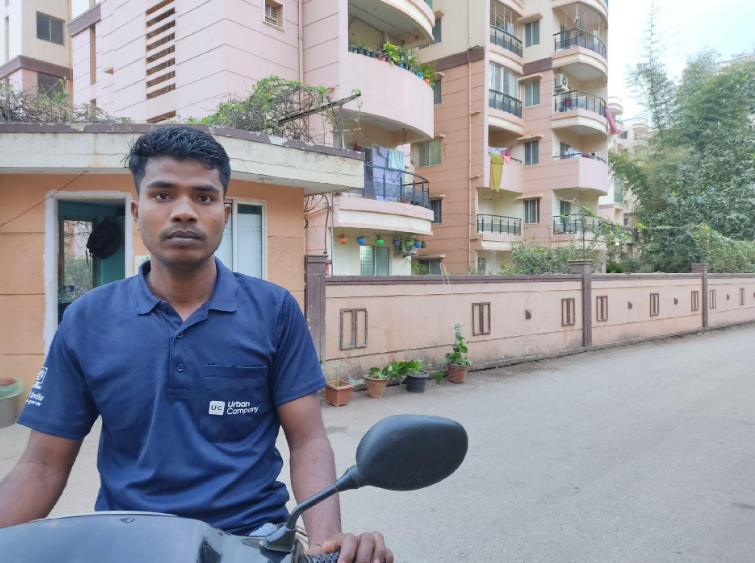 Photo: Delivery worker Mijad Mandal. Image Credit: Saurav Kumar
A 26-year-old Mijad Mandal, hailing from Murshidabad district of West Bengal, got settled in Bengaluru in mid-2021 and got a job at the Urban Company. But he lost it on December 25, 2022. The reason was not revealed by the company, which indicates a prevalent trend of hire and fire.
Going to big residential apartments to provide cleaning services was his job. With a monthly earning of Rs 20,000, Mijad was on the edge of sustenance in the cosmopolitan city of Bengaluru. But one morning, suddenly, he lost access to his online account of Urban Company which said - "Your profile has been locked".
Subscription Menace-
After losing the job, Mijad's struggle for survival became tougher every day. While talking about the inside conditions, he explained to NewsClick the subscription model of the Urban Company and said, "There is an amount which everyone pays to take up the job in UC."
"At the time of joining UC in 2021, I had to pay a subscription of Rs 13,000, which included a working kit composed of chemicals, a machine and two T-shirts," Mijad told NewsClick. The nefarious pay buck did not stop here.
An additional Rs 5,000 has to be paid as a monthly subscription which is considered exploitation in disguise by the workers. The vicious cycle of subscription has entangled thousands of workers like Mijad into a trap of institutionalised exploitation.
In a span of one month, nearly 20 workers have been arbitrarily laid off by the Urban Company without mentioning any reason, Mijad claimed.
The same claim of subscription being atrocious was made by another 28-year-old gig worker named Rahul. He has been working in the Urban Company since 2016 when the subscription model did not exist.
Rahul told NewsClick, "The subscription model is a new tool to exploit workers because there's no dearth of job seekers. If someone fails to pay, thousands are queuing up to take the job." Reaching out to the Urban Company on the arbitrary sacking of workers, Manav S, an official, said that he is unable to share the reasons behind blocking the IDs of workers due to company policies.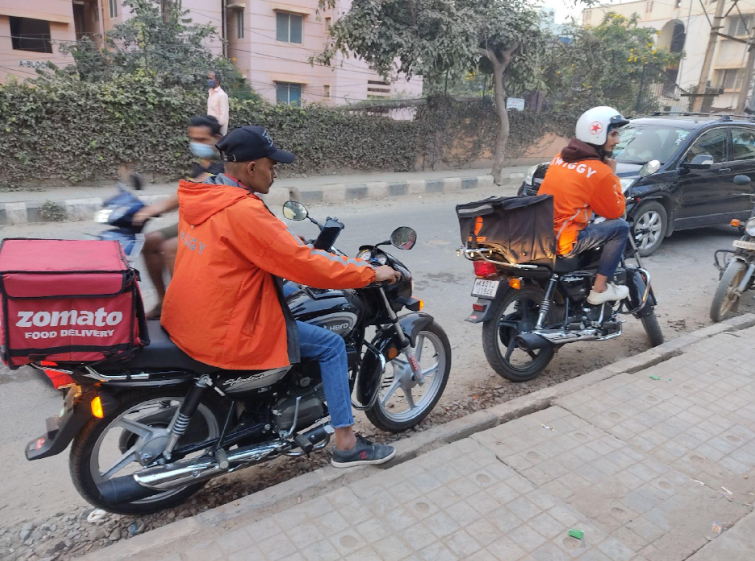 Photo: Swiggy delivery workers. Image Credit: Saurav Kumar
Swell of Gig Economy
Amid harsh working conditions, the number of gig workers is swelling. As per a Niti Aayog report, the number of gig workers in India is projected to reach 23.5 million in 2029-2030.
Aditi Surie, Senior Consultant at the Indian Institute of Human Settlements (IIHS), considers the growing number of gig workers awaiting challenges in different forms.
As per Surie, working hours, social security and wages are the biggest mismatch in the gig economy driven by online food delivery platforms like Swiggy, Zomato and online transport companies like Ola and Uber. "For most of the delivery workers who work for 15-18 hours, existing wages are minimal for survival," she said.
In the case of online delivery workers, getting no compensation for empty time is one of the many challenges that exist, said Surie. The expert also pitched legal regulation of online platforms services to make it more dynamic and open to the workforce.
Despite rising instances of exploitation and job loss, workers are also forging a path towards collective unity and forming unions. Last year, many Indian cities witnessed the uproar of gig workers, indicating rising demands for better work conditions and pay.
The writer is a freelance journalist.
Get the latest reports & analysis with people's perspective on Protests, movements & deep analytical videos, discussions of the current affairs in your Telegram app. Subscribe to NewsClick's Telegram channel & get Real-Time updates on stories, as they get published on our website.
Subscribe Newsclick On Telegram