'Godman to Tycoon' Barred from Bookshelves, Ramdev Says Book Defames Him
If most of what the book says is already public information, then what caused Ramdev to file this injunction?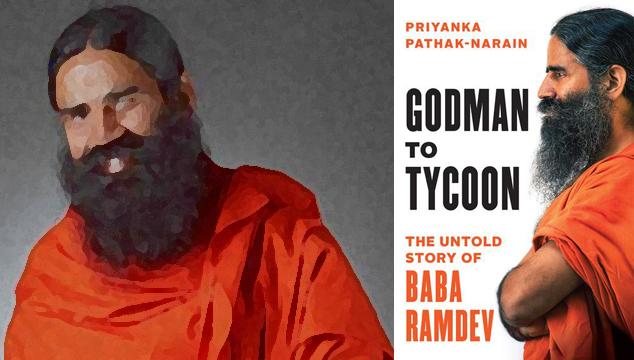 Newsclick Image by Trina Shankar
In September 2016, the Hurun Rich List declared Acharya Balkrishna to be the twenty-sixth richest Indian with a personal wealth of Rs 25,600 crore. Balkrishna owns 94% of Patanjali's shares and is one of the two closest aides of Ramdev in Patanjali's business empire.
Priyanka Pathak-Narain recently wrote a book on Ramdev's life, 'Godman To Tycoon: The Untold Story of Baba Ramdev', tracing his journey from a man selling Chawanprash on a bicycle, to the owner of a Rs 10,561 crore business empire. On August 4, Ramdev filed an injunction against the book on the claim that it defames him, following which a Delhi court barred the sale of the book.
The book, according to the publisher and the author, is a serious piece of journalism, produced after referring to almost 200 newspaper articles, filing more than eight RTIs, and speaking to over fifty people. A complete list of the sources is appended to the book. If most of what the book says is already public information, then what caused Ramdev to file this injunction?
The book covers at length the multiple issues that have come up against the products Patanjali manufactures. Cow ghee, his most selling product, is in fact not cow ghee at all. Patanjali sources truckloads of white butter which is turned into ghee. This white butter is made from the milk of various animals, not just cows, which is procured from small and marginal producers from various parts of the country. The milk is not separated on the basis of source — cow, buffalo or goat — all of it is mixed together. Ramdev claims the ghee to be of Desi cows, Indian cows. The milk of Indian cows is much safer to consume as compared to mixed breed cows. Milk from mixed-breed cows, which are quite common in India, contains A1 beta-casein which can trigger adverse reactions in the human body when digested. While Ramdev claims the ghee is from desi cows, he does not know if the milk is even from cows. This "cow ghee" was declared 'substandard and unsafe' by the Food and Drug Administration of India in April of this year.
His instant noodles printed a fraudulent FSSAI (Food Safety and Standard Authority of India) license. His Amla juice was deemed 'unfit for consumption' by the Central Food Laboratory in Kolkata. He has also had multiple run-ins with the Advertising Standards Council of India for unsubstantiated and misleading advertising.
The book also talks about the less than minimum wage that Ramdev pays to his factory workers. The work at his company is termed as 'seva' for the benefit of the Indian heritage. Ordinary labour market rules do not apply to him. Cheap labour is one of the major reasons why Ramdev is able to keep the cost of his products so low.
The book starts by talking about Ramdev's childhood. He was born in a poor farming family and was a child who often fell sick. Ramdev's father was an abusive man who often beat him. His grandmother was a superstitious woman who refused treatment for her grandson's facial paralysis, which resulted in a permanent squint in one of his eyes.
Somewhere in his early twenties, Ramdev left his village and started studying at Gurukuls. At his second Gurukul, Ramdev became friends with Acharya Balkrishna, who would one day become his deputy, and who would hold Patanjali's ownership for Ramdev. At his third Gurukul, where Ramdev took up the post of a teacher, he got in a rage and ended up grievously beating a student. It was after this incident that Ramdev left for Haridwar, and lay the foundation for what would one day become Patanjali Ayurveda Limited.
Ramdev started his yoga camps with the help of Acharya Karamveer, whom he met through Balkrishna. Karamveer was the man who taught yoga to Ramdev. Together, they conducted many yoga camps and sold Ayurvedic products on bicycles. It was because of Karamveer that Ramdev acquired the Kripalu Bagh Ashram at Haridwar. The trio of Ramdev, Karamveer, and Balkrishna took over the property from Shankar Dev, who wanted to hand it over to Karamveer as he trusted him to carry on the operations of the ashram faithfully. But as the camps got bigger, Ramdev wanted to broadcast them on live television. To do this, he bought a twenty-minute slot from Sanskar channel for one and a half lakh rupees. From Sanskar, Ramdev moved to Aastha and his popularity began to soar as millions of Indians tuned in to following the Baba's yoga instructions. With this rising popularity, the sale of his Ayurvedic products also soared, and soon the ashram was raking in huge profits. He then brought his family into the business, which ruffled quite a few feathers. Ramdev had taken Sanyaas to take the ownership of the ashram and had to forego all familial bonds. But he did not take the oath seriously, which led to a fall out with Karamveer, his yoga guru.
The book shows Ramdev's history of abandoning his mentors. Rajeev Dixit, with the help of whom Ramdev set up his political party, Bharat Swabhiman Andolan, died soon after the party was launched. The medical reports declared it to be a cardiac arrest, but those who were close to Dixit are certain his death reeked of foul play. Ramdev cunningly avoided a postmortem, by declaring such interference with the body to be against Hindu culture and hurrying the body for cremation. Madan Dubey, a lifelong friend and mentee of Rajeev Dixit, is quoted in the book as saying,
'After the cremation, when Rajeevbhai's laptop and his two phones were returned to his family,
they discovered that all three devices had been completely wiped clean. All data on all three devices  had been erased. I saw Rajeevji's room in Haridwar in a ransacked condition, things and
documents missing from his room after his death… I've felt absolutely sure that there was foul play in Rajeevbhai's death… I know it. I saw it the body. I will never stop saying it.'
Shankar Dev, the man from whom Ramdev got his ashram, went missing after a long sickness. Yogananda, using whose license Ramdev started his Ayurvedic clinic, was knifed to death after being left out of Ramdev's growing empire. Both their cases remain unsolved to this day.
Ramdev, since the beginning, has had strong political friendships which have helped him get where he is today. He started with being friends with the Congress, who helped him evade tax fraud charges, start a food park, and escape investigation of using animal and human body parts in his products. His fallout with the Congress was solidified after the Ramlila fiasco, when pictures of Ramdev fleeing in a white salwar kameez ran on TV channels for weeks. Ramdev, taking cue from Anna Hazare, sat on his own hunger fast demanding that black money be brought back to India. When Ramdev backtracked on his promise of ending his hunger fast, the Congress resorted to sending police force lathi charging and tear gassing the protestors, which ended with Ramdev fleeing in the salwar kameez. The end of his ties with the Congress started a long relationship with the current government in power. Reuters published an article in May of this year on how Ramdev has received 46 million dollars in land allocations and discounts from BJP led state governments.
The book compiles all of these allegations and reports, and more. It talks about his brother, and his multiple run-ins with the law. It talks about all the illegal aspects of Ramdev's business, and his disregard of the rules. It shows Ramdev as the astute businessman he is, rather than the spiritual guru most Indians see him as when they stock their houses with his products. If the book is read widely, it will hinder his ability to double his company's revenue to Rs 20,000 crore in 2017-18. It is clear why Ramdev wouldn't want his devoted followers to know all this about him.
Disclaimer: The views expressed here are the author's personal views, and do not necessarily represent the views of Newsclick.
Get the latest reports & analysis with people's perspective on Protests, movements & deep analytical videos, discussions of the current affairs in your Telegram app. Subscribe to NewsClick's Telegram channel & get Real-Time updates on stories, as they get published on our website.
Subscribe Newsclick On Telegram