Govt Admits 36 Big Scamsters Have Fled India
One estimate puts the amount they gobbled up at Rs.40,000 crore – all from public funds.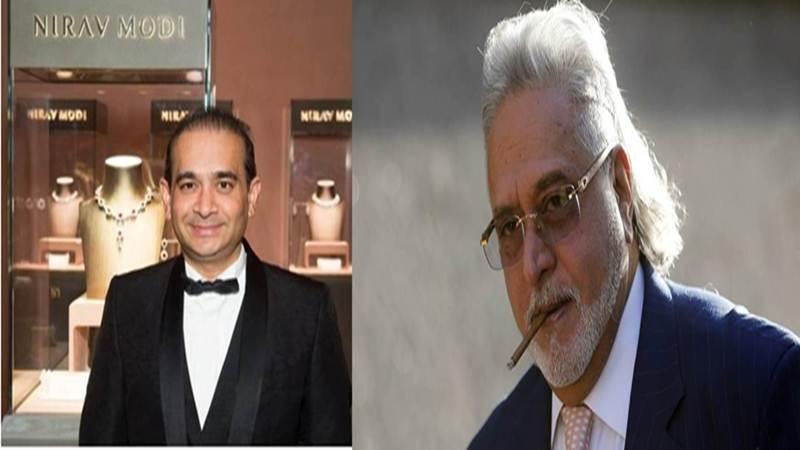 Image Courtesy: DNA India
At least 36 big-ticket 'economic offenders' – like Vijay Mallya, Nirav Modi and others - have fled the country, the govt. has admitted. Together, they are responsible for defrauding the public exchequer of an estimated Rs.40,000 crore. 
Of these, 12 are being sought now by the Enforcement Directorate and 31 by the CBI, with seven persons common to both the wanted lists. Extradition proceedings have been initiated against just six of these persons while the papers are being processed for one person. Reports suggest that the fugitives are spread far and wide in the world, from Singapore and London to St.Kitts in the Caribbean. Prospects of locating them and bringing them back for trial are distant, as the Vijay Mallya case has shown.
The names of these offenders were revealed by the external affairs minister of state M.J.Akbar in a written reply to a question in Lok Sabha on 14 March 2018. In all, these 29 individuals are involved in some 15 cases of fraud or other economic offences.
Most of these billionaire fugitives fled the country in the past few years, the most recent being Nirav Modi, Mehul Choksi and company who are accused of defrauding the Punjab National Bank of over Rs.13,700 crores.
The country has seen a wave of shock and anger at the impunity with which these cases of fraud and looting of public money have taken place. But the outrage has been aggravated at the fact that these criminals are happily roosting in various foreign lands, many openly cocking a snook at the Indian govt.'s 'efforts' to get them back.
In the run up to the 2014 Lok Sabha elections, at a rally in Jhansi (UP) on 25 October 2013, Narendra Modi (then BJP nominee for prime ministership) had thundered that he would act like a 'chowkidar' (watchman) in Delhi and stand guard over the 'khajana' (treasury). But under his watch, a host of characters like Mallya, Nirav Modi, Mehul Choksi, and the others listed have fled with the booty.
The amounts allegedly embezzled  by some of those in the red list of fugitives revealed in Lok Sabha are: Vijay Mallya (Rs.9,000 crore); Nirav Modi, his wife Ami Modi, brother Neeshal Modi and uncle Mehul Choksi (Rs.13,700 crore); Jatin Mehta  (Rs.7,000 crore); Lalit Modi (Rs.125 crore); Chetan Jayantilal Sandesara and Nitin Jayantilal Sandesara (Rs.5,000 crore); Ashish and Priti Jobanputra (Rs.770 crore); Ritesh Jain (Rs.1,500 crore); Sabhya Seth (Rs.390 crore); and Sanjay Bhandari (Rs.150 crore), according to a report. The nature of crimes and amounts involved for others in the list are not yet publicly available.
In a classic case of closing the stable door after the horses have bolted, the Modi govt. is now proposing to bring in a new law called the 'Fugitive Economic Offenders Bill, 2018' in the Parliament. This would supposedly lay down measures to deter fugitive economic offenders from evading Indian law. It includes provisions for rapid confiscation of proceeds of crime and properties of the fugitives, the minister said in Lok Sabha. Many experts believe that existing laws, if applied diligently, would be sufficient to nail down the offenders. There is also a widespread perception that people like Mallya and Nirav Modi/Mehul Choksi could easily have been prevented from fleeing because their criminal behavior had come to light much before their actual fleeing from India.
As Modi's term nears its end in 2019, and with discontent rising on a wide range of issues like farmers' debt, workers' wages, corruption and fraud, a faltering economy and rising social strife due to rightwing Hindu fanaticism seen to be fostered by the ruling BJP, the central govt. is scrambling to deal with the charge of being too lenient towards these billionaire fraudsters. The proposed law, and the reported listing of 91 persons associated with companies which are willful defaulters on loans from banks are some of the weak attempts by the govt. to reclaim its fast dwindling credibility on the corruption front – which was one of the key promises that had drawn support from the people in the last election. But it may be too late. 
Get the latest reports & analysis with people's perspective on Protests, movements & deep analytical videos, discussions of the current affairs in your Telegram app. Subscribe to NewsClick's Telegram channel & get Real-Time updates on stories, as they get published on our website.
Subscribe Newsclick On Telegram