UP Govt Transfers Rs 1,100 to Parents for Kids' Uniforms, Parents Claim Amount is Insufficient
NewsClick spoke with several parents, most of whom argued that the amount (Rs 1,100) is insufficient to purchase uniforms, sweaters, shoes, socks, and schoolbags.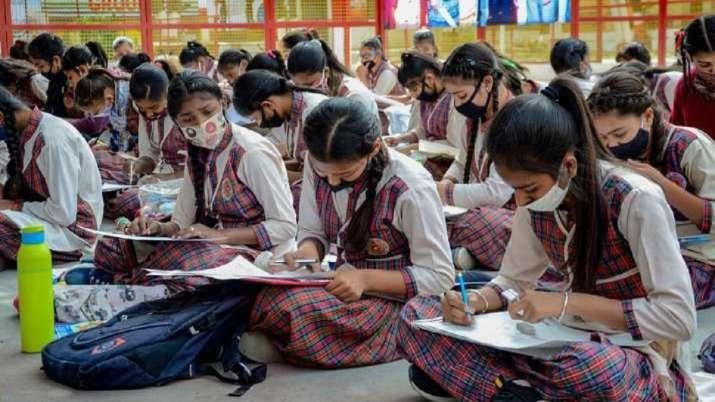 Image for representational purpose. Credit: India TV News
Lucknow: With only three months left for the Uttar Pradesh assembly elections 2022, the Yogi Adityanath-led Bharatiya Janata Party (BJP) government on Saturday transferred money directly to the bank accounts of the parents of around 1 crore 80 lakh bonafide students of government and aided primary schools under the Basic Shiksha Parishad through Direct Benefit Transfer (DBT) for the purchase of school uniforms, sweaters, shoes, socks, and bags. 
While launching the scheme on Saturday evening, Yogi Adityanath said, "By sending money directly to the accounts of parents on the occasion of Bhai Duj, it is a new attempt to enlighten the future of 1 crore 80 lakh students. The state government is committed from day one to give corruption-free management while using the technology and we have achieved the target under the supervision of Prime Minister Narendra Modi in the four and half years. When we came to power in 2017, I still remember the condition of primary schools; it was pathetic. And there was a shortage of teachers -- a huge challenge for the education system. In July 2017, we ran 'school chalo abhiyan' . We found that most of the students were deprived of schooling due to the lack of uniforms and shoes. With the help of teamwork, we reached every parent of such students and now the situation is entirely different," the CM said. 
It should be noted that the decision to disburse Rs 1,100 was in fact taken at a Cabinet meeting in the last week of October chaired by chief minister Yogi Adityanath.
"The scheme aims to prevent corruption in the tendering process. The government will directly transfer Rs 1,100 to the accounts of parents of around 1 crore 80 lakh students enrolled in classes 1 to 8 studying in government primary and aided schools under Basic Shiksha Parishad," a government official said. 
Currently, uniforms, shoes, and school bags are provided to the students through their schools for free. For carrying forward the scheme, the parents of 1.8 crore students will be given a total amount of about Rs 1,800 crore through direct benefit transfer (DBT). 
The state government has also reportedly  fixed the rates for children's uniforms and other items. Two pairs of uniforms are to be purchased at the rate of Rs 300 each and a sweater will be purchased at a cost of Rs 200. Whereas, for shoes and two pairs of shocks, Rs 125, and for a school bag, Rs 175 will be given.
Meanwhile, NewsClick spoke with several parents, most of whom argued that Rs 1,100 is insufficient for purchasing the said five items. 
"The government should give a minimum of Rs 2,000 to purchase the uniforms and other items. The items that are available at the rate which the government has fixed won't last for even three months," said Meera, whose two daughters are studying in a government primary school in Haidergarh, Barabanki district. 
Echoing Meera's view, Sambhu Narayan, another guardian of three children in Prayagraj district, said, "I fail to understand the calculation by the government. It seems like they haven't been to the market. How can one buy two pairs of uniforms for merely Rs 600 and one pair of shoes and two pairs of shocks for Rs 125?" he asked. 
Sudhir Panwar, a Zoology professor at Lucknow University, who was also part of the state's planning commission during the Akhilesh Yadav government, called this simply a move to lure the voters ahead of Uttar Pradesh Assembly elections. 
"If the government is giving cash to the students instead of providing these articles, they are running away from its responsibility. It is evident that the government cannot get these articles at the cost of Rs 1,100. Furthermore, there are hundreds of other compulsions before parents. If they get Rs 1,100, they will probably buy other essential commodities or medicines, instead of buying sweaters and uniforms," Panwar told NewsClick. 
He added, "Earlier, before the mid-day meal scheme was launched, when the school dropout rates had increased, the government had decided to give money to the students as per their attendance in the classroom for food, But it didn't serve the purpose either. Their parents would spend that money on other essential stuff instead of spending it on their children. Then, the government started giving food to the children in the schools. It should be quite simple to understand that if a kid is sick or if their parents are in need of essential commodities, they will not buy school uniforms, but spend on medicines and ration."
"By doing this, the government wants to give a message through the advertisements that they have spent Rs 1,800 crore on students. This is just an election gimmick and nothing else. The government is also too short of time to go through the formal tendering process," he told NewsClick.
NewsClick also took stock of a local market in Lucknow where the school uniforms and other articles were available for sale. 
"If you buy a school uniform, it will cost between Rs 400 and Rs 600. If it is of good quality, the rate will double. Similarly, a pair of shoes will cost you Rs 200 in ordinary quality. The rate the government has fixed for five items is quite insufficient," said Sumit Verma, a local shopkeeper, adding that it is impossible to get a sweater to brave a chilling cold in Rs 200.
"For Rs 200, one can not even get enough wool to knit a sweater for a kid, forget about getting a good quality sweater," he said.
Get the latest reports & analysis with people's perspective on Protests, movements & deep analytical videos, discussions of the current affairs in your Telegram app. Subscribe to NewsClick's Telegram channel & get Real-Time updates on stories, as they get published on our website.
Subscribe Newsclick On Telegram