GROUND REPORT: Microfinance Institutions in West Bengal: A Death Trap?
Women from low-income families in Bankura district find themselves trapped in a circle of debt with never-ending instalments to be paid and high-interest rates.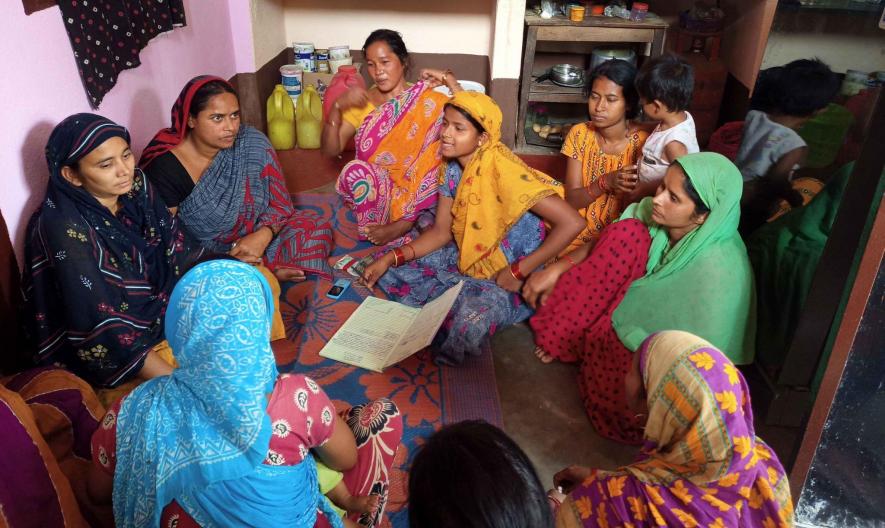 Microfinance group meeting at Kabar Danga Bankura town, West Bengal
The word 'Sir' in some areas of West Bengal represents officers of microfinance institutions (MFIs) who come to collect money from low-income families. If these families cannot pay, they are allegedly met with continued threats.
In some ways, this was depicted in a 2017 movie by Nila Madhab Panda called 'Kadvi Hawa'. The debt collector in the movie was called 'jamdoot' (God of Death); in villages and urban areas of West Bengal, they are referred to as 'Sir'.
Unemployment has become a severe issue in West Bengal. Despite that, families are also concerned with running households and having money for events like marriage, burial ceremonies, etc. Since it is a patriarchal setup, women get assigned the gender role of running the household. Coupled with unemployment, the need for money creates a circle of debt. That's where MFIs come into the picture. Predominantly, MFIs give loans to women in West Bengal. This is especially true in Bankura and Purulia districts. The authorities know how MFIs have set up their shop across these districts, but nothing is done to stop it.
Can the families who took loans from MFIs never escape its trap? This apprehension is emerging from several villages and urban areas of the Bankura district.
Which loophole has helped MFIs? How do they give loans to women? Why are only women given loans? Why are men not entitled to get such loans? This writer talked to several borrowers to get answers to these questions.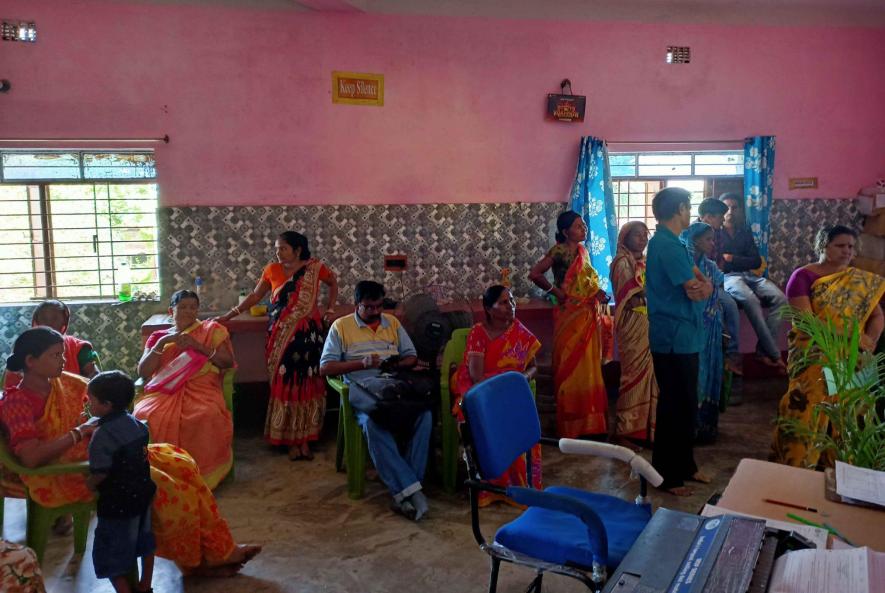 Women of the group at the office of Bharat finance inclusion limited at Bankura Shyamdaspur
"Poor people like us do not have a choice. Who will give us unsecured loans for our routine consumption and social obligations like marriage, medical expenses, festivals, and repair of broken homes? Does the government care about us? Do we have to take loans at high-interest rates if our male family members get suitable work? I did not have to take a loan 10 years ago," said Mithu Nioyi, a borrower who has loaned Rs 30,000 from Bandhan Microfinance institution. She received Rs 27,500; the rest was deducted as insurance. As per the loan terms, Nioyi has to pay Rs 2,000/month for 18 months. She paid the first 10 instalments but is unable to pay anymore. Nioyi, a widow, said she had to leave her home due to alleged threats from debt collectors.
In 1996, the Left-Front government in West Bengal created self-help groups (SHGs) to make economically-poor women self-reliant. Under the supervision of SHGs, women were trained to make various products, such as jams, fruit juice, imitation jewellery, etc. Women from SHGs in Bankura have attended several fairs nationwide to sell their products, including in Delhi and Mumbai.
However, government support towards SHGs decreased after Trinamool Congress assumed power in the state in 2011. As per the official data, there are around 57,000 SHGs in Bankura district. However, very little is known about how they operate.
"They sometimes get loans which are not subsidised. These groups often cook mid-day meals in schools and for rallies of the ruling party. They are often taken to attend these rallies," said Siuli Midya, district secretary of All India Democratic Women's Association.
The poor state of MGNREGA (Mahatma Gandhi National Rural Employment Guarantee Act) has further worsened unemployment in the district. Considering abject poverty, MFIs have entered the district. Under the guise of helping economically poor women, MFIs have re-introduced the old moneylending system.
In March 2022, the Reserve Bank of India (RBI) allowed MFIs to fix interest rates on loans with a rider that they should not be usurious for borrowers. However, MFIs allegedly do not comply with the latter.
"MFIs go to poor neighbourhoods through brokers. They first form a group of a minimum of 10 married women. Within a few days, each group member gets a loan of Rs 20,000," said Minu Bauri, a resident of Lal Bazar, Bankura. Bauri borrowed Rs 70,000 from an MFI.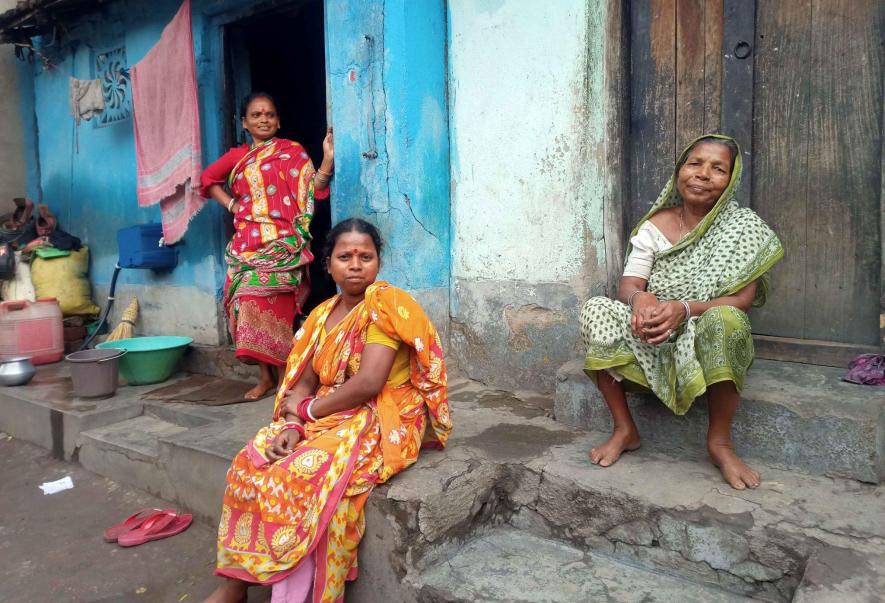 Reba Bauri with relatives at Lalbazar in Bankura. She has taken a loan from L&T Microfinance Institution
As per Reba Bauri, another borrower, many women in her area have borrowed from various MFIs.
"While giving loans, they tell us that instalments must be paid on a certain day. They warn that they will not be merciful if we fail to pay instalments," she told this writer.
Dulali Bauri borrowed Rs 70,000 from an MFI. She is scheduled to pay a weekly instalment of Rs 1,300 for 104 weeks. For a principal amount of Rs 70,000, Dulali Bauri's total payment would be around Rs 1,35,200 over two years; this amounts to an interest rate of over 50%.
Similarly, Nasima Bibi and Ayesha Bibi borrowed Rs 40,000 from an MFI three years ago. They could not pay instalments during COVID lockdowns for several months. After that, their instalment amounted to Rs 2,000/month. However, the collecter said they still needed to pay Rs 30,000. When this writer looked at the document, he found that the document showed an interest rate of 24%. However, more money was taken from them. This amounts to a clear case of cheating.
MFIs often use women of the same group to collect loans from another group member. The group members are allegedly threatened that if one member fails to pay instalments, the loans of all others will be terminated. As a result, when a group member struggles to pay an instalment, other members often pressure them to do so. This is straining inter-personal relations.
Moreover, the alleged inhumane behaviour of debt collectors has led to disastrous situations. Some women have reportedly even tried to die by suicide in the district, while many are absconding.
"We have several cases of women trying to die by suicide in recent months; however, no actual suicide has come to our notice. If we get a report, we will conduct a fact-finding inquiry and take appropriate action," said an Additional Superintendent of Police, Bankura.
MFIs have started another method to keep women trapped in debt. After they pay five to seven instalments, women are told they are again eligible for loans. After deducting the money for the old loan and re-insuring the new one, very little money is given to these women under the new loan. After that, women are forced to pay more money with higher interests. If they want to repay these loans, they often have to borrow from another money lender at a higher interest rate, as no other MFI will loan these women. MFIs seem to have a tacit understanding amongst themselves for exploiting women in the name of self-employment.
In Bankura district, several banks run MFIs, such as HDFC, Axis Bank, etc. Along with that, there are entities like L&T Aasha Finance.
When this writer contacted Nasiruddin Altamas, Assistant Manager, Bandhan Microfinance, about high-interest rates. He said that banks fix these rates, and the women are paying.
"We do not care what borrowers do with this money. Our work gets done when we get the instalment money," he said.
Suman Karmakar (name changed), a debt collector of Aasha Finance, said it is easy to collect money from women as they cannot stay outside for long.
"They must bring money from somewhere. We get a commission on the collected money. This is important because we only get Rs 7,000 as our monthly salary," he said.
Debt collectors are often from outside; women are rarely informed about the offices of these MFIs.
"We change office addresses every six months. We do not think it is necessary to tell members of groups about this. They need money; we give it," said Buddhadeb Bairagy, manager of Village Microfinance, Bankura branch.
"A government-sponsored self-help system is required to rescue these women from the shackles of MFIs. The Reserve Bank has been unable to monitor and regulate the sectors. MFIs are continuing their work without any hindrance," said a former project officer of Bankura District Rural Development Cell.
The writer covers the Bankura region for the 'Ganashakti' newspaper in West Bengal.
Get the latest reports & analysis with people's perspective on Protests, movements & deep analytical videos, discussions of the current affairs in your Telegram app. Subscribe to NewsClick's Telegram channel & get Real-Time updates on stories, as they get published on our website.
Subscribe Newsclick On Telegram