GROUND REPORT: Muslim Migrants Fleeing Haryana's Gurugram Amid Bajrang Dal 'Threats'
After the communal violence, fear stalks families living in Sector 70 A shanties despite police presence. Hundreds have fled, and those who remain allege the 'threats' are continuing.
Images by Neelam Gaur and Prabhat Tiwari
Gurugram: Amid reports of Muslim migrant workers fleeing slum clusters of Gurugram due to allegations of threats directed at them by Hindutva organisation Bajrang Dal, NewsClick visited three slum clusters in Sector 70 A.
It was clear that following the communal clashes in Haryana's Nuh, spreading into other areas, such as Gurugram, the lives of Muslim working-class families are in complete disarray. Though these clusters are located in and around the fringes of scores of skyscrapers, the roads connecting these clusters to these upscale buildings were full of sludge and potholes.
Read Also: How Communal Violence Engulfed Mewat's Nuh
The communal clashes broke out in the Mulsim-majority Nuh district after a religious procession taken out by the Vishwa Hindu Parishad (VHP) faced resistance, leading to stone-pelting and violence that took the lives of six persons, including a cleric in a Gurugram mosque.
After the violence, Muslim migrant workers and their families allege that they have become targets of the "belligerent threats" asking them to vacate the area. When NewsClick met some inhabitants of these slum clusters, a sense of fear, uncertainty about their future, and profound sorrow were visible.
Shabana (32), who hails from Uttar Pradesh's Gorakhpur, seated outside her tiny tin-shed room due to the heat inside, said several families had already left the vicinity following the August 31 clash.
"I have sent my three daughters to my village in Uttar Pradesh. One cannot trust the current atmosphere. There is a lot of talk taking place around us. People are asking about each other's religion. I fear for my daughters' safety in such an environment, so I sent them back," she said.
Upon reaching Palda village of Sector 70 A, one could see police presence outside the shanties. However, in the presence of police, families could be seen hastily departing in taxis and auto-rickshaws laden with their belongings. While boarding a cab, Haseena (24) confessed that 'fear' was the primary reason compelling Muslim migrant workers to flee the area.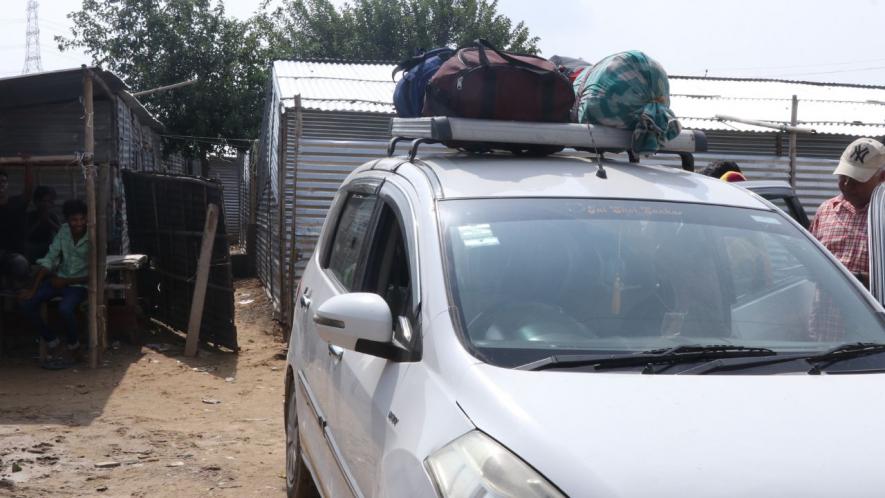 Accompanied by two other families, Haseena said she was going to take the train to Malda, West Bengal.
The decision to live in these clusters had been significantly motivated by affordable rents and convenient proximity to upscale localities. Notably, a majority of the working class families, predominantly women, work as domestic helps in nearby upscale apartments and societies. Many of them are Muslim migrants from West Bengal.
Rahman's (42) family was among the many leaving the place. Recalling his six-year tenure as a labourer in Gurugram, he recalled the period before August 1, when everything was normal. According to him, after  August 1, a group of 40-50 people came to their slum cluster and threatened all Muslims to leave the place. 
"The men had sticks in their hands. They were aggressively shouting that no Muslims should live here and all would have to leave. They also thrashed a woman who fled the cluster just after the incident," he added. 
In a report published on  August 2 in The Hindu, the Gurugram Police had called such allegations of threats 'fake news', labelling the incidents of Muslims fleeing the area 'stray' incidents. However, in its new official response, the Commissioner of Police Kala Ramachandran acknowledged that on August 1, a group of 20-25 people had come to one of the clusters in Sector 70 A and asked people to leave. Since then, the police have been deployed to the area concerned.
However, residents of these clusters alleged that groups of people have still been coming and threatening them every day.
The vulnerability of migrant workers amid the communal violence was clearly visible in the lives they living. Roshan (45), a single mother from Malda, West Bengal, said she had not yet received her overdue wages for the past month. She works as a domestic help in a nearby residential society.
"I have been calling Madam (her employer) to give me my overdue wage as the new month has started, and I need to go home amid this crisis. But she has been evading it. I fear for my son's life here, but I don't have money to go back to my home," she told NewsClick.
The lingering fear of being an outsider is palpable as the families living in these shanties or jhuggis have very little knowledge about their neighbours who are either leaving or planning to leave. The presence of Hindu families in this cluster is sparse.
Sonu Chaudhary, one of the Hindu residents, who has been living in the cluster for the past six months, said approximately 100 Muslim families had left the place in the past five days. He said solidarity among the families living in the cluster was less likely as all of them belonged to different states. 
Some residents also narrated a few incidents of physical assault in the cluster. Shabbir (23), a driver with cab aggregator Ola, said a group of strangers thrashed him upon knowing his religious affiliation while he was going to work. He said he had not attended work since then. 
"Even though there is police presence outside, fear is so high that people are hardly going outside the cluster," he added. 
According to him, similar incidents of assault have also been reported in a few others slum clusters.  
In its official response, the Gurugram Police acknowledged that one F.I.R had been registered in connection with the beating of the man while he was returning from work.
Approximately 3 kilometres from Palda village, there is another slum cluster at Badshahpur, which occupies the opposing side of a waterlogged, muddy pathway connecting the cemented road. In this cluster, the residents said that groups of men had been talking rounds of the area daily at night since the communal clash of July 31. 
"The women largely are confined within their homes while the men cautiously monitor their surroundings," said Parveen. 
In this cluster, too, the pervasive atmosphere of fear has led numerous families to leave the area for personal safety and security.
Like other women of the clusters, Parveen said she was also waiting for her overdue wages as a domestic help in one of the residential societies. Her husband, who works as a cleaner in a hotel, has not gone to work since August 1. She expressed her disappointment over the indifferent attitude of the government in stopping the threat they were facing.
"No one is stopping the goons coming here and threatening us. We have come here for employment. Now we do not even have that. We will also leave soon. How long can we live in fear?" she said.
Get the latest reports & analysis with people's perspective on Protests, movements & deep analytical videos, discussions of the current affairs in your Telegram app. Subscribe to NewsClick's Telegram channel & get Real-Time updates on stories, as they get published on our website.
Subscribe Newsclick On Telegram