How Communal Violence Engulfed Mewat's Nuh
'Extreme provocation, new phenomenon of yatra' blamed for escalating tension in the area.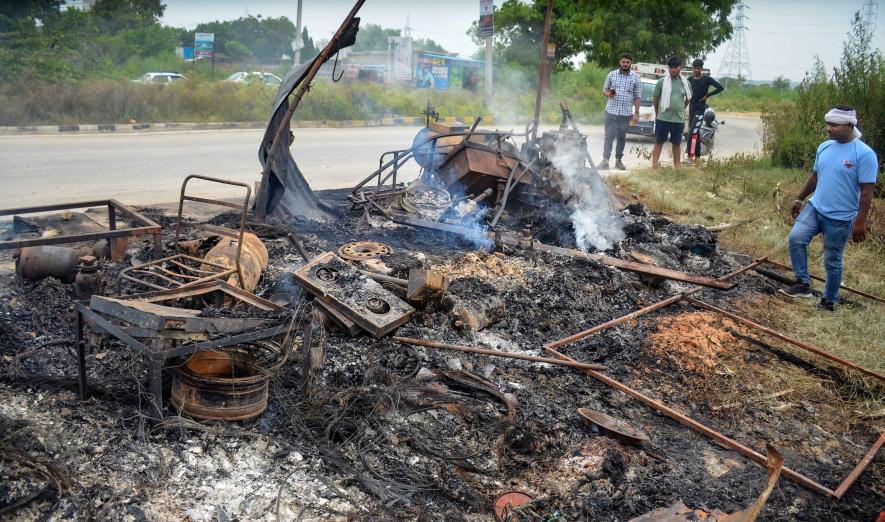 Locals look at burnt items at a shop which was set ablaze in a fresh case of communal violence in Gurugram, Wednesday, Aug. 2, 2023. Image Courtesy: PTI
Nuh (Mewat)/Gurugram/New Delhi: Communal violence in Haryana's Nuh district in the Mewat region is being described, in nutshell, by the locals as consequence of "extreme provocation" and an "open challenge" — which was responded in "full force" by some youth who were in a "fit of rage" since their fellow community members, Junaid and Nasir, were burnt alive on the Rajasthan-Haryana border on February 16, allegedly by self-proclaimed 'cow protectors', including Monu Manesar.
Six people, including two home guards and four civilians, have died in the incident. Property worth lakhs has been damaged.
"In case of movable property, the government will provide 80% coverage if the loss is estimated at Rs 5 lakh. If the loss is between Rs 5 to 10 lakh, 70% will be covered. For losses between Rs 10 to 20 lakh, 60% will be covered," said Haryana Chief Minister Manohar Lal Khattar, vowing to uncover the "plot" behind the outbreak of communal violence.
Who were these youth, and how were they mobilised?
The common refrain is: they were outsiders along with a handful of locals who reached there as part of "counter mobilisation".
Two notorious hate mongers, Bittu Bajrangi and Monu Manesar, who are often accused of spreading hatred and carrying out violence in Haryana, are being held responsible for the provocation.
Several local residents said that hours before the violence in Nuh and adjoining Gurugram and Sohna, Bajrangi's recorded message went viral on social media.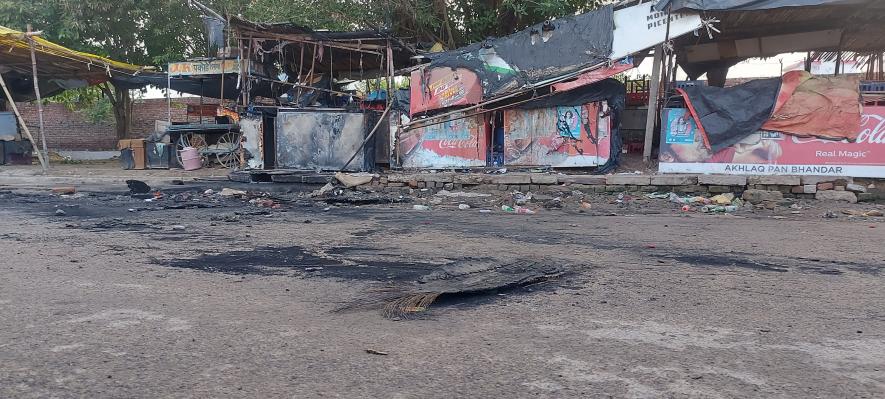 "Bata rahe hain kyunki yeh mat kahna ki bataya nahin. Tumhare jija aa rahe hain. Phul mala tayyar rakhna. Pali mein hain, Nuh aa rahe hain (we are letting you know so that you don't complain that you were not informed in advance. Your brother-in-law is visiting. So, keep flowers and garland ready. We are in Pali and proceeding towards Nuh)," he purportedly said in the video — which spread like wild fire on the Internet.
"The video message was taken as a challenge by youth from across Mewat who considered it as a mockery of the barbaric killings of Junaid and Nasir. Youth from the local Meo community also posted provocative videos on social media, accepting the challenge," Mauj Khan, a local journalist from Mewat's Ghasera village in Nuh Tehsil who owns a Common Service Centre (CSC) at Gandhi Gram and also runs a YouTube channel, told NewsClick.
He was intervened by one Mohammad Rashid who alleged that "they" (the Bajrang Dal people) killed many Muslim youth recently on one pretext or the other, and he challenged them again.
Read Also: Charred Bodies of Junaid, Nasir: Ex-UP DGP Questions Suicide FIR
"Days after Nasir-Junaid killings, one Asif, a resident of Hussainpur village in Nuh, was killed on the suspicion of smuggling cows. Saikul recently died in police custody. One Saddam, a resident of Sikri village in Rajasthan's Bharatpur district was killed by the cow militia. This time, you again challenged us. It has enraged the youth, who got mobilised to take revenge," he said.
Rashid claimed the narrative that the violence erupted following the clash during the (VHP) procession is totally wrong. "Be objective and say what led to the clash. Why the counter mobilisation took place. Why no action was taken against the provocation," he added.
The police allegedly chose to turn a blind eye to the provocative social media posts. Neither were the threatening posts taken down, nor were the potential trouble makers arrested or taken into preventive custody, it was alleged.
The chief minister told the media that the hunt to nab Monu Manesar was on.
"I myself had brought these circulating videos and open threats into the notice of Nuh's Additional Superintendent of Police, Usha Kundu, and urged her to take action before it is too late," claimed Advocate Ramzan Chaudhary, a noted social activist in the region, adding that his "request was unfortunately not taken seriously". 
The Braj-Mandal Yatra or Vraja-Parikrama, an annual affair that has historically passed through Nuh peacefully, was allegedly allowed to be "hijacked" by vigilantes associated with the Bajrang Dal, a Hindu Right-wing organisation.
"Criminals and lumpen elements of the Hindutva groups were prepared for disruption in advance in order to carry out their nefarious designs," he alleged.
Violence was well anticipated, and the same happened.
As the first batch of the Vishwa Hindu Parishad procession, which originated from Shiv Mandir at Jatia Mohalla in Nuh Rural, reached Mewli Mod — 1.5 km away from the temple — at around 12-12:30 p.m on July 31, with DJs blaring loud music and the youth raising objectionable slogans, said Chaudhary, "a group of youngsters who had descended there from Mewat's far off places as part of a counter mobilisation, objected to the provocative chants".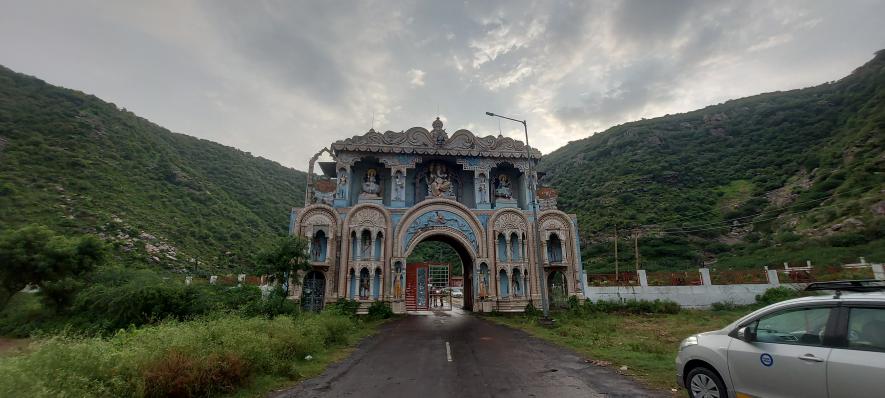 "Heated verbal exchanges soon turned into heavy stone pelting. Since both the groups were armed with guns, swords and batons, a few shots were also exchanged. Several viral videos suggest that Bajrangi, who was leading the procession, was caught and thrashed," claimed Chaudhary, saying the rally could not move ahead and its participants ran back toward the temple.
Several purported videos have emerged wherein armed men can be seen with weapons such as automatic guns, etc. A few people can also be seen throwing stones "in police refuge."
Till then, Chaudhary said, the second batch had already started and reached near Nalhar village. Close to the temple was a magnificent mosque. "There, too, highly objectionable slogans were raised and objected upon. This led to a violent clash between the two groups. Several vehicles parked there were torched. This continued for few hours. Once heavy deployment of police was made, the situation was brought under control," said the lawyer.
Meanwhile, hundreds of the processionists took refuge in the temple and were later rescued by the police. Soon after the clashes, locals said that a misinformation started doing the rounds that the yatra was attacked by Muslims. This led to violence in several parts of Haryana.
A mosque in Gurugram's Sector 57 was torched on July 31 midnight, and its Naib Imam (assistant prayer leader), 19-year-old Maulana Saad, was gunned down while he was sleeping in the premises.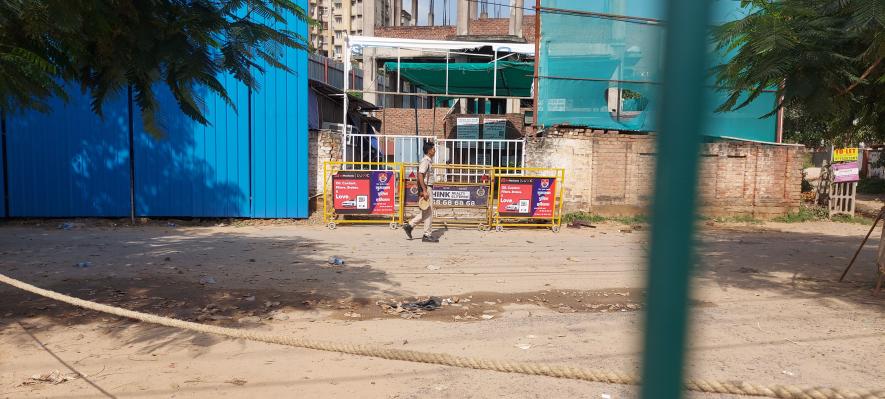 The prayer leader of the Anjuman mosque at Sector 57 in Gurugram was shot dead.
Violence also took place in Sohna where several shops, mainly belonging to Muslims, were set on fire. In fresh violence, which took place at around 9:30 p.m on August 1 in Gurugram's Sector 70-A, near Badshahpur, 14 shops in the main market were vandalised as about 200 men on motorbikes and SUVs targeted outlets, mostly selling biryani, and other food stalls and scrap shops.
In Sector 66, seven stores were set ablaze.   
There was a complete "administrative meltdown", said Swaraj India chief Yogendra Yadav, who was leaving from the deputy commissioner's residence after attending a peace committee meeting, adding that this can be gauged from the fact that a lady judicial magistrate — who was stuck in a mob — was rescued by Advocate Chaudhary on the request of the additional sessions judge after the police allegedly refused to escort her out safely.
However, this incident could not be independently verified by NewsClick.
COMMUNITY VERSUS COMMUNITY CLASH?
Not, apparently. A young man belonging to the Gadaria caste, an ethnic group that is traditionally involved in livestock breeding, especially sheep, was caught between tow groups at Nuh and suffered a bullet injury in one of his legs.
A resident of Ghasera village, he was visited by Muslim neighbours who were pouring in to inquire his well-being.
Similarly, three shops belonging to Hindus were torched at Badkali chowk. The sarpanch (village head) of the nearby Nagina village is said to have rushed the spot along with 300 men and helped douse the fire.
When the violence took place at Bhadas village, the same sarpanch is said to have gone there and pacified the people.
DESERTED VILLAGES
The NewsClick team saw village after village deserted in Nuh, with no trace of any men folk. Majority of the houses were either locked or there were only women there. When one reached out to them with questions, they refused to talk.
While Bajrangi, Manesar and those who killed the cleric in Gurugram are still at large, locals alleged that the Haryana Police had launched a massive crackdown against Muslim youth.
Around 30 men, if the locals are to be believed, have been picked up in connection with the violence. This has left many families grieving. Twenty-two men, including minors, were allegedly picked up by the police at Muradbas village.
Each house in the village had at least one boy or man being picked up, locals said.
However, the police have neither explained any reason nor have registered any FIR.
"No one is telling us why our boys are being arrested. They just come and pick up our men. The clashes took place after Bajrang Dal instigated it. But one-sided arrests are being made," alleged a villager.
BRAJ-MANDAL YATRA
Majority of the people, including Yadav, who NewsClick spoke to, said there was a tradition of offering water at the Shiv Mandir, but taking out a procession was a "new phenomenon."
Even after the yatra began, since the past three yearsit always went unnoticed with no incident of instigation or violence, said the villagers. Last year, a shrine close to the temple was damaged by the participants of the procession, but it did not invoke any reaction, the locals said.
"The district administration actively intervened and pacified the agitated Muslims, requesting them not to create any law and order situation, and assured them that the shrine would be rebuilt. The procession passed peacefully. The administration walked the talk and got the mazaar repaired," said Rashid.
The same was echoed by Yadav.
POLITICS AT PLAY
Communalising Muslim majority Mewat suits the ruling Bharatiya Janata Party (BJP) if it wants to secure the next general elections and the Assembly polls in Haryana in 2024.
"If you want to communalise North India, Kashmir is not enough. If they get success in Mewat, they will be able to convince people that Muslims are aggressors and where they are in majority, they inflict violence on Hindus. This region has a direct impact in Uttar Pradesh, Haryana and Rajasthan. And, therefore, Mewat have been systematically stereotyped over the years," said Yadav.
Therefore, he said, it was the responsibility of the majority of every area to ensure that the minorities felt safe.
UNRESPONSIVE POLICE
When asked about alleged police inaction, provocative social media posts and "one sided" arrests, top police officers in the districts refused to comment, citing that their priorities right now were to maintain law and order and restore peace in the region.
When asked as what led to the violence, they said "investigations are going on."
With regard to the arrests, some officers said they had evidence to justify their actions. "No culprit will be spared; and simultaneously, no innocent will be harassed," a senior police officer told NewsClick.
Get the latest reports & analysis with people's perspective on Protests, movements & deep analytical videos, discussions of the current affairs in your Telegram app. Subscribe to NewsClick's Telegram channel & get Real-Time updates on stories, as they get published on our website.
Subscribe Newsclick On Telegram