GROUND REPORT: Network of RSS-linked Schools Grows Dense in Junglemahal; Is TMC Compliant?
In 2018, the West Bengal government had identified 123 schools affiliated with RSS operating without a no-objection certificate and had decided that these schools would be banned immediately. But no action has been taken yet.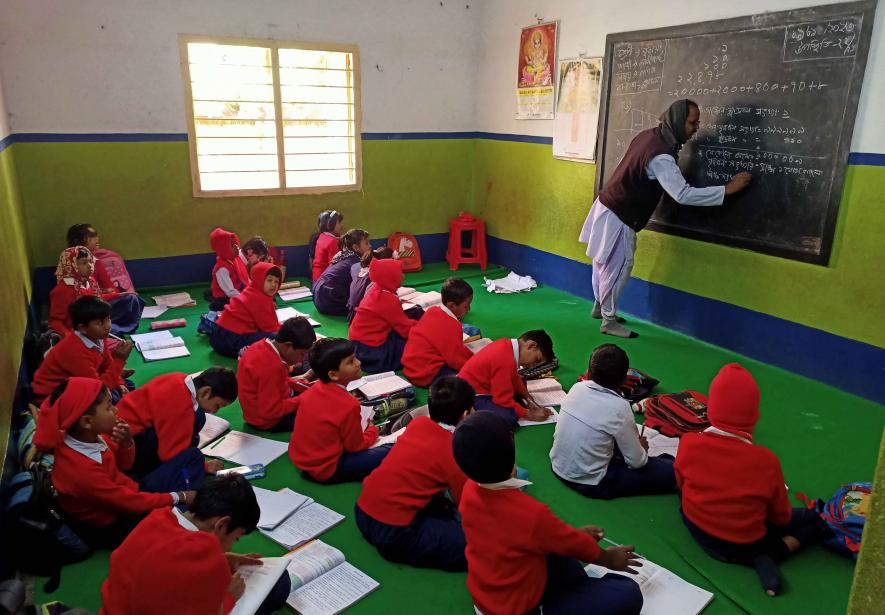 Saraswati sisumandir school at bankura town.
"Nadirshah was a very tyrannical king, wasn't he? He came from Iran and destroyed many temples in our country, and especially in Delhi, looted a lot of gold and precious things. He looted so much money from here that he did not have to collect taxes for three years when he returned to his country. He took thousands of elephants and camels from here. Nadirshah is a very bad person, and our Bengal king Shashank was a very good man. Nalanda, the resting place of Buddhists, was broken during his regime because Buddhists did not believe in the existence of God," says seven-year-old Supriya Ganguli. She further went on to tell me confidently that the elephant's head on lord Ganesh's head was put on with surgery by our ancient saints.
Supriya Ganguli is a class III student of Saraswati Shishu Mandir School at Bankura town in West Bengal. When I asked her who told her these things, she said it was their dadabhai. (Teachers are addressed as dadabhai and didibhai at her school.)  She then said assertively that our country belongs to only Hindus. People of other religions have looted and tortured us tremendously. They have not done anything good when they ruled and nor do they do it now!
A large number of students at Saraswati Shishu Mandir – run by the Rashtriya Swayamsevak Sangh (RSS) – have been growing up with this idea about other religions since their childhood. Is this the full explanation of history to them? This reporter went to the Saraswati Shishu Mandir schools in several places to find out how these ideas are sowed with education.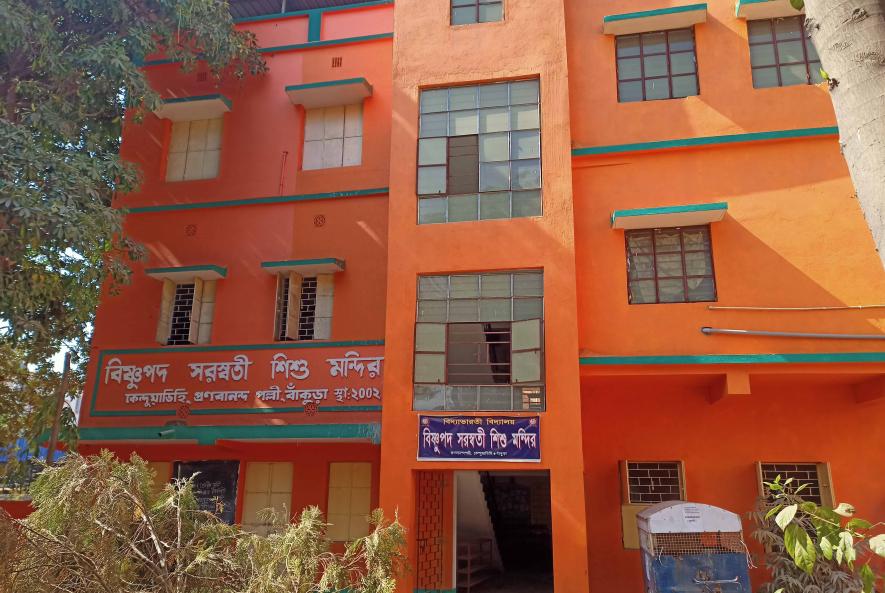 Saraswati sisumandir school at bankura town
A dadabhai (a headmaster) of one such school in Bankura town claimed he had directly participated in the demolition of the Babri Masjid on December 6, 1992, in Ayodhya. When prodded further for his views on education and curriculum of his students, he said they put more emphasis on character-building than traditional education. "We also support the New Education Policy as Astrology can also be introduced with its help. We emphasise the glory of Hinduism. The syllabus of Saraswati Shishu Mandir schools is prepared according to the instruction of the Vivekanada Vidyavikash Parisad – the apex body for schools linked to RSS."
This reporter also spoke to a headteacher of a school in Junglemahals' Jhilimili – where the maximum number of students belong to the tribal community. The name of the school is Banabasi Kalyan Ashrom and students live in the school hostel. But the RSS school does not recognise them as tribals; they are instead "forest-dwelling Hindus". The teacher said: "What is tribal again? All the people living in these jungle villages are Hindu. They have grown up in the forest area for many generations. So, we call them forest dwellers." As the conversation ensued, another dadabhai, who belonged to the Santhal community, listened quietly and raised no objection to any of the claims made by the former. Why? Perhaps compulsions to retain his job at the school.
In 1946, a Gita school was established in Kurukshetra (Haryana) at the initiative of then RSS chief M S Golwalkar. But the ban on RSS in 1948 was a dampner on its effort to spread the Gita school model. After the ban was lifted, the first Saraswati Shishu Mandir was established in Gorakhpur (Uttar Pradesh) in 1952 by Nanaji Deshmukh. After 15 years in 1977, this school was named 'Vidya Bharati'. The fact that these schools are run by the RSS is well known across cities and states. The curriculum is made in accordance with RSS's directions.
What is the aim of Vidya Bharati? Their website clearly states that its primary objective is "to develop a national system of education which would help build a generation of young men and women that is committed to Hindutva and infused with patriotic fervour". This cannot be understood by the naked eye, but the work of highlighting the "dignity of Hinduism" starts with spreading misleading stories about other religions and a school is an easy place for that.
At present, there are 50,000 RSS-run schools across the country; in Bengal, about 500 schools are running, most of which are at the elementary level. The rate at which the number of Saraswati Shishu Mandir schools is growing in West Bengal is alarming. During the Left rule, it was difficult for these schools to get affiliation, but it is not so under the rule of Trinamool Congress (TMC).
One state organiser of Saraswati Shishu Mandir schools and an RSS pracharak (campaigner) said all their schools got state government's affiliation after 2011. When this reporter met the headmaster of this school in Bankura, he admitted that they could not grow as per their expectations during the Left Front regime. But in the past 10 years, the RSS has managed to expand its organisational infrastructure without fear and increase the number of schools. The teacher recalled that Chief Minister Mamata Banerjee had called RSS members "patriots" and in turn, the Sangh, termed her as "Durga". She had also defended the Bharatiya Janata Party (BJP) government in Parliament after the Gujarat pogrom in 2002. On September 2, 2022, she had said: "Not everyone in the RSS is bad". In fact, quite a few elected members of panchayats from TMC are often seen at the schools' events.
On February 20, 2018, the former state education minister, Partha Chatterjee, said in the Assembly that the government had already asked the RSS-run schools' authority that they will not be able to run the schools. He said the government had identified 125 schools affiliated with RSS operating without a no objection certificate and had decided that these schools would be banned immediately. Has any action actually been taken? No, say various reports.
There is a huge shortage of teachers in government schools. With teachers seeking transfers through the Utsashree scheme away from rural areas and the closure of schools during the Pandemic-induced lockdown, students in government-run schools in rural areas have been struggling. A number of parents have withdrawn their children from government schools, said a teacher in a primary school in Motgoda. In such a situation, the expansion of the private education system is increasing rapidly and enrolment in Saraswati Shishu Mandir schools is also increasing, claimed a teacher from Khatra.
A few days before the beginning of the ongoing academic year, a mother from the minority community from nearby a village in Bankura town went to enrol her four-year-old child in a Saraswati Shishu Mandir. Without letting her enter the school, a dadabhai told her that she must pay Rs 3,200 for the child's admission after which they would give her the textbooks. The tuition fee was Rs 600 per month for class I. Her husband sells bread in Durgapur. When this reporter asked about the government primary school in her village, the woman said that the school was devoid of a suitable atmosphere for education. "Teachers there don't care about students; nor about whether they are going to the school regularly. Even if I do not have the financial capacity, I want to send my son to a private school," she said. A similar scenario was visible in the Halutkanali panchayat area of Junglemahal's Ranibandh. Students here have been going to the nearby Saraswati Shishu Mandir in Dhatkidi instead of the local government primary school.
Government schools in these areas are essentially empty. Three to 10 students can be found present in these schools. The teachers say they have nothing to do. Do the school inspectors (SI) come for inspections? No, say local residents. An SI in Junglemahal said they do so much government work that they do not have time to visit schools.
On the other hand, Saraswati Shishu Mandir schools seem like an open ground. However, being able to speak to students or teachers is very difficult if at all one can enter a school. This reporter observed that a typical school day started with a prayer to Goddess Saraswati; reading the Gita and Ramayana is mandatory, although these schools seem to adhere to the government-approved syllabus. When asked about the inclusion of discussion about our religion and their histories, the headteacher of the school said: "We discuss Hinduism; we believe only the thought of Hinduism will help the formation of good character." Similar explanations were heard in Dhatkidi and Jhilimily Saraswati Shishu Mandir schools, where adivasi and minority students were being made to learn only about Hinduism in the name of education. A teacher of Hijli also claimed that tribals were Hindu. "Why is there a need to discuss their separate religion?" he said.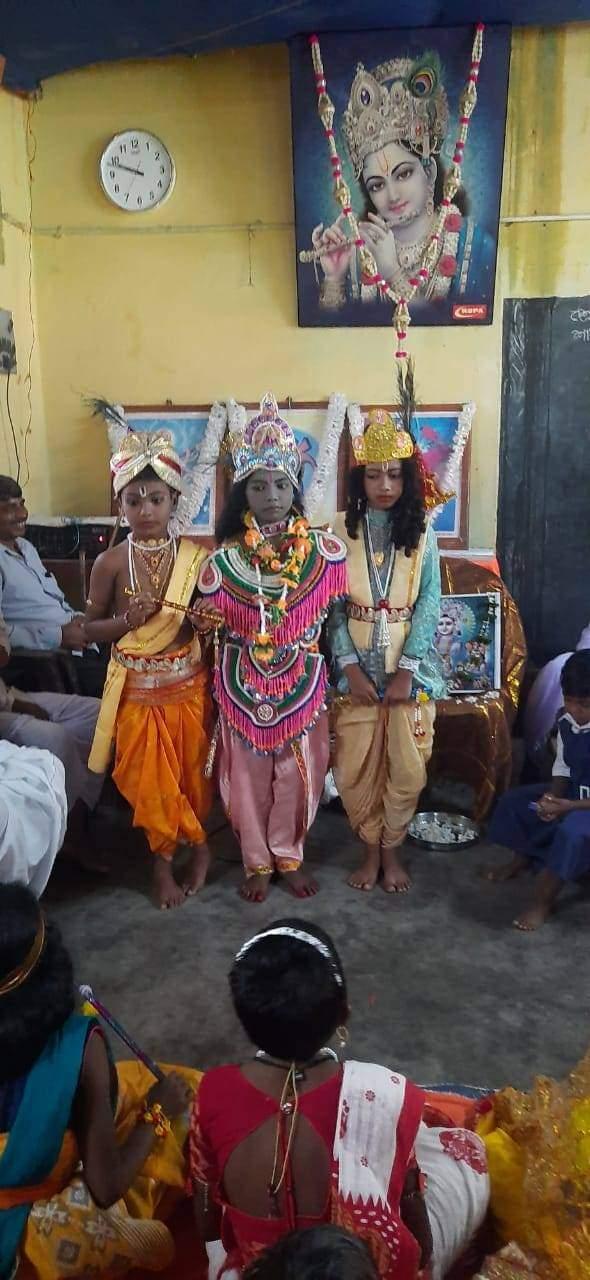 dhatkidihi school
Interestingly, these schools choose to hire teachers from the same community as the maximum number of students in the school. This helps enhance the credibility of their claims. These teachers are also seen following the tradition of the schools – typically in staunch adherence to Hindutva.
Many of these Saraswati Shishu Mandir schools are also quite big and spacious. The Dhatkidi school is three-storeyed; each floor has 21 rooms. Sources said that the funding for all of this comes in the names of different trusts. One could see pictures of Lord Krishna, Ram, Sita and Hanuman plastered all over the walls. Tribal and Muslim minority students are advised to follow these gods and live like them. An ancient method of arithmetic called 'vedic ganit' is included in the maths syllabus here. Swapan Mukherjee, a professor at Bankura Sammilani College, says this method is not used in modern calculations. "It is being inculcated in the minds of the children that everything related to Hindutva is superior," he said.
"Our child comes back and tells us stories of Lord Krishna, Ram, Hanuman, etc. Many of them speak of Hindutva and shun our own culture. We try to resist and teach them about our religion at home, but most of us have had to compromise," said Basanto Kishku, a resident of Hijli, Ranibandh. Namita Saren, mother of a Saraswati Shishu Mandir student, agreed and said this was a compromise that adivasis have had to make, as it's a part of the course and is required.
"The fact is that the tribal people are nature worshippers. They do not believe in idol worship. All our festivals revolve around nature," said Paresh Hansda, a government school teacher from Susunia. Several people from Junglemahal said that adivasi students were being "forced" to internalise Hindu culture in the name of education – as the government and secondary schools here are simply in an abysmal condition.
Some even claimed that many alumni of Saraswati Shishu Mandir schools were working as preachers. One such alumnus, who is an engineer but continues to promote the RSS, said: "We all are Hindu, there is no such thing as adivasi. From this thought, Gita and Ramayana are being recited in large pandals in the evening in several places of south Bankura. If there is a concentration of the Santhal community, a Santhal man would be reciting the Gita!"
A former professor at Khatra Adibasi Mohabidyalay and researcher explained: "The Santhal tribal and Mahato (Kurmi) people have their own religion. Santhal tribals of Bankura, Hoogly, Burdwan, Purulia, and Mayurbhanj say they are followers of 'Sari Dharam' but their counterparts in Jharkhand and Chhattisgarh have declared themselves as followers of 'Sarna Dharam'. Their own religion and culture are still widely practised and they do not call themselves Hindus. On November 19, 2021, the Jharkhand Assembly unanimously passed a resolution seeking the inclusion of Sarna as a separate religion in Census 2021. If Sari and Sarna Dharam are mentioned in the coming Census, the number of Hindus will be reduced by over 20 crore in one fell swoop. For that very reason, the RSS is afraid."
The dadabhai and didibhai at the Saraswati Shishu Mandir schools need more than their graduate and primary teachers' training degrees to land these jobs. They are required to be members of the RSS and approval is sought from high-rank leaders of the organisation before their appointment. Those appointed undergo training in Midnapur and learn how to inculcate Hindutva under the guise of education to influence tender minds, said some local residents.
The tuition fees of the students are supposed to pay for these teachers' salaries. But some of them get paid as low as Rs 2,200/month. A teacher with 30 years' experience may get only Rs 6,000/month. There is no health insurance coverage and the payment is not in tandem with government's rules. The teachers are given different jobs even when the school is closed for its breaks, said a teacher from Khatra Saraswati  Shishu  Mandir. Another teacher from Bankura alleged they are subjected to "torture" by authority. She said that a male and a female teacher from Bankura town were even expelled from the school because they had a love marriage.
In addition, the teachers must go to students' homes to establish a relationship with the parents. Several teachers said that a pay commission was formed four years ago due the initiative of some teachers, but to no avail. Many teachers employed at the Saraswati Shishu Mandir schools said that dissent is not tolerated by RSS. "The decision-making power lies in the hands of the central unit of the organisation. It is a highly centralised system. No one can break it. The teachers' retirement age is 60 years. After retirement, they do not get benefits like gratuity or pension. EPF (Employees' Provident Fund) was only launched a few years ago. A teacher contributed Rs 300 from his salary and the same is contributed by the school authority. A retired teacher gets this very small amount of money," said a teacher.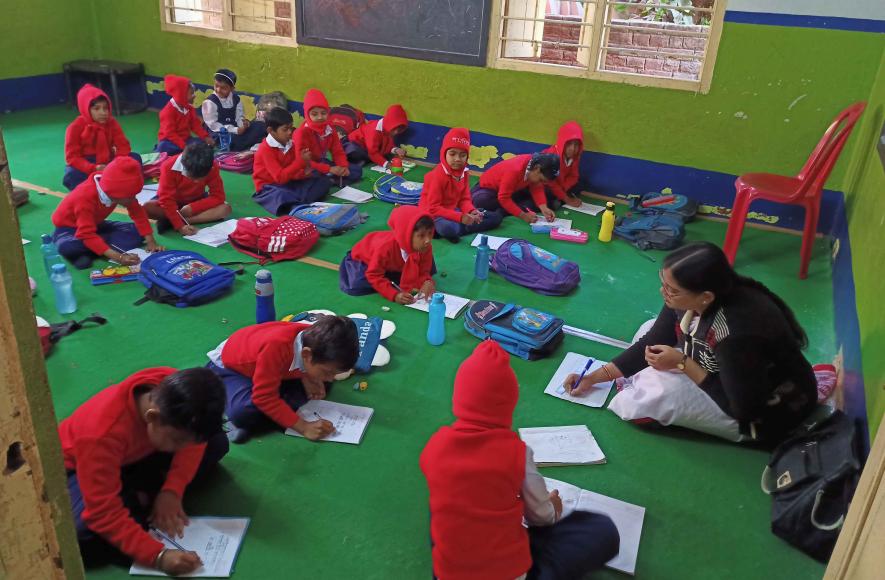 Saraswati sisumandir school at bankura town
Questions have been raised time and again: where does all the money taken from the students go? A teacher from Raipur said that the higher committee has to pay Rs 200 per student per year. What happens to the rest of the money?
A tribal teacher from Raniband said that Prime Minister Narendra Modi and BJP are political entities; their end game is winning elections and forming governments. "But RSS's ultimate goal is to make Hindu Rashtra and make India a Hindu society. Mamata Banerjee reciting the Chandipath would have certainly made Mohan Bhagwat (RSS chief) happy. So, Saraswati Shishu Mandir is instrumental in RSS's work, and it must grow. The ruling TMC, however, is looking the other way from the changing reality on the ground," he said.
The writer covers the Bankura region for Ganashakti newspaper in West Bengal. The views expressed are personal.
Get the latest reports & analysis with people's perspective on Protests, movements & deep analytical videos, discussions of the current affairs in your Telegram app. Subscribe to NewsClick's Telegram channel & get Real-Time updates on stories, as they get published on our website.
Subscribe Newsclick On Telegram