Gujarat Government Has No Business Appeasing Corporate Power Producers, While State Suffers
Despite the Supreme Court disallowing compensatory tariffs to Adani and Tata for increase in imported coal costs, the state BJP government has set up a committee to help out Adani, Essar and Tata. Meanwhile, Adani and Essar have stopped the power supply.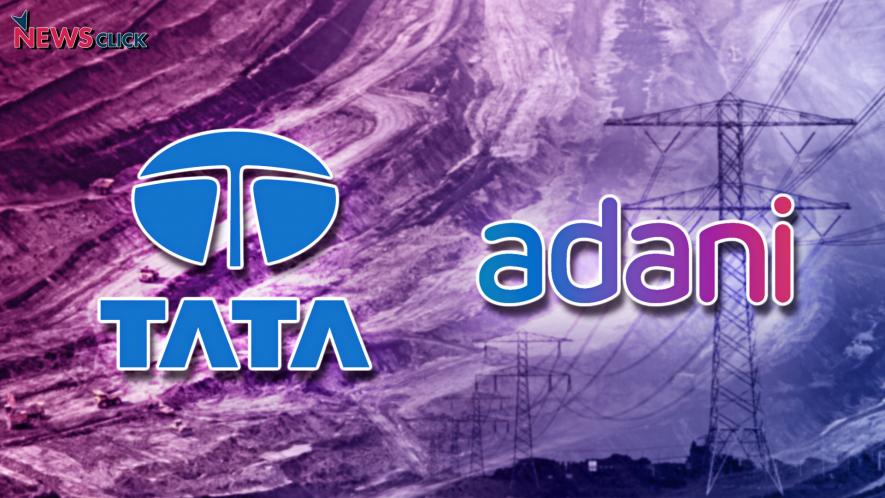 Gujarat is facing a power crisis, but the BJP government is instead going all out to bail out its corporate friends — Adani, Essar and Tata. The three are running thermal power plants in the state — even as Adani and Essar have cut supply, in violation of their Power Purchase Agreements (PPAs) — and have been demanding a hike in tariffs to compensate for the increased cost of coal imported from Indonesia.
Last April, the Supreme Court (SC) had ruled against Adani and Tata charging compensatory tariffs to recover imported fuel costs — as was decided by the Appellate Tribunal for Electricity (APTEL) in July 2014.
But instead of taking action against Adani and Essar for violating their legally binding agreements, the Gujarat government has now formed a high-powered committee to chalk out a solution for making these three companies' power plants viable again.
Tata Power's subsidiary Coastal Gujarat Power Limited (CGPL) runs a 4,000-megawatt (MW) Ultra Mega Power Project (UMPP) while Adani Power's subsidiary Adani Power Mundra runs a 4,620-MW power plant — both located at Mundra in Gujarat. Essar Group's arm Essar Power Gujarat has a 1,320-MW power plant at Salaya near Jamnagar in Gujarat.
Also Read: Thousands Of Power Employees Storm Delhi Against Privatisation
These three private power plants have PPAs with five states — Gujarat, Maharashtra, Rajasthan, Haryana and Punjab — for providing a total of 8,224 MW of power.
Of this, Gujarat alone has PPAs for 4,800 MW of electricity, which is why it has been the worst-affected. Adani Power is contracted to supply 2,000 MW to Gujarat, Essar Power is supposed to supply 1,000 MW while Tata Power is contracted to supply 1,805 MW.
But after the SC order in April 2017, Adani began cutting the power supply in a phased manner, as did Essar, citing unviability — eventually stopping the contracted supply entirely.
Reportedly, Essar stopped the supply from 15 December last year while Adani discontinued the supply from 20 January this year — both without any prior notice to the Gujarat Urja Vikas Nigam Limited (GUVNL) or the Gujarat Electricity Regulatory Commission (GERC).
This has forced the GUVNL to buy electricity at much higher costs from the open market through power trading exchanges, especially the Indian Energy Exchange (IEX). Gujarat, formerly a 'power surplus' state, is also coping by buying additional electricity from the state government-owned plants under the Gujarat State Electricity Corporation Limited (GSECL).
On 21 June this year, it was reported that Adani resumed supply of a mere 250 MW of power — as against its contracted supply of 2,000 MW.
Also Read: Stressed Power Assets: Government Comes Up With Five-Pronged Plan, Leaves Core Issues Untouched
Tata had won the UMPP in 2006 while Adani had won the project in Mundra in 2007. Essar commissioned the first power generation unit at Salaya in 2012.
In 2010, the Indonesian government introduced a law that required the mining companies to benchmark the price at which they exported coal to the prevailing international rates, and all existing agreements of mining companies were brought in line with this change by 2011, which led to increased costs of coal for the power plants importing from the country. The power generating projects of Adani, Essar and Tata in Gujarat were all based on imported coal from Indonesia. This prompted the private power producers to demand higher tariffs. Adani and Tata approached the Central Electricity Regulatory Commission (CERC) seeking higher tariffs to compensate for their increased input costs.
It is pertinent to remember here that any increase in tariffs would not be borne just by the power distribution companies (discoms), but would be finally passed on to the consumers.
In April 2013, the CERC passed an interim order allowing Adani and Tata to raise tariffs, and regulator set up a committee to work out the compensatory tariffs. In February 2014, the CERC settled on compensatory tariffs of 52 paise per unit for Tata's CGPL plant and 41 paise per unit for Adani's plant, as well as decided to award compensation in lump-sum for costs from 1 April 2013 onwards.
But the CERC order was challenged by the discoms of the five states buying from these plants — Gujarat, Maharashtra, Haryana, Rajasthan and Punjab.
In an interim order in July 2014, the APTEL allowed Tata and Adani to charge higher tariffs. Then in April 2016, the APTEL passed an order that the price agreed upon in the PPAs should not be binding for the producer if the cost of coal goes up. Based on this, the CERC in December 2016 had awarded compensatory tariffs to the power producers.
Finally, on 11 April 2017, the Supreme Court squashed the compensatory tariffs for Adani and Tata.
Meanwhile, in 2016, the Directorate of Revenue Intelligence (DRI) began investigating both Adani and Essar, among 40 power generating companies, for inflating the value of capital goods imported for their power plants. However, the DRI dropped the proceedings against Adani in October 2017.
In June 2017, Tata Power offered to sell 51% stake in CGPL to discoms for a token sum of Re1 to the discoms in question. After this, Adani and Essar also followed suit and offered to sell stake.
But instead of taking over the power projects and re-tendering them, the Gujarat government in the first week of July this year set up a three-member high-powered committee to submit a report in two months for "mitigating hardship" for these private producers.
Headed by recently retired Supreme Court judge Justice RK Agrawal, the panel includes former RBI deputy governor SS Mundra and former CERC chairman Pramod Deo. The committee is being assisted by SBI Capital Markets Limited and NTPC Limited.
The committee is working out the possibility of "contribution by each stakeholders including banks, project developers and procurers by way of concessions for mitigating hardship," as per the 3 July order of the Gujarat government, as reported by Mint.
Also Read: Power Employees Demand Right To Electricity For All, To Hold Nationwide Strike Against Privatisation Bill
Speaking to Newsclick, Shailendra Dubey of the All India Power Engineers' Federation (AIPEF), said, "The highest court in the country has ruled against the post-bidding tariff hike. Two of these private corporate houses have deliberately stopped the power supply and are violating the PPA, which is a legally binding document, and are making Gujarat suffer. But instead of taking action against them, the Gujarat government sets up a committee to help out these plants. How is this justified?"
"If the tariffs are forcibly hiked by these companies, it is the consumer who will suffer, the common citizens will pay the cost."
He said these companies got the power generation projects after a process of competitive bidding, and they quoted the lowest price to win the contracts. In fact, the bidding guidelines give the bidders an option to quote various 'escalable' and 'non-escalable' tariffs. Any potential price increases in the future can be accounted for by quoting it under the escalable charges, Dubey said.
Indeed, the appellants in the Supreme Court too had made the argument, in the words of this essay, that "Adani Power and CGPL had voluntarily decided to quote energy charges as non-escalable in order to make their bids competitive and, therefore, to win the contracts. The bids were not premised on the import of coal from Indonesia only and it was open to them to get coal from any source."
They argued in court that
"[t]he price of coal is the price of raw material and if prices go up, a contract does not get frustrated merely because it becomes commercially onerous, as the PPA itself states in clause 12.4. In any event, the fundamental basis of the PPAs between the parties was not premised on the price of coal imported from Indonesia."
In fact, as this article points out, Adani had executed a new contract with an Indonesian mining company in December 2009, while the Indonesian government had already passed the new mining law in 2009.
"The government has no role in fixing tariffs. In fact, this move of the Gujarat government to set up a committee will only open a Pandora's Box as all private power producers will then want leeway and rise in tariffs, following the example of these three companies," Dubey said.
"This is not in the public interest, but it is clear whom the Gujarat government is more worried about."
Get the latest reports & analysis with people's perspective on Protests, movements & deep analytical videos, discussions of the current affairs in your Telegram app. Subscribe to NewsClick's Telegram channel & get Real-Time updates on stories, as they get published on our website.
Subscribe Newsclick On Telegram