Gurugram Friday Prayer Controversy is a Recipe for Radicalisation
Harassed by Hindu mobs, abandoned by the Indian state, the Muslims of Gurugram find their religious feelings mocked every Friday.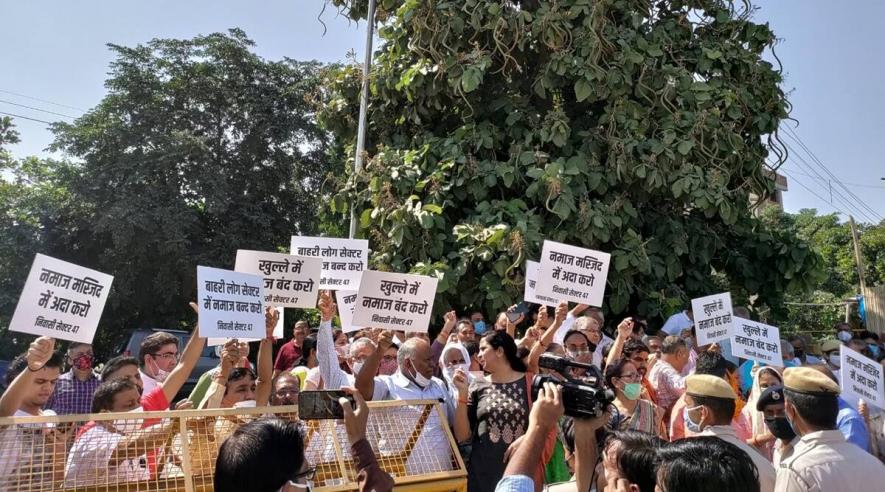 Image Courtesy: The Indian Express
Prime Minister Narendra Modi, in his speech at the Shanghai Cooperation Organisation summit in September, spoke on the danger of radicalisation, a theme he harps upon in just about every address he delivers abroad. Modi said, "Today, we can see what is happening in Afghanistan. As SCO members it is a must for us all to ensure that there is no radicalisation and extremism on the rise there."
Modi's SCO speech inspired GS Bajpai, who leads a nationwide research project on radicalisation, to team up with academician Ankit Kaushik to write a piece, 'India needs a policy solution for the problem of radicalisation', in The Indian Express. Bajpai and Kaushik wrote, "Efforts must be made to first stem the flow of propaganda from across the Indian borders."
But the impulse for radicalisation emanates not just from propaganda. It also does from injustice perpetrated on citizens, especially when the State also abandons them in their quest to secure justice. This is precisely what is happening in Delhi's satellite of Gurugram. Its gleaming towers and seductive lights conceal a dark secret few dare tell: In the ongoing controversy over Muslims offering Friday prayers, there is just the spark needed to light the fire of radicalisation.
Instead of lecturing the world on the dangers of radicalism, Modi should turn his gaze to Gurugram, located around 25 km from his residence, with the precision and impartiality of the hawk-eye system deployed in cricket matches. If he were to do so, he would find the religious feelings of Muslims mocked every Friday. And if Modi were to make inquiries, he would be told that there was never a problem regarding the Friday prayers until 2018.
Till then, the Muslims of Gurugram offered prayers at 117 sites, including mosques. In fact, in one posh DLF colony, a Hindu businessman, moved at the sight of Muslims praying in the open, braving the scorching summer heat, offered his partially constructed building for them to pray. He also allowed them to use the water tanker, parked at the construction site, for ablutions.
Praying in the cool shade of his building, those Muslims would exclaim, with gratitude and certainty, that the ascendency of Hindutva could not erode India's multicultural ethos.
Those Muslims were wrong.
In 2018, Hindu Right groups surfaced in Gurugram to object to the Friday prayers in public places. India was then just a few months away from the Lok Sabha election. These groups needed to manufacture a new grievance. They said the Friday prayers created traffic snarls. Is this secularism or appeasement, they thundered. The Hindu businessman withdrew his permission to pray inside his building. The devout empathised with the businessman's decision, for who could guarantee security to him from Hindu radicals, they said.
Their belligerence prompted the Gurugram administration to broker peace. Rather than reining the mischief-makers, the administration identified 37 sites where Muslims could pray on Friday. Muslims consented, even though at some sites, Friday prayers were held in several shifts to tackle overcrowding. There were, after all, fewer places to go to for Friday prayers.
In 2021, with the countdown to the Uttar Pradesh Assembly election beginning, the Hindu Right groups were back on the streets, chanting Jai Shri Ram, mouthing menacing slogans and demanding that Muslims could not pray in public places. The administration, once again, extended an olive branch to Hindu radicals. Or, to put it in another way, it made an offer to Muslims they could not refuse. Thus, two weeks ago, the list of 37 sites was pared down to 29. Some Hindu radicals were arrested but released on the same day. A warped idea of deterrence that.
Sure enough, encouraged and emboldened, masquerading as fighters of Hindu causes, Hindu radicals held pujas at three sites at precisely the time the Friday prayers were to be offered. The list of 29 sites came down, effectively, to 26.
BJP wannabe leader Kapil Mishra, who acquired notoriety for the speech he delivered before the 2020 riots in Northeast Delhi, was present at one of the three sites. He warned, "Do not use roads for your politics. We saw it in Shaheen Bagh [a reference to the 24x7 sit-in there against the new citizenship law there]. They had done tamasha by blocking roads." Mishra said namaz will not be offered at any public place in the city in the next three-four weeks.
The "roads-for-politics" claim is akin to mutilating Gurugram's reality. Before the Covid-19 pandemic confined people at home and compelled them to maintain social distance, the Kanwariyas would pass through Gurugram every year, walking down the Delhi-Jaipur highway and resting in tents pitched on berms. They would bring the traffic to a grinding halt. During the Durga Puja every year, innumerable colonies would organise puja pandals in public places. Many colonies have functioning temples, which work up high decibel levels, with cars of worshippers causing jams.
By contrast, there are just two mosques in New Gurugram, where are located those gleaming towers and spiffy malls, and another 11 in Old Gurgaon. This leaves Muslims with no other option than to pray in public places every Friday, with the administration's consent.
Former Rajya Sabha member Mohammad Adeeb, who lives in Gurugram and was recently approached by Muslims to lead them, said Muslims plan to carry out surveys of the number of temples, mosques, gurdwaras and churches, their location and when they were built. It will become a chargesheet against the state's contradictory approach towards religious groups.
Adeeb said to me, "There is tremendous fear among community members, a deep sense of hurt." When I asked whether the controversy over Gurugram's Friday prayers is a recipe for the radicalisation of Muslims, he replied, "It is, definitely." Mufti Salim, the district president of Jamiat Ulema-e-Hind, said there are a few simmering with anger at the brazen squashing of their religious rights, the insults hurled on them. Others said they feel insulted—and orphaned. The mufti said he and others counsel Muslims to be patient, to not give up hope for justice.
The controversy over Friday prayers is undoubtedly an impulse for radicalisation that requires no propaganda. At the nub of this controversy is what Trinidad-American Black leader Stokely Carmichael identified as a lack in certain types of people and state institutions. In his critique of civil rights icon Martin Luther King, Carmichael said, "His [King] major assumption was that if you are non-violent, if you suffer, your opponent will see your suffering and will be moved to change his heart… He made one false assumption: In order for non-violence to work, your opponents must have a conscience."
Radicalism, the Prime Minister should know, as also should Bajpai and Kaushik, is born in the perceived absence of a conscience in those who control the levers of the Indian State. Radicalisation is suicidal for the weak—and Muslims certainly know that. It is also suicidal for India. Unfortunately, the Hindu Right is completely oblivious of that.
The author is an independent journalist. The views are personal.
Get the latest reports & analysis with people's perspective on Protests, movements & deep analytical videos, discussions of the current affairs in your Telegram app. Subscribe to NewsClick's Telegram channel & get Real-Time updates on stories, as they get published on our website.
Subscribe Newsclick On Telegram