Hazard Awaits France in FIFA World Cup Semifinal Against Belgium
Eden Hazard, the moody genius, has added grit to his game, and now looks for redemption and recognition from the world in the FIFA World Cup semi-final against favourites France.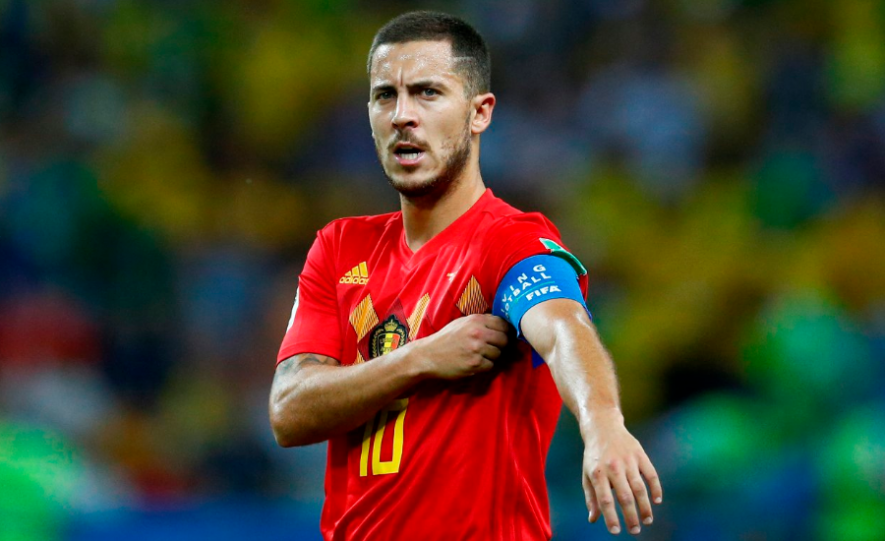 Belgium football team skipper Eden Hazard leads by example, and has played a big role in taking his side to the FIFA World Cup semi-final against France (Pic: FIFA/Twitter).
His name more-or-less sums up what he brings to the playing field -- the enchantment of Eden (almost Biblically perfect in beauty) with the trappings, the Hazard, that anything beautiful brings with it. Eden Hazard.
There was a time when Eden Hazard, talented to the hilt, worked on his game to match that of his idol, Ronaldinho. And like his idol, Hazard never had to work hard -- things always came naturally and easily to him. There is a lore that he hit his current club Chelsea's gym for the first time four years after he signed up to play for them. He never felt the need for physical conditioning, it seems.  
On the pitch however, Hazard comes across as a relentless worker, seemingly searching for what seems to be his own idea of perfection, tricks and treats included. That has made him lose his smile, say urban, or rather, bleacher legends. And he plays now, unlike his ever-smiling Brazilian hero, with a gritty disposition that borders a frown, if not quite sporting one. That frown, or grit, has come out in full force at the FIFA World Cup in Russia, leaving Roberto Martinez, Belgium's maverick coach, with a know-it-all smile.
Also Read | FIFA World Cup Semi-Finals: Of Golden Generations and Unfulfilled Destinies
The 27-year-old Hazard's journey to the zenith of his potential has been easy on many counts, and hard as well, which happens to be an exact reflection of his game -- effortlessly beautiful and effective but also prone to moody absences.
Part of Belgium's golden generation which is on the verge of fulfilling its potential in Russia, Hazard began his work up "towards Ronaldinho" much before Lille decided to invest on this prodigiously gifted 14-year-old from the Hainaut province in Belgium, who, in return, gave the French side many titles including a Ligue 1 and Cup double in 2010-11.
Then came Chelsea, his home since 2012. And through his club career, Hazard's brilliance have won him titles and admirers, but despite potential, he never seemed to aspire to, nor was given a pedestal alongside Lionel Messi or Cristiano Ronaldo (whose spot, rumours suggest, he could fill at Real Madrid next season).
Maybe Hazard's mortal billing has something to do with how he has a tendency to go missing when his sides need him the most, the famous occasions among them in Belgium colours being the quarters of the 2014 World Cup against Argentina, and the Euro 2016 quarterfinals against Wales.
Also Read | FIFA World Cup: Croatia and the Demons From History
Both times Belgium's golden generation fell short of destiny, and both times their destinies were entwined with Hazard's invisibility cloak.
Now, it seems a switch has been turned on in Russia, and the change is evident on Hazard's face -- at its grittiest, frowniest best, even while celebrating the win against Brazil last week, earning a semi-final date against France on July 10. 
More importantly for Belgium, the grit has reflected in Hazard's game as well, and we saw him work tirelessly, running on fumes in the last part of the quarterfinal against Brazil, ensuring his defenders got breathing space, as the clock ran out.
Belgium exorcised their quarters curse against Brazil, and Hazard proved once and for all that Martinez was right in picking him -- despite "natural leader" Vincent Kompany's presence -- as the player with the captain's armband.
Also Read | What India Can Learn From England Squad's Show at FIFA World Cup
Perhaps Hazard exemplifies Martinez idea of a captain, the philosophy best explained by Belgian fullback Thomas Meunier a little before the big tournament had begun in Russia.
"He's a not a natural leader like Kompany but rather a leader who shows through example on the field," Meunier was quoted by Reuters last month. "He's got extraordinary qualities, does things other players cannot. And you don't just run him over. He's very strong on his feet so it's difficult to take the ball off him. I think he's the complete player."
Complete player he may indeed be. But fulfillment for a footballer comes not when he becomes a finely cut diamond like the stones they buy and sell in the markets of Antwerp. It comes when he embraces a larger mission that falls in line with his team's journey. Then he will play his part in leading the side to glory, à la Diego Maradona.
Martinez believes Hazard is that man, a Belgian version of El Diego, with his own set of temperamental upheavals that seem to be under control for a larger cause called the World Cup.
Also Read | World Cup: Lukaku, Mbappe and the Colonial Ghosts Within Belgium and France
At this juncture, one can't help but remember 'burger gate'. In 2011, early into his Belgian career, a 20-year-old Hazard stormed out of the stadium during the Euro 2012 qualifiers after he was substituted by then coach Georges Leekens. The match was against Turkey and Hazard left the stadium, and was seen eating a burger at a joint with his family. He was suspended for two matches and Belgium failed to qualify for the tournament -- adding to the misery of missing the 2010 World Cup.
Lot of water has flown since then, for Belgium as well as Hazard.
"Eden is a great captain, a leader," coach Martinez said after the win over Brazil. "He's a player who is always himself and I love that attitude.He's always asking for the ball and is playing his best football at this moment."
Hazard played better than his best against Japan as well, when his side was caught with its back against the wall, 0-2 down and on the verge of a surprise exit.
In a performance that won him the Man of the Match award, he orchestrated a comeback from the midfield, and conjured a brilliant assist for Marouane Fellaini's equaliser. Belgium won 3-2 to enter the quarters, where they left Brazil reeling with a Martinez masterstroke which involved Hazard moving wide, something he is not used to doing in Chelsea or even for Belgium.
Hazard adapted, perhaps fuelled by a desire. His Chelsea and Belgium teammate, goalkeeper Thibaut Courtois has noticed that and more in his friend in Russia.
Also Read | FIFA World Cup: Argentina are dead. Long Live Argentina
"I've known him for years and the way he has trained and played over the last weeks has been exceptional," said Courtois, who himself had the game of his life under the bar against Brazil. "I think he can reach another level."
Probably he has already reached that higher level, and so have Belgium.
While France, favourites and in the groove now, would prove a much more systematic puzzle to solve for Martinez and his flexible squad of stars, Belgium will definitely not be starting as underdogs.
It has got to do with how this team plays. It has also got to do with how Hazard has come out as a mature version of his maverick self -- a serious hazard for opposing teams. Next up, France.
Get the latest reports & analysis with people's perspective on Protests, movements & deep analytical videos, discussions of the current affairs in your Telegram app. Subscribe to NewsClick's Telegram channel & get Real-Time updates on stories, as they get published on our website.
Subscribe Newsclick On Telegram