Heat Waves to Come in the Way of Achieving India's SDGs
Interconnections between lethal heatwaves and the SDGs imply global mean surface temperature rise will affect all 17 SDGs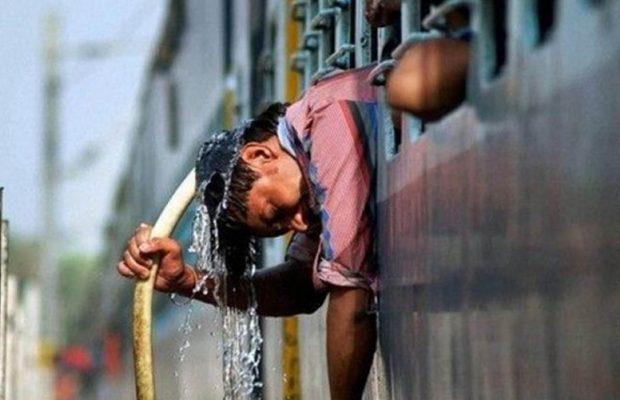 Kolkata: Heatwaves in India are increasing in frequency, intensity, and lethality, burdening public health, agriculture, and other socio-economic and cultural systems. A new study published in PLOS Climate by Ramit Debnath at the University of Cambridge, Cambridge, United Kingdom, and colleagues suggested that heatwaves made more likely by climate change may impede India's progress toward its Sustainable Development Goals (SDG).
India has committed to achieving 17 United Nations SDGs, including no poverty, good health and well-being, and decent work and economic growth. According to research findings, heat waves in India have weakened SDG progress more than previously estimated. That current assessment metrics may not sufficiently capture the nuances of India's vulnerabilities to climate change impacts.
For instance, in estimating the Heat Index (HI), the study shows that nearly 90% of the country is in a danger zone from heat wave impact. According to the Climate Vulnerability Index (CVI), around 20% of the country is highly vulnerable to climate change. Similar effects were observed for the national capital, where HI estimates show almost all of Delhi is threatened by severe heat wave impacts, which is not reflected in its recent state action plan for climate change. However, this study had several limitations, for example, the incongruent timeframe for CVI data (2019-2020) and heat index data (2022).
NewsClick spoke with DR Gufran Beig, Founder Project Director-SAFAR ( Ministry of Earth Sciences, Govt of India), Sir Ashutosh Mukherjee, chair professor National Institute of Advanced Studies (NIAS) Indian Institute of Science Campus (IISc), who said, "we are now observing La Nina conditions and very soon we are going to observe EL Nino conditions which are associated with deficient in rainfalls. The upper winds are getting highly disturbed, and unorthodox wind patterns are seen. This leads to extreme events like extreme cold or extreme heat in India. Summer has arrived much earlier, and now the temperature in many parts of India is crossing 40 degrees Celsius and above, even in April, which is very unusual and unprecedented. It is certainly going to impact the SDG. To slow down climate change, the major  emission source, air pollution, is responsible for climate change. This needs to be controlled."
April 2022 in India was the hottest in 122 years and followed the hottest March on record, reportedly killing at least 25 people. The cumulative heatwave-related mortality in India
has been over 24,000 deaths since 1992. Moreover, the heatwave in the Indian subcontinent has had critical impacts on a broad range of interconnected systems of the built environment,
health, etc., including frequent and more extended power outages, an increase in dust and ozone levels leading to spikes in air pollution and accelerated melting of glacier snow in the
northern regions. At the same time, economic recovery from the Covid-19 pandemic is further hampering the response to the ongoing lethal heatwave.
Thus, such heatwaves' public health and economic burdens are incredibly high. Long-term projections indicate that Indian heatwaves could cross the survivability limit for a healthy human resting in the shade by 2050. Moreover, they will impact the labour productivity, economic growth, and quality of life of around 310–480 million people. Estimates show a 15% decrease in outdoor working capacity (i.e., working outdoors in high temperatures, e.g., construction workers) during daylight hours due to extreme heat by 2050.
In 2022 from January to October, India recorded 242 of 273 days of extreme weather events, making it nearly one extreme event daily. These include the co-occurrence of extreme heatwaves and cold waves in the north and western parts, drought in central India, high flooding in the coastal plains, and landslides in the northeastern region. By 2100 India will have more frequent precipitation and consequent floods, cyclonic storms, warming, heatwaves, and
sea-level rise concurrently. To comprehensively understand India's climate vulnerability, a cumulative representative index must account for the co-occurrence and collision
of climate events. India currently assesses its climate vulnerability through a national Climate Vulnerability Index (CVI) designed by the Central government's Department of Science and Technology, based on the Intergovernmental Panel on Climate Change (IPCC)'s SREX framework.
Furthermore, a Lancet Report projected heatwaves will intensify from these 2050 baseline estimates, affecting around 600 million Indians by 2100. The increased heat is expected to cost India 2.8% and 8.7% of its Gross Domestic Product (GDP) and depressed living standards by 2050 and 2100, respectively. Furthermore, a recent report by the World Meteorological Organisation demonstrated the interconnections between lethal heatwaves and the SDGs, implying that global mean surface temperature rise will affect all the 17 SDGs. The impact of heatwaves on sustainability transition is especially concerning for India as the country is yet to achieve its developmental goals, despite recent strides in its self-reported SDG India Index (2020–21).
The researchers accessed a publicly available dataset on state-level climate vulnerability indicators from the Indian Government's National Data & Analytics Platform to classify severity categories. The researchers then compared India's progress in SDG over 20 years (2001-2021) with extreme weather-related mortality from 2001-2021.
According to the authors, "This study shows that heatwaves make more Indian states vulnerable to climate change than previously estimated with the CVI. The heatwaves in India and the Indian subcontinent have become recurrent and long-lasting. It is high time that climate experts and policymakers reevaluate the metrics for assessing the country's climate vulnerability. This offers scope for developing a holistic vulnerability measure through international cooperation and partnership." 
The authors add, "Heat waves are getting more intense in India, putting 80% of the country's people in danger, which remains unaccounted for in its current climate vulnerability assessment. If this impact is not addressed immediately, India can slow its progress towards SDG."
Get the latest reports & analysis with people's perspective on Protests, movements & deep analytical videos, discussions of the current affairs in your Telegram app. Subscribe to NewsClick's Telegram channel & get Real-Time updates on stories, as they get published on our website.
Subscribe Newsclick On Telegram