Here is How Prepared Punjab Farmers Are for R-Day Tractor Parade
So far, soldiers paraded on 26 January. This time farmers will parade too. The turnout is likely to be huge, and participation enthusiastic.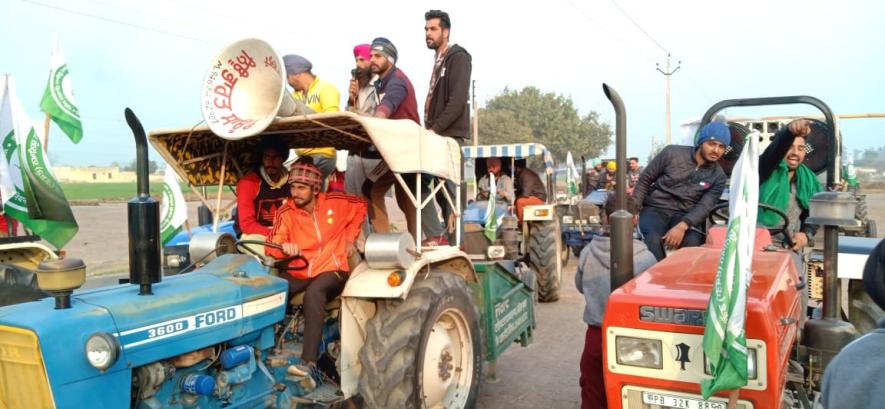 Farmers have come to Delhi fully prepared for their tractor parade on January 26. First, on the call of their unions, they rehearsed for this parade in their villages in Punjab. This went on for three days, from 20 to 22 January. As thousands of their tractors marched from village to village, they persuaded thousands more to drive with them to Delhi on Republic Day. 
Village panchayats collected funds for this march and social organisations contributed for the event too. The preparations have left Punjab festooned with millions of green, yellow and red flags. The entire state seems drenched in the same colours as mustard fields. Now, farmers say, it is the turn of Delhi to turn colourful. 
Hardeep Singh, a young farmer from Ludhiana district has decorated his tractor in bright colours too. He says, "On 26 January I will be at the Delhi Tractor Parade no matter what. So far, soldiers paraded on Delhi's roads on Republic Day, this time we farmers will parade along with soldiers. We want to send a message to the government that the whole country is against the black agricultural laws. Fifty tractors from my village will be at the parade."
Jagtar Singh and Paramjit Kaur, an elderly couple from district Ludhiana are also participating in the parade. "The flood of farmers that will reach Delhi will clear all the confusions of the Modi government and it will have to give up its ego," Singh says. 
In recent days, the farmer movement has mobilised every section of Punjabi society, not just the peasantry. The government wants to test the patience of the farmers, but the farmers are confident they will be able to tilt the government with their peaceful movement. Sukhdev Singh Kokari Kalan, general secretary of BKU Ekta (Ugrahan), Punjab's largest farmer organisation, says, "During the rehearsal, our organisation marched in 1,245 villages with more than 15,000 tractors. People gave us their full support. On 26 January, about 40,000 of our tractors will go to Delhi via Khanouri and Dabwali." Around 7,000 of the unit's tractors reached the Tikri border days ago.
The leaders of the Sanyukt Kisan Morcha have even more tractors ready for Delhi. "Around 40 to 50 thousand tractors are going for the tractor parade from Punjab," says Narayan Dutt, leader of the Inquilabi Kendra in district Barnala, Punjab, who was engrossed with preparations for the rally for weeks. Malkit Singh, leader of the Bharatiya Kisan Union Ekta (Dakonda), says, "There is tremendous enthusiasm for the tractor rally in Barnala. Nearly hundred tractors filled with people will go to Delhi from every village. People have collected funds on their own initiative to help this march."
"More than 400 tractors of the Kisan Mazdoor Sangharsh Committee have left for Delhi from here," says Inderjit Singh, head of the union in district Tarn Taran. The Hind Kisan Sabha has prepared for the tractor march with similar enthusiasm. This march has got the complete support of Punjabis, especially the youngsters, who left for Delhi on their own tractors over the course of several days. Farmer leader Harinder Kaur Bindu has already said that women will join the tractor parade in Delhi in large numbers. 
When Jasraj Singh, a young man from Mandikalan village of Bathinda district, heard that the well-known farmer leader, Jagjit Singh Dallewal, the district head of his union, travels in a bus and that he went to the Delhi border on a motorcycle, "he happily handed over" the keys to his jeep to the union. Harmeet Singh, a government employee, also donated goods worth Rs.1 lakh, a sound system and tents to the movement.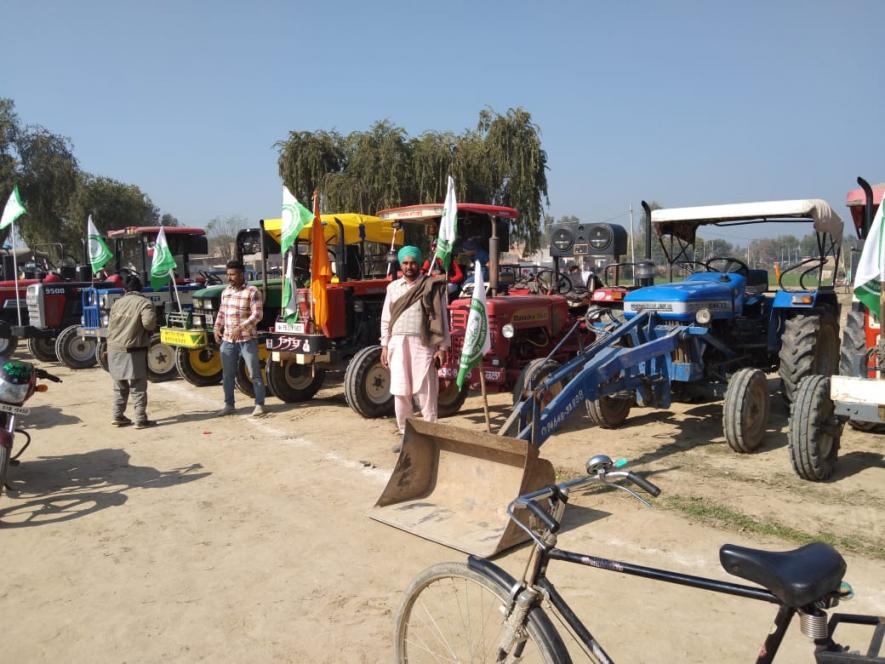 At a recent wedding reception held in Malot in the Malwa belt of Punjab, the groom's parents asked guests to donate to the farmers' cause instead of offering the newly-weds gifts. They placed a box at the centre of the wedding venue to collect donations. In the Malwa region, DJs were engaged at dozens of wedding ceremonies, where the youth insisted on playing songs related to the peasant movement and installed flags related to the protest at wedding locations.
An organisation called "Punjab First" has campaigned to plant farmers' flags all over the state. Manik Goyal, a volunteer with the organisation, says, "We are distributing 20,000 such flags to strengthen the peasant struggle." The slogan "Kisan-Mazdoor Ekta Zindabad" has been written on yellow flags, which have been installed at the main squares, houses and shops in cities and villages. "We also ran a campaign exhorting people to reach Delhi on 26 January," he says. 
Farmers have got on their tractors to go to Delhi, but the enthusiasm for the tractor parade has also picked up among urban residents. City folks have put up flags and stickers on their vehicles in support of the movement and the tractor march. Many shopkeepers in Ludhiana have handed out flags and stickers to people for free, and exhorted them to participate in this movement.
Paramjit Singh's shop is near the bus stand in Ludhiana. He has been selling flags of the farm movement for Rs.10 to Rs.30 apiece. He gives them away to those who cannot afford to buy a flag.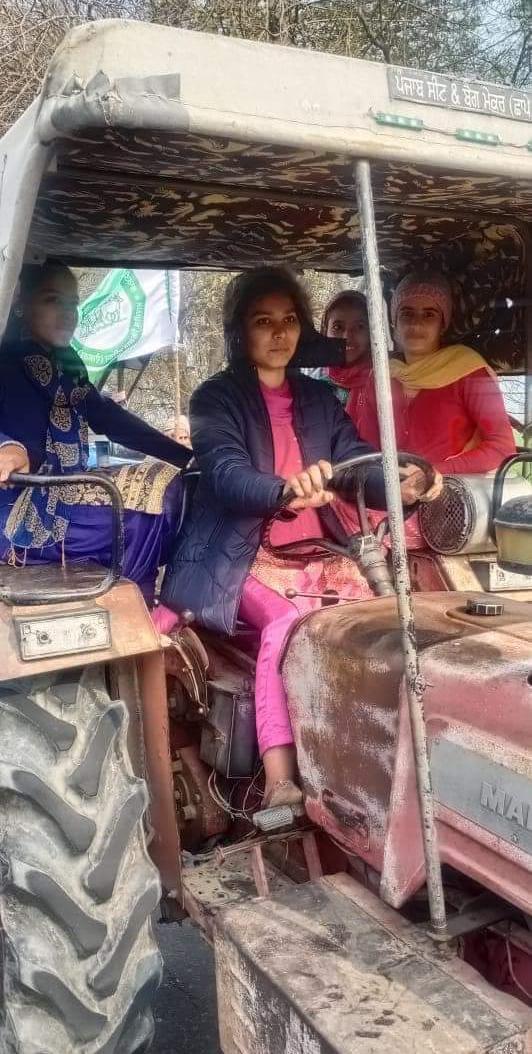 And it is not just roads and tractor-trolleys that are brimming with enthusiasm for 26 January. This struggle has now started echoing on the railway trains as well. A flood of colourful flags has drenched railway stations and coaches in green, yellow and red. Crowds of farmers have been gathering in trains day and night, and when groups of women farmers wearing their saffron dupattas board the train coaches, everything around turns bright and colourful. In this way, even regular passengers are getting immersed in the colours of this movement. 
The Dainik Express, which runs from Ganganagar to Delhi, departs from Bathinda at 8:40 AM. Apart from the farmers of Ganganagar and Abohar, crowds of farmers from Maur Mandi and Mansa also board this train. Farmers of Rajasthan also board this train to get to the protest sites on the Delhi border. When these farmers disembark at Bahadurgarh, the coaches empty out and go silent.
Dalip Singh, a farmer from Mansa, says, "This struggle is not limited to the black laws—we are fighting to save our crop and families. Our movement has already added new colours to Punjab's landscape, now our parade on 26 January will help to break the ego of the Modi government."
The author is a freelance journalist based in Punjab. The views are personal.
Get the latest reports & analysis with people's perspective on Protests, movements & deep analytical videos, discussions of the current affairs in your Telegram app. Subscribe to NewsClick's Telegram channel & get Real-Time updates on stories, as they get published on our website.
Subscribe Newsclick On Telegram