High Food Prices Destroying Family Nutrition in Already Stressed Times
Prices of basic sources of protein like meat, eggs, pulses, and cooking oils have zoomed up, as has the cost of cooking gas.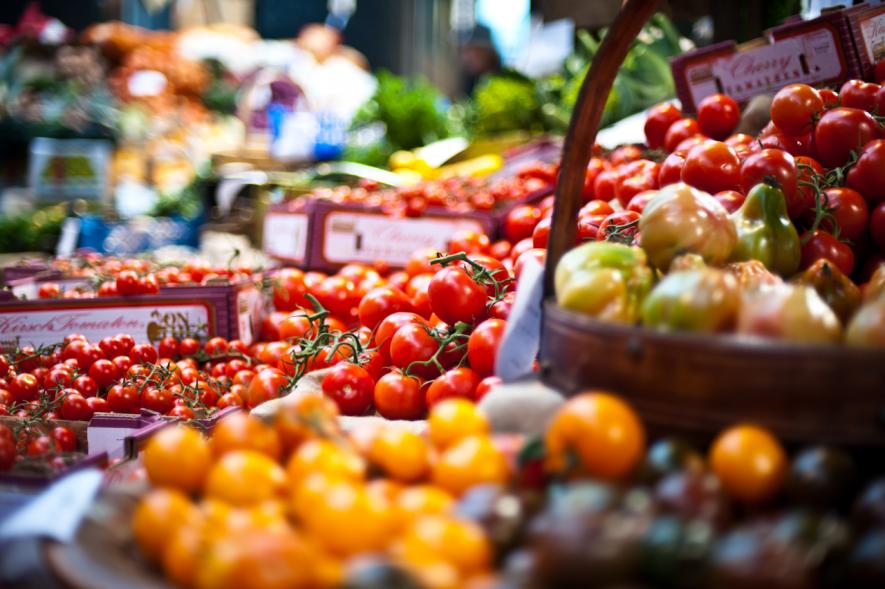 Prices of some essential food items have jumped up steadily over the past few months causing devastation of nutritional levels of families and denting already stressed budgets. Adding to this misery is the inordinate hikes in cooking gas prices which have sky-rocketed by 46% since subsidies were all but scrapped in May 2020.
While cereals and vegetables prices remained moderately stable as rabi harvest flowed in, certain key groups of food items have been on fire, as shown in the chart below. Data is from the Consumer Price Indices database maintained by the ministry of statistics. 
Most of the commonly eaten pulses – arhar or tur, moong, masur and urad – have suddenly increased by 13% to as much as 23% in the first five months of 2021. All types of meat and fish, and eggs have increased since January this year – chicken showing the highest jump of 33% while mutton and pork increased by 23%.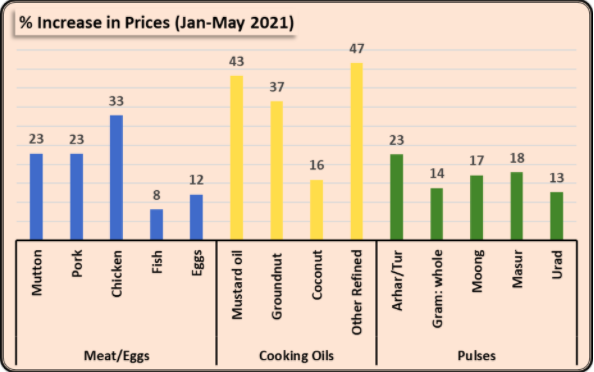 But the most devastating increase has been in the prices of cooking oils, an essential for all Indian cuisine. Mustard oil, used mainly in rural areas or Eastern India, has increased by a staggering 43%, groundnut by 37% and various other refined oils like sunflower, soyabean etc., by a whopping 47%. Cooking oils are not discretionary items of consumption that can be replaced or done away with by families. Without use of oil most Indian cooking will be reduced to just some cereal-based items like boiled rice or wheat flour-based chapatis, etc. 
Poorer families are commonly seen shifting more and more to cooking vegetables, which are relatively cheaper, abandoning meats, eggs and pulses. This may fill stomachs for the time being but in the long range it will have harmful effects on an already under-nourished population because key sources of protein will become deficient in the diet.
While meat prices continue to be under pressure because of uncertainties created by the Bharatiya Janata Party in the sale of meat, the extreme rise in prices of cooking oils and pulses is a direct consequence of the economic decision-making. 
Reportedly, cooking oil prices are at an 11-year high this May.
It is believed that high import duties and cesses on palm oil and soyabean oil are the primary cause of increase in prices. As large industrial consumers shifted to other oils, their prices too increased. All this because the government persists in maintaining high import duty of 59.4% on "refined, bleached, deodorised' (RBD) palm oil and between 38.5% and 49.5% on sunflower and soyabean oils. India is largely dependent on cooking oil imports to meet domestic demand. In 2019-20, India imported about 56% of the total domestic demand for cooking oil. 
One straight-forward way of reducing the burden on people will be to reduce or scrap import duties and cesses. The other equally reasonable method would be to provide a subsidy and arrange for distribution of cooking oils through the public distribution system. However, the tight-fisted Narendra Modi government is unlikely to do either, as it appears to be committed to spending as little as possible on the welfare of the people. This has been well established by its refusal to expand the public distribution system even in the distressful pandemic times, or to provide financial support to families suffering due to lockdown and the coronavirus.  
But, the story of high food costs doesn't finish here. There is more.
Cooking Gas Prices on a High, No Subsidies
What has triggered a real panic in families is the enormous increase in prices of cooking gas cylinders over the past year, which has coincided with surreptitious withdrawal of the subsidy government provided on each cylinder.
As shown in the chart below, average LPG cylinder prices for the four metros (Delhi, Mumbai, Chennai and Kolkata) have sky-rocketed by 46% - from about Rs.579/cylinder in May 2020 to just above Rs.845 in July 2021. Data is for Indian Oil Corporation's Indane brand.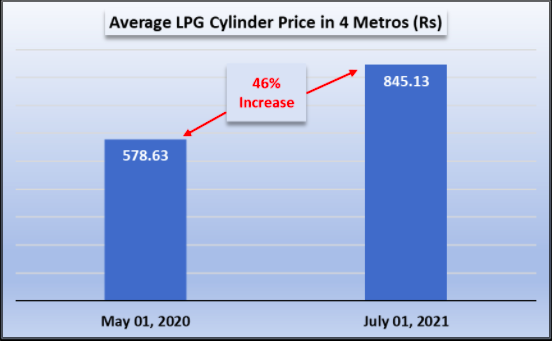 The explanation being peddled is that international crude oil prices have gone up as have standard LPG international prices, so domestic prices too have been increased. This is indeed a fact, but there are wheels within wheels.
Last year, since international prices of crude oil dropped in May 2020, the Modi government announced that there was no need for giving any subsidy on LPG as the cylinder cost had dropped to around Rs.600. But some months later, crude oil prices started increasing and so did LPG cylinder prices. However, the subsidy was not restored. 
This can be seen in the fact that during April-June quarter last year, government subsidy for cooking gas (through direct cash transfer) was Rs.2,573 crore, which declined to Rs.445 crore in July-September quarter, and further down to Rs.345 crore in October-December quarter, and finally ending the year at only Rs.196 crore in the last quarter, according to data available with the petroleum ministry's Petroleum Planning and Analysis Cell (PPAC). That adds up to Rs.3,559 crore (till February 2021). In the previous year, the total direct cash transfer subsidy for cooking gas was Rs.22,635 crore.
Again, it appears that it is the government's deliberate policy that is burdening the people with high costs, just as in cooking oils, and indeed in petrol and diesel prices, too.
Trade unions and farmers' organisations have been demanding for a long time that the public distribution system should be universalised and expanded to include cooking oils and other essential items. They have also been demanding that Rs.7,500 per month be transferred to all non-income tax paying families to tide over the economic crisis that is following the pandemic currently. But will the Modi government listen?
Get the latest reports & analysis with people's perspective on Protests, movements & deep analytical videos, discussions of the current affairs in your Telegram app. Subscribe to NewsClick's Telegram channel & get Real-Time updates on stories, as they get published on our website.
Subscribe Newsclick On Telegram