Hindu Right's Hate-Mongering Amplifies Communal Dog-Whistle Politics
Attacks on journalists and minorities go hand-in-hand with the poor governance record of BJP governments.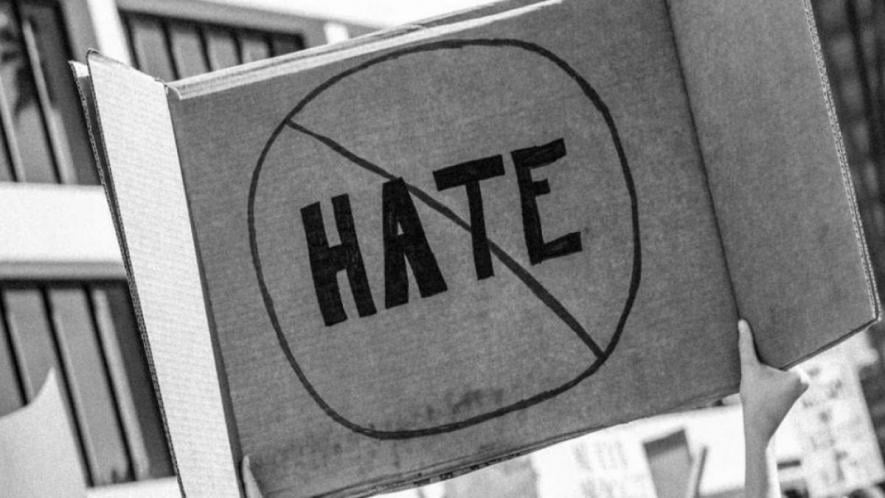 Yati Narsinghanand Saraswati is in the news again. For all the wrong reasons, again. And dragging into the limelight his facilitators in the Bharatiya Janata Party (BJP) and its sectarian governments, especially the one at the Centre, and the Sangh Parivar in general, again.
Saraswati has a record of delivering hate speeches targeting the Muslim community. He reportedly faces charges in 20-odd cases for making denigratory speeches about members of minority communities and women. The issue that trained the spotlight on him was a hate speech delivered at the 'dharam sansad' in Haridwar in December 2020. Several FIRs were registered against him for this and some other speeches, but he eventually got bail in all the cases.
It is not that bail should be denied. If followed equitably and fairly, the principle that bail should be the norm is unexceptionable. Unfortunately, in the India of the past eight years, this does not seem to be the case. That can explain why the charges brought against Saraswati, a serious and serial offender, were on the milder side. It was this leniency and the expectation of future impunity that prompted Saraswati to infringe bail conditions and attend an illegal meeting—a "Hindu mahapanchayat'—on 3 April in Delhi's Burari ground, where he delivered another hate speech against Muslims.
The Delhi Police, which has earned over the past few years the reputation of being the most compromised force in the country, responded to this with typical bias. On 4 April, it registered an FIR against Saraswati and others for making hate speeches, but no attempt seems to have been made to lock them up.
That is probably because the police were busy doing something else: registering FIRs against Twitter handles. One belonged to a journalist who was assaulted whilst covering the Burari event and another to a news portal. The FIRs were registered because the tweets alleged that Muslim journalists were beaten by a Hindu mob, which the police have interpreted as incitement of hatred and enmity between communities.
This allegation is risible. The FIRs registered against Saraswati and others are for holding the event despite the police denying permission to do so and for assaulting journalists, apart from making hate speeches. That journalists were attacked is clear; the police themselves have confirmed it.
Not only were journalists attacked, but it also seems the crowd singled out some of them for rougher treatment after the assailants realised they are Muslims. In total, seven journalists were attacked. Four of them, who happened to be Muslims, came in for especially rough treatment. This incident is not the first time journalists have been targeted by right-wing Hindu mobs or police personnel.
BJP governments have been perfecting the arts of dog-whistle politics and gaslighting while giving people who engage in scandalously mischievous and sometimes criminally cognizable acts of hate-mongering the protection of the state, in this case an increasingly Hindu majoritarian police state.
The pre-eminent culprit who did not even get a slap on the wrist must be Anurag Singh Thakur, now promoted to Minister of Information and Broadcasting with full Cabinet rank. In the run-up to the Delhi election in 2020, speaking at a rally, Thakur, then minister of state for finance, had led a chant calling for the shooting of "traitors". Apart from the fact that this was clearly aimed at the Muslim community, it was also incitement to targeted violence against individuals, whoever they may be. Thakur should have been proceeded against legally. Instead, Prime Minister Narendra Modi, chief patron of sectarian lowlife, promoted him.
The Hindu right does not need much encouragement as things stand. Electoral success has had a heady effect, emboldening them to ratchet up minority-baiting and take lawbreaking to new heights. Since the favourable results in the last round of elections finishing in March, especially the unexpected sweep in Uttar Pradesh, it has been upping the ante, particularly in Karnataka, where a difficult Assembly election is scheduled roughly a year from now.
It all began with the Karnataka government's ban on wearing a hijab in schools and colleges, which is a matter under litigation. It is to be hoped that the Supreme Court will rule in favour of the right to personal choice, though some of the rhetoric surrounding some choices may not be an exemplar of liberal thinking.
The baton has gleefully been accepted by non-state actors who are ratcheting up pressure against the Muslim community in Karnataka, which constitutes about 13% of the state's population. It means that while it is numerous enough to be a substantial target, it is not big enough to be electorally significant, except in small pockets, and it is small enough to be intimidated with impunity.
Following the Karnataka High Court's imprimatur for the hijab ban, an emboldened Hindu right first pressed successfully for a ban on Muslim vendors at fairs and festival markets in the vicinity of temples. Once this got off the ground, they began attacking sellers of halal products. Several Hindu organisations, including the BJP, called for a boycott of such products, not just meat in general.
A red herring has been introduced: if Muslims only buy halal meat (from Muslim butchers), why shouldn't non-others boycott halal meat? Following the asinine habit of tagging 'jihad' to an array of concepts, the idea of "economic jihad" has been mooted by BJP national general secretary and Karnataka MLA CT Ravi. The problem is that Muslims buy halal products because of a religious prescription. Many Hindu traders and manufacturers make and sell them.
To round off matters, led by the egregious Bajrang Dal, the Hindu right in Karnataka has now announced it will not allow the use of loudspeakers to amplify the azaan. Though provocateurs on the Hindu right have cited concerns over sound pollution, it has been reported that well over 80% of mosques adhere to decibel standards in accordance with a Supreme Court order.
The actual objective of all these campaigns is to intimidate the minority communities in general and Muslims in particular whilst consolidating a large enough segment of the majority vote to win elections. In our woefully flawed first-past-the-post electoral system, a critical minority in the majority community can swing elections, as the BJP has again shown in the last round of Assembly elections.
Whether or not this divisive strategy will continue to work or whether the plain fact that Modi's BJP is clueless about governance in New Delhi or the states will become a salient factor in deciding coming elections, we do not know. All we can do is resist the sectarianism of the Hindu right, the incompetence and authoritarianism of BJP governments, and their attacks on the citizenry.
The author is a freelance journalist and researcher. The views are personal.
Get the latest reports & analysis with people's perspective on Protests, movements & deep analytical videos, discussions of the current affairs in your Telegram app. Subscribe to NewsClick's Telegram channel & get Real-Time updates on stories, as they get published on our website.
Subscribe Newsclick On Telegram