In Hindutva Era, Eid is Less Joyous and Diwali Duller
Festivals become a stilted affair under the Hindutva regime.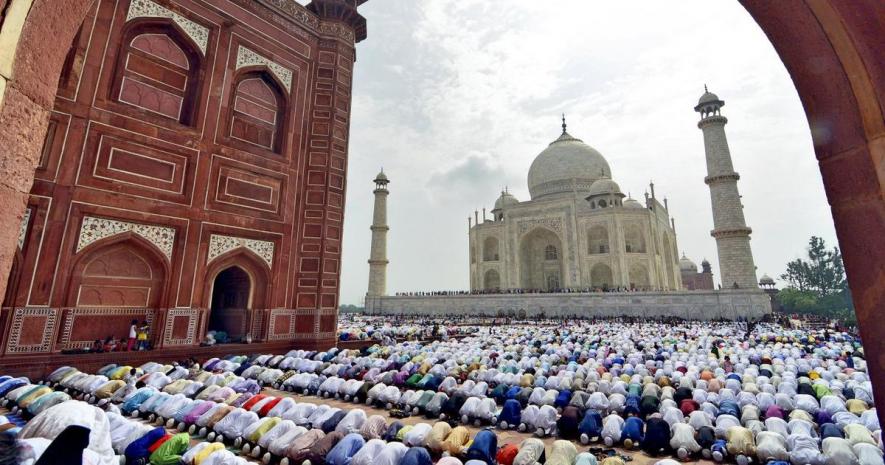 Image for representational purpose. Credit: Scroll.in
It was October or November of 1992, just after I had passed my BA and moved to Delhi for further studies, when I was back home for a break. As a slow autumn chill spread over my village in Mithilanchal, Bihar, my mother insisted I stay on until after Diwali, which was in a day or two. Since I was visiting my village after a long time, I decided to stay back. As the middle child in my family, I had few responsibilities. So, the task of preparing for the Diwali celebrations naturally fell on my younger brothers and sisters. I would supervise their work and see they did a good job, but we all celebrated Diwali with great fanfare. Apart from friends and relatives, many from the neighbourhood ate at our house on Diwali—including, as usual, our Muslim friends.
What can I say made Diwali in my village feel special? I remember clearly that almost all houses in the village marked the day with great pomp. What set my village apart was that lamps were lit even in the homes of Muslims. Some Muslims set off firecrackers, too—though never matching the fireworks that lit up the houses of the prosperous Hindus. But there was almost no difference between how the poor Hindus and the equally poor Muslims celebrated Diwali. Both were on a roughly equal footing.
Yes, Diwali in Muslim and Hindu homes differed in one more way. I would never be invited to eat the delicious food cooked in Muslim homes on Diwali! As a child, I would complain to my mother about this—and she would laugh it off, saying we do not have to visit a Muslim neighbour at every festival; sometimes, we should invite people to our home.
Similarly, when the month of Ramzan began, I would be seen grinning from ear to ear. It was not that I reached out for an Iftar every day. But the month of Ramzan would begin, and the first thought in my mind was Eid, the day I would get to eat meat with a Muslim household—meat cooked in our home was never as tasty! It never crossed my mind that that festival belonged to someone else and that I needed to follow some formalities to be able to celebrate it. The only thing on my mind would be the best time to show up at my Muslim friends' homes to get the best food possible.
I would offer Eid greetings only after reaching such a house on Eid. There were probably two reasons for this: In those days, telephones were not so common that one would call to greet a friend 'Eid Mubarak' and later hug him and greet them in person at their home. I went from childhood to youth simply believing I could show up at my Muslim friends' homes on that day, and they would lay out a grand feast, which I would enjoy. For me, the 'Eid Mubarak' greeting accompanied the feast—not the feast accompanying the greeting!
But a lot has changed in the last nine years since the Bharatiya Janata Party led by Prime Minister Narendra Modi came to power. As a journalist, I have spent more than 28 years in Delhi. I remember very well that there used to be an Iftar feast even when Atal Bihari Vajpayee was prime minister. True, not many were invited to this meal because of the prime minister's security concerns. But most journalists would reach the Prime Minister's residence for this Iftar. Before it, many ministers in the central government and many Members of Parliament would keep Iftar at their residences.
During Vajpayee's tenure, the BJP had not yet determined the status Muslims would be accorded in India. But after Modi's arrival, the Iftar party was cancelled. Not only at the Prime Minister's residence but when BJP's own candidate, Ramnath Kovind, was elected to the country's highest constitutional post, he ended the Iftar. (It was also cancelled earlier once, during APJ Abdul Kalam's term, but resumed after his term). Be that as it may, for several years, there has been a profound apprehension in my heart and mind that Prime Minister Modi may even stop sharing greetings on Eid with the public. This is not just because a Hindutva government has been running the country since 2014 but became. Time and again, open discrimination against Muslims confirms such apprehensions.
Dadri resident Mohd Akhlaq was killed because the killers suspected he had beef in his fridge—in the investigation, it turned out to have been goat meat. The Uttar Pradesh government presented that incident in such a way as if it would be justified to kill if beef had been stored! Akhlaq's killing is not the only incident during PM Modi's tenure which has created fear in the minds of Muslims. Now, the situation is such that wishing Eid Mubarak to Muslim friends does not generate enthusiasm—somewhere, there is a feeling of guilt, as if one is obliged to send the customary Eid Mubarak greeting. It no longer feels like a festival, one I have participated in enthusiastically in the past. It seems that if we do not send an 'Eid Mubarak' message to our Muslim friends, we are not fulfilling our duty—as if we are failing the 'Ganga-Jamuni Tehzeeb'.
But the matter does not end here. In my village, until 1992, Diwali was also celebrated in every household, whether Hindu or Muslim. But since 1993, after the demolition of the Babri Masjid in Ayodhya, many Muslim homes no longer light lamps on Diwali. A festival that earlier belonged to the entire village has now become a festival of the Hindus, while Eid and Bakr-Eid have become Muslim festivals. This is a big victory for the BJP.
At another level, the BJP has also lost out. After the demolition of the Babri Masjid, many Hindus have lost interest in celebrating Holi or Diwali. They were never Sanatani Hindus but would celebrate every festival as enthusiastically as any religious Hindu. Ever since Modi came to power, this small but distinct section of Hindus has distanced itself from celebrating even Holi and Diwali.
The author is an independent writer. The views are personal.
Get the latest reports & analysis with people's perspective on Protests, movements & deep analytical videos, discussions of the current affairs in your Telegram app. Subscribe to NewsClick's Telegram channel & get Real-Time updates on stories, as they get published on our website.
Subscribe Newsclick On Telegram