Historic Opportunity for Hindus and Muslims to Protect Freedom
The BJP-RSS combine and the national media have been trying to project this a movement of only the Muslims, although the reality is something else.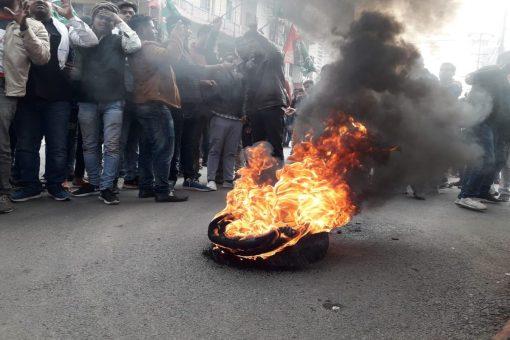 In the ongoing protests against the Citizenship Amendment Act (CAA) and National Register of Citizens (NRC), the Bharatiya Janata Party is trying its best to polarisze the society — a method its ideological parent, the Rashtriya Swayamsevak Sangh, has repeatedly and successfully used to capture political power in India.
The protests started in Assam, where the Assamese society refused to take the bait of CAA and be divided along communal lines. This spread to the rest of the North East and soon to the entire country. Everywhere, it was the students who took the lead in protests, for they perceived this a national threat to dilute Constitutional values like equality, justice, secularism, and ultimately, pose a danger to Indian democracy. Even though students of Indian Institutes of Technology (IIT) and Indian Institutes of Management (IIM) were also involved in these protests, it was only institutes like Jamia Millia University (JMI) and Aligarh Muslim University (AMU) that were subject to severe police crackdowns —- precisely because they are Muslim-majority universities. It should be noted that how peaceful, disciplined protests have continued even after brutal crackdowns is proof enough that it was the police which was responsible for all the violence and not students, as popular narrative goes.
Also Read: Has Communal Polarisation Reached its Peak?
Similarly in Uttar Pradesh's Muzaffarnagar, masked men, now known to have been BJP-RSS workers indulged in rampant violence, as directed by local MP Sanjeev Baliyan. However, most of the names that figure in FIRs are those of Muslims. Soon after the violence, Yogi Adityanath declared that the cost of damage to public property will be recovered from "miscreants" and since those named in police reports have been registered as troublemakers, it was innocent Muslims and activists who received notices to make up for the loss of crores of rupees.
All those who have died due to bullet shots in UP and Karnataka have so far been Muslims. In Kanpur, the police made use of private arms in order to claim that those killed did not die of police firing. Contrary to the narrative that has been going around, what transpired in various parts of Uttar Pradesh were not clashes between groups of citizens, but it was common people on one side and the state administration and police on the other.
Advocate Mohammad Shoaib and his organization "'Rihai Manch"' were targeted for having been instrumental in getting around 13 Muslim youth acquitted in falsely implicated terror cases. Rihai Manch, in turn, was accused of being responsible for the violence. Advocate Shoaib has been a lifelong socialist and at present is the state head of Socialist Party (India), a party with which stalwarts like Acharya Narendra Dev, Jayaprakash Narayan and Dr. Ram Manohar Lohia have been associated.
Also Read:  Four Months of Abrogation: Normalcy Limps Out of Sight in J&K
After Yogi Adityanath swore revenge on people who indulged in violence, there was an atmosphere of fear created in the state, making it nearly impossible to hold any protests. However, this was also when Muslim women, inspired by the still continuuing sit-in protest at New Delhi's Shaheen Bagh, came out sometimes with their children in arms, to hold fort at Lucknow's Ghantaghar, which has now become a major site of protest. Although the police initially tried to snatch the protestors' blankets, food and even tried to lock the public toilets, they soon had to give up. Afterall, this was only the public's natural reaction to the government's severe repression on them. The decision of women, first in Delhi and then elsewhere to come out on the streets may have been the result of a spur of moment initially, but now has become very significant. These women have shown the way and have become torch bearers of Indian democracy.
For long, Indian Muslims have either been viewed with suspicion by their antagonists over their loyalty to India, or have been looked upon as "victims" by their sympathisers. The anti-CAA-NRC protests have thrown up an opportunity where they can, like during the Indian freedom struggle, fight unapologetically as equal citizens to defend Indian democracy, similar to Blacks in the American society. Sana Qutubuddin of the Indian American Muslim Council told a group of protestors in front of the White House this Republic Day, that like how it was the Black civil rights activists who made America a democracy and that Indian Muslims find themselves in a similar situation this moment.
The BJP-RSS combine and the national media have been trying to project this a movement of only the Muslims, although the reality is something else. Non-Muslims have also been active participants in almost all these. Despite what Yogi Adityanath says about slapping those raising slogans of "Azadi" with sedition charges, the fact of the matter is that the BJP is not interested in securing the fundamental rights of Indian citizens and as a fundamental duty, all citizens, irrespective of religion, should perform at this historic juncture.
Sandeep Pandey is with the Socialist Party (India) and Faisal Khan is with the Khudai Khidmatgar. The views are personal. 
Get the latest reports & analysis with people's perspective on Protests, movements & deep analytical videos, discussions of the current affairs in your Telegram app. Subscribe to NewsClick's Telegram channel & get Real-Time updates on stories, as they get published on our website.
Subscribe Newsclick On Telegram