How Cow Vigilantism is Hitting Mewat's Dairy Farming Hard
A skewed government policy, its reckless implementation and self-styled 'gau rakshaks' are depriving Meo Muslim dairy farmers and cattle owners of their only source of livelihood.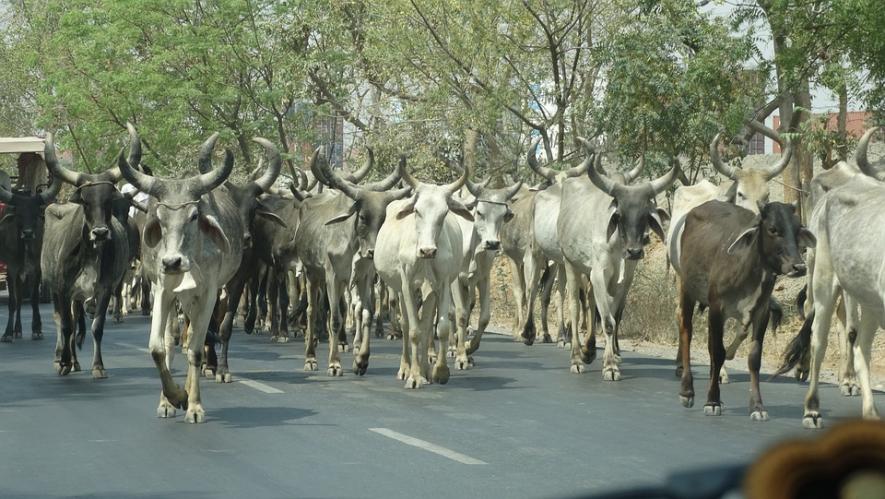 Representational Image. Image Courtesy: Max Pixel
Alwar (Rajasthan)/Nuh (Haryana)/New Delhi: Deen Mohammad, a resident of Bai village in Nuh district, has over 70 cows. Each bovine has a name, such as Rasuli, Zubaida, Kumma, etc. As the octogenarian calls out their names, they step forward to be milked.
For three generations, cattle-rearing has been the source of livelihood for Mohammad's family. But, with the implementation of harsher and stricter bovine protection Acts, most of the clauses of which are against the dairy farming sector, the cow has become a term indicating an agrarian hazard and a threat to the families of poor dairy farmers in Mewat — a border settlement of Rajasthan, Haryana and Uttar Pradesh.
Incidents of brutal killings and assaults of bovine farmers and traders belonging to the region, in the pretext of cow protection, have created chaos and hence, a cow is epitomised as a law and order issue here.
Since the region is home to Meo Muslims, it has been under the surveillance of cow vigilantes for some time now. Each household in the area rears one or two cows and buffaloes on an average. Most houses, thus, have cow sheds attached to them. Every household is engaged in dairying and all homesteads have cows, buffaloes or goats from which the people earn their livelihood.
Mohammad alleged the increased instances of attacks and lynching in the name of "gau raksha" (cow protection) were "calculated and purposeful" acts aimed at "depriving the villagers of their only source of livelihood —dairy farming".
While monitoring his cows, grazing in a field, the old but not frail man said the pattern and frequency of attacks in the name of cow protection, as well as the state's "doubtful silence" over such incidents, had made it impossible to view these as isolated and spontaneous instances of violence.
"It is all a part of a calibrated plan of extermination having features of a small-scale genocide and even ethnic cleansing," he told NewsClick.
The Muslim-concentrated Mewat region spreads across Bharatpur and Alwar in Rajasthan to Gurugram, Faridabad, Palwal and Nuh in Haryana and Agra and Mathura in Uttar Pradesh. Earlier known as Mewat, Nuh is now one of 22 districts of Haryana.
Locals cite various reasons behind lynchings in the name of cow protection, but economic and social marginalisation of a large population of Muslims emerged as the key factor.
Umar Mohammad Padla, a social activist and farmer leader, said dairy and agriculture farming were the main occupation of people in Mewat, as the semi-arid region in the foothills of the Aravallis had "intentionally been kept backward."
"Agriculture here depends on rain water as ground water in this water-starved region is not fit for irrigation. The employment situation is abysmal. The rise of vigilantism has severely impacted dairy farming. Every household here used to have two-three cows on an average, but now people have stopped cow-rearing. It has taken a severe toll on dairy farming," he said.
Why do people prefer to rear cows, and not buffaloes that are more productive?
Padla explained that the cost of rearing a cow is low, and it comes cheaper as compared to a buffalo. "A milch buffalo is priced somewhere between Rs 1-1.5 lakh while a cow can be bought for anywhere between Rs 40,000 and Rs 50,000. Due to the low maintenance requirements, people in Mewat are in the habit of rearing cows," he said.
No legislation bars sale and purchase or ferrying cows, if it is done fulfilling the legal requirements, Padla said, adding that residents of different villages trade their cattle (in small numbers, generally one-two) among themselves, i.e. between households; and therefore, there is no system of receipts.
"Such cattle, when ferried, are caught without a purchase receipt. But the absence of valid documents cannot be conclusive proof to state that it is being smuggled for slaughter," he said, alleging that self-styled cow protectors are not in fact "gau rakshaks" but extort money from dairy farmers in return for permission to carry the cows.
"If anyone refuses to pay, they are often beaten up and killed," he alleged.
Siddique Ahmad Meo, author and head of Mewat Vikas Sabha, claimed Muslims here rear cows more than Hindus.
"Meo Muslims have the best breeds of cows, including Tharparkar and Rathi. But now the situation has turned so bad that people are afraid to even utter the word 'cow'. The dairy farmers do not go anywhere to buy or sell their cattle. They purchase milch cows in their villages from Hindu traders who bring them from different districts of Rajasthan and Haryana. Even traders these days don't take any risk that may threaten their lives. With traders not very often visiting villages with cattle, dairy farmers are not getting a good breed of cows," he added.
Ahmad said this had led farmers to stop dairy farming and shift to other sources of livelihood.
"Since a majority of the population is uneducated and unskilled because of the absence of educational facilities and industries, they go outside to work as heavy vehicle drivers and conductors," he added.
For Meo Muslims, Ahmad claimed, the cow was as sacred as for Hindus. Forget about slaughtering the animal, he said, they bury it when it dies. "Muslim dairy farmers of Mewat don't even give their dead cows to dalits for skinning, etc.," he claimed.
If this is true, why is it so?
Ahmad refers to the history of the Meo community.
"Though Meos, a Rajput community, converted to Islam in the15th or 17th century, they still practice some customs of Hinduism. Even if they are practising Muslims, they continue to adhere to the Hindu caste system and consider themselves part of the Rajput clan by tracing their ancestry to figures like Rama, Krishna and Arjuna. They have been engaged in cow rearing for centuries, and the occupation has been passed down from one generation to the next. This is the reason why they never indulge in cow smuggling or slaughter. Their livelihood depends on cows and they have nothing but love for them," said Ahmad, who has authored the book, 'Mewat Ek Khoj'.
NewsClick met several dairy farmers in the region who claimed they used to have four-five and some even over 50 cows, but they had reduced the number to just one or two. This is because of a number of reasons – the skyrocketing prices of raw materials, low milk prices, and vigilantism being one of the major reasons.
"Fearing attacks, we ourselves do not go to neighbouring districts of Haryana and Rajasthan to buy cows. We sell or purchase the bovines through traders, who also don't come to our villages frequently. Since supply is down, the cost of cows has gone up. We are unable to earn much from the milk they produce, as their maintenance costs have gone up. Therefore, we keep cows only for self-consumption of milk. The herd swells only when calves are born," they added.
Harun and Kamru, who collect milk from different villages of Nuh district to sell it to dairy centres, said milk production had witnessed a drastic fall over the years.
"We used to collect 600-700 litres of milk every day from two-three villages, but this quantity has gone down to 250-300 litres a day, as people are no longer interested in cattle rearing because of a number of reasons, especially the reign of terror unleashed by 'gau rakshaks'," they said.
They said with the advent of "barbarous, arbitrary and unreasonable" cattle protection laws, cattle had become a liability to maintain after they age — leading to spread of dangerous diseases.
Families that used to earn a little by selling milk and through occasional daily wages from rural work, now live in utter poverty
Community leaders and elected representatives of panchayats alleged there was a "systematic attempt to brand the Muslim community in the Mewat region as criminals, cattle smugglers and butchers.
"Issues such as broken roads, lack of infrastructure, unemployment and poor health facilities plague our village, but no one talks about that. Vote bank politics has centred the debate on Hindu-Muslim, cow protection, cow smuggling and cow slaughter," they added.
Gatmeeka in Rajasthan's Bharatpur district has been labelled as a "village of cow smugglers", and over 200 people of the village have been charged with cow smuggling. The villagers shared the agony of how cow vigilantes immediately resort to mob violence (instead of approaching the law and order authorities for justice) if they viewed a member of the minority community as an accused — no matter what the perceived crime was!
An interaction with police and revenue officials in the region reveals a high degree of prejudice against the minority community. This apparent prejudice, bias and religious profiling have led to numerous false cases being filed against dairy farmers as cow smugglers, leading to systematic harassment. A chat with middle and lower rung policemen showed that they, too, carry forward the narrative of self-styled "gau rakshaks".
Responding to a query on the purpose of setting up 'Gauraksha Police Chowkis', they said the outposts had been set up after the Central government revised the Prevention of Cruelty to Animals Act in 2017 to regulate animal trade markets and curb trans-border smuggling of cattle.
Apparently confirming the allegation of police connivance with "cow protectors", they said the chowkis had been established to keep a check on vehicles crossing border areas "to Firozpur, Jhirka and Nuh (Haryana) for cow slaughtering and smuggling purposes".
When asked about lynching cases reported across Mewat, they said the incidents were "isolated happenings" during cow smuggling, as no purchase receipt issued by the cattle market, as mandated by the bovine protection legislations, was found with the victims.
The skewed government policy and its reckless implementation has led to a situation wherein cattle owners are left with no other option but to abandon their unproductive cattle.
Plummeting cattle population has also caused a serious fodder crisis. When the abandoned cattle devour the fodder kept for milch cattle/or when crops are eaten, these stray animals are mercilessly thrashed. Thus, the laws that are supposed to be protecting the cattle, are proving to be a bane for them.
Get the latest reports & analysis with people's perspective on Protests, movements & deep analytical videos, discussions of the current affairs in your Telegram app. Subscribe to NewsClick's Telegram channel & get Real-Time updates on stories, as they get published on our website.
Subscribe Newsclick On Telegram