How Does World see Indian Democracy and Nationalism?
The foreign visits of Prime Minister Narendra Modi have been drawing a crescendo of criticism.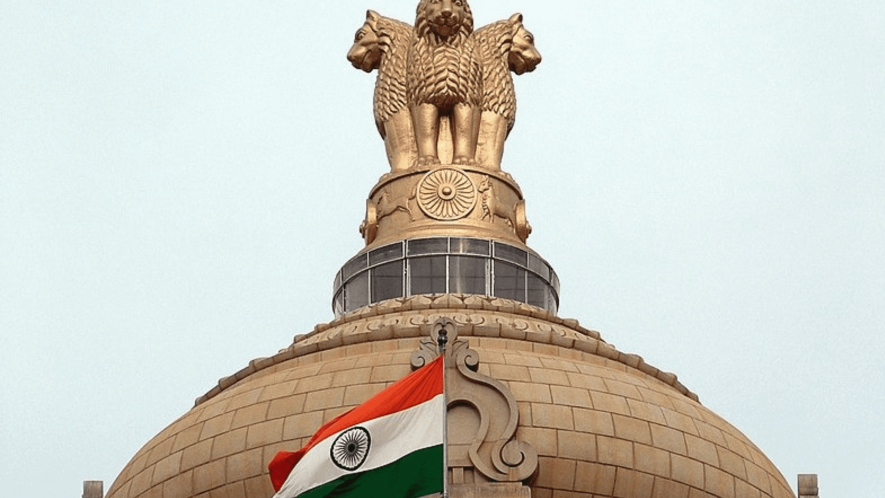 Representational Image. Image Courtesy: Wikimedia Commons
Prime Minister Narendra Modi's international jaunts persist unabated as violence in Manipur continues to claim innocents and displace hapless victims to refugee camps. In his previous government, from 2014 to 2019, he created an incredible record of visits to countries on every continent. After his second innings, his field trips slowed down mainly due to the Covid-19 pandemic. But they are resuming, and the propaganda accompanying them is also back. Allegedly, he has taken India's image to higher levels, he is a great world leader, and India is not only the "mother of democracy" but also a "thriving democracy".
The world has numerous independent institutions that monitor democratic freedoms, and India's record on them has been falling. India has tumbled closer to the lower rung of the bottom on most international and domestic indices. Now, the Prime Minister of India has been honoured during visits to many Muslim-majority counties, but many of those nations are not democracies and, what is more, they are keen on India to develop trade and strategic ties, not because it is the "mother" of democracy. Western democracies like the United States of America and France can relate to India for economic and political reasons, or choose to underplay the human rights record of India, the conditions of minorities in particular.
India's relationship with the Western world was far more upright in previous governments. India pursued non-alignment, but, as its democracy took root and minorities had a less rough time, India could shake hands with even the great powers uprightly. Starting from Jawaharlal Nehru's sincere pursuit of democracy, the Western media and institutions were not so critical of the internal situation in India. Not any more. Currently, while the United States and France are rolling out the red carpet for Prime Minster Modi, there are severe and unprecedented protests in those countries against the policies of the Indian ruling party. The policies that seek to intimidate and frighten religious minorities and weaker sections find many critics.
While Modi's recent trips to America and France drew accolades from those in high offices, they also witnessed protests, critical editorials in the major papers of those countries and resolutions passed by organisations like the European Parliament. Those protesting or asking uncomfortable questions have been trolled or criticised for "interfering in the internal matters of India", but the point is that the atrocious treatment meted to the weakest sections of Indian society can no longer be brushed under the carpet. This is the era of the internet, which has shrunk the world, and the ground reports of courageous journalists and activists have revealed human rights violations. The impunity enjoyed by perpetrators and the state looking the other way, if not directly encouraging injustices, is no longer India's "secret".
In America, while President Joe Biden was the recipient of a bear hug from our Prime Minister, he could convince Modi to address a press conference at the White House. Modi agreed to answer two questions, and the cat was out of the bag. Sabrina Siddiqui of The Wall Street Journal asked him what his government was doing to prevent reported discrimination against minorities, particularly Muslims and Christians in India. Of course, Biden did not raise this issue publicly, for the United States is cultivating India as its next South Asian ally (to replace Pakistan, which is now apparently not instrumental to United States goals in West Asia).
Now India is being 'groomed' to ally with Uncle Sam to counter China's progress. To Siddiqui's question, Modi mumbled a few non-significant phrases about how 'we are a democracy, we don't discriminate' and so on. In response, the well-cultivated troll army of the BJP was unleashed against Siddiqui. The trolling was so intense that a White House spokesperson had to come to her defence, reiterating that they disapprove of such harassment of journalists.
What Biden could not say was left to former United States president Barack Obama, who said in an interview on CNN that if minorities are not protected, India might fall apart. He, too, was trolled by the BJP's Assam Chief Minister Himanta Biswa Sarma, who said India has many "Hussain" Obamas to deal with. To cap it all, apart from protests against Modi during his overseas visits, well-known author Arundhati Roy detailed the atrocities against Muslims, Christians, Dalits and Adivasis in a prominently displayed article in The New York Times. She critiqued the United States' choice of allies, writing, "The enchanting folks that the US government has cultivated as partners include the Shah of Iran, Gen Mohammad Zia ul-Haq of Pakistan, the Afghan mujahedeen, Saddam Hussein of Iraq, a series of tin-pot dictators in South Vietnam and Gen. Augusto Pinochet of Chile. A central tenet of US foreign policy has, too often, been a democracy for the United States, dictatorship for its (non-white) friends."
The case in France was no different; President Emmanuel Macron received Modi warmly and praised the friendship between the two democracies, while the European Parliament in session in Strasbourg took up six motions relating to the violence in Manipur and the status of minorities in India, and passed a resolution that talked of the "persecution" of Christians and other minorities, and Hindu majoritarianism.
Le Monde, the foremost newspaper in France, was forthright in condemning the worsening treatment of minorities and democratic freedoms in India: "But can we ignore the fact that India, under Modi's leadership, is going through a serious crisis, with attacks on human rights activists, NGOs and journalists on the rise?"
Should we take these comments of leading newspapers, protests and opinions of the likes of Obama as external interference, or introspect to rectify our country's emerging norms and culture? This is the question which people have to answer.
The author is a human rights activist. The views are personal.
Get the latest reports & analysis with people's perspective on Protests, movements & deep analytical videos, discussions of the current affairs in your Telegram app. Subscribe to NewsClick's Telegram channel & get Real-Time updates on stories, as they get published on our website.
Subscribe Newsclick On Telegram