Protests Turn on Their Head in Modi's India
Indifference is independence, isolation is freedom, and George Orwell didn't have a patch on Indian democracy.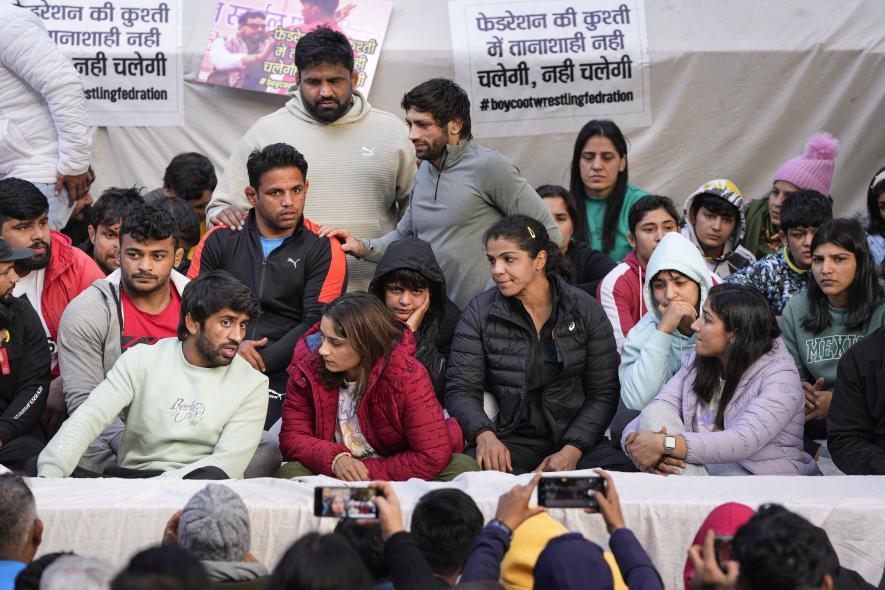 Do protests not work in Modi Raj, or are they being made to fail? How does the regime view popular protests? What everyday ethics are generated around them? Farmers protested for over two years while society stood divided, and the government did not respond despite 700 deaths. Nor did the farm protests matter to the electoral outcome in Uttar Pradesh. Migrants also walked thousands of miles to their villages to escape the cities during the Covid-19 pandemic. No help reached them, but it did not seem to influence the election in Bihar.
The Leader of the largest Opposition party gets disqualified from Parliament, and there were no mass protests—the matter was quietly routinised. Now, women wrestlers protested for over a month over alleged sexual harassment. The women who won medals for the nation were even manhandled, but it did not erode the nationalist credentials of those who humiliated them.
Instead, the protesting farmers became 'Khalistanis', the students of Jamia Millia Islamia became 'jihadis', the Dalits of Bhima-Koregaon became 'Maoists', faculty members across universities and dissenting journalists became 'anti-national', and dead bodies in shallow graves on the bank of the Ganga river turned into a Hindu 'ritual'. Despite all these events, the outcome of the coming State election remains uncertain. Even the 2024 Lok Sabha election looks ominously perched against the Opposition.
We are witnessing the workings of a democracy where everyday ethics as we understand them have turned on their head. It is democracy's shirsashan.
Democracy is reasonably healthy in India as far as free and fair elections are concerned. But the everyday ethics that we assumed accompany democracy are under threat. The majoritarian psyche, couched in a discourse about securitisation, has laid the basic norm of 'guilty until proven innocent' to rest for all on the other side of the political fence. And it has declared all those who shout 'goli maaro saalon ko' innocent despite a mountain of evidence against them.
We have righteous lawlessness couched as national security and exceptionalism as a necessary and compulsive mode of governance. These new social norms and ethics cannot be easily shaken off unless social groups—caste and religious—are willing to be self-critical. Self-critique is perhaps among the most difficult of ethics, even in ordinary times, not to mention during social upheaval.
Majoritarian securitisation has a series of consequences. It can hold up a pyramid-like structure where the topmost echelon—the Supreme Leader—seeks identification and not representation. That is, the worth of the rest of society is gauged through the lens of the sanctity of the Supreme Leader. Then the logic to keep this Leader always a cut above the rest becomes compulsive. Otherwise, there is fear of a generic degeneration and disunity. The Supreme Leader serves by taking credit for all that is good and passing the buck to others for all that goes wrong. He needs performance—even as he encourages mediocrity. Non-performers can be reprimanded, reshuffled or divested of ministerial portfolios to ward off criticism.
It is up to the rest to figure out how to make the system work despite their fear of taking responsibility and making decisions. One must work without taking credit or standing out. Passing the buck and maintaining double standards becomes a necessary ethic to maintain a majoritarian order. In such an order, we win elections because of nationalism and lose elections because of casteism! We use caste for the nation—others use the nation for caste. When we indulge in caste calculations for electoral purposes, it is not the same as others doing it! Similar actions have different outcomes, and similar outcomes have different intentions. The differentiating factor must be saaf niyat—pure intentions.
De-valuation has become the new universal ethic of democracy. Social conflicts cannot be resolved, and interpersonal comparisons have become haunting. Therefore, homogenisation has come to mean unity. And even homogenisation is achieved through near-complete de-valuation of all talent, merit and social identities outside the sanctified one of being Hindu. Talent is seen as a source of independence, but that threatens unity, which means subordination.
Contempt for the wrestlers' protest emanates from their ability to speak on the strength of their achievements. But their confidence is anti-nationalist. Indeed, the accused might eventually be punished (as he was in the Hathras case), but not before it is made clear that not the protests but the benevolence of the Leader set the wheels of justice rolling.
Talent anywhere is a threat to social cohesion everywhere. Doctors are lynched, teachers commit suicide, actors beg for pardon, and sportsmen fall in line. De-valuation becomes an ethic of equality in the regime buckles before no one, Amartya Sen or Virat Kohli. The law is the same for everyone so long as you oppose us. And, so long as you stand with us, the law is the same—absent—for everyone from Anurag Thakur to Brij Bhushan Sharan Singh.
Those who accepted the selective application of norms or sheer lawlessness in the context of religious minorities cannot possibly question it in the context of the wrestlers. The public spectacle of bulldozers is an indelible tattoo of public sanction for majoritarianism.
Self-righteousness has become the new morality. To doubt and question is to weaken the nation and Leader. It marks the erosion of trust and faith and is unholy, if not atheistic. Self-righteousness is the new marker of a self-confident—Atmanirbhar—Bharat. To speak is to indulge in Mann ki Baat without hesitation or the burden of civility. Civility and culture are internal aspects, not things we get socialised into, just like "sanskari Brahmins" do not need social sanction, and evidence of rape can cast no doubt on their conduct.
Similarly, external acts are done in an exigency, while culture is a matter of inner make-up. While exigencies are temporary and contextual, culture is permanent. Therefore, in the new system, we externalise what we are born with or into but do not internalise what we are socialised into.
Our new socialisation is into 'One Nation One Market'. Any obedience beyond this is a betrayal which can produce guilt and shame. Subordination is devotion, while dialogue and doubts are the new violence that disfigures the fantasy built out of belief. To question is to destroy the potential of faith. Therefore, protests are unruly and unwarranted. They create a pervasive sense of reality, emptiness, hopelessness, and bleak futures. We need projected identities, pretentious solidarity, and aggressive victimhood—not protests—to cope. A protest would smack of authenticity and genuine suffering, but these new collectives are based on emotions without their accompanying vulnerabilities. Protests demonstrate vulnerabilities and weaknesses. They acknowledge problems that may exist even in a family or home, which must not be dragged onto the streets. Those who drag them out in the open have ulterior crypto-motives which must get exposed. Therefore, the protesting wrestlers are stooges propped up before the upcoming election in Haryana.
One may not harbour an ephemeral doubt today, but one can smell deep conspiracies. A strong leader and nation can only be dislodged through a deep conspiracy like the one Satyapal Malik planned, if not 'global forces', think tanks that camouflage as human rights watchdogs, or those who take "suparis" to harm Prime Minister Narendra Modi.
The only form of self-confidence that can tackle conspiracies is self-righteous talk. To (self) realise this, one must not trust anything outside the Supreme Leader. We need active indifference, not just distrust, to remain sane, reason objectively, and think independently. This indifference will provide the necessary social distance from vulnerabilities and the risk of decisions based on unthought-of emotions. Ruthlessness and aggression are necessary, but we must not react hastily—when we see wrestlers dragged away from their protest. "Well," we say to ourselves, "These things happen—but the 'real' story behind the protest is hidden."
If indifference is independence, isolation is freedom and autonomy from social chaos. Retreating into the seclusion of one's inner circle is the new safety even as we collectively declare nation—in fact, world—a family, vasudaiva kutumbakam.
The author is an associate professor at the Centre for Political Studies, Jawaharlal Nehru University. The views are personal. His new book, Politics, Ethics, Emotions in 'New India' was recently published by Routledge.
Get the latest reports & analysis with people's perspective on Protests, movements & deep analytical videos, discussions of the current affairs in your Telegram app. Subscribe to NewsClick's Telegram channel & get Real-Time updates on stories, as they get published on our website.
Subscribe Newsclick On Telegram