How India is Incarcerating Muslims Indiscriminately and Indefinitely
Aryan Khan isn't alone. He joins Muslims from disparate educational, social, and financial backgrounds, who are lodged in jail despite their power, privilege and education, or lack thereof.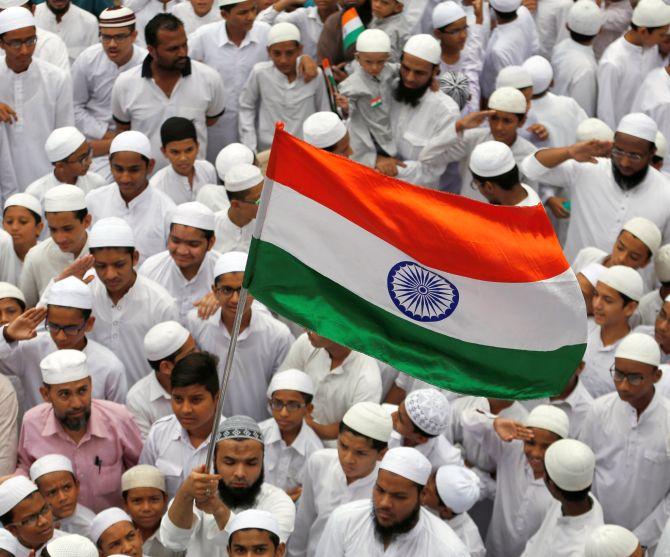 An itinerant salesman, the 25-year-old bangle-seller left his home in Brij Mou, Hardoi, Uttar Pradesh for business 800 km away in Indore, Madhya Pradesh. For him and others in the region involved in the profession, it is an annual trip before a series of Hindu festivals—the most fruitful time for their business.
He could not have possibly envisaged the chain of events that would follow his trip this year. The door-to-door salesman suddenly became news when mobile video clips of him beaten ruthlessly, his bag of bangles snatched from him amid abuses and anti-Muslim slurs, went viral on social media. His assaulters repeatedly warned him against doing business in a "Hindu area".
Before his wounds healed, he had been accused by those who set upon him of an assortment of crimes, including forgery, outraging a woman's modesty, cheating, and abusing a minor.
The salesman, whose remote village lacks a government school or healthcare facility and where a vast majority do not complete high school, was punished while practising the only profession he knew. "My husband has been selling bangles since we were married," his wife told Article 14. "It is our only source of income."
§
Last October, India was rocked by news of the alleged gang rape of a Dalit woman and her subsequent death. Her family's tragedy compounded when the police forcefully cremated her in the dead of night against its wishes.
A journalist in his early forties shared a cab from Delhi to Hathras, Uttar Pradesh, to cover the story. However, he and his fellow travellers, including the driver, never reached their destination.
The Delhi-based scribe from Kerala began his journalism career in 2011. "He chose journalism as he had a passion and love for this profession," his wife Raihanath recently wrote. She described him as an honest man of modest dreams. "Though he didn't have big dreams, he had always wished to complete the half-constructed home of ours and to live with his family and mother," she added.
He had worked for several Kerala-based news outlets, including Thejas Daily, Thalsamayam, and Azhimukham, a portal.
Recalling the reporter's fateful trip, his wife said, "As the girl's body was forcefully cremated, the Hathras case received all worlds' attention. He decided to go there. He never writes just sitting in the office, he goes to the ground and reports. He had to go to Hathras, an absolutely unfamiliar place. I and my children will never stoop our heads. We struggle so much but we are proud of him."
§
Having completed his graduation in computer science from the prestigious IIT Bombay, he changed tack and did his master's in modern history from another prominent institution, Jawaharlal Nehru University. He pursued a PhD there until it was cut short due to a protest that he was instrumental in organising. India suddenly became aware of a bearded, bespectacled budding historian as a road in Delhi was blocked at Shaheen Bagh to protest the inherently exclusionary Citizenship Amendment Act (CAA) promulgated by Parliament in December 2019.
The IIT grad, as is the norm with graduates from these hallowed institutions, was offered a handsome remuneration by an American bank upon the completion of his course. Still, he chose to stay in India and took up a job in Bengaluru. A polyglot with command over several Eastern and Western languages, his speeches are invariably marked with felicitous couplets. He was also involved in setting up a dictionary for the Urdu literature portal, Rekhta.org.
When I approached him for a story on a chilly December night, the protest's ideological and intellectual force, who even put his body on the line to ensure it did not end the day it began, was completely unassuming despite his massive undertaking. Observing him over the course of the protest, it became clear just how he is: someone with no qualms about wearing clothes lent by friends—"ye kisi bhai ne diya hai" (someone gave this to me)—or voluntarily sleeping on the steps of a shop at the protest site.
He gradually distanced himself from the Shaheen Bagh protest and next came in the limelight for a speech at the Aligarh Muslim University. He urged his audience to organise similar demonstrations across the country and resort to chakka-jaam to make the government listen to the community's demands. It turned out to be one speech too many.
§
The septuagenarian is a Lok Sabha member from Rampur, Uttar Pradesh. He has been a key member of the Samajwadi Party for close to three decades and was seen as the no. 2 in the party behind then chief minister Akhilesh Yadav during its 2012-17 rule in Uttar Pradesh. The Rampur Assembly seat is virtually his pocket borough, which he won multiple times.
He is regarded as an important cog in the Samajwadi Party wheel for his ability to get the "Muslim votes" in its kitty. However, despite his electoral success, the Rampur legislator has a chequered political record. His long stint in Uttar Pradesh politics has not resulted in any discernible gains for the community he is said to represent. He was the minority affairs minister of Uttar Pradesh at the time of the devastating Muzaffarnagar riots of 2013—in which the Muslims suffered a disproportionate loss of life, resources and dignity, and the state police were accused of laxity, even outright complicity.
What he perhaps intended as a long-lasting legacy—a minority university to preside over for life—has been marred with controversy since its very inception with sundry allegations ranging from land theft to his vice-like grip over its functioning.
However, for the veteran leader who cut his teeth in student politics at Aligarh Muslim University (AMU) in the 1970s, his undoing proved to be something rather trivial by the standards of Indian politics: a forged birth certificate.
§
The 23-year-old recent graduate from the University of Southern California is best known as the son of his actor father. The illustrious father has over 100 million cumulative followers across Facebook, Twitter and Instagram. A Muslim married to a Hindu, his social media accounts never miss a chance to wish his followers on all religious festivals. His last post on Facebook and Instagram is a picture of Ganesha idol with the caption, "May Lord Ganesha's blessings remain with all of us until we see him again next year… Ganpati Bappa Morya!!!" No wonder he is often billed as a poster boy of "inclusive India".
While he was not part of that Bollywood selfie with Narendra Modi, he was pictured in another famous selfie with the PM.
But none of it proved enough for the multiple award-winning multimillionaire when his son fell prey to a Narcotics Control Bureau (NCB) raid on a cruise ship in Mumbai as he partied with friends. Since the raid, the actor has maintained a dignified silence, and his social media profiles have seen no activity. In contrast, the film fraternity has made a beeline for his landmark residence, presumably to put a proverbial arm around his shoulders during his grief.
§
Taslim Ali, the itinerant bangle seller of modest means and father to five young children, is incarcerated 800 km away from his home for over 50 days. The police failed to produce a case diary at his latest hearing. Meanwhile, all his assailants are out on bail.
Siddique Kappan, the journalist, is lodged in prison since over a year. Numerous allegations, including conspiracy, sedition, outraging religious feelings, and terror changes, have been levelled against him. The police have filed a 5,000-page chargesheet in the case, and it is filled with, as one journalist put it, "Alice in Wonderland bizarreness." During his imprisonment, he endured a bout of Covid-19, was allegedly tied to a cot, and made to urinate in a plastic bottle. To add further to the dystopia, Kappan—or his lawyers—have not received a copy of the chargesheet. His mother passed away in August.
Sharjeel Imam, the JNU scholar, has now spent over 600 days in prison. Five states have filed cases against him on a cornucopia of charges ranging from sedition to being a "mastermind" of the 2020 Delhi pogrom. He was already in jail about one month before the violence broke out in late February in Northeast Delhi.
Azam Khan, the Samajwadi Party leader, has been incarcerated since February 2020 on the allegation of forging his son's birth certificate. He was jailed by a regime that withdrew 77 cases—some of which entailed a life sentence penalty—related to the 2013 Muzaffarnagar riots without giving any reason. The state's police force took its own sweet time in arresting Ashish Mishra—son of Union minister Ajay Mishra—drawing the Supreme Court's harsh critique. Ashish's car is alleged to have mowed down four protesting farmers in Lakhimpur Kheri.
Aryan Khan, Shah Rukh Khan's son, has been imprisoned for over a week now. In a plotline straight out of a Coen brothers flick, NCB officials were accompanied in their raid by two private individuals associated with the BJP, the party ruling at the Centre and in control over the bureau. Although no drug was found on him, Aryan was denied bail by a metropolitan magistrate's court. The Indian Express reported: "The plea was not decided on the merits and facts of the case." Boycott calls against Shah Rukh have started trending on social media.
Wasi Manazir is an independent writer. The views are personal.
Get the latest reports & analysis with people's perspective on Protests, movements & deep analytical videos, discussions of the current affairs in your Telegram app. Subscribe to NewsClick's Telegram channel & get Real-Time updates on stories, as they get published on our website.
Subscribe Newsclick On Telegram