How Prime Time TV on Ranveer's Nudity Helped Cover up Bare Realities
The actor must apologise for helping hide the warts in our democracy – low representation women, gender inequalities, unemployment, inflation, among others.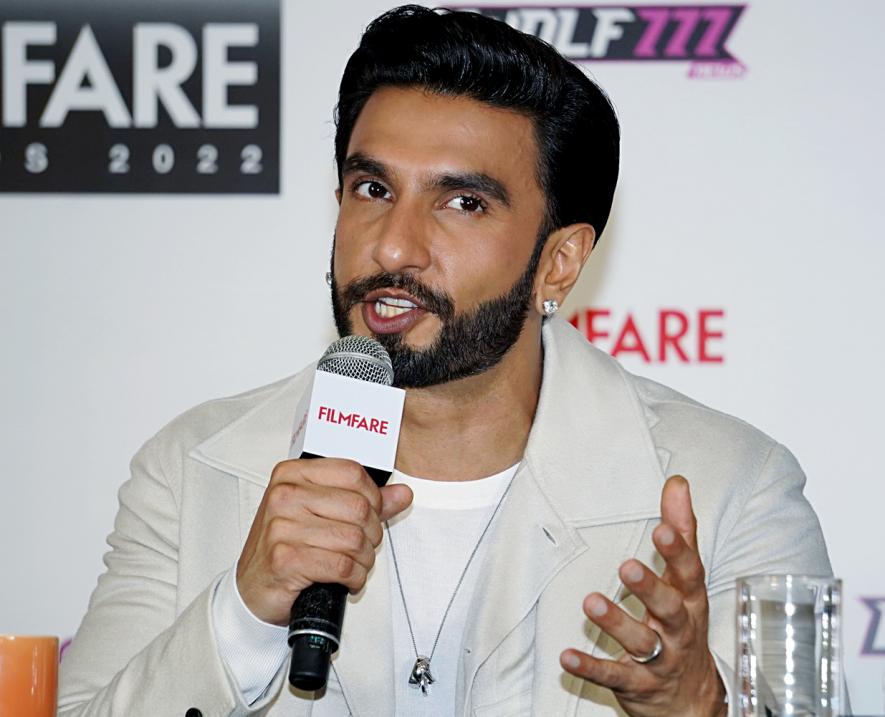 Bollywood actor Ranveer Singh addresses the press conference of the 67th Filmfare Awards 2022. Image Courtesy: ANI
Actor Ranveer Singh kicked up a storm recently after he uploaded pictures from his nude photoshoot on social media. In its aftermath, many felt compelled to react to this bolt from the blue — potent enough to supersede many pressing issues and become a topic for a national debate, as was showcased on many television channels. We can thank Mr Singh for providing the much-needed distraction to us as we stare at soaring inflation and rising unemployment.
I think Ranveer Singh's pictures are disgusting.

— Zainab Sikander (@zainabsikander) July 22, 2022
How is Ranveer Singh posing naked insulting women's modesty? https://t.co/OMkOWANeWC

— Rohini Singh (@rohini_sgh) July 26, 2022
At present, the biggest "national issue" is Ranveer Singh's "bum"😂😂😂😂😂😂😂😂😂pic.twitter.com/sSkYFeEBYq

— Ravi Nair (@t_d_h_nair) July 26, 2022
The great thing about Ranveer Singh's ass is that our "good" journalists are discussing it on prime time the same week as
-2 women were gangraped (Delhi/Hyd)
-Monkeypox arrived
-BJP leader in Meghalaya was caught running a brothel.

I don't see the funny.

— Vidya (@VidyaKrishnan) July 27, 2022
Parents of children should keep tabs on what their kids watch. Isn't Ranveer Singh's problem. Kanungo should focus on the child prostitution racket uncovered in Meghalaya instead of trying to seek attention by wading into a pointless controversy. https://t.co/gM2IA4cZRm

— Rohini Singh (@rohini_sgh) July 26, 2022
The panelist literally said Ranveer Singh's bum is a national issue !!!!
😬😬🤣🤣 https://t.co/wMAnAmZLJw

— Swara Bhasker (@ReallySwara) July 27, 2022
One cannot help but wonder how the nudity of a film actor turned into such a big issue. How did we (the media) manage to resolve every other grave issue to have this one left as the only concern to be addressed? We can be sure there are many more images in our country that ought to make us convulse and take offence, can't we?
In this article, let's take a look at some such topics and grave issues that actually need to be debated and discussed.
Gatekeeping 'Modesty' and Political Power
Mumbai-based advocate Vedika Choubey filed a police complaint against Singh following his photoshoot and she expressed her views on Twitter as well, eliciting many reactions.
I would like to say that I am fighting for the cause of the women of India and I am not going to bow down. It's for me, my mother, my sister, my daughters any women who feels that this is wrong and it outraged their modesty too. Read more…..https://t.co/xv8cJMynRL

— Adv Vedika Chaubey (@vedikachaubey) July 28, 2022
रणवीर सिंह कपड़े पहन के तस्वीर खिंचवाएं या न्यूड, इससे किसी औरत की शीलता कैसे भंग होती है! #RanveerSingh

— Meenakshi Joshi 🇮🇳 (@IMinakshiJoshi) July 27, 2022
As I said on the show, we may laugh at this silly FIR against @RanveerOfficial ( and boy did I laugh) but it's just harassment. The case will drag on, waste the time of the police and the courts, which should have more important issues to deal with.

— Nidhi Razdan (@Nidhi) July 26, 2022
A few months ago, burqa  and hijab had become a topic of heated debates in which some supported the practice of covering up, while others were against it. What to wear or what not to wear – or to wear nothing, much like some of our revered monks – is a personal choice. Then, why do we feel the need to fixate on these choices and rush to enforce arbitrary, extra-constitutional moral codes? 
Politics is a subject that affects every person living in the country, irrespective of religion, caste, class, or gender. But take a glance at the extent of participation of women in politics. At present, there are a total of 81 women MPs in both houses of Parliament – out of the total strength of approximately 788 MPs. Women MPs – who account for a small percentage of approximately 10% of the total number of MPs -- are meant to represent about 48% of India's population. According to a report in Observer Research Foundation (ORF), the plight of the women in the state Assemblies is even worse, where they nearly account for 9% of elected leaders. 
Even for women who make it to Parliament or Assemblies, there is no escape from sexism. Recently, Nationalist Congress Party leader Supriya Sule was subjected to a misogynist remark from Maharashtraa state BJP president Chandrakant Patil. He reportedly asked Sule to go home and "bhakari thapa (make food)". Patil even said that Sule can go masnat (to hell) if she cannot resolve the Other Backward Class (OBC) reservations issue.
According to a report by The Wire, empirical studies confirm women's skewed gender representation in politics and legislation. According to an inter-parliamentary union study, India ranks 149th out of 193 countries in terms of female representation in the lower or single house of Parliament.
Take a look at some of these headlines that portray a grim picture of the state of women in India:
· Crimes Against Women India sees 88 rape cases every day (Source: NCRB 2021)
· 4% of ever-pregnant women have experienced spousal violence during pregnancy (Source: NFHS-5)
· One in every 25 women in India reported being subjected to sexual violence by her husband often or sometimes (Source: NFHS-5)
· About nine in 10 Indians agree with the notion that a wife must always obey her husband (Source: Pew Research Center Survey)
Fight for Equal Opportunities
· India at 135 out of 146 countries in Global Gender Gap Index (Source: World Economic Forum)
· Men earn 82% of the labour income whereas women earn just 18% of it (Source: World Inequality Report 2022)
· Only 17.4% of these employed women hold regular salaried jobs (Source: Labour Force Survey 2022)
· India's female workforce participation is among the lowest in the world (Source: United Nations)
· More women lost jobs in the pandemic in India, compared to men (Source: UN Data)
· 65% of Indian women are literate in contrast to 82% of men (Source: Census 2011)
No Airtime for Unemployment and Inflation
According to a report published in The Indian Express recently, the government told Parliament that in the past eight years, more than 22 crore people applied for jobs, out of which only 7 lakh people got employed.
On the other side, more and more people are losing their jobs. According to a report by NewsClick, in May, the number of employed persons was 40.4 crore, which plummeted to just 39.1 crore by the end of June.
Read Also: Central Government: 22 Crore Applied, 7 Lakh got Jobs, 9 Lakh Posts Still Vacant
A PTI report said that over 12,000 teaching positions are vacant in Kendriya Vidyalayas across the country while over 9,000 teachers have been engaged on a contractual basis, according to the Ministry of Education. The maximum of vacant teaching positions is in Tamil Nadu (1,162), Madhya Pradesh (1,066), and Karnataka (1,006).
As of 2021, the vacancies in teaching positions in Navodaya Vidyalayas (NVs), also managed by the Centre, are 3,156 across the country with the highest in Jharkhand (230), and Arunachal Pradesh and Assam each having 215 vacancies. These statistics were shared by Union Minister of State for Education, Annapurna Devi, in response to a question in Lok Sabha.
Along with unemployment, the second most important issue is inflation, which is also missing from our "news debates". The soaring consumer prices are badly affecting common people, according to a report published in NewsClick. The prices of essential items of use – from food to fuels– have risen exorbitantly over the past few years.
This has led to cutback in consumption. Retail inflation, that is, the rise in prices of what common people pay for various commodities or services, was recorded at 7.73% in April 2022. Within this general rise, prices of food items have increased more, topping off at 8.03% in the same month.
According to a report by PTI, India's manufacturing activity was at a nine-month low in June. The seasonally adjusted S&P Global India Manufacturing Purchasing Managers' Index (PMI) fell to 53.9 in June from 54.6 in May, the weakest pace of growth since last September.
In July, the price of domestic cylinders increased to Rs 1,053, due to which many are not able to refill the cylinders. According to a report, the 5% price surge has pushed consumers to lower the number of LPG refills with 5% of the PMUY beneficiaries refilling just once a year in FY22.
These are only a select number of issues that have been impacting a large number of people. In addition, the TV debates dare not speak about saffronisation of education, curtailment of free speech, weaponisation of investigative agencies, killings of rationalists, lynchings, utter disrespect for democratic processes, corruption, and a free hand given to the communal "fringe" elements etc. The list goes on.
Read Also: Why Rawat's 'Ripped Jeans' Remark Shouldn't be Seen in Isolation
The image of a woman giving birth near a dustbin on a street against the backdrop of a crumbling medical infrastructure does not offend the people. The image of a "journalist" jumping on a dead man's body does not disturb us. The images of migrant workers walking miles holding their children in the scorching heat, too, are quite forgettable. Actually, actor Ranveer Singh needs apologise, he helped the media cover up (not too much though the more scarring and "obscene" images that are  a democracy's nightmare.
Get the latest reports & analysis with people's perspective on Protests, movements & deep analytical videos, discussions of the current affairs in your Telegram app. Subscribe to NewsClick's Telegram channel & get Real-Time updates on stories, as they get published on our website.
Subscribe Newsclick On Telegram