How a Village's Community Library Continues to Brave COVID-19 Crisis in UP
From creating awareness about the importance of preventive measures to ensuring medical van for transporting infected villagers to the nearest hospital, a team of 22 volunteers formed by the community library in UP's Bansa have jumped to people's aid of people amid the surge in cases.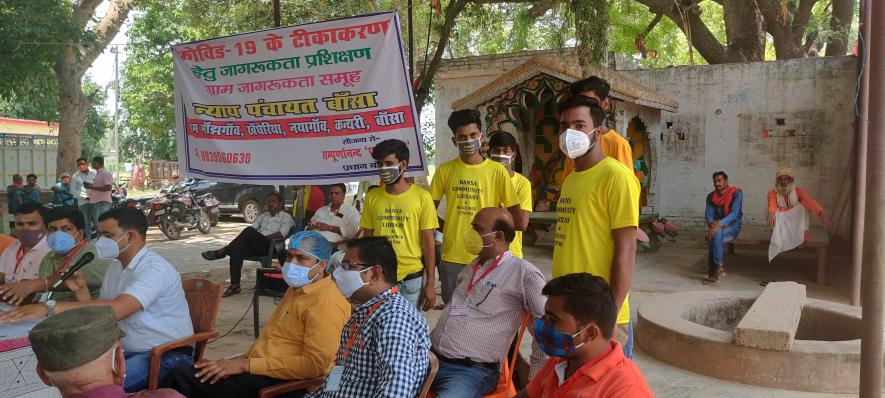 Priyanshu Verma is a student who was attending competitive exam coaching classes in Lucknow. However, with the rapid surge of COVID-19 cases in March this year, he had to leave Lucknow and come back home to Bansa, a small village in Hardoi district of Uttar Pradesh.
The virus soon engulfed his village as well. Priyanshu and his two younger brothers initially had no way to continue their studies. "We don't have a phone, so no online college for my brothers," he said. Meanwhile, Bansa saw a total of 47 suspected COVID-19 deaths within a month, of which one was Priyanshu's own relative. 
The panchayat polls in Hardoi were held in April. All people NewsClick spoke with have noted the polls to be the major cause of the surge. "People started dying soon after polling ended," Priyanshu said.
Violation of COVID-19 norms became commonplace in the heat of campaigning, and Bansa saw an influx of people from other villages during polls, as claimed by the villagers. Initial deaths were observed among the elderly; they would have certain symptoms such as fever and would sleep a certain night to not wake up the next morning, Priyanshu said.
"Elections are pretty much celebrated like festivals here. Since this was panchayat elections, people of our village were directly involved in all of the pre-poll events," said Jatin Lalit Singh, a student of law and native of Bansa who runs the Bansa Community Library (BCL).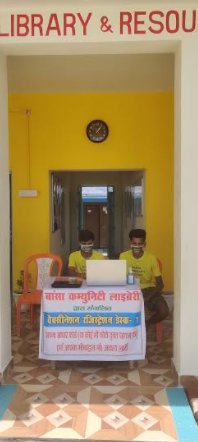 When polling ended on April 15, it was observed that each day there was at least one or more deaths of elderly persons (50 and above) in the village. Over the next 10 days, more than 30 had allegedly died, many of them elderly women.
"In this count of death, some seven or eight deaths were from a single mohalla. Everybody got scared and we thought that this was a sign of community transmission," Jatin said. Finally a person with symptoms of fever decided to go to Lucknow for hospitalisation. The person died even before the positive test results were released, confirming many suspicions. However, "we cannot be sure that many of the deaths were related to COVID-19," Jatin said, "as there was no testing in the village."
Regardless of this uncertainty, the emerging crisis needed utmost attention and soon, Jatin and many other people from the library and the village formed a team of 22 volunteers for relief work that would attempt to brave the newly ravaging situation.
A study done by Scroll establishes a surge in COVID-19 mortality across North and Central rural India. Using an estimated combined total population of around 4.8 lakh across several  villages, it suggests 'excess deaths' in comparison to the expected figure of deaths in normal times. Many of the villages in this study have reported daily single or multiple deaths over a span of time. Bansa fits this pattern of one or more deaths everyday, further establishing a COVID-19 surge in the village.
Given the suspected and later confirmed COVID-19 surge, Jatin and his team requested the district administration to sanitise their village multiple times in the second half of April. Ultimately, however, it was the newly elected sarpanch of the gram panchayat who would complete this task of sanitisation. 
Jatin also said that nobody has really reported on these deaths. Ignorance of these deaths may be due to the fact that there has been no testing for COVID-19 spread in this period of time in Bansa or the neighbouring smaller villages. After struggling through many bureaucratic hurdles, the relief work team could arrange for a testing camp at the library premises only on May 17.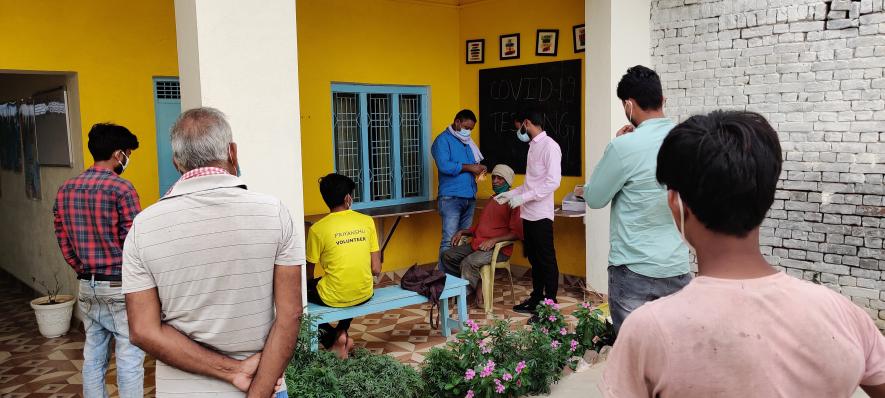 Still, the village faces lack of awareness in this regard and Jatin noted that, "People are not ready at all to get tested. They would blatantly tell us that they don't have corona and hence we don't need to get tested!"
Only 90 people were tested on May 17 in Bansa, which has a total population of around 6,000. He added that it would be pure luck for the villagers if a medical team would set up a camp in the village again.
But awareness work by the volunteer team did make a huge difference. Distribution of masks and sanitisers have made people aware of self-safety and one can see many practising the COVID-19 norms of physical distancing. Vaccine registration for 18+ is also being planned by the volunteers; desks will be set up to help people book their slots online and transportation to the vaccine centre 12 kms away will also possibly be provided, according to a volunteer.
The situation is presently under control in Bansa, and neighbouring villages too have benefitted from BCL's relief work. "Some of the nearby villages where we have attempted to provide relief are Sathra, Bagiya, Madhiya, Lalla Khera, and Kantheri, among others. Many of these are small and have populations under 1,000," Jatin said.
Meena Kumari, an Accredited Social Health Activist (ASHA), said that the relief work has helped her and her team to work more efficiently. Before their intervention, ASHAs and anganwadi workers couldn't ensure the provision of medicines for the symptomatic people they identified across the village and it's mazras.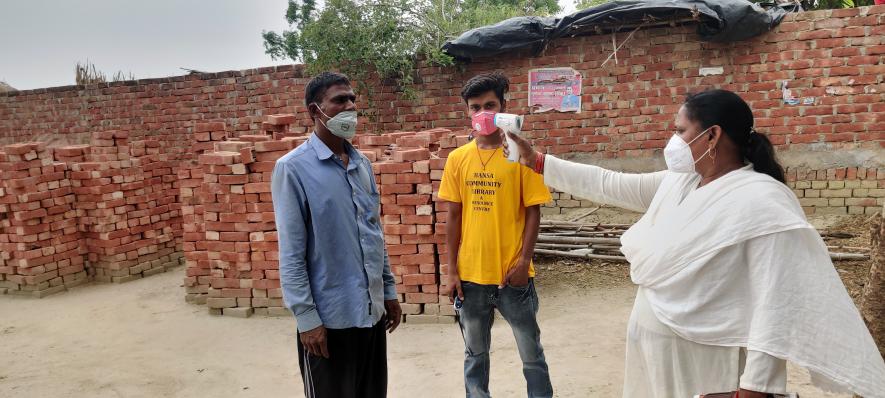 "Many villagers were not listening to us and were not following COVID-10 norms," Meena recounted. Her team's daily work includes identifying symptomatic people in their assigned mohallas, giving them medication and asking them to stay in quarantine.
Meena said that initially they didn't have proper protection for themselves. "We didn't have masks and we used our own dupattas to cover our faces. The library has helped us in many ways. Masks, faceshields and sanitisers have been provided by them and the volunteers have also been present on ground with us. We could divide our labour better thanks to them and were motivated to fight COVID-19," she added. Medical aid kits, too, have been provided through the library team and essential instruments such as oximeters are now being used by the frontline workers.    
Severe cases of COVID-19 are tricky to deal with, and people often require hospitalisation. Bansa itself doesn't have a hospital, only a Community Health Centre (CHC) 12 kms away. Hospitalisation is only possible in the nearest city of Lucknow, however, even that is hard due to higher cases.
Yashashvi, the librarian of BCL and also a volunteer on the ground, said that her grandfather was tested positive in Lucknow but couldn't find a bed there. "We went with him to the hospital as he was severely ill. We sat there for the whole day and the report came positive. But the hospital denied us a bed. We were able to find a bed in Bareilly only the next day."
The relief work module of the community library has attempted to ensure the bare minimum; an SOS service in the form of a simple van made available at all times that can transport a person in need to a hospital in Lucknow. The hospital is in touch with Jatin and he has asked them to help hospitalise their people for oxygen requirements. "Some villagers from Bansa had to go there and many have also returned after getting well," he said.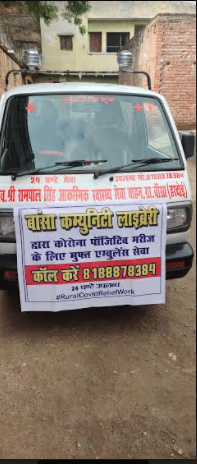 Apart from these immediate needs, the COVID-19 crisis also brings about collateral effects. "Loss of livelihood has been common among many families and they are not able to sustain themselves. We have identified many categories of people such as the extreme elderly, those living alone, widows etc., and we provide them with adequate ration," Jatin said, adding, "The landless and daily wage labourers are also greatly affected. We are providing rations for them as well."
The ration list has touched more than a hundred people and continues to grow as many people get aware of the library's efforts. Jatin and his team of 22 volunteers are supported almost completely by fundraisers online. Fundraising platforms such as Mutual Aid India have been crucial to provide the much needed funds to keep the relief work going.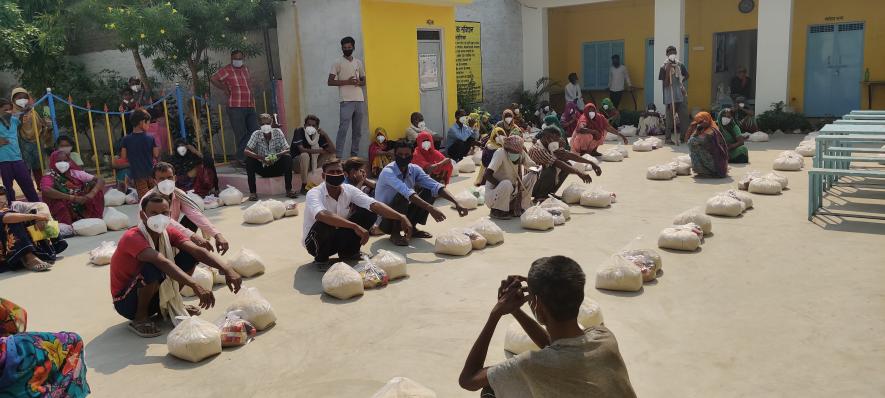 BCL's relief work has served a much needed function to address the plight the villagers have been facing, and has set forth a clear cut blueprint for crisis solving action majorly supported by villagers. In all these events, the village and district administration could only provide little support, or at times, none at all. In such a situation, the coming together of many people to alleviate the crisis is a great feat.
Initially, the community library started off by ensuring the delivery of books and study material from the library to students at home. Priyanshu said that this has been a big help for him and he has been able to self-prepare for his exams during the lockdown. These initial steps taken during lockdown expanded into a wide variety of work that is being done today on a daily basis.
As the situation stabilises, Jatin and his team continue to expand the relief work to different villages. He said that this work will help them even in the future to potentially stop any such spread from happening again. "There are many objectives to our relief work. One is to anticipate the third wave, if it happens. The people of the village have now got masks and sanitisers, and have experienced this crisis unfolding first hand. So we would count on this experience and hope that they are prepared. Now things will not become this worse again," he added.
He also hopes that their work could serve as a blueprint for other villages or places where health infrastructure is not adequate and administration is unsupportive in the fight against the deadly crisis that has been ravaging rural India.
(The author is an independent writer, interested in the history of traditional and modern cultures of India. The views are personal.)
Get the latest reports & analysis with people's perspective on Protests, movements & deep analytical videos, discussions of the current affairs in your Telegram app. Subscribe to NewsClick's Telegram channel & get Real-Time updates on stories, as they get published on our website.
Subscribe Newsclick On Telegram