Idea That Digital Platforms Are Not 'Employers' Must be Fought- Gig Workers Convention Report
Union leaders from different states register protests against lack of regulation of the burgeoning gig economy in the country.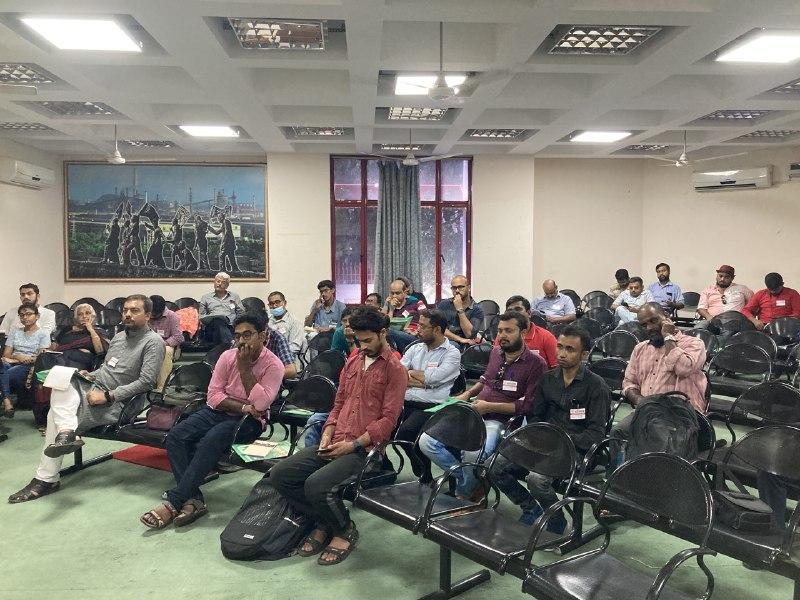 AIGWU's convention saw participation of union leaders from different states. Image clicked by Ronak Chhabra 
New Delhi: Over a dozen gig workers from across the city turned up at the BTR Bhawan here on Saturday afternoon to attend a convention held demanding effective minimum wages and benefits for all those engaged with digital platforms – who currently earn their livelihoods outside of the traditional employee-employer arrangement.
Called by the Delhi-NCR-based All India Gig Workers Union (AIGWU), the convention saw union leaders from different states registering their protest against the lack of regulation of the burgeoning gig economy in the country. The leaders also flayed what they called "opaque computer algorithms", that are created by the digital companies to decide payouts, rate cards, incentives, and penalties, among others.
In a report released at the convention, the AIGWU sought to touch upon its activities since 2020 – when the Centre of Indian Trade Unions (CITU)-affiliated union was formed – and charted its aims and objectives for the coming months, along with a charter-of-demand.
Currently, "full-time gig workers" in the country are bereft of 'employee' or 'workmen' status, which thereby, results in several consequences such as "inability to challenge exploitative working conditions, changes in wage structures or dismissal from work with the labour officials," AIGWU noted in its report.
The gig workers' union stressed that the need of the hour is to make the platform-based workforce in the country aware of the rights and benefits that they should be entitled to. 
"The idea that platform "aggregators" or those who subcontract out several parts of the production processes are not employers and therefore not responsible for the conditions of the actual workers involves, is something that must be fought. And regulatory mechanisms must be put into place to ensure that workers' rights and employment protections are not lost because of this," the union remarked. It also proposed a legal test to determine gig workers' employment status.  
Gig workers, broadly classified into the platform and non-platform-based workers, are those individuals who are currently considered by companies as self-employed 'partners' or 'independent contractors. In India, especially after the Covid-19 outbreak, gig workers are the engine that runs the service economy: from delivering medicines, food and groceries to performing repairs, running errands and driving people around the city.
The country's gig workforce is expected to expand to 2.35 crore by 2029-30 from 77 lakh in 2020-21, a report by NITI Aayog, the government's apex public policy think tank, had said earlier last month.  Zomato, Swiggy, Uber, Ola, Dunzo, Zepto, Rapido, and Urban Company are some of the names of the Gig workforce in the country.
Over the years, however, numerous experts and surveys have highlighted that even as gig work is rising, most workers engaged with it live a hand-to-mouth existence. This observation has only gained currency, as the number of strike actions by gig workers in the country has only increased in recent years; their major grievances often include reduction in pay and incentives and high commission rates.
Given the case, the AIGWU on Saturday underscored that a number of gig worker representative formations have appeared in the country today, with some major ones including Telangana Gig and Platform Workers Union and All India Trade Union Congress – affiliated United Food Delivery Partners Union, apart from a number of transport unions of Ola/Uber cab and auto drivers.
The pick in the unionisation of gig workers in the country is already showing its "positive signs", according to AIGWU. "… a number of newer and smaller digital platforms companies, such as Country Delight (grocery delivery) and Bolt (transport) are choosing to formally employ their app-based workers as fixed term employees," it said.
Rikta Krishnaswamy of AIGWU told NewsClick on Saturday that in the coming months, the union will be focusing on building company-based units which will be focused on raising awareness among gig workers and consumers. "There are also suggestions to maintain a 'struggle fund' in respective levels for providing legal support, for temporary financial aid during strike actions or for medical emergencies," she added.
Tapan Sen, general secretary, CITU urged workers to take lessons from the ongoing struggles of gig workers worldwide. "We have to admit that there is still a lot of scope to educate ourselves when it comes to the gig economy. We have to draw understandings from other countries as well where similar fights are ongoing," he said while addressing the gathering.
CITU's Tapan Sen urged on Saturday to take lessons from ongoing struggles. Image clicked by Ronak Chhabra 
Meanwhile, on Saturday, AIGWU also pressed for the right to access data for the gig workers. The digital platforms must, "provide a machine-readable, universally inter-operable and verified/digitally signed receipt for each successful task per performer," to the workers.
Suggesting that this will lead to countering "algorithmic manipulation", the union added that these receipts should be easily accessibly on the workers' applications as a downloadable link and on emails.
Get the latest reports & analysis with people's perspective on Protests, movements & deep analytical videos, discussions of the current affairs in your Telegram app. Subscribe to NewsClick's Telegram channel & get Real-Time updates on stories, as they get published on our website.
Subscribe Newsclick On Telegram