Identity Politics is a Way of Seeing the World Sans the Concept of Class: Subhashini Ali
In a lecture in Bengaluru, the CPI(M) leader said 'identity politics' today is helping to serve the interests of oppressors and the ruling class.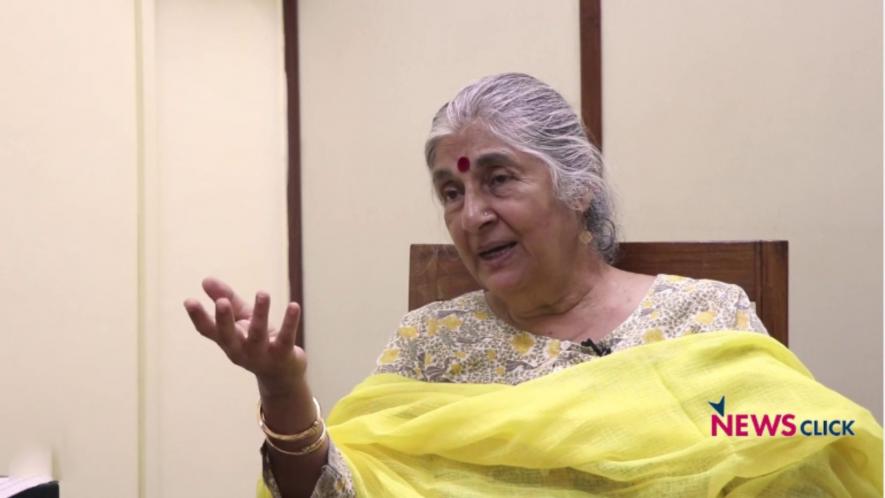 Bengaluru: 'Identity politics' – the term has moved to the centre-stage of politics and political discourse across the world in recent years, especially in India. So, what is identity politics? This was the topic of a lecture by CPI(M) polit bureau member Subhashini Ali here on Friday, organised by the All India Insurance Employees Association.
 Ali, who has been in the forefront of various struggles, especially related to women, was in Karnataka to attend a conference of Devadasis in Davangere district. She was also invited by a platform called Dalita Hakkugala Samiti to speak on identity politics. 
 The History of the Term
 Dealing with the possible reasons for the emergence of "identity politics", Ali said before the 1960s, this word was not to be heard anywhere. It was in the 1970s, when the socialist camp was getting weakened in the world and it seemed that the capitalist system would prevail, that this term came into being.
 "Identity politics is a way of seeing the world excluding the concept of class. Identity politics does not accept that there is such a thing called class. In academic circles, a new term called 'post-modernism' was coined and identity politics comes straight out of that'" she said.
So, what is identity politics?
 According to Ali, the term "does not accept that there are large sections of people who share the same interests and are opposed by another section, which is determined to exploit and oppress them." The term does not accept that there is a working class and a capitalist class. She said "identity politics says there's not much hope for progress in one direction, that society is divided into multiple groups which can be further divided into smaller groups."
 That means, there is division of gender, caste, race, language, culture, region. And within these divisions, there are many more divisions.
 In her critique, the CPI(M) leader also said that 'identity politics', as widely practised today, says there cannot be any reconciliation between these divisions because they are in contradiction to each other. Each small group must come together to fight a similar, small group. That is the logic of identity politics, she added.
 However, Ali pointed out that there were some sections that suffer greater oppression. "In our country, it is dalits, adivasis, minorities. When they come together in their own groups, and fight against oppression, there is some progressive element in that kind of identity politics," while adding that "it has got its limitations, but it has got a progressive feature also."
 She pointed out that the oppressive groups had also started practicing 'identity politics' in the name of caste mobilisation, religious mobilisation and so on. "In their kind of identity politics, there is no progressive element at all. So, we should not fall into this trap that because dalits and adivasis are asserting their identity, so upper castes also can assert identity in the same way," she said.  
 'Identity politics' in recent times
 Citing the example of the controversy over some couplets of Tulsidas's Ramcharitmanas, she said it was written in Awadhi, a colloquial dialect. "Many people think it was progressive because he wrote in the people's language. But now that is being questioned. Who was writing in Awadhi at that time? Kabir and Ravidas in Kashi and Banaras were writing against caste and varnashram dharm. They were writing against the superiority of brahmins. In fact, they were making fun of them (brahmins). Tulsidas used Awadhi because he wanted to reach the same audience who were getting influenced by Kabir. He wanted to draw them away from the reform movement back into the fold of brahminism."
 Ali said there were many couplets, which have drawn controversies from time to time, where Scheduled Castes, women and shudras, are abused. One famous couplet goes: "Dhol, gawar, shudra, pashu, naari, yeh sab tadan ke adhikari" (drum, uneducated villager, shudras, animals and women, all deserve a beating).
 Recently, a minister in the Bihar government went to a graduation ceremony and said this was "objectionable". There was a huge uproar after that, with a section of the calling for his boycott, and that he must be sent to jail, removed from cabinet etc.
 The CPI(M) leader said in Delhi, thousands of people embraced Buddhism. A Scheduled Caste Minister from the Aam Aadmi Party (AAP) government, who was present at the location, recited the 22 vows of Ambedkar. But he was forced to resign, because there was that was the kind of reaction.
 In Uttar Pradesh, a Samajwadi Party (SP) leader said these verses were "objectionable and we should not treat this as a religious text." There were threats to hang him and to cut off his tongue, there was a bounty of one crore to cut off his head, she said.
 Ali, who hails from UP, said there was mobilisation of OBCs (Other Backward Classes) on this issue. Many of them think this is a good development, pledging that that they would oppose Manuvadi thinking, unite against the BJP. But, she said, that even this kind of identity politics of an oppressed caste group has its limitations.
 "If you do not include class in your struggle for social justice, then ultimately your fight will not be successful. It will also help the oppressor classes. Today, in many places, including Karnataka and Tamil Nadu, dalits are not allowed to enter the temple. Who is stopping them? Mostly OBCs. We see a case in Haryana where two Muslims were abducted, beaten and burnt alive. Who did this? They are all OBCs. If your identity politics is confined to one small part of your oppression, you are leaving out class, gender and communal oppression. This will help the oppressor," she said.
 Lingayats in Karnataka
 Referring to the powerful Lingayat community in Karnataka, the CPI(M) leader said: "You had a community in Karnataka whose origin is in the anti-caste movement. Basavanna himself was a brahmin but he called himself untouchable. He arranged a marriage between a brahmin girl and dalit boy and after that, they were both brutally killed. The fathers were brutally killed. Basavanna himself was banished from that place. Today, a new identity has been formed. While it fights for a better place in the social hierarchy, that identity is not at all concerned about different aspects of oppression and exploitation. Today, that identity is serving the interests of oppressors and the ruling class."
 Ali said for "revolutionary transformation of society, we have to go beyond the identity politics of oppressed groups" which has the potential to weaken the struggle for emancipation. 
 Citing Ambedkar, the CPI(M) leader said: "He (Ambedkar) said the caste system is a system of graded inequality and the caste system has to be annihilated. There are not only two sides. Among those who are oppressed (dalits, OBCs, women) there are levels. One group wants to get ahead and be superior to the group below them and be closer to the group above them. That becomes their motive."
 So, the one hand, there is the theory of graded equality and on the other, Ambedkar calls for 'the annihilation of caste'. She said caste identity itself has to be destroyed.
 Chhattisgarh Adivasis
 Speaking on the question of tribal identity, Ali said in Chhattisgarh, there was a big attack on Christian adivasis by Hindu adivasis who were led by BJP. "The adivasis belonged to the same tribe, but were divided by religion. We can also call them Christian and non- Christian adivasis. They had the same language and culture. They had the same attachment to nature. They also had a common struggle against those who were taking away their land. Big projects were brought by corporates who are close to the ruling government. They wanted land of the adivasis. On the one hand, they had everything in common, but by using one aspect of their identity, they were able to carry out murderous attacks on Christian adivasis and drove them out of the villages.
They were told to give up their religion or their homes."
 Ali said around 1,100 of them were forced to give up religion before being allowed to return to the village. "But who has benefited from all this? The corporates and the BJP have benefited. Identity politics is used by the ruling class to weaken the struggles of oppressed people", she added.
 Devadasi Conference
 Ali spoke to NewsClick over the phone on the issue of Devadasis. She said: "I am going to Davangere to attend the state conference of the Devadasi Association led by a brave woman called Malamma. This is an issue that nobody wants to look at because they think it is over and done with. As far, as the legal position goes, it was completely abolished in India. But passing a law does not stop these women from facing social stigma. They are unable to get jobs or get married."
 She pointed out that the Karnataka government had given a paltry pension of Rs 2,000/month to Devadasis but had "severely undercounted" their number in the state. The Devadasi Association claims that their number exceeds 1.4 lakh, but the government has only recognised 45,000 Devadasis.
 "Last year, the Minister had met them during their dharna in Bengaluru and promised to increase their pension but that has not happened yet. It is a question of giving a community the ability to live a life of respect. This is a community that is seen as sex workers, which is not true. By neglecting them, some of them are being forced into that work. This is a terrible situation," Ali said.
Get the latest reports & analysis with people's perspective on Protests, movements & deep analytical videos, discussions of the current affairs in your Telegram app. Subscribe to NewsClick's Telegram channel & get Real-Time updates on stories, as they get published on our website.
Subscribe Newsclick On Telegram