Indian Boxing Grows Beyond Hail Mary
Other than MC Mary Kom, seven more Indian boxers — Vikas Krishan (69kg), Pooja Rani (75 kg), Satish Kumar (+91), Lovlina Borgohain (69kg), Ashish Kumar (75 kg), Simranjeet Kaur (60 kg) and Amit Panghal (52kg) — have qualified for Tokyo Olympics. Two more are there in the reckoning. Indian boxing's future beckons and it's time we moved our pugilistic focal point.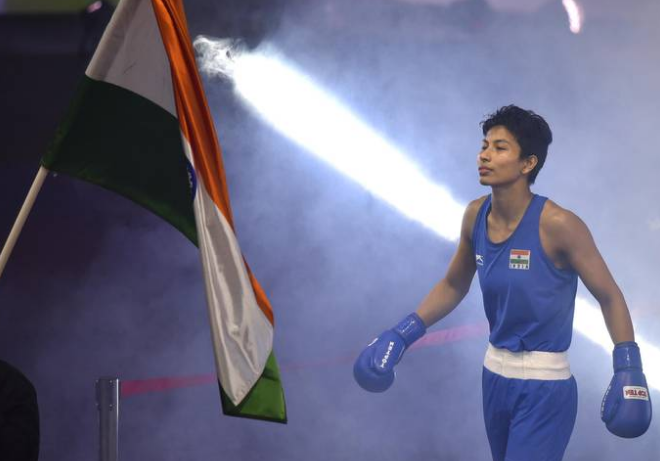 Lovlina Borgohain (69kg), the 22-year-old from Assam is a quiet prospect who dominated both her opponents at the Tokyo Olympics Asia-Oceania boxing qualifiers in Amman, Jordan.
If there is one thing to be said about MC Mary Kom it is that she is gracious in victory. Or perhaps, she is gracious in victory when the victory is uncomplicated does not come with baggage and guarantees her passage into a second Olympic Games. 
If you were an alien who entered this planet just last week, you'd agree that there is no boxer more magnanimous, more gracious, more humble than the massively experienced and immensely talented Mary Kom. In her first bout at the Asia-Oceania boxing qualifiers for Tokyo Olympics,  she treated her 21-year-old opponent, New Zealander Tasmyn Benny, with the kind of respect usually reserved for cabinet ministers. She beat her handily, but did it without malice. After the bout she shared a hug, offered some advice and even gave her corner a nice thumbs up for effect.
In the must win quarterfinal against the Irish Magno of the Philippines, she started cautiously, gathered steam in the second round and was showboating by the end to clinch a victory and a berth for Tokyo 2020. Right at the end, once again she hugged her opponent, offered praise, followed the humility routine, all textbook.
Also Read | There is Something About Mary
This should be an inspiring story. This is an inspiring story. A 38-year-old mother of three, a boxing icon who has won World Championship medals from as far back as 2001, has just punched her way to a second Olympics. She won a bronze on debut in 2012. Who would bet against another medal in Tokyo? 
But somehow, somewhere, the alien reads the news. And it is hard to feel inspired. This may seem odd, for somehow somewhere you wish Mary wasn't such a sham, playing the game the way the judges would like it played. With one stroke — and six rounds worth three minutes each — she has wiped clean all the controversies of the past year. Wiped the memory, at least. Now, few will remember that she undermined a 21-year-old, abused her, cursed her and demonised her, right after beating her at the national trials not three months ago. Few will remember how much it took for that youngster, Nikhat Zareen, to earn that trial in the first place. Or the fact that at the last AIBA World Championships, Mary looked her pale self battling to a bronze but looking worse for wear. No one will remember of course that Mary, the politician, voted for the Citizenship Amendment Act (CAA) in the Rajya Sabha. Because now, no one cares. In the ring, Mary has proved her worth. Finger on lips. Thank you very much.
In that she must be given credit. If there is one thing Mary Kom knows to do is to box. She may be 38 but even now she looks half a step faster than her opponents, if not in body then definitely in mind. She outclassed Benny on the feet, getting inside her range and out quickly and efficiently. With Magno she employed the counter puncher's habit. She waited for the Filipino to commit, landed her counters and backed off. By the third round she had done enough to put on an exhibition.
As much as this was about Mary — and we have already devoted too much space to her — it was also about the seven others who have won a ticket to Tokyo. It is India's biggest boxing contingent ever, matching the eight they sent to London in 2012.
Vikas Krishan (69kg), Pooja Rani (75 kg), Satish Kumar (+91), Lovlina Borgohain (69kg), Ashish Kumar (75 kg), Simranjeet Kaur (60 kg) and Amit Panghal (52kg) are the others. And there is still a chance the number could spring to double digits, with Sachin Kumar (81kg) and Manish Kaushik (63kg) scheduled for a box-off to earn a quota place over the next two days.
That is where the spotlight should rightly shine. In the fact that a federation much maligned, banned and reduced to nothing a few years back has resurrected to do this for the sport in the country. The headlines may be about the old timer, but it is in the youngsters that India perhaps have genuine medal contenders. 
Also Read | Davis Cup Tennis: India Lose the Tie On Court, the Plot Outside It
Borgohain, the 22-year-old from Assam is a quiet prospect who has flown under the radar quite nicely. Despite a World Championship medal there has been very little about her that has hit the mainstream. At the qualifiers she dominated both her opponents, with an aggression unusual to an Indian. She fought at range, and patiently, but caught her opponents regularly and enough to warrant complete whitewashes on the scorecards.
And then there is Amit Panghal, the World Championship silver medallist. Say it softly, but this is a genuine contender. He is the World's top ranked boxer in his category. Panghal may have edged out his quarterfinal via split decision (4-1) but if he can iron out some basic flaws in his tactics there is no reason India can't hope for more from him. He has traditionally struggled against shorter opponents for reasons few can fathom, but has, regardless tweaked his game to suit the occasion. This is not a one trick pony. A kind draw would help.
All in all, in as much as the headlines will be about the inspiration that is Mary Kom, the truth is, Indian boxing is young, fledgling and bursting into life. Four of these eight are under 25 years of age. Six of them will be at their first Olympics. One of them — Satish Kumar — has become the first Indian to qualify for the Games in his category. Two are definitely the future of the sport. As much as the past few years, months, weeks, have been about Mary Kom being the face of Indian boxing, there are now others, hungry to write their story. Time we gave them the space. 
Get the latest reports & analysis with people's perspective on Protests, movements & deep analytical videos, discussions of the current affairs in your Telegram app. Subscribe to NewsClick's Telegram channel & get Real-Time updates on stories, as they get published on our website.
Subscribe Newsclick On Telegram