There is Something About Mary Kom
Having watched, followed and interacted with Indian boxing's most celebrated hero, MC Mary Kom, for nearly 20 years, it is difficult to fathom the transformation in both her words and attitude. The latest episode came after a controversial win over junior boxer Nikhat Zareen.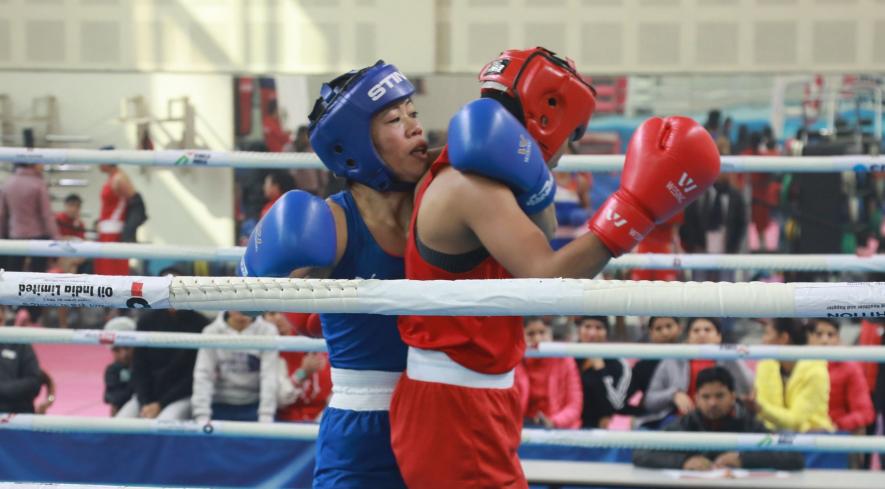 MC Mary Kom beat Nikhat Zareen 9-1 in the national team trials for Tokyo Olympics Asia-Oceania qualifiers. However, the controversial bout was a much closer affair than what the scoreline suggests (Pic: BFI/Twitter).
In India it is the trend, these days, for public figures, elected or otherwise, to get upset when questions are asked of them. It is a trend set into functional vogue by none other than Prime Minister Narendra Modi, who has not held a press conference since he assumed Indian democracy's most powerful office in 2014. Athletes too seem to have been bitten by the bug. MC Mary Kom recently expressed her dislike for questions that made her sweat. Perhaps the boxer, a Member of Parliament (Rajya Sabha) nominated by the Bharatiya Janata Party (BJP), is merely following the party line and media policy. Or, maybe, she's trying to contribute to the project of the creation of a new India; an India where the ruling dispensation exists on a plane far above her ordinary citizens, where discourse is discouraged and questions, when asked, are not answered.
Mary Kom doesn't like to be asked "unnecessary" questions by the press when getting interviewed, the face of Indian boxing revealed in New Delhi on December 28. The revelation was the 36-year-old boxer's arrogant reply to journalists wondering whether she regretted being unsporting at the end of her controversial win over young challenger Nikhat Zareen during the national team trials in New Delhi.
"I don't like this... If you really want to take [an] interview with me don't don't don't interview unnecessary questions please. I don't like. I really don't like [sic]…," she reiterated, setting a ground rule for the interaction right at the start. 
The words seemed strange coming from an athlete who is the International Olympic Council's (IOC's) ambassador for her sport at the 2020 Tokyo Olympics. But they were relatively polite when compared to her behaviour earlier, soon after the bout against Zareen. 
Also Read | Real Kashmir FC Beat Chennai City FC in Srinagar as Fans Enjoy 90 minutes of 'Normalcy'
Mary Kom won the cagey, closely contested affair, which was judged by 10 officials, by a 9-1 margin, to earn the right to represent India at the Tokyo Olympics qualifiers in Wuhan, China, coming February. We shall get into the scorecard of the bout and its lack of fairness later. First let's talk about the drama. 
Soon after Mary's arm was raised by the referee, Zareen walked towards her senior opponent, someone whom she constantly refers to as her idol, for the customary hug or handshake. But Mary Kom pushed her aside before circling around the ring in a victory walk. On her way out, she crossed Zareen again. This time, the exchange was verbal. Mary Kom chose to make clear, expletives and all, above the noise at the boxing hall of the Indira Gandhi Indoor Stadium Complex, what she thought of Zareen. In this correspondent's opinion, at least, there is no doubt the episode diminished Mary Kom's stature as a boxer. Coming from an individual who is supposed to represent the sport, and the broader values of the Olympic movement, it was nothing short of deplorable. The actions also go against the International Boxing Federation's (AIBA's) code of conduct.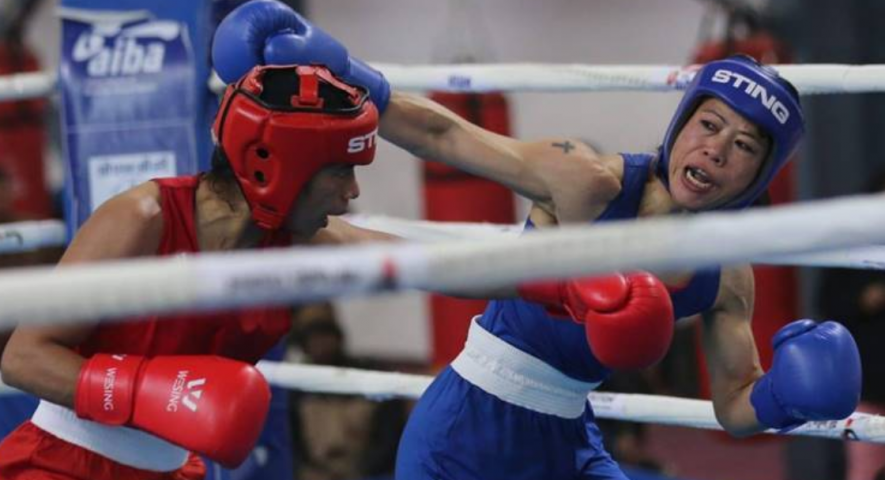 Cagey action from the MC Mary Kom (right) vs Nikhat Zareen bout in New Delhi on December 28.
But will any action be taken by the national federation? We are not sure if Boxing Federation of India (BFI) adheres to any Code of Conduct, though. One is forced to assume not, since Ajay Singh, the body's president, casually attributed Mary Kom's behaviour to the emotions of the moment. 
Sure, emotions were high. And boxing is a highly-charged sport. There was a dramatic back-story too. The trial materialised after Zareen's appeal to the Union sports minister, and anyone else she could appeal to. So there was bad blood. But, it is pertinent that Zareen and Mary Kom are teammates who attend the same national camps. For 'amateur' athletes and teammates to kick up such a ruckus was disconcerting.
And the story doesn't end here. The bout had its fair bit of unfairness in the ring too, with constant clinches, punches to the back of the head and pokes making it an ugly affair. But what transpired post bout made everything else look like a ballet.
Mary Kom later went on to defend her less-than-idol behaviour. "Why should I shake hands with her? If she wants others to respect her then she should first respect others," she said, before referring to the media storm and support Zareen conjured up while chasing for a chance to fight. Mary Kom felt all that was unnecessary attention seeking by her junior. "I don't like people with such nature. Just prove your point inside the ring, not outside."
Also Read | CAA Protests: Eerie Silence! Why the Indian Sports Star Refuses to Speak Up
Mary Kom, six time world champion and an Olympic medallist, could perhaps learn a thing or two about dignified conduct from her 23-year-old rival. Zareen was dignity personified, glorious in defeat even. She accepted the verdict of the judges, adding that she felt the scoreline didn't do justice to what transpired in the ring. "My job is to box and I will prepare well again and am already looking forward to competitions next year," added the boxer from Telangana, a former world junior champion. She would also have her fingers crossed about another shot at Olympic qualification.  In case Mary does not qualify for Tokyo 2020 from the Asia-Oceania competition in Wuhan, China, there could be a fresh selection trial. This was mentioned by Ajay Singh though not officially (nothing is clear cut when it comes to how the BFI functions; even Mary Kom, whose clout in the federation is evident, says so).
While Mary Kom claimed she finally proved she is the best India can offer in the 51kg weight division, what transpired in the ring doesn't give her clearcut bragging rights. The bout followed the glorious tradition of subjectivity one associates with boxing when it comes to scoring tight bouts between close rivals.
Mary Kom defeated Nikhat Zareen to book her spot in the Olympic qualifiers.

She doesn't shake Zareen's hand after the fight 😬😬pic.twitter.com/BiVAw9PCSd

— MMA India (@MMAIndiaShow) December 28, 2019
It began with the two boxers guarded, sizing each other up and not throwing a single punch for the opening 40 seconds of the first round. Mary Kom, in fact, was cautious, showing signs that in the ring, she did respect what Zareen is capable of, though outside she says otherwise (Mary took a slightly crouched stance, and a high guard, to try and negate Zareen's reach).
Exchanges came soon after but very few clear cut shots landed from both the pugilists. It was a tight round with Zareen landing a wee bit more than Mary. The challenger won the first round on my card, but clearly it was the other way round in the cards of nine out of 10 judges, the people whose version mattered.
In the second round, Mary Kom stunned Zareen with a couple of straight counters. Though the younger boxer came back strongly in the end, the second round was won by Mary Kom. Judges were on the dot too.
Also Read | Inside Story: Why South Africa Bombed Out of the Cricket World Cup
In the third, things seemed even at the start but by the final stretch, Mary Kom seemed to be on the back foot, slightly winded, while Zareen was moving forward with occasional flurries. Though not all her attempts landed cleanly, Zareen did land enough and should have earned points in the judges scorecard. She didn't.
Of course, the judges, closer to the action, may have seen more than the crowd, or those of us in the press tribune. Maybe Mary Kom did edge out her opponent. However, the scorecard, 9-1, was very removed from reality. It was a much closer bout. This was duly pointed out and protested by Zareen's supporters who alleged that the judges were partial.
In the red corner, the young boxer, showing maturity beyond her age, was seen pacifying her coaching staff, Telangana boxing officials and her father as tempers flared. While in the blue corner, Mary Kom was seen stoking fire with expletives. The contrast in maturity, even in the ring (Mary never demonstrated the craft that one assumes she would possess after those world crowns), and especially outside it, makes us wonder whether she has finally found herself facing a foe she can't beat. 
No, not Zareen. It seems she is having a tough time coping with superstardom. In Mary's case, it comes with a huge responsibility. She has to pick a side — do what is in the best interest of Mary Kom, the ageing seemingly insecure boxer, or do what is needed for securing the future of Indian boxing, building a legacy worth the 'Magnificent Mary' tag, personal milestones be damned. 
Having seen and interacted with Mary Kom since the turn of the century, one has seen her persona change as she traversed through obscurity, glory and now stardom. And, in the last five years or so, one has repeatedly seen Mary on the losing side. What transpired in the middle of the cold wave in New Delhi yesterday was the latest in what can only be termed as a great champion losing the plot, regardless of whatever she manages to achieve [with all due respect] in the ring over the coming months.
Get the latest reports & analysis with people's perspective on Protests, movements & deep analytical videos, discussions of the current affairs in your Telegram app. Subscribe to NewsClick's Telegram channel & get Real-Time updates on stories, as they get published on our website.
Subscribe Newsclick On Telegram