India's Not So Hidden Apartheid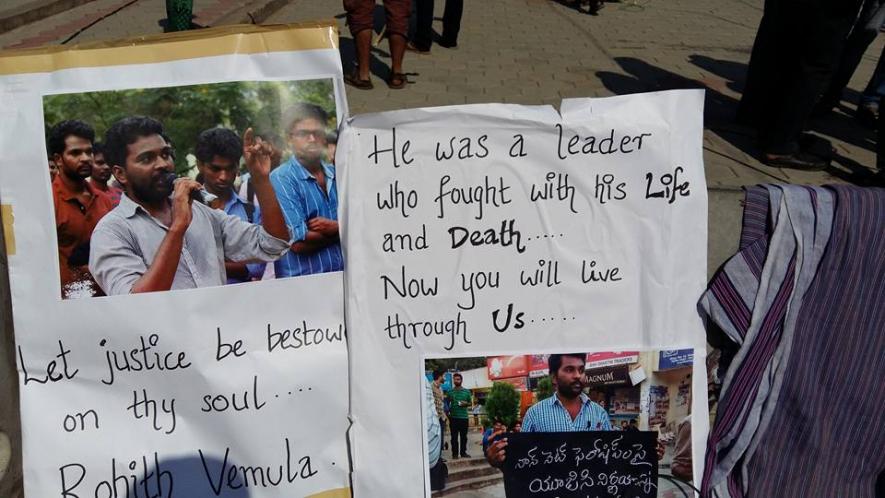 Dalit Students as Victims of Institutional Casteism in India. 
Re-published from http://routesblog.com/2016/01/19/dalit-students-as-victims-of-institutio... 
India's unparalleled revolutionary leader B.R.Ambedkar's infamous dictum is 'Educate, Agitate, Organise,' none of which the Indian Brahmanical state wants the 200 million Dalits (former untouchables) to do and this intentional objective of the state was exemplified in the death of an young Dalit scholar Rohit Vemula of University of Hyderabad who aspired to become a scientist like Carl Sagan. 
His only fault was that he was a Dalit, that too someone who was conscious of his identity and followed the footsteps of Ambedkar involved in the construction of a Dalit selfhood and claimed himself as a Dalit-Marxist, a political category propagated and made famous among the student community by comrade Chittibabu Padavala. 
As president of Ambedkar Students Association, Rohit worked hard to forge a Dalit-Muslim solidarity and fought against food fascism by organising beef festivals a visibly upsetting political exercise for right wing Hindutva forces in the state who had earlier in another educational institution of higher learning had tried hard to foil the establishment of a study circle on Ambedkar but in vain. A whole young generation of conscious Ambedkarites is the most threatening factor for these right wing forces. 
What followed was arm-twisting by the Hindutva politicians and the casteist university administration, which succumbed to it and expelled five Dalit students. The expelled students continued their protest by staging a sleep-in-protest within the campus, however as a result of deep inflicted psychological pain, one of the students committed suicide leaving a note depicting the cruelty of caste, he wrote, "The value of a man is reduced to his immediate identity and nearest possibility to a vote, a number to a thing, never was man treated as a mind." This evaluation of what is being valued it is not mind but identity which in practical terms does count in the most hierarchical society in the world leaves us with what Gopal Guru[1] famously formulated as the Theoretical Brahmins and Empirical Shudras where the latter is a matter of mere numbers while the former is associated with cognition. 
The Brahmanical state follows certain uniformity when it comes to dealing with the Dalits, they practice humiliation to an extent that is disgusting. The state, which was not able to provide a dignified life to Dalits at least should guarantee a honourable final journey. More like the recent incident that happened in Tamil Nadu where a 100 year old Dalit man whose funeral procession was prevented by caste Hindus despite a High Court Order which finally saw the police instead of implementing the HC Order were found carrying the body doing the cremation. 
In Rohit Vemula's case too, the state after seeing the students assemble in huge numbers sensed that they would showcase the anger towards state secretly without a grain of respect for the departed soul hurriedly performed the cremation. 
The educational institutions in India are largely nothing but an extension of rural life marked by caste rigidity for most of the Dalit students, the only difference is caste is tangible in the latter case while in the former it is a combination of visible forms of caste practices and also in more subtle forms. The caste discrimination starts from the level of primary schools where once can cite numerous cases of Dalit kids being asked to clean toilets to use separate utensils to eat and drink. 
And, it is also a common phenomenon to witness the social boycott of Dalits as mid day meal programme cooks. Citing ritual pollution the caste Hindu parents would make their children go hungry than eat food cooked by a Dalit. In a recent incident, a Dalit kid was asked by his teacher to remove faecal material in front of fellow students using bare hands. Ashamed by this act the child has developed a psychological disorder, an obsession to constantly wash his hands. Suspecting reasons for this change in his behavior, when parents probed the child to find out what had happened, and it was only after strong protests that the caste Hindu teacher was arrested. This is one among numerous cases we see unfolding in what are called "spaces of learning." Coloured wrist bands as a form of identification of their respective castes is a common feature in most of the schools in the rural and semi urban pockets of southern Tamil Nadu and a few areas in Northern Tamil Nadu. 
You can pick any random Dalit and inquire with him about caste discrimination in classrooms prevalent there. There would be many tales to tell, the perpetual psychological fear of being discriminated against and humiliated based on their identity is a lived experience that every Dalit has to undergo inside educational institutions in India. Many are in fact living their lives masquerading their identity for want of caste discrimination. 
As deftly put forward in a recent piece by Meena Kandasamy," Education has now become a disciplining enterprise working against Dalit students: they are constantly under threat of rustication, expulsion, defamation, discontinuation." By restricting social interaction the Dalit students are thus faced with deprivation of capabilities, a common feature practiced and perfected by caste Hindus in educational institutions to maintain and safeguard their caste privileges. 
The percentage of Dalit students who enter higher educational institutions are meagre in number and even they are not spared. In the name of accumulated privilege over centuries in the form of both cultural and social capital the upper caste Hindus function within an invented realm called meritocracy. Entering the corridors of elite educational institutions like Indian Institute of Technologies (IIT) and Indian Institute of Managements and Central Universities for scores of Dalit students is like walking into hell, the fear of being shamed and humiliated based on birth status hangs like a Damocles sword above their heads. After years of relentless struggles in their everyday lives they reach these institutions only to get caught in the entanglement of the most-unfair game of caste based micro power politics. It was no wonder why given nature of its exclusivity the IIT's were dubbed as Iyer and Iyengar Technology, a stronghold of Brahminical supremacy. 
Root of the Problem 
The root of this problem definitely lies with the caste Hindus who are nurtured and brought up within a feudal mindset and even the progressive among them carry a patronizing self as pointed out clearly by Ambedkar, 
It is usual to hear all those who feel moved by the deplorable condition of the Untouchables unburden themselves by uttering the cry. We must do something for the Untouchables. One seldom hears any of the persons interested in the problem saying, 'Let us do something to change the Touchable Hindu.' 
It is invariably assumed that the object to be reclaimed is the Untouchables. If there is to be a mission, it must be to the Untouchables and if the Untouchables can be cured, Untouchability will vanish. Nothing requires to be done to the Touchable. He is sound in mind, manners and morals. He is whole; there is nothing wrong with him. Is this assumption correct? Whether correct or not, the Hindus like to cling to it. The assumption has the supreme merit of satisfying themselves that they are not responsible for the problem of the Untouchables. 
The idea of caste Hindus to empathise and sympathise with the Dalit cause needs to be shunned, instead they should all question their own selves and accept the bitter truth that they as part of this Brahmanical structure indeed failed not only to see annihilation of caste as a praxis but used it as a mere rhetoric. The guilt as practitioners of the most carefully planned hierarchichal system should haunt them as they in a way by remaining silent also played a part resulting in the death of Rohit Vemulas, Senthil Kumars and Nagaraju Koppalas. Ambedkar both as a symbol and an ideologue remains as the 'weapon of the weak' in India and carrying his ideals let us march forward to brazen out the social distinctions, inequalities and injustices of a caste-ridden society. 
References 
[1]. Guru Gopal (2002) How Egalitarian Are the Social Sciences in India? Economic and Political Weekly 37: 5003-5009. 
(The writer is a doctoral candidate at the University of Edinburgh. His research focuses on caste processions and commemorations in Tamil Nadu, and his interests include, identity politics, social movements, caste and class, film studies and urban studies. He was previously working as a Correspondent for The Hindu Newspaper in India) 
Courtesy: sabrangindia.in
Get the latest reports & analysis with people's perspective on Protests, movements & deep analytical videos, discussions of the current affairs in your Telegram app. Subscribe to NewsClick's Telegram channel & get Real-Time updates on stories, as they get published on our website.
Subscribe Newsclick On Telegram