What is Arjak Sangh in UP That Echoes Udhayanidhi Stalin on Sanatan Dharma
The anti-caste humanist organisation works among 'toiling castes' in Uttar Pradesh and other North Indian states, but saffronisation is a tough challenge to its philosophy.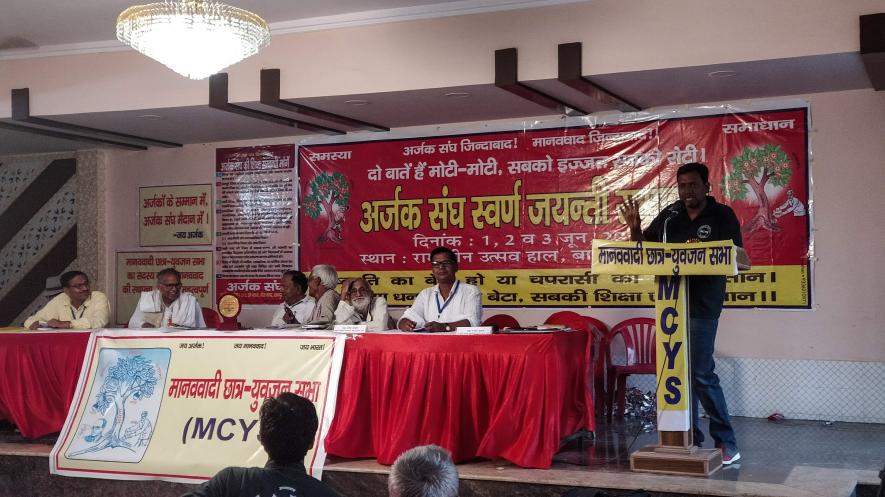 Arjak Sangh Golden Jubilee celebrations in 2018 in Lucknow. Photo by Omar Rashid
Dravida Munnetra Kazhagam leader Udhayanidhi Stalin's comments on Sanatan Dharma might have invited a censure from the ruling Bharatiya Janata Party, but they are music to Shiv Kumar Bharti's ears. For, since 1968, Bharti and his associates in the Arjak Sangh have held similar views on the Hindu faith.
The Arjak Sangh is an anti-caste social organisation founded by socialist politician and reformer Ram Swaroop Verma on June 1, 1968 in rural Kanpur. A staunch opponent of Brahmanism and orthodox Hindu faith built on the caste system, Verma was elected MLA six times from rural Kanpur and was the finance minister of Uttar Pradesh under the Chaudhary Charan Singh government in 1967.
Bharti, the president of the Arjak Sangh, has been with the outfit since its inception, when he was just 18. The tiny organisation of anti-Brahmanical atheists has survived 55 years in the Hindi heartland and was in the limelight once again last month during the centenary celebration event of its late founder, Verma, in Lucknow.
Senior Samajwadi Party backward caste leader, Swami Prasad Maurya, who had earlier this year provocatively demanded that casteist and gender-biased verses in the Hindu epic Ramcharitmanas be edited out, was the chief guest. His comments triggered a major controversy. "The roots of Brahmanism are very deep, and it is also the cause of all disparities. There is no religion called Hindu[ism]. Hindu Dharma is just a deception. In true sense, it is a conspiracy to trap the Dalits, tribals and backwards of this country in the web of their religion by projecting the Brahman Dharma as Hindu Dharma," Maurya said at the Arjak Sangh event.
While political analysts might feel Maurya's comments may prove costly in a conservative society, his argument was in sync with the philosophy at the core of the Arjak Sangh.
The word 'Arjak' literally means one who earns through labour, denoting farmers, workers, labourers, artisans and so on. Only Dalits, OBCs, Muslims and tribals are allowed to join the organisation.
"Hindu is not a religion. It is Brahmanism created only for the benefit of Brahmins. Apart from them, all other castes are considered lowly. Shouldn't all followers of one religion be equal," asks Bharti. How can it be a religion if a Dalit boy still gets killed for drinking water from a pot, he asks, or when thousands of lower caste people are insulted as "neech" and thrashed for riding horses during wedding processions or for keeping moustaches or even wearing nice clothes.
Arjak Sangh believes in building a humanist society where people are equal, treat each other equally, inter-dine, inter-marry, and live through a scientific outlook without discrimination or untouchability. "Arjak Sangh wants to establish a Manavvadi (humanist) society instead of a Brahmanical one," Bharti tells Newsclick.
While the organisation once was much more popular, it has around 15,000 members and branches today in Uttar Pradesh, Bihar, Jharkhand, Chhattisgarh, Madhya Pradesh and Delhi, where they hold regular meetings, marches and events.
Much of its philosophy is derived from Verma's ideas, inspired by social reformers such as BR Ambedkar and Periyar. As per information available in the Uttar Pradesh Assembly, Verma, 'Mahamana' to his followers, had put down "Manav Dharma" under the category of religion.
Verma considered Brahmanical sanskars (rites) as 'tools of exploitation' and believed they were for the priestly castes to enjoy life without having to toil. To draw the downtrodden and backward castes away from them, he provided an alternative calendar of festivals and rites to follow, detached from religion and Hindu tradition. These special 14 days celebrate icons of social change, constitutional milestones, and agricultural seasons.
Arjak Sangh celebrates Independence Day and Republic Day. Its followers observe Ulhas Day on March 1 to mark the Rabi crop harvest and Labh Day on October 1 when Kharif crops are harvested. Buddha Jayanti is Manavta Diwas. Ambedkar Jayanti is Chetna Diwas. Vivek Diwas is Periyar's birth anniversary. June 1 is Samta Diwas to mark the Arjak Sangh Foundation Day. It also celebrates the birthdays of Jyotiba Phule and Birsa Munda and Shaheed Diwas of Babu Jagdeo Prasad. After Verma passed away, they started celebrating his birthday on August 22 as Kranti Diwas.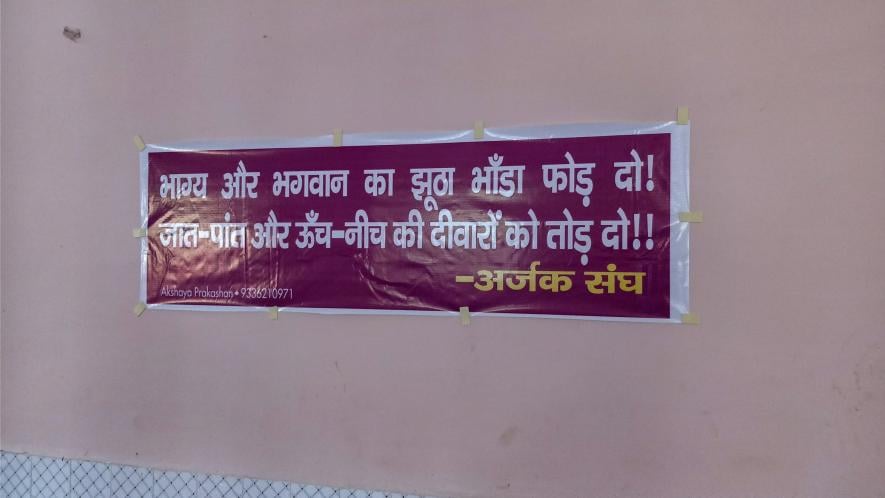 Ajrak Sangh Poster. Photo by Omar Rashid
Verma allowed his followers to participate in only two sanskars, which he considered essential for humankind, the marriage ceremony and mourning the dead. The Arjaks conduct marriages without mantras or pandits, with no pheras, agni or mandap. The man and woman simply read out pledge documents accepting each other as wife and husband before an audience, sign them and click a photo in presence of an oath commissioner of the organisation.
"They promise to treat each other equally, make their lives sweet, and contribute to humankind," says Bharti.
The second sanskar pertains to death. Arjak Sangh is staunchly against the expenses people incur in post-death rituals of their dear ones, especially mrityu bhoj (traditional feast after death). "They have spread a big net of rituals even for death. From the charpoy to the utensils, mattress, cows and buffaloes belonging to the deceased person, all had to be given to the Brahmins, who said they would give it to the dead in heaven," says Bharti.
Instead of elaborate Brahmanical rituals, Arjak Sangh members hold a shokh sabha on the seventh day after the death, where mourners remember the departed and offer condolences to the bereaved. The family is given a death 'certificate' mentioning how and when the person died.
Over the decades, the rise of political Hindutva in the country has coincided with starker expression of communal identities. In North India, several scholars and commentators have discussed the so-called saffronization and Hinduization of some OBC and Dalit castes and their inclination towards strident Hindutva and religiosity. When Kanwar Yatras are taken out annually, reporters often interview the participants to discover that a majority belong to the OBC and Dalit castes. These communities also participated heavily in the Ram Mandir movement.
Why haven't the OBC and Dalits ever been able to wriggle out of the grip of Brahmanical Hindutva, I ask Bharti. "Because the ghosts of heaven, hell, destiny, re-birth and afterlife have not been wiped from their hearts. In fact, they have become stronger," says Bharti. "They are told that in the previous life, they didn't do enough 'punya' and 'daan dakshina', which is why they are poor, born into a low caste and face all suffering. If, in this life, they do daan dakshina and dharam karam as per the path shown by pandits, they will not only find heaven but be reborn into a richer and higher caste family. This is filled into minds on a daily basis."
Bharti also blames influential people and political icons for furthering this unscientific mindset among the public. He refers to Prime Minister Narendra Modi's remarks in 2014 when he explained Lord Ganesha had an elephant's head through plastic surgery in ancient times. Recently, ISRO chairperson S Somanath said that algebra, square roots, and the concepts of time, architecture, aviation and other knowledge was already available in the Vedas.
After Verma's death, the Arjak movement started declining in the absence of a charismatic and influential leader. Frequent police cases and arrests also started deterring people from participating in its activities. On April 30, 1978, on Verma's call, the Arjak Sangh volunteers burned copies of Ramcharitmanas and Manusmriti in Kanpur Dehat to build awareness among the masses in one of its historic moments.
"I, too, was jailed, and there was even an attempt on my life inside the prison from those whose sentiments were hurt," says Bharti. On the other hand, he says, whenever Arjak Sangh people went to file cases against objectionable material being disseminated about lower castes through religious sermons and text, they were not entertained.
Arjak Sangh has no restrictions on food as long as it is not banned by the law. They don't consider the cow holy. Its followers are atheists who reject all forms of god, devi, devtas, idols and the traps of heaven, hell and afterbirth. But Bharti, who has also studied linguistics, says the word 'nastik' is often inaccurately used for those who don't believe in a supreme being.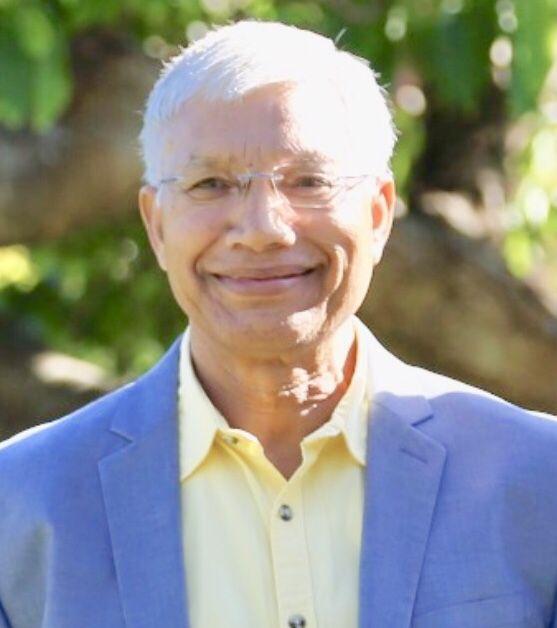 Shiv Kumar Bharti, president, Ajrak Sangh (Special Arrangement)
Astik means 'there exists', and nastik means 'it doesn't exist', he explains. "We are actually astik. We believe in what exists. A stone exists, so we believe in it. God doesn't exist, so we don't believe in it. Heaven doesn't exist, so we don't believe in it. Those who believe in god are actually nastiks. They believe in what doesn't exist," says Bharti. "If astronauts and scientists can go all the way to the moon, why have they never gone to heaven?"
Despite its clear anti-caste ideology, even the Arjak Sangh is today plagued by caste divisions.
Since Verma was born into a Kurmi backward caste peasant family, over time, the Arjak Sangh has also come to be associated mostly with the community, to Bharti's dismay, though it is also popular among Yadavs, Kachis, Koeris, Lodhs and others.
Bharti feels this is because of a growing jati bhavna (caste sentiment), which makes people latch on to a leader of their caste. Consequently, today, even within the Arjak Sangh, members pick their icons according to caste. It is Kurmis who mostly celebrate Verma's birthday, while Koeris remember Shaheed Jagdeo Prasad on his shaheed diwas. Yadavs celebrate Lalai Yadav's jayanti, Saini and Mali castes remember Jyotiba Phule, while Pal, Baghel and Gadaria (shepherd) castes celebrate Periyar EV Ramasamy.
This coincides with the spurt in small caste-based OBC-led parties in the post-Mandal era.
Bharti says the rise of caste identity is also a form of Brahmanism. Those who want a Hindu Rashtra and give preference to Hindu Dharma are the ones supporting this rise of castes, he says.
"Till castes remain, Hindu Dharma will stay. Hindu Dharma is nothing other than castes. Keeping the caste system is the main business of Brahmins and Hindu Dharma," he says.
The Arjak Sangh does not allow members of caste-based organisations such as the Akhil Bharatiya Yadav Mahasabha or Pal Mahasabha to become its members or speak from its stage.
It also does not engage in political work. Nor does it openly support a party before elections. The outfit does send letters to various parties asking them if they support Manuvad and lay out their education policy for endorsement. Their education policy can be summed up in 16 letters: Rashtrapati, PM ka beta ya mazdooron ki santan, bhed bhav va pakhand mukt shikhsha rahe samaan. "But no party ever responded to our letters," says Bharti, regretfully. "Even Akhilesh Yadav wants to build a temple of Parshuram. They want votes of all communities."
Verma firmly believed that only social consciousness could bring about social change and social change had to precede political change, wrote Daya Ram, former national president of BAMCEF (Bodkar faction) and associate of Verma, in 2017.
"Somehow, if political change was brought about, it wouldn't last long in the absence of social change," said Ram, stressing that Verma was not interested in social reform but was for social change.
Given the socio-political environment it works in, the Arjak Sangh is often accused of being anti-Hindu and anti-Brahmin and not talking enough about the social ills in other religions. Bharti says before talking about others, it's better to reform one's own society.
Over the years, Bharti says, there has been a gradual change in how people of different castes behave with each other.
"There was a time when people would refuse to sit or dine with people of other castes. Vermaji gave people the mantra to implement a manavvadi sanskriti through interaction, sitting and dining together. Now, in our area, due to Arjak Sangh's movement, even the 'chota se chota aadmi', called inferior and lowly in the Brahmanical system, attends wedding processions and feasts. The charan sparsh (touching of feet) of Brahmins has also reduced."
However, while the Arjak Sangh doesn't get enough credit for its efforts due to the slow nature of these processes, Bharti feels with Hindutva at its peak under the present government, his organisation's role has become even more important.
The author is an independent journalist. The views are personal.
Get the latest reports & analysis with people's perspective on Protests, movements & deep analytical videos, discussions of the current affairs in your Telegram app. Subscribe to NewsClick's Telegram channel & get Real-Time updates on stories, as they get published on our website.
Subscribe Newsclick On Telegram