Indo-US: A Janus Faced Government Snubbed by 'Ally'
Nikki Haley made the snub more pungent by sharing with Reuters what Narendra Modi had to say to her in private.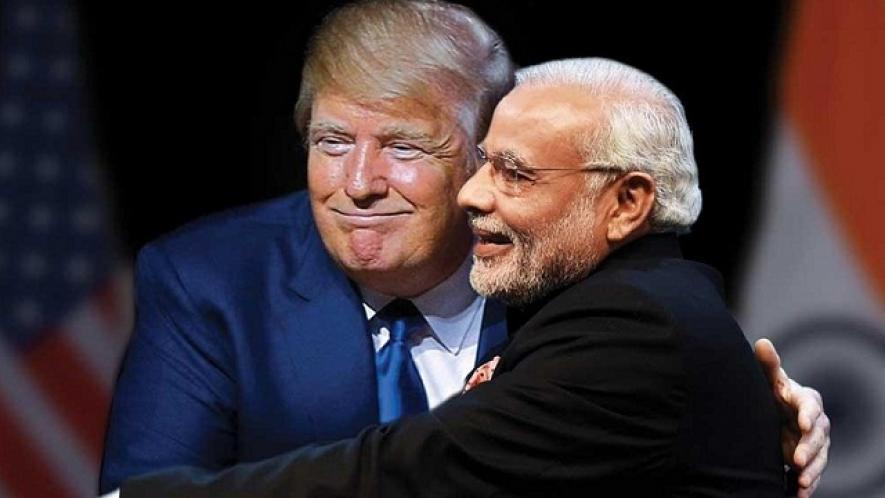 What do India's Prime Minister and his ministerial colleagues say in private to visiting dignitaries, specifically to the visiting dignitaries from say, United States? Do they state and affirm India's stance where interests diverge and are in conflict?
If the US envoy to United Nations, Nikki Haley is to be believed, then at her meeting on June 27 with Prime Minister Narendra Modi after she conveyed the Trump administration's unilateral decision to walk out of Iran agreement, in Haley's own words, Narendra Modi "very much understood where we are with Iran, he did not question it, he did not criticize it, he understood it and also understands that (India's) relations with US is strong and important and needs to stay that way." She told Michelle Nichols of Reuters on July 27 that she told the PM that "with India and US building strong relationship we hoped that they (India) would lessen its dependence on Iran", and made it clear that no country would be offered exemption once US sanctions come into effect in November.
Let us recall that India's foreign minister had claimed recently, regarding the US law passed by the US Congress called CAATSA, that India only follows UN mandated sanctions and does not and will not accept unilateral extra-territorial sanction regime. From what Nikki Haley has now said, it appears that the Indian PM was "understanding" of US and somehow forgot to mention that India regards US sanctions to be arbitrary act which no self-respecting country can accept.
The United States has been breathing hard on India to cut its arms purchase from Russia and cut down on oil imports from Iran. they are also pushing hard for India to sign two foundational pacts, COMCASA and BECA. The propagated line being that without signing these pacts India cannot acquire armed Drones and will also not be able to acquire the non-commercial 'highly coded' communication system. Indian officials told the Times of India on June 26, that India had insisted on "India specific assurances….and status at par with its closest allies". It is worth recalling that when in 2016, Defense Technology and Trade Initiative was signed and India was designated a "major defense partner" it was claimed that this would help India acquire technology and equipment from US. Since such agreements for US come dime a dozen, they did not take much notice of this and instead began pushing foundational pacts. Now the fact is that no matter what Indian specific assurances are made of, US would exercise control over end use and inspection regime to ensure that its 'partner countries' do not 'mishandle' equipment.
Besides, US' unilateral actions— military as well as trade related— are such that they threaten India's fundamental interests in its extended neighborhood, especially where US demands a price for forging alliance with it, by cutting down on relations with countries such as Iran and Russia. It smacks of an imperial power which believes that Indian elite is sold on the idea of close and intimate ties with US since they are heavily invested in US and are dependent on the US financial system and business. It is for this reason that India is being asked to prove their keenness to forge military alliance with US by cutting down on ties with Iran and Russia.
Also Read: Military Agreement With the US: COMCASA is On Again
Until yesterday, the pro-US corporate media in India were rejoicing over great progress being made in pushing India to sign the two foundational pacts, COMCASA and BECA. They even suggested that the 2+2 meet between India's Defense and Foreign Ministers with the Secretary of State and Defense on July 6, would end with India expressing its "intention" to sign the two pacts, after the 2019 elections. Indeed the buildup for a 2+2 meeting was appreciated by corporate media, although some did express their concern over the intrusive nature of these pacts, which in the name of protecting its proprietary technology and safeguarding it from falling into 'wrong hands' , remains under the intrusive control of the US. Besides, COMCASA would enable US to monitor the movement of Indian warships and aircrafts equipped with US systems, and BECA would require positioning US digital sensors on Indian soil. Notwithstanding this, the lure of hi-tech armed drone helps silence even the stout-hearted although there are good reasons why India ought not to fall into this trap.
All this while we were being told how the PM's 'decisiveness' and 'nimble footed-ness' has catapulted India where it is being sought by many. Now we discover that even US, the country coveted most by India's ruling class, had no time to spare for India when it postponed the scheduled 2+2 talks to be held on July 6. In other words, India for all the verbosity ranks low in priority with US where even scheduled talks get deferred.
The point is not how desperate 'experts' are to push a line only to find themselves caught on the wrong foot, but the desperation which drives the Indian Government to seek the status of being the 'closest ally' of US in this day and age when the US is showing that it's a big power which cannot be trusted to stand by any commitment and will ride roughshod over anyone, friend or foe, who does not comply with its demand.
So a "nationalist" government, which in private agrees with the US administration, while in public swears by independent foreign policy and strategic autonomy, was delivered something of a snub by the US administration and Nikki Haley made the snub more pungent by sharing with Reuters what Narendra Modi had to say to her in private.
Get the latest reports & analysis with people's perspective on Protests, movements & deep analytical videos, discussions of the current affairs in your Telegram app. Subscribe to NewsClick's Telegram channel & get Real-Time updates on stories, as they get published on our website.
Subscribe Newsclick On Telegram