Inflation, BJP Communal Agenda Rattle People in Modi's Home Turf of Banaras
Several people feel that the government has ignored the common man and is busy in promoting communalism.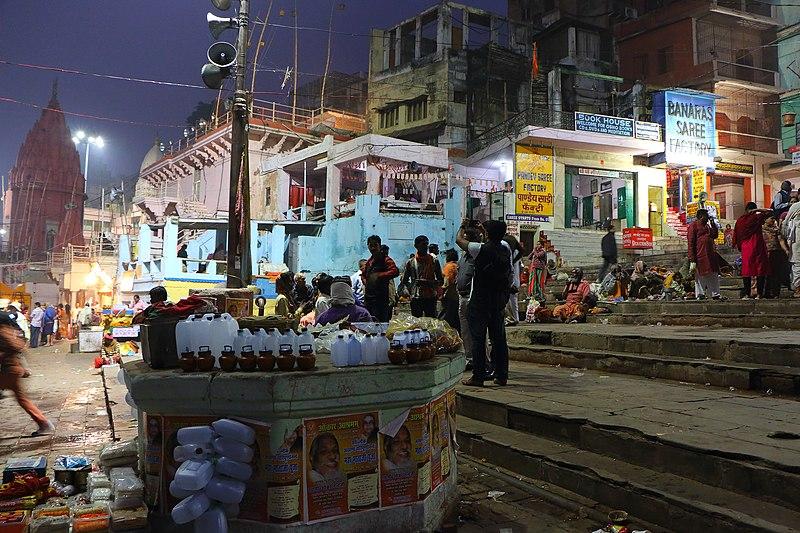 Representational image. | Image courtesy: Wikimedia Commons
Ram Dhani is angry and frustrated. "Why are you asking me to lower the rates? If you want fair prices, you should go to the government, which is busy in communal politics," is his refrain when asked by customers to lower the prices of the vegetables he sells.
Dhani is one of the several angry voters in Prime Minister Narendra Modi's home turf of Banaras and its peripheral districts who are livid as consumer price index-based inflation in April spiked to an eight-year high of 7.79% and see through the Bharatiya Janata Party's (BJP) communal agenda.
"Is anything cheap? Be it flour, sugar or LPG—everything is damn costly!" Dhani exclaims standing by his cart at Vishweshwar Ganj. Explaining how inflation affects not only customers but vendors as well, he says, "Earlier, I was confident of making Rs 1,500 per day. But now I am not sure about earning even Rs 1,000. My family has been cutting down on expenses. What else can we do?"
Referring to the Gyanvapi Mosque controversy, Dhani says, "Hindu-Muslim politics will turn us into beggars one day."
Fast food sellers have no option but to either increase the prices of their items or compromise their quality as cooking oil and vegetables become more expensive. "Every time a customer tells me the pakoras and bread pakoras are too expensive, I do understand their concern. But isn't inflation affecting me as well?" says Manoj Gupta, a fast food seller at Prahlad Ghat explaining his dilemma. "Gone are those days when people used to eat lavishly at stalls. Now, everyone is becoming conscious of spending."
Some of Gupta's friends who are in the same business are thinking of shutting shop. "The cooking gas cylinder costs Rs 1,100. Earlier, it used to be available for Rs 700 and we used to get a subsidy as well. We are desperate for survival," he adds.
Terming the LPG subsidy a "scam", Gupta laughingly says, "Around Rs 50 is transferred to the bank account." He fears India is going Sri Lanka's way. "If high inflation continues, our economy will face a similar situation."
Noting that Banaras is not an industrial town and has only small businesses, Gupta says, "Many people have a monthly income of less than Rs 10,000. Forget about savings and a better life, running a household itself is impossible."
A similar concern is voiced by accountant Rajendra Gupta, from Padao, Banaras. Despite having a bike, he has switched to his bicycle for commuting to his office after the price of petrol touched crossed Rs 100. "My neighbours call me a miser only because I earn a little better than them," he says laughingly.
In spite of having a comparatively better salary, Gupta has no savings. "Despite cutting down my expenses, I cannot save. The government is apathetic to the needs of the people, especially the poor," he laments adding that "inflation has made even the basic consumption of fruits and vegetables a luxury".
Madan Lal Gupta, more commonly known as 'Master Saheb', is a well-known school principal in Chandauli, around 40 km from Banaras. Known for his witty digs at the Yogi Adityanath government, especially post the Assembly election, he sarcastically comments, "Why are we blaming the government for the price hike? We are the ones who have chosen it. Free ration, Ayushman Card and pension for the old—shouldn't we settle for these and relax?"
On a serious note, Gupta points to the exorbitant prices of petrol, diesel, LPG and CNG. "The government is fooling us by offering free ration. Instead, it should reduce the prices of essential fuels. It would be of great help to the common man. We have been given free ration in the name of welfare but the same has been looted back from us through inflation."
Alleging that the government is deceiving people with advertisements, Gupta says, "All they do is promote the free ration schemes through big posters and fool the public. The day isn't far when we will have to put up Modi's posters at our homes."
Many of his students have not been able to pay the fees in the last six to eight months. "Such is the situation of middle-class families. There is a serious cash crunch and inflation has a huge role to play," Gupta says.
Criticising the BJP's communal tactics, Gupta says, "It won the election again due to the polarising Hindu-Muslim agenda. I am sure the Gyanvapi Mosque issue will continue till the 2024 Lok Sabha elections."
Ramayan Yadav, a milkman from Ratanpur, recently got his son married. "Bearing the expenses of a wedding is extremely difficult when inflation is rocketing. You have to pay Rs 8,000-Rs 10,000 for booking a Bolero for the wedding procession. I had to take a loan to manage such expenses," he says.
According to Yadav, the lower-middle class has been the worst affected. "We can't even think of getting our children married without taking loans." The stress of arranging his son's wedding affected him so much in the last year that he was diagnosed with high BP and diabetes—now, the debt has become another burden.
The writers are freelance journalists.
Get the latest reports & analysis with people's perspective on Protests, movements & deep analytical videos, discussions of the current affairs in your Telegram app. Subscribe to NewsClick's Telegram channel & get Real-Time updates on stories, as they get published on our website.
Subscribe Newsclick On Telegram