Intellectuals Criticise Visva Bharati VC for Accusing Amartya Sen of Occupying University Land
"The allegations are a matter of shame and unfortunately, it is demeaning to Visva Bharati's prestige before the entire world," said Professor Anjan Bera of Calcutta University.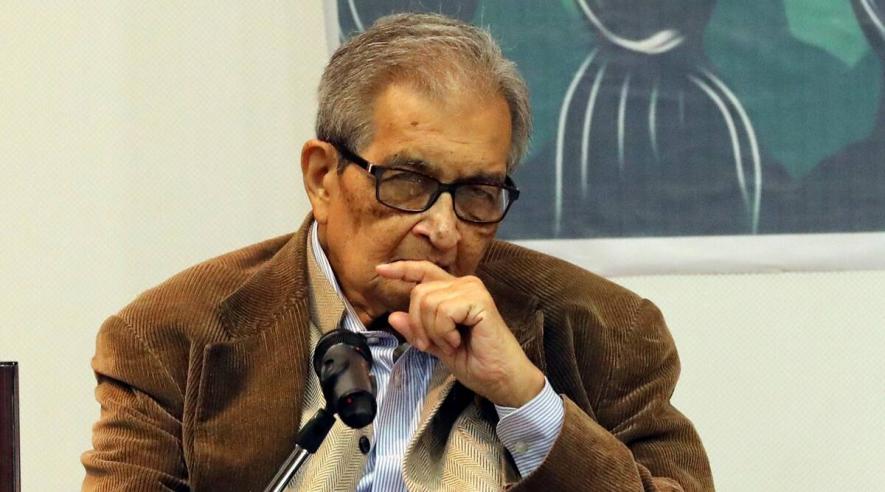 Image credit: The Indian Express
Kolkata: Many intellectuals have extended their support to Nobel Laureate Amartya Sen, amidst allegations by the Vice Chancellor of Visva Bharati University and a notice by the University to Sen that the latter has allegedly occupied University land. Sen has said that he will respond to the University legally through his legal counsel. 
According to PTI, a letter sent to Sen, signed by the Deputy Registrar of the University earlier this week, read, "It has been found from records and physical survey/demarcation that you are in unauthorised occupation of 13 decimals of land belonging to Visva-Bharati..." There have been allegations from certain quarters that the University's actions may be politically motivated as Sen has been critical of many Central government policies.
Last Wednesday, during the Upasana (prayer) at a Mandir in Shantiniketan, VC Bidyut Chakraborty had sarcastically said, "In Visva Bharati, all are Tagorean, even lawbreakers, encroachers of varsity land are Tagorean, VC baiters are also Tagorean."  He also claimed that Sen is not a recipient of the Nobel Prize. 
Meanwhile, at his house, Pratichi, Sen on Friday said that he has no clue why this issue has been raked up and whose brain is working behind it. Regarding the VC's comment that Sen has not won the Nobel Prize, he said that anybody can make comments and he doesn't have to comment on it.  
"If the VC thinks, that I am not knocking the door of the court out of fear, then one should have a rethink about his mindset," said Sen. As he met a few students from the university – who spoke about the falling standards at the university – Sen said that he is perturbed to hear that.
Antara Devsen, Amartya Sen's daughter and renowned journalist, who is also the managing trustee of Pratichi trust, which was set up by Sen, said, "We are talking about land leased 80 years ago to certain people invited by a fledgling Visva Bharati to help contribute to Tagore's dream -- building an abode of peace, Santiniketan, with universal cultural values and education without borders. Each 'Aashramik' in their own way helped build that dream and helped make Visva Bharati a truly special educational institute with an extraordinary campus and lifestyle. Casting aspersions on some of them, calling them land grabbers etc, shows a stunning lack of gratitude and taste, and undermines everything that Visva Bharati once stood for. For this is not about Amartya Sen, who inherited the land, it is about a wilful disrespect of history. Besides, the claims are quite ridiculous since we have valid papers for the land." 
Responding to the allegations, Kaushik Bhattacharya, secretary of Visva Bharati University Faculty Association (VBUFA), said that on three sides of Sen's land, the adjacent lands are private lands and on the fourth side was adjacent to PWD land. He added that there was no land owned by the University adjacent to Sen's land.   
"If Visva Bharati University is saying that their land has been encroached upon, then they should try to prove their claim that Amartya Sen has encroached upon their land. This is an unfair game that is being played. The allegation regarding the Nobel Prize of Amartya Sen is even murkier. The VC has said that Amartya Sen has not won the Nobel Prize. Sen has never said that he won the Nobel Prize, but it is the common people and the media all over the world who rejoiced that Amartya Sen won the Nobel Prize. Two persons had in the past filed cases in the lower court and in Supreme Court also on this matter, but they were dismissed by the courts," he said.
Former VC of Rabindra Bharati University, Kolkata, Pabitra Sarkar, who is also the recipient of the highest civilian award of the Government of Japan, said, "At the time of the inception of the Nobel prize, awards were there only for chemistry, physics, medicine, literature and peace. In 1905, Alfred Nobel died. Later, the Swedish state bank gave money to the Nobel award committee to start an award in memory of Alfred Nobel and it is considered a Nobel Prize in economics."
On the controversy surrounding his house, she said that the allegations do not stand on any footing as it was nearly 100 years ago that Sen's grandfather, Khsitimohan Sen, had got that land. "It is a fact that for political reasons, the BJP government does not like Sen and hence, he is being harassed for frivolous reasons," she added. 
Professor Anjan Bera of Calcutta University said that the allegations are actually an attack on three aspects. "One, it is an attack on the very idea of Visva Bharati, secondly on the very legacy of Visva Bharati, which began 100 years ago as a part of the nationalistic effort as an alternative to the colonial education system. And thirdly, an attack on Professor Sen, who is a global icon. The allegations are a matter of shame and unfortunately, it is demeaning to Visva Bharati's prestige before the entire world. Even Prof Sen's Nobel Prize is being challenged – the whole thing is so low in taste. Do these people not want professor Amartya Sen to stay at Shantiniketan with due honour and peace?" he asked. 
Sujan Chakraborty, CPI(M) central committee member, alleged that as Amartya Sen detracts from Prime Minister Narendra Modi and RSS' philosophy, Modi and the RSS are trying to defame Amartya. "Hence, this sort of attack is being rained down on him and the VC is just an instrument for it," he said. 
Swapan Pramanik, who is the former VC of Vidyasagar University, told NewsClick: "I heard that the VC of VBU is saying that Amartya Sen has not received the Nobel Prize and these are childlike utterances with criminal intent. To detract Amartya Sen he is raising questions which do not have any grounding or importance." 
He said that there is a huge mass movement brewing amongst all stakeholders of Visva Bharati and to hide that, the VC has raked up the issue of the land controversy. "However, the VC has not got any iota of support regarding that. According to me, raking up the issue after 100 years of their residence on that piece of land is an offence on the part of Visva Bharati," he added. 
Renowned economist and columnist, Professor Ratan Khasnobish, said that Sen is one of the top economists in the world and has made India proud in several ways. "The high place that he enjoys in the society is being tried to be lowered for political interests by the Visva Bharati authorities and this is a heinous attempt thoroughly uncalled for and unprecedented in many ways. However, I feel more protests should happen in the society against this, but it is not happening and as a Bengali, I feel bad about it," he said. 
Professor Ishita Mukherjee from the Department of Economics of Calcutta University said that what the Visva Bharati authorities are doing is unacceptable. "This kind of political vindictiveness has been observed in those who tried maligning historians such as Romila Thapar and Irfaan Habib. Now, they are doing the same with Amartya Sen," she said. 
Get the latest reports & analysis with people's perspective on Protests, movements & deep analytical videos, discussions of the current affairs in your Telegram app. Subscribe to NewsClick's Telegram channel & get Real-Time updates on stories, as they get published on our website.
Subscribe Newsclick On Telegram