Internet Censorship a Result of Fear in the Ruling Classes: Chris Hedges
Chris Hedges, a Pulitzer Prize winning journalist, and David North, discussed the issue of Internet censorship and the need for an organised resistance against it.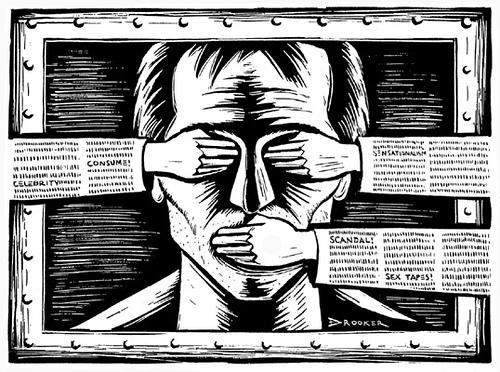 Since April of 2017, plenty of left wing, anti-war, and progressive websites have reported a fall in their Internet traffic. This includes websites such as globalresearch.ca, consortiumnews.com, counterpunch.org, alternet.com, wikileaks.com, and truthdig.org. This came at the same time as Google updated their search algorithms. 
Chris Hedges, a Pulitzer Prize winning journalist, and David North, the chairperson of the international editorial board of World Socialist Web Site (WSWS), discussed the issue of Internet censorship and the need for an organised resistance against it in a webinar organised by WSWS.
In December last year, net neutrality was repealed in the US. In October, the German government passed an anti-hate speech law requiring social media websites to immediately remove flagged content. This is being seen as an extension of the state's power to censor content objectionable to its rule. Earlier this month, Facebook said it is changing the newsfeed to show less news and more posts from friends and family. Again, left-wing sites were seen to be specifically targeted by these new rules. Earlier today, the Facebook page for teleSUR was taken down without any explanation given to the page owners. TeleSUR is a left-wing news website, and its Facebook page had nearly 400,000 likes.  
Hedges and North explained the reasons of these crackdowns to be rooted in the failing image of capitalism. "In a period of growing political radicalisation, among young people, workers, they start to look for oppositional information, they become interested in socialism, revolution, terms like equality," North said. This is seen as a threat to the present systems of power, fuelling increasing amounts of censorship.
Hedges, who was the correspondent for The New York Times for fifteen years, said that the crisis of capitalism is twofold: firstly, because the ideology has lost its credibility, and secondly, because the ruling elite is frightened. This is causing critics of the structure to be pushed to the margins and outside the mainstream, Hedges said.
Julian Assange also gave a statement of support for the webinar, "While the Internet has brought about a revolution in people's ability to educate themselves and others, the resulting democratic phenomena has shaken existing establishments to their core. Google, Facebook and their Chinese equivalents, who are socially, logistically and financially integrated with existing elites have moved to re-establish discourse control."
To counter this threat, Hedges and North called for a coalition of socialists and anti-war websites. North said that everyone who is committed to the fight for socialism and is opposed to this war needs to come together in this coalition and defend Internet freedom, net neutrality, and work for the defence of both websites and individuals.
The call for the coalition can be read here. The call emphasises on the necessity of free speech in a functioning democracy, and how access to alternative news and social media enables workers to educate themselves and coordinate their common struggles.  
Get the latest reports & analysis with people's perspective on Protests, movements & deep analytical videos, discussions of the current affairs in your Telegram app. Subscribe to NewsClick's Telegram channel & get Real-Time updates on stories, as they get published on our website.
Subscribe Newsclick On Telegram