INTERVIEW: Why Sonam Wangchuk's Protest Echoes With Fellow Ladakhis
The educationist and innovator wants voices from the region heard across the country, especially in big cities that are most climate-unfriendly.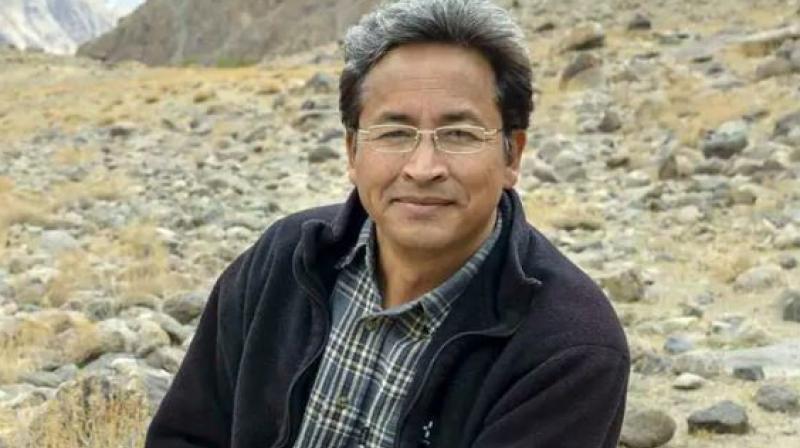 Sonam Wangchuk. Image Courtesy: Facebook
On January 31, environmentalist and Magsaysay award winner Sonam Wangchuk completed a five-day climate fast in Ladakh. Hundreds gathered at Leh's iconic Polo Ground to fast in solidarity with him. Seeing the overwhelming support for his protest, the 'house arrest' he was placed under was withdrawn. Wangchuk also refused to sign the 'bond' the administration wanted him to, which effectively was a gag order. Rashme Sehgal caught up with him on the demands of Ladakhis related to the environment, the political status of the region, and what development really means in the remote and climatically harsh region. Wangchuk told her if the government does not accede to the demands he is raising on behalf of the Ladakhis, he will fast again in February, and for a longer time.
Rashme Sehgal: What prompted your five-day fast, that too in arduous minus 20-degree conditions?
Sonam Wangchuk: I have been concerned about Ladakh's ecology, mountains, and glaciers for 30 years. To ensure we locals do not pollute and harm the environment, I have been designing solar-heated houses that do not use fossil fuel or emit smoke and therefore do not pollute the environment. I have also been working on water-related issues. Since our glaciers are melting, I have been making artificial ice glaciers to prepare the people of Ladakh for the effects of climate change, which are coming our way whether we like it or not.
In the recent past, Ladakh was declared a Union Territory. We were delighted but also concerned because becoming a Union Territory without safeguards would keep Ladakh open to industrial and mining exploitation, harming our ecology and glaciers. Research has shown how local human activity is also responsible for melting glaciers. We hoped the Centre would provide us with safeguards, if not from Article 370, then from the Sixth Schedule.
Initially, the BJP was very enthusiastic about the Sixth Schedule. All Central ministries concerned with its implementation, the Ministry of Home Affairs and the Ministry of Tribal Affairs, assured us of its quick implementation. The BJP made it a top priority in its election manifesto, so we were convinced they would deliver on it.
Three years have passed, and it has not been introduced. Today, the situation is such that it has become a crime to utter 'Sixth Schedule'. Those who raise this issue are arrested, and FIRs are lodged against them.
I thought everybody must do their bit. I felt I must contribute by sending a message to the highest level, to Prime Minister Narendra Modi and Home Minister Amit Shah, who may not know the ground situation. I decided to undertake a day-long symbolic fast on Khardung-La, the world's highest pass, to draw the government's attention to the need to safeguard our water resources.
RS: How come your planned one-day fast became five days—and was it physically very demanding on you?
SW: I believed my fast was a symbolic gesture. I did not feel any hunger or cold because I was prepared for much worse. I am prepared for bigger sacrifices. So, I was very happy that people from all parts of the country supported it overwhelmingly.
Not just the government—people must take the initiative to protect the environment. I undertook the fast because I wanted to draw the attention of people living in big cities. Their lifestyle is very carbon-intensive and climate-unfriendly, and we in Ladakh bear the brunt of their misdeeds.
RS: Why is inclusion in the Sixth Schedule so important for Ladakh? Why do you think it has not been done?
SW: The Sixth Schedule is in our Constitution to safeguard tribal culture. It is there to promote and protect our unity in diversity. That is the greatness of India. So, why is the Centre not implementing the Sixth Schedule is a mystery. The perception here is that [it is] because some strong industrial houses want to exploit our resources and are influencing government decision-making on the lower rungs.
It is imperative to safeguard our mountains and glaciers and our distinct ethnicity and Ladakhi culture. This culture has been finely tuned over millennia to adapt and live in harmony with the region's harsh climate. People from outside cannot understand this. In cities, people are used to consuming up to 600 litres of water a day. We have adapted to survive in just five litres.
RS: Ladakhis also demand a separate State. Is that justified, considering just three years ago, they were happy over getting Union Territory status?
SW: This demand is about democracy, about having your voice heard to ensure your mountains are developed in an eco-friendly and sustainable manner.
We have always demanded Union Territory states but never without a legislature. The government has made us a Union Territory without a legislature. At present, we have a system where the voices of the people cannot be heard. It's like a suspended democracy because we are under permanent Lt-Governor rule. It is bad enough for a few months, but now it has become a permanent situation. There is no reason to curtail democracy.
Jammu and Kashmir have been assured restoration of statehood, so why not us? Why are we being punished? Is it because of our loyalty, or is this not being given to us because we have a small population?
When Sikkim became a State, it had a population of two lakh people, whereas we are at 3.5 lakh. Without democracy, one person [the Lt. Governor] is deciding everything for us. The allocation for Ladakh is Rs 6,000 crore. More than half this money goes back because they [the administration] are unable to utilise it. They [the Lt. Governor and bureaucrats] are new to Ladakh and do not understand the region. By the time they do, it's time for them to get transferred. A sensitive, fragile place like this, so different from the mainland, cannot be developed with one person taking all decisions. So, we must get statehood.
We have regressed. When we were in the [erstwhile] State of Jammu and Kashmir, we had four MLAs who would raise their voice in the Assembly. Now it is zero.
RS: Why are the glaciers of Ladakh melting?
SW: Thanks to all of you living in the big cities of London, New York, Paris, Beijing and New Delhi, we bear the brunt of climate change. We have become climate victims by having to cope with emissions emanating from all these places.
Of course, our activity is there too, which is why I emphasise we need the Sixth Schedule. We cannot open this region to large populations. Our landscape cannot handle more people and increasing industrial activity. Already, we face a huge water shortage. What will happen if industries move here in large numbers? Very soon, not only Ladakhis, people in the rest of the subcontinent will face climate-related problems.
All we can do is appeal to people to get their act together. The glaciers of Ladakh and the rest of the Himalayas feed two billion people, half on the Indian subcontinent and half on the Chinese side. This area is called the Third Pole, as the Himalayas are the largest freshwater reserves in frozen form. A recent study by Kashmir University showed that glaciers in Ladakh located next to the highways were melting much faster than those located some distance away. But being rich does not mean the wealthy can pollute the planet. Everyone needs to reduce their emissions, including at the local level.
RS: Why is there so little dialogue between the Army, bureaucracy and the people of Ladakh?
SW: There is informal dialogue, but there needs to be more formal dialogue. I am very happy the Prime Minister declared Ladakh a carbon-neutral zone, but there has been very little action to support this.
The Army, government, and tourism industry must all become carbon neutral. I am designing zero-fossil fuel shelters, which will help conserve fuel for the Indian Army. I am doing my bit, but we all must do much more. The Army must get additional funds to insulate and provide solar heating for their buildings. It can then become the first carbon-neutral army. Recently, the Ladakh administration announced a subsidy on electric cars. But it is only for the rich. The government should announce subsidies for solar-heated homes, wood insulation, and double glazing.
Rashme Sehgal is an independent journalist.
Get the latest reports & analysis with people's perspective on Protests, movements & deep analytical videos, discussions of the current affairs in your Telegram app. Subscribe to NewsClick's Telegram channel & get Real-Time updates on stories, as they get published on our website.
Subscribe Newsclick On Telegram