Is Kerala's Response to Covid-19 Failing? Data Tells the Real Story
With Kerala reporting over 20,000 cases of Covid-19 continuously over the past four days and currently accounting for around half the daily cases in India, doubts are being raised as to how effectively the state has managed the pandemic.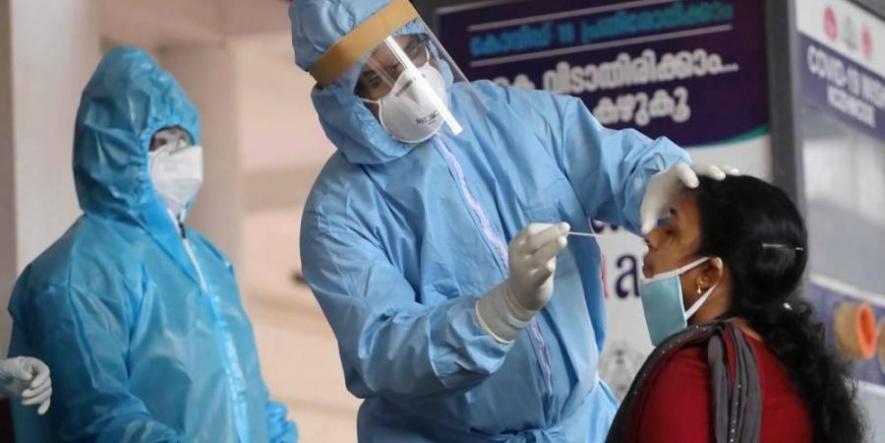 The first case of Covid-19 in India was reported from Kerala on January 30, 2020. Since then, Kerala has reported over 33.7 lakh cases and 16,701 deaths. At various points in the intervening 19 months, the state has topped the charts of reported daily cases in India. Now, Kerala, which comprises around 2% to 3% of the country's population, accounts for around 50% of the total daily cases.
With the reported rate of reproduction (R-value) highest in the country at around 1.11, researchers suggest that the number of cases in the state is likely to rise in the short term. This has happened at the same time when cases across India have dipped significantly post a second wave in April-May 2021. It is not surprising then, that questions have been asked about the effectiveness of the pandemic response in the state.
The Congress and the Bharatiya Janata Party (BJP), which are both opposition parties in Kerala, have cited the rising numbers to attack the ruling Left Democratic Front (LDF) government in the state. Union Minister of State for External Affairs V Muraleedharan accused the Kerala government of trying to utilise the pandemic for political benefits through 'fake propaganda' regarding its management of Covid-19; and Union Minister Rajeev Chandrashekar said that they have put the country at risk of a third wave while Congress leader Rahul Gandhi tweeted that the rise in cases was worrying.
The Union Ministry of Health and Family Welfare has deputed a six-member, high-level, multi-disciplinary team headed by Dr. SK Singh, Director of National Centre for Disease Control (NCDC), to Kerala "to aid the state's ongoing efforts in covid management", which said that there are many concerns regarding the situation. Meanwhile, the state has announced a two-day 'complete lockdown' to arrest the rise in cases and take stock of the situation.
What Does Data Show?
The fourth round of the nationwide sero-survey conducted by the Indian Council of Medical Research (ICMR) and designed to capture the extent of the spread of Covid-19 across the country, estimates that 67.6% of the Indian population has developed antibodies to SARS-CoV-2. According to the study, Madhya Pradesh has the highest seropositivity or seroprevalence at 79%, followed by Rajasthan with 76.2% and Bihar with 75.9%. Over two-third of the population in 11 states had antibodies, while Kerala reported the lowest seropositivity at 44.4%.
ICMR's fourth round of sero-survey was conducted in the same 70 districts across the country where the first three rounds had been held. Results from the previous rounds also show that the spread of Covid-19 has consistently been lower in Kerala when compared to the rest of the states. In the first round in May, Kerala's sero-prevalence had been 0.33% against a national average of 0.73%. In August it was 0.88% (6.6% nationally) and by December it was 11.6% (21%).
One should also note that Kerala has also been consistently conducting more tests than most of the other states. Against a national testing average of 3.3 lakh per million people, Kerala has tested over 7.6 lakh per million people, which is around 2.3 times the national average.
Comparing the estimated cases from ICMR's sero-survey and the reported number of cases, Health economist Rijo M John estimates that Kerala has been able to identify at least one out of every six cases (as against one of over 30 cases nationally). The figures for Bihar and Uttar Pradesh come to around one in 134 and one in 100 cases, respectively. This suggests that Kerala has not only been testing more people, but that its testing strategy (which lays more emphasis on tracking and tracing the spread of the disease) is catching more cases than any other state. As a result, it should be no surprise that Kerala is reporting higher cases.
Since the results of the sero-survey also accounts for vaccine-induced antibodies and reports that the seroprevalence amongst the unvaccinated at the national level was 62.3%, it would be pertinent to look at the rate of vaccination in Kerala. The state covid19 dashboard reports that over 37% of the population is vaccinated with at least a single dose, as against 25.6% at the national level. Those fully vaccinated now amount to over 16% of the population (7.3% nationally), and there too Kerala has managed to cover a large number of those above 45 years of age, who are more susceptible to severe health conditions after contracting Covid-19. Kerala has done this by avoiding wastage of vaccines and making use of the 'extra dose', which has resulted in the state reporting 'negative wastage'.
Thus, not only is the seroprevalence in the state lower than other states, but comparatively a larger part of it can be attributed to vaccines. All this indicates that the state has so far been successful in slowing the spread of covid19, or rather 'flattening the curve'.
What About The Deaths?
Kerala reported 116 deaths due to Covid-19 on July 30, bringing the total tally to 16,701 out of a reported 4.23 lakh deaths all over India. This is more in line with the population of the state and the reason for this is that Kerala reports a Case Fatality Rate (CFR) of just under 0.5%. This means that only one person succumbed to Covid-19 out of 200 people who tested positive for it. This is around 2.6 times lower than the National CFR, which stands at 1.3%. Maharashtra, the only other state which has reported more cases overall than Kerala, has a CFR of 2.1%. One should note that Kerala has an ageing population unlike most other states and three-fourths of the reported deaths have been of those above 60 years of age.
However, the reported deaths due to Covid-19 tell only part of the picture. All across the world, countries have reported 'excess deaths', which measures the difference in number of deaths over the pandemic period as compared to similar periods earlier. Journalists across the country have accessed data from India's Civil Registration System (CRS) to find out reported all-cause mortality during the pandemic period and compared it to recent non-pandemic years. Using data from eight states including Kerala, The Hindu estimates that the excess deaths registered in India during the pandemic period (April 2020 to May 2021) was 8.22 times the official covid19 death toll; making it the highest among nations with the most recorded fatalities due to the virus. Kerala was the only state for which data was available where the number of excess deaths was not only low (4,178), but also was lesser than the official death toll due to covid19. This is despite the fact that the ageing population has meant that mortality in Kerala has been increasing slightly over the last few years.
Kerala thus has an undercount factor of around 0.42 which stands much below the average of 8.22. Other large states, including West Bengal, Tamil Nadu, Karnataka, Andhra Pradesh, Madhya Pradesh and Bihar have all reported between 100,000 and 200,000 excess deaths during the pandemic period. This has led researchers to suggest that excess deaths in India during the pandemic period is likely to be many times the official covid19 death toll. Estimates of excess deaths vary between 2.2 to 4.9 million as compared to the official covid19 toll of 4.23 lakh (0.42 million). Kerala, however, seems to be the outlier among all states in India. As Subin Dennis notes, even when compared to other south Indian states, Kerala has thus averted tens of thousands of deaths during this period as a result of its containment measures.
Overall Performance
According to Data Journalist Rukmini S, data from the National Health Mission's (NHM) Health Management Information System (HMIS), which has since gone missing from the government website, indicates a drop in number of patients accessing routine health services, including for serious diseases and surgeries. HMIS, which collates data mostly from public health facilities from rural areas in India and a wide network of auxiliary nurses/midwives, also suggests a sharp drop in number of registered patients getting treatment for Tuberculosis (TB). TB is a giant-killer which the World Health Organization (WHO) estimates to have caused around 445,000 deaths in India in 2019 alone. According to the India TB Report released by the Union Health Ministry, notification of TB cases in India reduced by 24% between January and December 2020 because of the lockdown and diversion of resources for Covid-19 control measures. The European Respiratory Journal estimates an additional 95,000 deaths in India over the next five years due to this reason.
Initially during the pandemic period, there was a dip in reported cases in Kerala too. However, once that was identified in August 2020, the state health department conducted a 'catch-up' campaign between October and December to detect cases that may have gone undiagnosed during the lockdown period. Over 6 lakh people were screened and the 'missing' cases were identified. For this, the vulnerability mapping study that the state had conducted at the panchayat-level through ASHA workers in 2017 was put into use. A new state government advisory mandates TB screening for recovering Covid-19 patients with respiratory problems.
At a time when health services were disrupted and outpatient patient departments were completely shut down in some states during the peak of the second wave, Kerala fared better not only by identifying and treating cases of Covid-19 effectively and controlling its spread, but also by ensuring that other health services were more accessible. The social security net in Kerala and large-scale programmes like setting up of community kitchens, provision of monthly ration and grocery kits and subsidised meals through People's Restaurants (called Janakeeya Hotels) have also meant that people in the state have also not had to face hunger, which can be a trigger for health problems, as in many other states. Kerala was the first state to announce free ration for all and distribution of food kits during the pandemic. Apart from the food kits and allowances given to children, Anganwadi workers also ensured supply of nutritional supplements to children.
All this has meant that Kerala's health system has not been overwhelmed during this period like in most other states. The state did not have to bear witness to 'oxygen deaths' unlike other states (something which the Union government claims has not been reported to them). Even now, the reported occupancy rate of hospital beds, intensive care units (ICUs) and ventilators in Kerala, are all below 50%. This is what Kerala Health Minister Veena George points out when she hails the 'effective plan of the state government to combat Covid-19' and calls the 'campaign against the state' unfortunate.
Get the latest reports & analysis with people's perspective on Protests, movements & deep analytical videos, discussions of the current affairs in your Telegram app. Subscribe to NewsClick's Telegram channel & get Real-Time updates on stories, as they get published on our website.
Subscribe Newsclick On Telegram