Jammu and Kashmir Lags in Forest Rights
The FRA is a newborn baby in Jammu and Kashmir, where more than 50% of the land is under forest cover. Perhaps if there was an elected government, things would improve.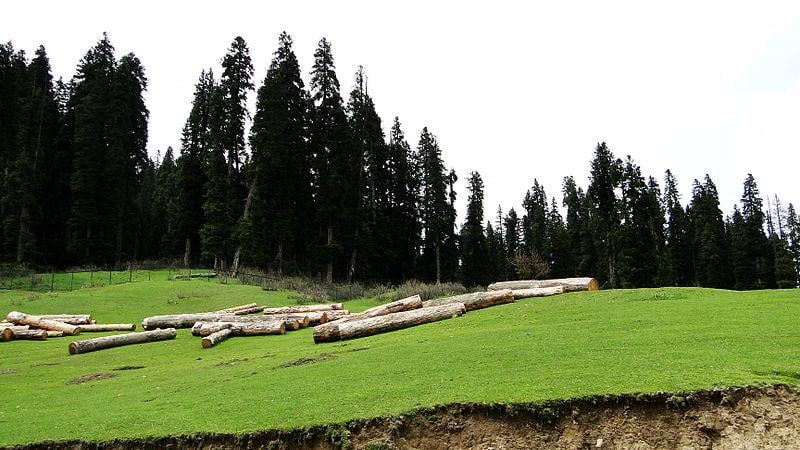 Doodhpathri in Southwest Jammu and Kashmir
Last December, Rajya Sabha Member of Parliament Odisha Dr Sasmit Patra of the Biju Janata Dal sought state- and year-wise details of land rights provided under the Forest Rights Act or FRA to forest-dwellers in the three previous years. The Ministry of Tribal Affairs (MoTA)'s response in Parliament was astonishing. Except for Odisha and a few other states, it revealed a very discouraging trend across India. 
Odisha turned out to be the best-performing state in terms of the FRA, having distributed 4.5 lakh titles, including 4.43 lakh Individual Forest Rights or IFR and 6,649 Community Forest Rights Claims or CFR. Himachal Pradesh, Uttarakhand and Bihar were the worst performing states. Himachal could finalise only 164 individual and 65 community claims in three years. Similarly, between 31 March 2019 and 31 August 2021, the Uttarakhand government gave IFRs to a mere 157 families. Only 121 IFR titles were issued in Bihar between March 2019 and March 2021. Ironically, no community rights were granted in Uttarakhand or Bihar in those three years.
Indeed, non-BJP-ruled states performed better on the implementation of the FRA. Chhattisgarh ranked second, with 4.23 lakh IFR and 21,967 CFR titles granted between 31 March 2019 and 31 August 2021. The highest number of CFR claims were settled by Madhya Pradesh, with 27,976 titles given over three years. But these titles include those granted during the term of the Congress government headed by Kamal Nath, which lasted only 15 months. Between March 2020 and August 2021, the BJP government in Madhya Pradesh settled only eight CFR claims. 
On the other hand, in Tripura, the BJP government settled 1.27 lakh IFR and 55 CFR claims. West Bengal has also lagged with only 45,130 individual and 686 community claims settled in those years.
The Scheduled Tribes and Other Traditional Forest Dwellers (Recognition of Forest Rights) Act, 2006, also called the Forest Rights Act or FRA, is a historic post-independence legislation. Unfortunately, not even 16% of people have benefited from this law across the country in sixteen years. The FRA is meant to protect the rights of forest-dwelling Scheduled Tribes and other Traditional Forest Dwellers over their land and forest resources. It also ensures better forest governance through community control of forests. However, it is hardly effective so far, except in pockets of the country. 
Mission 2024 in Odisha
Odisha's Naveen Patnaik government plans to give all eligible claimants individual and community forest land titles under the FRA by 2024. A senior state official said recently that the state would "saturate" FRA claims by this deadline. It has set up a dedicated project management unit to oversee the implementation of this plan and is creating a digital footprint for land titles so that ownership records are not lost, misstated or misplaced.
In late 2021, this author visited Nayagarh district in Odisha, including a forest village around 100 km from Bhubaneswar. Here, the residents of the two dozen villages received community titles. This event's colourful and animated nature demonstrated how crucial these titles are to ordinary people. They matter a lot indeed, and not just in Odisha but everywhere. Striking a contrast against Odisha and other states is the situation in the erstwhile state of Jammu and Kashmir. More than 50% of the land is under forest cover in Jammu, Kashmir, and Ladakh. Still, there are challenges in recognising pastoral communities' rights under the FRA. 
Note that in 2006, when Parliament enacted the FRA, it was not extended to Jammu and Kashmir. Many political leaders from the Bharatiya Janata Party (BJP) claim that Article 370 of the Constitution—Jammu and Kashmir's special status—impeded extending FRA to the region. Technically, it is not Article 370 that hampers this process because dozens of central laws were extended to Jammu and Kashmir from the late 1950s onwards. The only requirement was that these laws be ratified by the Jammu and Kashmir legislature or the Governor of Jammu and Kashmir. Legislations like the Armed Forces Special Powers Act (AFSPA), 1958, the MG-NREGA or the Central Goods and Services Tax (GST) Act, 2017, were applied to Jammu and Kashmir before Article 370 was abrogated.
Under the Jammu and Kashmir Reorganisation Act 2019, the FRA was also extended to the former state, effective from 31 October 2019. However, the law was not operational on the ground for more than a year. The government rolled out the FRA in Jammu and Kashmir only after public outrage in November and December 2020. That was when forest officials in the Budgam district chopped down hundreds of apple trees, and hutments belonging to the Gujjars were destroyed in the Anantnag district and other sites. 
The forest officials reportedly said they were following a High Court order to evict "encroachers" from forest land. But the order could have been modified at the government counsel's request as the FRA was extended to the former state in October 2019. 
Undoubtedly, the FRA came to Jammu and Kashmir at the right time as it can help correct the mistakes of its various governments, especially during the last 15 years. However, first, it has to be implemented on the ground. Perhaps if there was an elected government, it could also have fixed a target like Odisha to implement this law across the Union Territory. Our government needs to involve the Tribal Affairs Department in implementing the FRA. Ironically, in all states, the Ministry of Tribal Affairs or the related department oversee the FRA, but in Jammu and Kashmir, this work has been assigned to the Forest Department. True, the Tribal Affairs Department does not have adequate staff at the district or sub-division level, but for the FRA, should not the central government send officials, at least on deputation, to the Tribal Affairs Department in Jammu and Kashmir? 
The Odisha model for FRA implementation seems to be working. Indeed, land holdings are smaller in Jammu and Kashmir and transferring three to four hectares under Individual Forest Rights (IFR) may not work here. Still, our government must not lag in handing over CFRs or to the eligible groups. As per data from the Forest Department in Jammu and Kashmir, 31,064 IFR claims were filed during the 18 months from Feb 2021 to July 2022. In addition, around 10,000 CFR were also filed. Only 71 IFR titles have been granted so far, and only 3,865 community claims, which are mostly related to grazing rights. The FRA is a newborn baby in Jammu and Kashmir, and obviously, there is deficient awareness of this law. There is an immediate need to create a massive awareness of the FRA at the grass-roots and train the gram sabhas and village Forest Rights Committees. During their training, trainers must link up the FRA and other environmental laws like the Biodiversity Act, 2002. The FRA will not only ensure rights to forest-dwelling Scheduled Tribes and other traditional forest dwellers but improve their livelihood opportunities and ensure better forest governance.
Section 5 of the FRA empowers village-level institutions like the gram sabha to protect wildlife, forests and biodiversity, protect catchment areas, and avoid destructive practices that hurt communities' cultural and natural heritage. The gram sabha is supposed to regulate access to community forest resources and stop any activity that adversely affects forests and biodiversity. 
The rights it gives to forest-dwelling communities, including access to minor forest produce, have been denied to their rightful owners for decades. The forest laws enacted during British India were responsible at first, but now India must take responsibility.
The author is a Srinagar-based activist, writer, and Acumen India Fellow. The views are personal
Get the latest reports & analysis with people's perspective on Protests, movements & deep analytical videos, discussions of the current affairs in your Telegram app. Subscribe to NewsClick's Telegram channel & get Real-Time updates on stories, as they get published on our website.
Subscribe Newsclick On Telegram