Jewar Airport: FIR Against 35 Farmers for Resisting Land Acquisition
An unfulfilled promise of plot, inadequate compensation and fear of losing their identity are key reasons why farmers said they were protesting.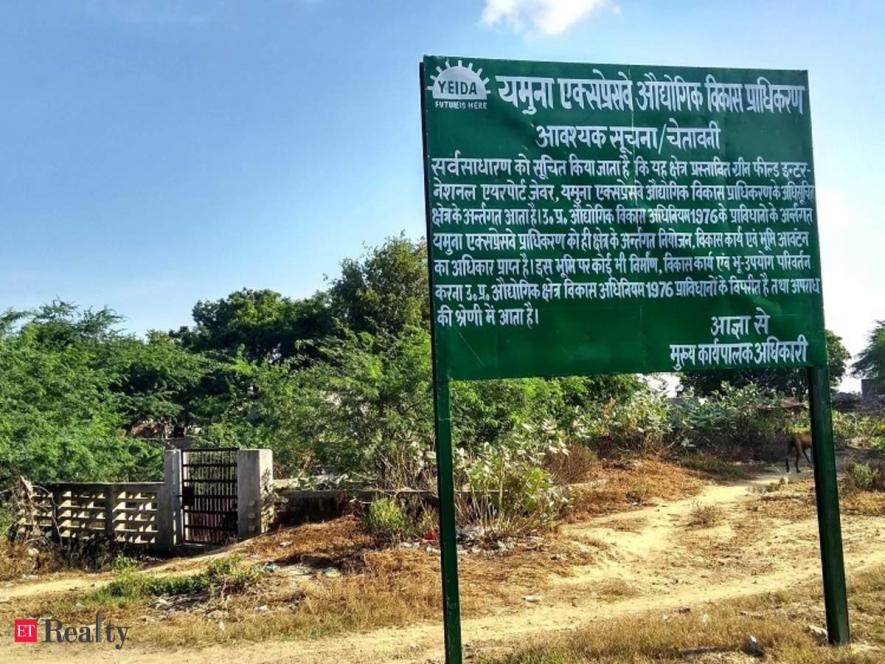 Image Courtesy: ET Realty
Jewar (Uttar Pradesh): Fear stalks the villages of Dayanatpur and Rohi, situated roughly around 90 km from the national capital. One can only see the elderly around, mainly women, as the youth have disappeared after the Uttar Pradesh police's recent crackdown on those who were protesting against inadequate compensation for land for the Jewar airport.
Since the past two years, under the banner of Jewar Airport Kisan Sangharsh Samiti, the villagers have been protesting.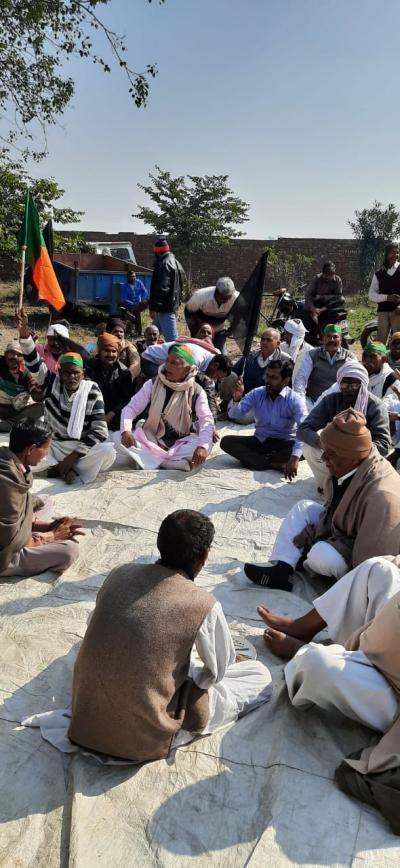 This time round, the UP Police has registered a First Information Report (FIR) against 35 named farmers and 25 "unnamed" ones under Indian Penal Code (IPC) 147, 148, 149, 323, 332, 338, 353, 386, 427, 504, 506 and under the Public Property Damage Act. One person named Ravi Sharma (30), a resident of Dayanatpur, was arrested on January 27 and sent to jail.  
When Newsclick met Ravi's wife, Devesh, she said: "A minor scuffle took place between police and farmers in Rohi village when the administration went there to acquire the land. The police later barged into the temple in Dayanatpur where protesters had taken refuge. My husband was not even at protest site. Yet, the police arrested him, only because we are opposing the government as the compensation given is very less."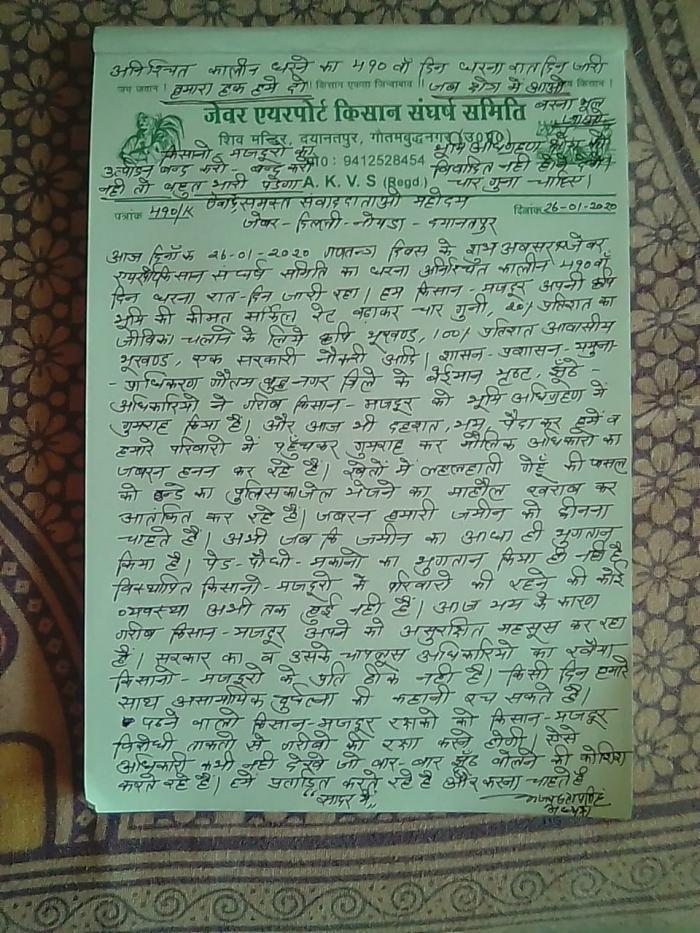 Devesh said: "We are seeking what is our right instead of our land. The government is giving us a 50 sq metre plot where we can't even keep our cattle. We want at least 150 sq metre plot of land for residence."
Jewar Airport - The Untold Story 
The farmers of Dayanatpur, Rohi, Parohi, Kishorpur, Ranhera and Kishorpur have been resisting the UP government's bid to acquire their land for a proposed international airport at Jewar in Uttar Pradesh. 
An unfulfilled promise, inadequate compensation and fear of losing their identity are key reasons why farmers said they were protesting now.
Some farmers who Newsclick spoke to said they had been demanding higher compensation since 2017. "The land was acquired during former UP chief minister Akhilesh Yadav's tenure in 2016. The amount of compensation was decided by him. We have been demanding that we shall be compensated four times the circle rate instead twice the circle rate, but the government is adamant," said another farmer, also named Ravi Sharma.
Blaming the BJP-led Yogi Adityanath government for this, Sharma said: "When Yogi Adityanath came into power in 2017, he issued an advisory and turned all these villages into urban areas so that we can get only twice the circle rate. If our villagers come under the urban area, then why are we not getting any facilities, no hospitals, schools, colleges and sanitation? Only a better compensation deal can help us now."
The farmers are also peeved with the categorisation of their region as "urban", which makes them eligible for compensation of twice the circle rate, instead of four times, which is applicable on agricultural land under the Land Acquisition Rehabilitation and Resettlement Act, 2013.
Several farmers in five villages -- Rohi, Parohi, Dayanatpur, Kishorpur and Ranhera – said they were ready for land acquisition as per the administration's offer of Rs 2,300-Rs 2,500 per sq metre, while some others said they were demanding Rs 3,600 per sq metre, four times the circle rate.
An international airport, supposed to be the biggest in Asia, has been proposed in Jewar in Gautam Buddh Nagar, for which around 5,000 hectare of land is to be acquired. The reported cost of the airport, scheduled to begin operations by 2022-23, would be Rs 15,000-20,000 crore.
The government, in the first phase, wants to acquire over 1,300 hectare from the five villages, affecting 2,250 families.
Ajay Pratap Singh, leader of Jewar Kisan Sangharsh Samiti, claimed that farmers are yet to receive plots as assured by the administration, in addition to monetary compensation for the land acquired for the Yamuna Expressway.
"I have seen all governments. I had land along what now is the Yamuna Expressway. I was promised a plot 7% the size of my acquired land -- which I have not got till date," he claimed.
"Over 8,700 sq metre of my land was acquired, some officials initially gave me some documents along with registry papers. They came back after acquisition and took away that paper as well," he alleged.
Singh claimed several others like him were waiting for that compensatory plot which was supposed to be in a Yamuna Authority-developed area of the district.
Another farmer, who did not wish to be named, told NewsClick that no farmer was opposed to development or the airport. All they were concerned about was the disparity in the rate of compensation for land.
"These villages were overnight categorised as urban from rural when not even a matchstick is manufactured here. Government officials are not given house rent allowances at par with their urban counterparts. They are making all these villages as urban just because they can compensate us less for our lands," Singh said.
The farmers said they were also protesting to preserve their identity. "We are happy that our villages will get several facilities by the government once Jewar airport is ready but we cannot give our land in charity," Ritu, another woman whose land was acquired by the government, told NewsClick. She said farmers want government jobs for their children, as per their qualifications.
The villagers also rued the tag of 'urban' area, saying they were getting 10-12 hours of power supply.
However, there were several farmers who were willing to get their land acquired as per the current offer from the administration.
A few farmers pointed out that Pari Chowk in Greater Noida had also come under the urban area but the circle rate was too high there and farmers got higher compensation.
"The circle rate in Pari Chowk is Rs 1,897 , but for us it is only Rs 903. As per the Land Acquisition Bill 2013, the amount should be double, but this government wants to grab our land without giving us what we deserve," a farmer told NewsClick. 
Get the latest reports & analysis with people's perspective on Protests, movements & deep analytical videos, discussions of the current affairs in your Telegram app. Subscribe to NewsClick's Telegram channel & get Real-Time updates on stories, as they get published on our website.
Subscribe Newsclick On Telegram