Jharkhand: Aadhaar Linkage Derails MGNREGA, Wages Deposited in Wrong Accounts
There are allegations of malpractices in payments made by ICICI Bank and Mumbai-based FINO Payments Bank.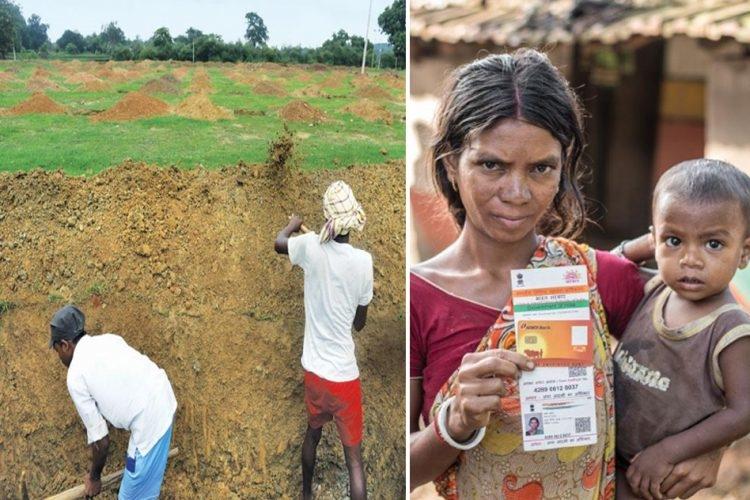 Image Coutesy: The Logical Indian
New Delhi: The Jharkhand government's initiative to check corruption and bring about transparency in welfare schemes appears to have fallen flat, courtesy overzealous reform, and unplanned and hasty implementation.
Jharkhand was the first state that linked Aadhaar to the payment of wages under the Mahatma Gandhi National Rural Employment Guarantee Act (MGNREGA) in 2013. The move was aimed at ensuring direct transfer of wages to the beneficiary's bank account by seeding it with the 12-digit unique identification number on Aadhaar card. It was done in order to identify fake beneficiaries with the help of biometric identification of Aadhaar.
Majority of MGNREGA workers (99%, according to an official estimate) enrolled themselves for Aadhaar and opened bank accounts in the past four years – much above the national average. Reports show that 86% MGNREGA workers across the country have Aadhaar cards and 87% of them have bank accounts.
But, instead of achieving its aim and benefiting the beneficiaries, the programme hit them badly. Many who could earlier benefit from the employment scheme are now without work or are not receiving wages. Then there are those whose hard-earned money gets deposited in others' accounts.
A large number of people across the state are not able to avail wages under MGNREGA as their bank accounts are yet to be seeded with Aadhaar because there are a lot of discrepancies in the documents they submit while opening a bank account. One common discrepancy is inconsistent spelling of their names or that of their village.
Also Read: Another Lifeline Smothered: MGNREGA in Shambles
 
Activists working on social policy in Jharkhand allege there are irregularities in services of ICICI Bank and FINO Payments bank.
Around 16,000 ICICI Bank accounts – most of them belonging to block's workers – were opened by FINO Payments Bank in 2012-13 using their NREGA job card as the primary identity document at Boram block in East Singhbhum district.
 
Aadhaar Linked Without Workers' Knowledge
At some point in the last two years, these accounts were seeded with Aadhaar by FINO's banking correspondents through the electronic know your customer (e-KYC) process allegedly without the workers' knowledge and then linked at National Payments Corporation of India. Even the "consent" to Aadhaar linking, often taken by the bank functionaries, is purely "symbolic" as far as people are concerned – the consent clause is often in English and in any case, no real alternative is provided to them.
"Many workers already have an account in the local branch of Bank of India (BoI), which they usually operate. In the last two years, NREGA wages of several workers were credited to the ICICI Bank account (through Aadhaar Payment Bridge System), without their knowledge, and not their BoI accounts. This caused hassles and hardships to the workers as they had to make multiple trips to the BoI branch and block office before they learnt that their wages were credited to the ICICI bank accounts," alleged activist Siraj Dutta in his complaint in this regard to Reserve Bank of India Governor Shaktikanta Das.
Even though this issue has been flagged several times by workers, local activists and media reports, the irregularities remain unresolved, he said, adding that several workers of Dangdug village of Boram Gram Panchayat recently had to run pillar to post before they learnt that their wages for the work done in August 2018 were credited to ICICI bank accounts. Even after learning this, many workers were unable to withdraw their wages as the ICICI Bank accounts were partially frozen without informing the workers.
Also Read: Jharkhand Deaths: Has Aadhaar Played a Role?
"In December 2018, officials at both the FINO head-office and the ICICI regional office in Ranchi were unsure about the reason for the partial freeze of these accounts, but informed that it could be unfrozen only after successful reverification of the e-KYC norms. Accounts of several workers are yet to be unfrozen because the e-KYC was rejected by the bank due to a mismatch in the spellings of workers' names in the ICICI Bank records and their Aadhaar," he said in his complaint.
Some workers of the village were able to withdraw their wages in December after their accounts were unfrozen. But they were severely hassled, to say the least, to get their accounts unfrozen.
The workers of Dangdug village had also submitted a complaint in this regard to the block administration on October 30, 2018. But the local administration allegedly has not taken any action so far.
Notably, as per the National Rural Employment Guarantee Act, workers are to be paid within 15 days of doing the work. In cases of delays, they are to be compensated.
Problem Prevalent Across Entire State
These issues are not limited to the Boram block. The problem of workers' wages getting diverted to accounts linked to their Aadhaar without their knowledge is common across the state.
"Irregularities in payment of wages through ICICI Bank and FINO payments bank are regularly reported from across the state. Incidents of banking correspondents of various banking vendors overcharging commissions from workers for cash withdrawal are also fairly common. The state of affairs calls for an immediate inquiry into the functioning of ICICI Bank and FINO payments bank. It is also high time for an honest assessment of the utility of Aadhaar Payment Bridge System," Dutta said in his complaint, urging the RBI governor to conduct an independent inquiry into the matter.
"Linking accounts of workers with Aadhaar without their consent and notification, freezing of subsidy linked bank accounts without notification and denying access to NREGA wages, charging of commissions by business correspondents for accessing subsidies are some irregularities that need to be probed," he said.
Read More: In the Absence of Aadhaar, Starvation Deaths Continue in Jharkhand
Get the latest reports & analysis with people's perspective on Protests, movements & deep analytical videos, discussions of the current affairs in your Telegram app. Subscribe to NewsClick's Telegram channel & get Real-Time updates on stories, as they get published on our website.
Subscribe Newsclick On Telegram