Jharkhand: Vaccine Hesitancy Plagues Villages of Khunti District, Conspiracy Theories Galore
The language barriers remain unaddressed; the digital divide and the lack of awareness, especially in the red corridor, add to the difficulties in propagating awareness campaigns.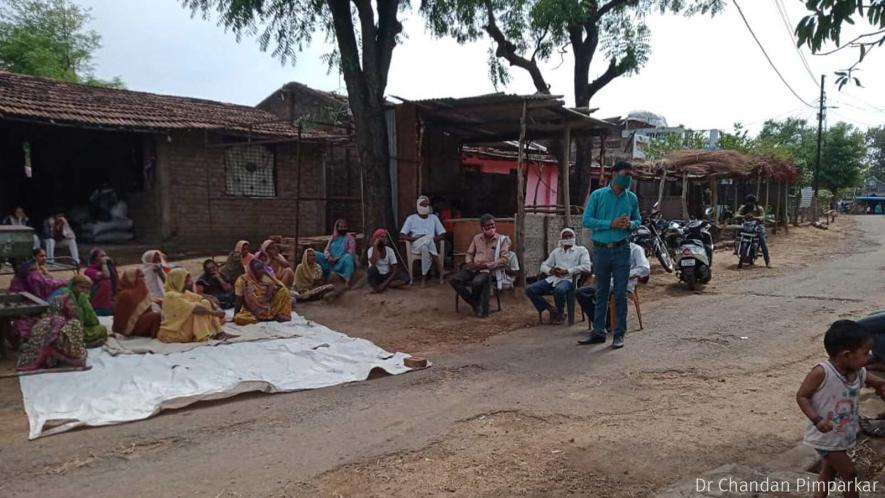 Image for representational purpose only. Credit: Indiaspend
In the absence of effective awareness campaigns about COVID-19 vaccination, tribal pockets in Jharkhand continue to remain marginalised. The language barriers remain unaddressed; the digital divide and the lack of awareness, especially in the red corridor, just add to the difficulties in propagating awareness campaigns. It is, therefore, immensely important that these issues be addressed by both the state administration and the media. This article particularly focuses on the villages in Torpa and Murhu blocks in Khunti district, which are about 40 kilometres away from the state capital of Jharkhand, Ranchi.
Many of us are well aware that not paying heed to the rural areas has resulted in these being adversely affected during the second wave of the pandemic. If one were to look at Jharkhand state as a whole, the picture would not be so bad. The total number of tests done in the state were 1,15,53,805 which gives us a testing rate of about 33%. However, as of July 30, 2021, the total number of tests done in Torpa block ever since last year were only 246, where the population is about 93,000. This resulted in a testing rate of only 0.26%. What's appalling is the dereliction of duties by the ones responsible for facilitating vaccination. While the country had started to see the vaccination drive unroll from January itself, the tribal pockets of Jharkhand had to wait until mid-June for the sarkari babus (bureaucrats) to come to their villages and talk about the whole process and its importance, according to the locals. Places where awareness campaigns are an essential prerequisite don't even have a strong mobile network.
"We do not want to take the vaccine. It is just a government's conspiracy which could lead to our death. We do not have any health problems; then why go for injections unnecessarily? I do not even believe in Covid, and neither do most of the people in my village," said the 16-year-old Shubham from Japudgunj toli in Torpa block when he was asked if his family had been vaccinated yet. He told NewsClick that during the first wave, people from the village had panicked and had even put out a board that said "Kisi bhi bahari ka gaon ke andar aana mana hai (Outsiders are not allowed to enter the village)." However, this caution has not translated into the will to be vaccinated.
Meanwhile, the villagers from Japudgunj have started receiving vaccine shots, but still feel that it is being imposed upon them. 
People from these villages often refuse to talk to the Covid-19 workers. Similar incidents were reported from villages Rero and Sarvada where the collective allegation of the villagers was that the teachers were being paid by the government to inject them for some vindictive reason. When Jyoti, a teacher from Rero Middle School, went to the village with her colleagues to spread awareness regarding vaccination, the villagers showed them knives and said that if they utter a single word about injecting, they would be stabbed. Prakash* (name changed), a 35-year-old man, whose occupation is farming, asked, "What is the reason behind urging us to get vaccinated? Those who think it will benefit them should just go ahead and get vaccinated themselves."
Many who have taken the first dose disapprove of the vacciness and told NewsClick that there were rumours that people were dying or falling extremely sick after taking two shots of the vaccines. This has led to the Gram Panchayats of Maranhada and Jilingkel villages deciding that they will not go for the second dose.
Also read: Is Kerala's Response to Covid-19 Failing? Data Tells the Real Story
Teachers from the Saiko village of the Arki block said that on sighting those on Covid duty, villagers lock themselves in their homes and refuse to be engaged. There was reportedly an incident of gunshots being fired to shoo the teachers away in Saiko in late June. A few officials witnessed an attack in Jilingkel as well where local farming instruments were used to threaten them. The village has a population of 825 people out of which 300 are eligible for vaccination. However, as per the data available on July 31, only 41 had been vaccinated. In an interesting incident, a couple of villagers from Ithe had even demanded that they be given alcohol for "risking their lives" for the government by being vaccinated.
The principal of Lutheran Middle School said, "We do not have a problem with the Covid duty. What bothers us is that we were not even given the PPE kits while we worked day in and day out following the government's orders. Is it wrong to expect some accountability from the MLAs of these areas? Torpa and Murhu have been two of the most difficult places to deal with. But the MLAs of both Khunti and Torpa Vidhan Sabha constituencies, both belonging to Bharatiya Janata Party (BJP), only visit the villages which mainly constitute their vote bank. I have no personal grudge against them, but they have not been with us in the need of the hour."
Data support this claim. The areas which these MLAs, namely Neelkanth Singh Munda from Khunti and Koche Munda from Torpa Vidhan Sabha constituency, visited, have reported a good pace of vaccination and it is further speeding up. One such example in Murhu block is of the village Ithe where the total eligible population for vaccination numbers 425. Out of these, 361 have been vaccinated with at least one dose. Bichna village from the same block, where politicians' presence was seen, has a vaccination rate of about 90% unlike Sarvada and Rero. As of now, only 2% of people have been vaccinated in Rero. Whilst the urban areas of the state are witnessing rapid vaccination and even scarcity of vaccines at times, the villages have reported a surplus with people's unwillingness to be vaccinated.
On the other hand, a strategy that has worked in Japudgunj is vaccinating the people whom the villagers recognise as trustworthy. Their reputation has been put to use by the village mukhiyas and it has helped in increasing the pace of vaccination.
Overall, to see an improved pace of vaccination in these areas, there is a need to strategise and organise effective awareness campaigns targeting specific populations. The media as well as the government need to join hands and make sure that these regions do not suffer by remaining on the margins.
Hrishi Raj Anand is a freelance journalist/documentary filmmaker working on the rural and tribal issues of the country. 
Get the latest reports & analysis with people's perspective on Protests, movements & deep analytical videos, discussions of the current affairs in your Telegram app. Subscribe to NewsClick's Telegram channel & get Real-Time updates on stories, as they get published on our website.
Subscribe Newsclick On Telegram