J&K: Is Ghulam Nabi Azad New 'Pied Piper' of Pre-Election Politics?
While NC and PDP seem to tacitly endorse him as possibilities of an alliance emerge with the ex-Congress leader, many feel he's leaning toward BJP and will end up like Amarinder Singh in Punjab.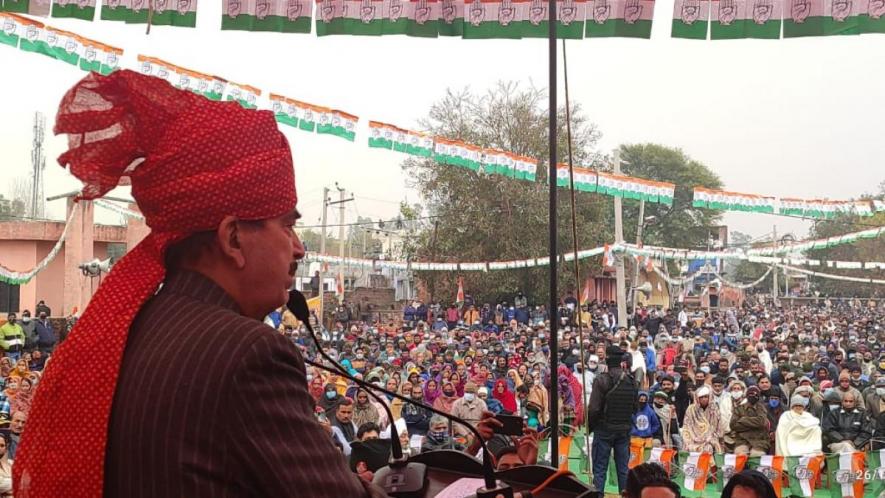 Srinagar: When Sheikh Muhammad Abdullah began his new inning in a downsized role as chief minister of Jammu and Kashmir in 1975, Congress party thrived for the first time here, as their numbers grew in what many say was the first major political recruitment after 1947.
Abdullah, to ensure his re-entry into the power structure of J&K, had by now buried the hatchet after years of tussle with the Congress. The national party were treated as social pariahs here from 1953, when they orchestrated Abdullah's arrest as Prime Minister of the erstwhile state.
During this rebirth of Congress in J&K, a young zoology student from University of Kashmir, Ghulam Nabi Azad, was recruited and grew in the party ranks within no time.
Azad has since served in almost all key positions including as Union minister, Leader of Opposition in Rajya Sabha and chief minister of Jammu and Kashmir between 2005-2008 perhaps why many of his contemporaries consider his resignation from Indian National Congress (INC) as "unprecedented" and another addition to the series of "betrayals" the regional mainstream politics has witnessed time to time since 1953. 
Some say, Congress party is 'tasting its own medicine' while the political deterioration in the region that began with the arrest of Abdullah continues. Azad's jarring letter of resignation to the party begins with the same reflection.
"I joined the Indian National Congress in Jammu & Kashmir in mid-1970's when it was still a taboo to be associated with the party given it's chequered history in the state from 8' August 1953 onwards – the arrest of Sheikh Mohammad Abdullah being the nadir of it's political myopia," he wrote.
Azad is set to forge a new political party in the Union territory which he will likely launch in the second week of September. He has taken along with him scores of his party colleagues, including senior party leaders like G M Saroori, R S Chib, Peerzada Mohammad Sayeed, Tara Chand and others.
The timing of his resignation has spurred a lot of speculation. The 73-year-old leader is being accused of aligning with the arch-enemy Bharatiya Janata Party (BJP) and moving at their behest.
"Considering how things have unfolded for some time now we have all the reasons to believe the popular perception that Azad sahib resigned at the behest of the BJP," Congress Working Committee (CWC) member Tariq Hameed Karra said in Srinagar following the resignation. 
Both National Conference (NC) and People's Democratic Party (PDP) have seemingly shown a tacit endorsement as possibilities of an alliance emerge with Azad's actions. That possibility is lucrative in the current quagmire caused in the aftermath of abrogation of Article 370 and 35 A and in absence of statehood.
But, not everyone can be happy and optimistic in a place like Kashmir. The last time Azad was being sworn in as a chief minister, a suicide bomber had killed six persons and wounded over a dozen others in the cold November of 2005. It was a "gift" to the new CM, Jaish e Mohammad (JeM) said in a statement later claiming the attack.
The PDP and Congress formed an alliance in 2002 with the condition that each party will get the chief ministership for three years. Azad, according to insiders privy to the development, became the chief minister after a protest in which he was vehemently supported by Rahul Gandhi. Congress president Sonia Gandhi had decided to allow Sayeed, considering how he was handling the region, to continue for the full term but Azad, according to a senior leader, "revolted", which was backed by the younger Gandhi, who Azad in his resignation letter has now accused of being 'immature".
But, despite inheriting his predecessor Sayeed's "healing touch" policy -- aimed to bring respite to the people of J&K from the relentless violence – Azad tread a different path.
Senior PDP leader Naeem Akhtar said that while Sayeed, who mainstreamed the larger political issue of Kashmir and its political solution after he was sworn as the 9th CM of J&K, the highlight of Azad tenure as CM is marked by two "15-day wonders."
"His only contributions to Kashmir is 15-day wonders – Tulip House and the Hajj House and a badly constructed museum which he would often draw parallels with the Mughal Gardens. Basically, he undid whatever Mufti Sayeed tried to do before him," Akhtar said.
According to the former PDP minister, Azad brought back the tradition of playing to the Delhi's gallery that meant ignoring the voice of people of Jammu and Kashmir. His former colleague Ghulam Ahmad Mir, who was until recently the president of Jammu and Kashmir Pradesh Congress Committee (JKPCC), termed the Azad-led group an 'A-Team' of BJP.
Mir said it was "only after we were chosen by the people that we paved way for his chief ministership and even during that time he played 'divide and rule' politics and damaged the interests of the party and the people."
"He has been using Jammu and Kashmir for his political tourism. He would rule from New Delhi and visit Kashmir for picnic," Mir said in Kulgam on Wednesday. "Azad has taken the step to oblige Prime Minister Modi's team. It has nothing to do with the interest of Jammu and Kashmir nor, I believe, he is interested himself," Mir said.
"He was offered a role in UT by Congress party and asked to become the voice of people but he denied saying that J&K UT is a small place and he was aspiring for a bigger role. How has J&K suddenly become a big place for him?" Mir questioned. 
Like Mir, many others, including his another former colleague, Ghulam Nabi Monga, who saw Azad as an "accessible and always available" leader, believe that Azad's move will benefit BJP's position. Former Union minister and senior Congress leader Saifuddin Soz said that Azad should not have parted ways with Congress party which is facing odds. Soz acknowledged that Azad has contributed a lot to the Congress throughout India, which was reciprocated by the party. This is happening at a time, which Soz said, in what transpired in 'Nazi Germany'. 
"Congress party gave him enough. He went to Parliament to Rajya Sabha and Congress party showed a lot of courtesy to him, Sonia Gandhi, in particular. She respected him in my knowledge," Soz told NewsClick.
One of his supporters, Peerzada Mohammad Sayeed, who has also served as the JKPCC president, however, said the leaders have been reaching out to Delhi seeking measures in the wake of developments that has made the grand old party "weaker"
"We wanted to launch an agitation and knock at their doors for our demands. We are ashamed to see what has happened to the party in the last three years. It is out of compulsion that we have to leave the party and join Azad Sahab's new party but we are not parting with the ideology of Congress,"  he said.  Sayeed said the party has been nationally reduced from 22 states to just one state i.e. Rajasthan which, he claims, is the result of not following democratic process within the party.
Azad's coalition government with PDP fell before he could complete his term. A first major agitation swept the entire region in 2008 in what came to be known as Amarnath land row involving Sri Amarnath Shrine Board (SASB). The Congress government had agreed to transfer vast swathes of forest land to the board to construct shelters and other facilities for Hindu pilgrims stoking fear of a demographic takeover for the first time in the region. The order was scrapped but the gulf between the two provinces of Jammu and Kashmir were so wide for the first time many alleged was a result of mishandling by Azad's cabinet.
Congress party still put his weight behind Azad and many in J&K still find it difficult to place him as a locally emerged politician. Hailing from a remote-village of Bhallesa in Doda from a modest background with no political legacy, Azad's transformation into a political stalwart is also celebrated partly. Many see his rise to the top echelons of the country as mostly an outcome of his closeness with the Gandhi family that they say was 'arbitrarily' bestowed upon him. In 2014, Azad, in his maiden contest, lost to BJP's Jitendra Singh by a margin of over 60,000 votes in the Udhampur Lok Sabha seat. Azad had managed to get 4,26,393 votes while Singh had got 4,87,369 votes.
It wouldn't be a "cakewalk" for parties who are likely to compete in the next Assembly elections, especially in Jammu where BJP is the strongest party. Azad's sway is going to make an impact over the electoral outcome. Some are of the opinion that it will only matter if the sway extends beyond Congress party.
"He will meet the same fate as Amarinder Singh met (in Punjab). It will not impact much. The Muslim voters in Jammu have made up their mind that whosoever is in the position to defeat BJP they will vote for them and rather minority voters will only vote for candidates who are in position to defeat BJP," Aam Aadmi Party's T S Tony said.
NC's Jammu-based Zeeshan Rana also sees no threat to the Muslim-vote in Jammu. "We are sure no one from National Conference will follow him. There will be some impact in his home town Chenab valley and after the abrogation of Article 370 people also look at parties from a certain viewpoint but, it is too early to comment whether he will make an impact," Rana said.
"Ghulam Nabi Azad is a tall leader who has spent most of his life and youth in Congress party but what can one do when a member doesn't get the respect he deserves in his family. He had personal relations with the Gandhi family and there is no doubt in saying that he rose to heights because of Gandhi family," senior BJP leader Abdul Gani Kohli said, adding  that Azad should have waited and given more thought to his decision and put his trust before taking the step.
"Election should be conducted as soon as possible. But now people have to take the right decision in choosing the right person. Azad Sahib is the best person to lead people of J&K out of this darkness towards development and prosperity," said Sayeed.
Get the latest reports & analysis with people's perspective on Protests, movements & deep analytical videos, discussions of the current affairs in your Telegram app. Subscribe to NewsClick's Telegram channel & get Real-Time updates on stories, as they get published on our website.
Subscribe Newsclick On Telegram